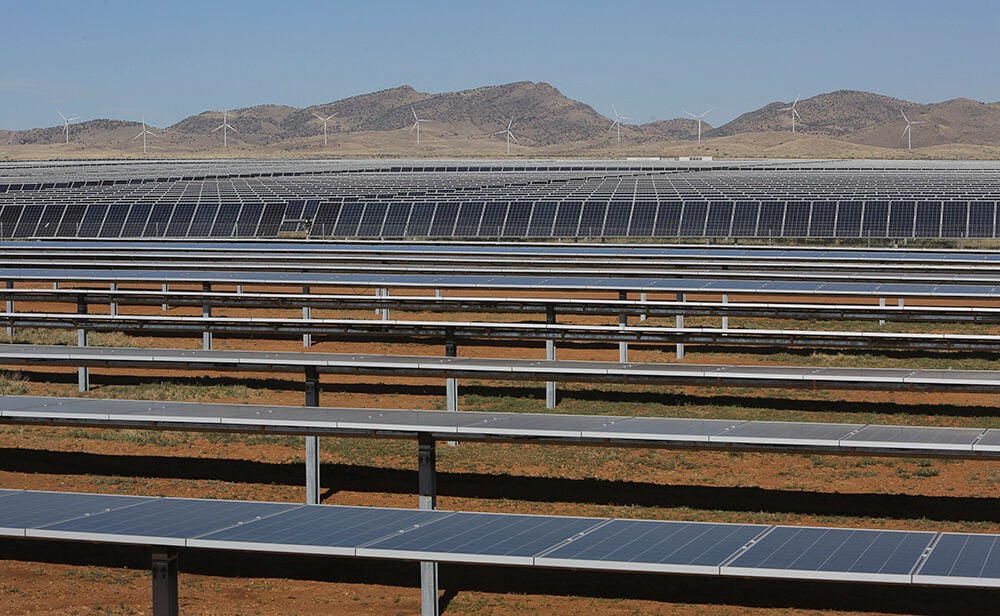 The Arizona Corporation Commission on Friday passed landmark new rules requiring state-regulated utilities to get 100% of their power from carbon-free sources by 2050 — but the panel rejected any specific mandate for renewable energy like solar and wind.
The new rules — which still need to go through a final rulemaking process before a new commission in January — also set new requirements for energy storage and energy efficiency gains for power-generating utilities including Tucson Electric Power Co. and Arizona Public Service Co.
Prior to the final 4-1 vote, the regulators deleted a proposed mandate that the utilities get at least 50% of their power from renewable sources by 2035.
The rules count power from APS's Palo Verde nuclear plant as a carbon-free "clean energy" source and replace the state's current renewable-energy standard, which requires utilities to get 15% of their power from renewables by 2025.
The rules will bring Arizona more in line with other states that have significantly beefed up their clean-energy mandates since Arizona adopted its initial rules in 2006.
Commissioners Boyd Dunn and Sandra Kennedy said the new rules will also boost economic development in the state.
"It certainly addresses the environmental concerns we all have, but it's also an economic driver for the state of Arizona," said Dunn, a Republican who will step down from the utility panel in January.
Kennedy, a Democrat who was a prime mover in incorporating emission standards and other features backed by a coalition of environmental and consumer groups in the final rules, agreed.
"This is a job creator and economic engine for our state and will also benefit ratepayers," she said.
But Commissioner Justin Olson, the sole "no" vote, said the new rules will impose higher costs on ratepayers and need further consideration.
The Mesa Republican said the renewable-energy rules adopted in 2006 have cost ratepayers more than $1 billion in APS territory alone and cited huge increases in power rates in California since that state set a goal of 100% zero-emission energy by 2045.
"We should not be putting an additional burden on ratepayers with these mandates," said Olson, who unsuccessfully pushed an amendment to limit any excess spending by the utilities to comply with the rules to $2 million annually.
Clean-energy advocates point to a report by Ceres, a Boston-based nonprofit focused in sustainability, that found that Arizona's renewable energy rules have saved utility consumers $2 billion in avoided energy and generation costs, water savings, pollution reduction and technology cost reductions.
The new rules require the utilities to cut their carbon emissions in steps to at least 50% by 2032 and 75% by 2040, reaching 100% by 2050.
But the commissioners approved an amendment by chairman Bob Burns to drop the proposed renewable-energy mandate, with only Kennedy dissenting.
While the commissioners balked at new renewable-energy standards, the utilities will have to add significant amounts of solar and wind capacity to meet the required cuts to carbon emissions, and TEP and APS already have goals.
TEP has pledged to deliver more than 70% of its energy from solar and wind by 2035, while APS has a goal of providing 45% renewable energy by 2030. The companies also are adding utility-scale storage.
But the new rules allow exemptions if the utilities can't meet the standards, especially if doing so would jeopardize service reliability or if they need to acquire power to handle an emergency.
Require the installation of energy-storage systems with an overall capacity of 5% of each utility's peak demand by 2035, with 40% to be customer-owned or -leased systems.
Require the utilities to implement enough energy-saving measures by 2030 to offset 35% of their 2020 peak demand, up from an existing requirement to use efficiency measures to meet 22% of their energy demand by this year.
Replace the current resource-planning process with a new process that requires each utility, guided by an advisory committee made up of stakeholders including ratepayer representatives, to approve a forecast of future load, and then open an "all-source" bid process to acquire enough power generation to meet the forecast demand within the rules.
Burns noted that the rules were influenced by the work of a regional task force he recently sat on at the National Association of Regulatory Utility Commissioners, also citing valuable contributions from a coalition of environmental and consumer groups.
"The fact that we will have competitive input, we will have stakeholder input to determine the forecasts, I think puts Arizona out in front of the country on the (resource-planning) process," said Burns, who is stepping down from the commission after reaching the two-term limit.
'A CLEAN ENERGY FUTURE'
The rules still require a final, public rulemaking procedure and some elements could be changed by a new Corporation Commission that will be seated in January.
Though Kennedy will remain and Democrats gained a new, four-year seat on the commission with the apparent election of Anna Tovar, the panel's new Republican majority includes Jim O'Connor, who has said he opposes green-energy mandates.
Nationwide, 30 states have some sort of mandate that utilities get a varying percentage of their power from renewables, while 14 have requirements of 50% or greater, according to the National Conference of State Legislatures.
But in recent years several states, including Colorado, Washington, Nevada and New Mexico have adopted carbon-emissions standards.
Environmental and solar groups lauded the commission's adoption of the new rules.
Sandy Bahr, chapter director for Sierra Club's Grand Canyon Chapter, called Friday's vote "another important step for Arizona to become a clean energy leader and reduce our carbon emissions to help address the climate crisis."
"As the sunniest state in the country, our future is with solar and associated storage, and this continued investment in energy efficiency will help us reduce electricity use and save us all money on our electric bills," Bahr said.
She also hailed the new planning process as more inclusive and transparent and applauded a preference for generation proposals benefiting communities that may be hurt as the state moves away from coal-fired generation.
Solar industry and advocacy groups including the Arizona Solar Energy Industries Association (AriSEIA), Solar United Neighbors, Sunrun and Vote Solar said the new energy-storage standards in particular will help drive adoption of renewable energy.
"Arizonans value energy freedom, and the built-in opportunity for customer-owned storage will help more Arizonans enjoy the freedom of choice," AriSEIA Executive Director Nicole LaSlavic said.
Bret Fanshaw, director of Arizona programs for Solar United Neighbors, a network of solar co-ops, said battery storage can open up many additional uses for rooftop solar.
"Households will be able to save money and reduce costs on the electricity system by storing solar power during the day and using it when the sun goes down," Fanshaw said.
Art Terrazas, a regional director for Vote Solar, said the Corporation Commission needs to move quickly to pass the complete rules package "to steer Arizona toward this bold vision for a clean energy future."