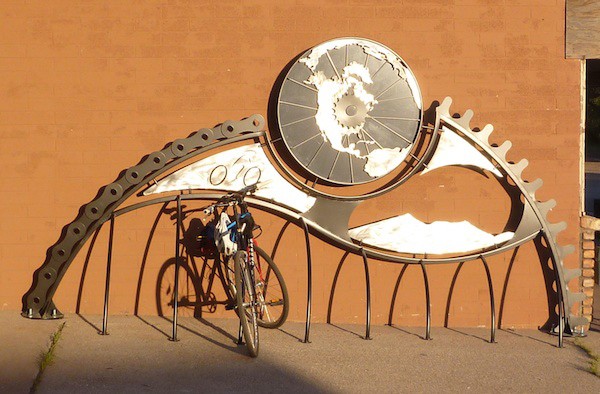 A custom metal sculpture bike rack stolen from a new Tucson business last week has been returned.
An article in the Arizona Daily Star on Thursday included a photo of the missing rack, which weighs about 1,000 pounds and is valued at $8,500.
At about 9:30 a.m. Thursday, a man called Bike Shop Hub to say he had taken the rack.
"He showed up 45 minutes later, a young, scrappy-looking guy. He had this kind of beat-up pickup and his mom was with him," said Josh Lipton, president of Bike Shop Hub. "He told us he put it in the truck himself. It looked like he just dragged it into his truck."
The man, in his 20s, "said he saw it on the side of the road," Lipton said. He "brought it back and 'fessed up, so we didn't really give him a hard time. We didn't really press him on his story. He told one of my employees he thought we were out of business and we were leaving it there. He apologized and he even kind of said something like, 'I hope this makes you feel better about being in Tucson.' He seemed like a nice guy, so we couldn't be too mad at him."
Lipton and his staff moved their online retail business from Flagstaff to Tucson earlier this month. They off-loaded the rack April 15 and left it outside their warehouse at 2801 N. Flowing Wells Road for several hours while they finished moving into their new 4,000-square-foot space. They planned to lock up the bike rack before leaving for the night, but before they could, it disappeared.
"It was a little bit scratched on the back, but fortunately it didn't get damaged on the front, visible side," Lipton said.
The utilitarian sculpture made up of large, stylized bicycle parts - tire rim, spokes, sprocket, chain, gears - will remain inside the warehouse, Lipton said, until they can decide the most secure way to mount it to the building's exterior.
The business news you need
With a weekly newsletter looking back at local history.