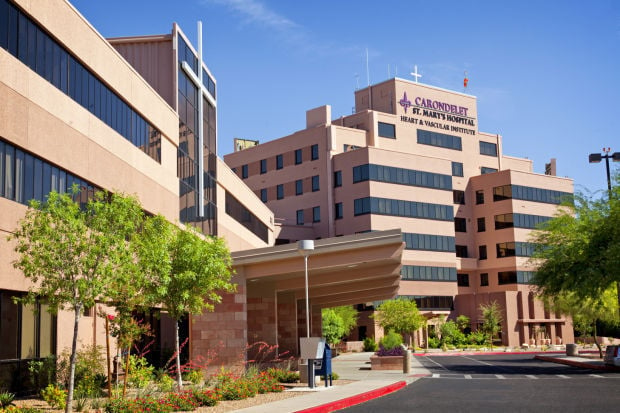 Texas-based Tenet Healthcare Corp. on Wednesday assumed majority ownership of the Carondelet Health Network of Southern Arizona, and the Catholic hospital chain went from nonprofit to for-profit.
The minority owners will be California-based Dignity Health and current Carondelet owners from Missouri-based Ascension.
Officials from Tenet and Ascension would not say what will happen to the Carondelet Foundation, a philanthropy that was created to support the work of Carondelet Health Network. The foundation's most recent available tax Form 990 listed its net assets in 2012 as $31.69 million.
Carondelet includes three Southern Arizona hospitals — the 486-bed Carondelet St. Joseph's and 400-bed Carondelet St. Mary's in Tucson, and the 25-bed Holy Cross Hospital in Nogales.
The names of the hospitals will not change, Carondelet spokeswoman Lisa Contreras said.
Tenet officials would not comment on whether any of the health network's 4,000 employees would be losing their jobs as part of the ownership change.
Tenet will manage the operations of the network's three hospitals, two physician groups, outpatient and ambulatory services, as well as other affiliated businesses in Tucson and Nogales, a news release issued by the joint venture says.
Tenet and Dignity Health separately own and operate hospitals and clinics in the Phoenix area and together manage a growing accountable care organization called the Arizona Care Network. The Tucson-based joint venture will connect Carondelet to the Arizona Care Network, the news release says.
The Arizona Care Network includes more than 750 patient-care facilities across Tenet's and Dignity Health's Phoenix-based health-care systems, with more than 3,400 providers and more than 200,000 covered lives.
The joint venture will maintain Carondelet's Roman Catholic heritage and identity through an agreement with the Diocese of Tucson, officials say. Additionally, Carondelet's existing charity-care policies will remain in place, according to the news release.
Carondelet has a long history in the Tucson community. The Sisters of St. Joseph of Carondelet opened St. Mary's — Arizona's first hospital — in 1880. St. Joseph's opened in 1961, and the nuns began managing Holy Cross in 1981.
The Carondelet Health Network had been struggling financially in recent years.
A spokesman for Ascension referred all questions to Tenet. The Star submitted seven questions about the joint venture to Tenet and officials answered two of them — when the deal took effect and the fact that the joint venture is now for-profit.
Tenet officials would not say whether there are any new capital improvement projects for the hospitals on the horizon.
But a state-required report stemming from a public hearing on the deal that was held Nov. 12 provides some additional details, including a $125 million investment into capital projects.
The public report also outlines a five-year commitment from the joint venture to continue operating Carondelet's hospitals as general acute-care facilities without making any changes to the mix or level of services offered.
Tenet Healthcare Corporation includes more than 125,000 employees and operates 83 general acute care hospitals, 19 short-stay surgical hospitals and more than 400 outpatient centers in the U.S., as well as nine facilities in the United Kingdom.
Dignity Health in Arizona includes five hospitals — Chandler Regional Medical Center, Mercy Gilbert Medical Center, St. Joseph's Hospital and Medical Center, which includes Barrow Neurological Institute, St. Joseph's Westgate Hospital and Arizona General Hospital.
Ascension is a faith-based health-care organization, the largest nonprofit health system in the U.S. and the world's largest Catholic health system.
The deal is in line with a national trend where smaller hospitals and chains are being acquired by larger health systems. Earlier this year, the locally owned nonprofit University of Arizona Health Network, which includes two Tucson hospitals, merged with Phoenix-based nonprofit Banner Health. Banner Health was the surviving entity and is now the state's largest private employer.
Earlier this year the nonprofit Centurions charity group decided to end its 40-year tenure as the booster group for Carondelet Health Network. Rather than being a charitable arm of Carondelet, the men's philanthropic group became an independent 501(c)3 because the Tenet deal did not mesh with the Centurions' charter.