Five months after Zivaz Mexican Bistro closed its doors for good, the 3,000-square-foot restaurant anchoring the plaza at 4590 E. Broadway is now home to Tucson's newest Greek restaurant.
But Opa's Best, the Esar family-owned-and-operated Greek-American restaurant, is taking a page or two from Zivaz.
Opa's Best, which quietly opened last Saturday and will hold its grand opening on Saturday, Dec. 15, features grilled wraps on the menu and a half-dozen burgers including the classic American topped with lettuce, tomato, onion, bacon and cheese; and a Greekified version topped with feta cheese, roasted garlic, sun dried tomatoes, roasted bell peppers and Greek olives.
Call it a silent homage to Zivaz, which over its 12 years became best known for its award-winning burgers and burritos.
Opa's Best chef-owner Qais Esar said the burgers and wraps share equal billing with his extensive menu of traditional Greek fare, from kabobs and gyros to Greek pasta and a trio of lamb dishes including lamb shanks slow braised in tomato sauce and served with green beans and lemon potatoes.
Esar, who owns and operates the restaurant with his chef brother Nawid, described the menu as extensive including the decadent house-made baklava and meats cut in house by his uncle, who spent 40 years as a butcher. Brother Nawid mans the Greek side of the menu, slow-roasting lamb that is simply seasoned with fresh pepper, rosemary and olive oil, and charcoal grilling shrimp that benefits from fragrant Greek herbs and olive oil.
Nawid also brings the culinary streets of Greece to Tucson with chicken and beef souvlaki and a handful of kabobs.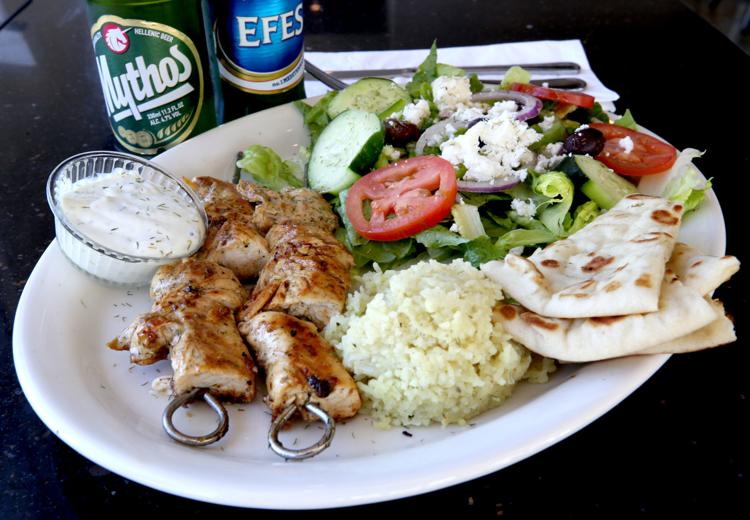 Nawid has years of experience cooking in Greek restaurants here and in his native Turkey, where the Esar family operated a restaurant. Esar spent six years cooking at Opa Greek Cuisine & Fun on Campbell Avenue before it closed last spring, a few months before longtime owner Andreas Andoniadis died in late June.
Opa's Best is not related to Opa Time! Greek restaurant at 1439 S. Fourth Ave. at American Eat Co.
Opa's Best also has what Esar described as a "small Greek bar," which serves beers from Lithuania and the Czech Republic on tap and bottled beers from Turkey and Greece.
But surely longtime fans of Zivaz who have been dreaming of those award-winning burgers will head straight to the part of the menu that describes Opa's half-dozen burgers created by Chef Edgar Rodriguez.
"Most burgers in Tucson are grilled," explained Rodriguez, whose résumé includes cooking at Oro Valley's Noble Hops Craft Beer + Fine Fare. "All our burgers are grilled on a flattop."
Dinner prices start at $10; lunch specials run $8.95 to $10.