Tucson-based Sion Power Corp. is rolling out its high-performance lithium-metal battery to the world, with plans to supply the electric-vehicle industry from a new manufacturing plant in the Old Pueblo.
After working to perfect its advanced lithium battery technology in Tucson for decades, Sion recently announced the commercial availability of its patented Licerion battery for EVs and introduced the product to the industry last week at The Battery Show North America in Novi, Michigan.
Sion says its large-format, 17-amp hour Licerion EV battery cells can deliver the highest energy for their size and weight than any other lithium-ion technology, with a weight-based energy density — a measure of available power — of more than 400 watt-hours per kilograms or nearly twice the energy density of the batteries Tesla uses in its EVs.
Calling the EV battery rollout a "watershed moment" for the company, Sion CEO Tracy Kelley said the company is working with auto manufacturers to commercialize its technology and plans to manufacture Licerion battery cells in Tucson.
Kelley said the company has built Licerion EV battery cells at a prototype production line at its 67,000-square-foot facility on East Elvira Road, to demonstrate production ahead of a planned expansion to a nearby 100,000-square foot factory site he expects the company to secure by the end of the year.
Kelley said Sion, which employs more than 90 workers including many Ph.D. scientists, plans to boost its workforce to around 200 when manufacturing begins, he said.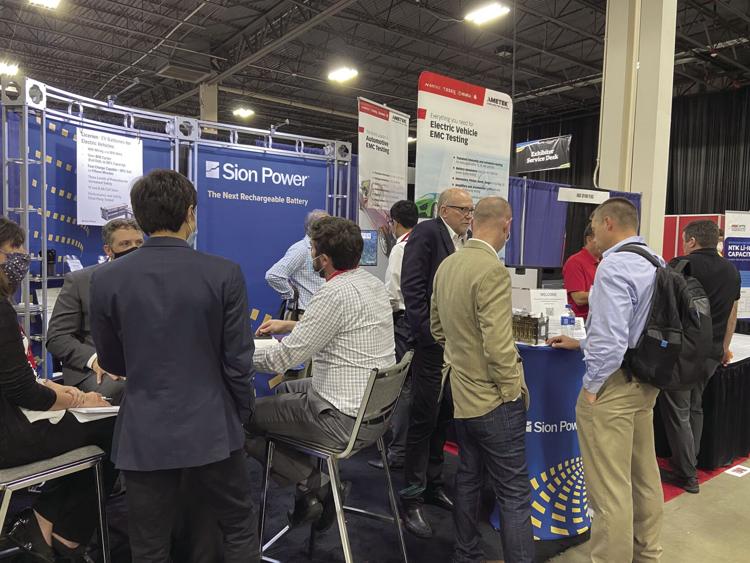 Sion is now busy finalizing design specifications for the manufacturing equipment needed to produce the large-format cells needed for EV battery packs, Kelley said.
"Within a year and a half, we hope to have that equipment on the floor," he said. "We are currently in talks with major OEMs (original equipment manufacturers) and sort of seeing how our technology is beneficial to their EV platforms."
Sion was initially focused on supplying long-endurance batteries for the emerging electric aircraft market.
Last year, the company completed a yearlong lab test of its lithium-metal batteries that demonstrated the batteries' potential use with the Stratobus, a stratospheric airship under development by Thales-Alenia Space France. (And in 2014, Sion batteries using an earlier lithium-sulfur design helped power Airbus' Zephyr 7 unmanned solar-electric plane to fly for 11 days on solar power.)
Kelley said the company is now squarely focused on supplying the burgeoning market for electric cars and trucks.
"We really see that as the market that is going to drive our business," he said. "It's not a change, per se, in the strategy of the company, it's a testament to what we have achieved, and really the aerospace market was always a steppingstone to the (ground) EV market. It was a way to prove the manufacturability and viability of the product, but if we can get that same validation in an automotive OEM's development program, that works better for us."
It's been a long road for Sion, which originated in 1994 as Moltech Corp., a spinoff from Brookhaven National Laboratories in New York based on a technology for lithium-sulfur batteries.
Moltech became one of the first research tenants in the then-new University of Arizona Science and Technology Park in 1995. The company changed its name to Sion Power in 2002 and expanded at the UA Tech Park before moving to the East Elvira Road site in 2007.
The lithium-sulfur battery Sion developed initially was promising, but the company had difficulty creating a battery that could hold up to the hundreds of recharge cycles needed for applications like electric cars.
Through experimentation, the company shifted to a new technology using lithium in its metal form for the anode — one of two electrical conductors on a battery — which yielded longer charging cycle life.
Sion says its Licerion EV battery can last more than 800 charging cycles, though it has demonstrated more than 1,000 cycles.
By comparison, the batteries Tesla uses in its EVs are expected to last 1,000 to 1,500 cycles, or about 15 years of typical driving.
Kelley said Sion has made substantial progress in cycle life, but that will need to be optimized to the EV customer requirements.
"Sion needs to work with the auto companies to see how our internal cycling protocol translates to their specific requirements," he said. "It is not straightforward. This is why a development program with an industry partner is critical."
And Sion has the backing of some big players.
Sion's majority owner is New York-based Euclidean Capital, a family investment fund headed by billionaire hedge-fund manager James Simons, who sits on Sion's board.
The company also has attracted major investors including German chemicals giant BASF, which invested $50 million for a minority stake in 2012, after inking a joint development agreement with Sion in 2009.