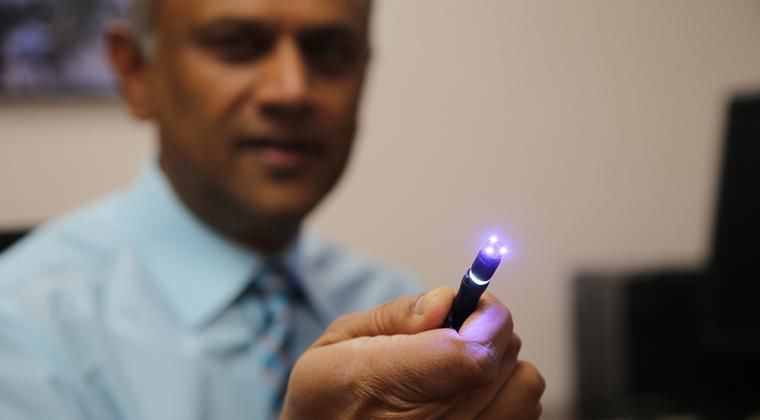 More than 14 million colonoscopies are performed each year in the U.S. as the preferred procedure for colon cancer screening.
Yet despite an estimated annual cost of $24 billion, colonoscopies miss an estimated 25 percent to 40 percent of precancerous polyps.
Now, a University of Arizona startup is looking to vastly improve the accuracy of colonoscopies with a new type of endoscope that offers 360-degree views of the colon.
Omniscient LLC was formed last year to commercialize technology invented by Dr. Bhaskar Banerjee, UA professor of medicine, optical sciences and biomedical engineering; and Rongguang "Ron" Liang, UA professor of optical sciences.
The new endoscope provides a simultaneous forward and 360-degree rear view in a single display, allowing doctors to see forward and backward at the same time, the inventors say.
As a result, the imaging system can detect growths not usually spotted by traditional forward-viewing endoscopes, especially those hidden by some 100 folds in the typical colon, the UA researchers say.
The new scope technology will help doctors identify more precancerous polyps, to prevent more cancers than conventional endoscopes.
"We are using instruments that evolved out of the telescope to look forwards," said Banerjee, a member of the Arizona Cancer Center. "That's fine if you're looking for something in front of you but once you get inside the human body, it has some shortcomings. The need is to look sideways and backwards."
The faculty inventors are working with Tech Launch Arizona, the UA's technology commercialization arm, to patent the technology and license it from the UA to bring the new endoscope to market.
Tech Launch provided two rounds of funding through its asset development program to help Banerjee and his team put together the first prototype.
With trained physicians using a lifesize model of a colon as a test bed, detection rates jumped from 59 percent using a standard colonoscope to 90 percent using the dual-view imaging probe.
A second, improved prototype funded by the National Cancer Institute increased average polyp detection to 98 percent.
Banerjee and Liang estimate that a standard endoscope allows doctors to see 80 percent of the colon, at best, leaving about a fifth of the organ unexamined.
Liang said he and Banerjee have refocused their development effort on incorporating the technology into a "snap-on" imaging attachment for existing endoscopes, rather than a complete instrument.
The company recently delivered the results from the studies it conducted under a $225,000 Phase I Small Business Innovation Research grant from the NCI, and it is looking to apply for a larger, Phase II SBIR grant, he said, adding that the company hopes to have a prototype by next year.
SinfoníaRx deal hailed
The sale of UA startup SinfoníaRx to Tabula Rasa HealthCare, Inc. has been selected as the 2017 Deal of the Year by the Arizona chapter of the Association for Corporate Growth.
The award recognizes a company or private equity firm for excellence in a merger, acquisition or capital market transaction, involving businesses with revenues between $10 million and $750 million during the previous calendar year.
SinfoníaRx, a subsidiary of Tucson-based Sinfonía HealthCare, was launched in 2013 with help from Tech Launch Arizona based on the medication management system developed at the UA College of Pharmacy.
Kevin Boesen launched the original system while a faculty member at the UA pharmacy college, and he co-founded SinfoníaRx with Sinfonía Healthcare CEO Fletcher McCusker.
Contact senior reporter David Wichner at dwichner@tucson.com or 573-4181. On Twitter: @dwichner.
The business news you need
With a weekly newsletter looking back at local history.