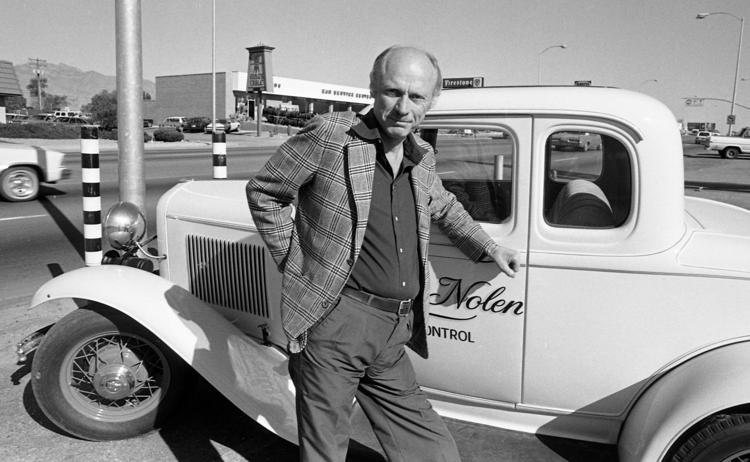 Truly David Nolen, who built a family company into one of the biggest pest-control companies in the nation, died Tuesday, April 18, at his Florida home. He was 89.
Nolen headed Tucson-based Truly Nolen of America — probably best known for its fleet of yellow cars with mouse ears and tails. He founded the company here in 1955 and later merged it with the company his father started in Florida in 1938.
Nolen died of natural causes at his home in Naples, Florida, said his daughter, Michelle Nolen Senner. Services will be Friday in Florida.
Though his children had assumed most executive roles at the company, he was still active in the business and kept a hand in the company's longtime classic-car advertising program, Senner said.
"He went to the office about every day," she said. "He didn't travel as much, but he loved to read the P&L (profit and loss) reports and he liked buying the cars. He was always good at getting good deals."
Nolen sold his home in Tucson several years ago, but he frequently came here for business or family visits.
"He really loved Tucson," Senner said. "Whenever he would come to Tucson he would make a beeline to Casa Molina."
NINE LIVES
Despite a serious bout with polio in the 1950s, Nolen lead a vigorous, full life which, besides heading a large family and a growing company, featured downtime pursuits including car collecting, flying airplanes and sailing.
"He had nine lives, and he lived all of them," Senner said.
Nolen skippered a small sailboat from Miami to Annapolis, Maryland, at the age of 16 and was an avid diver and fisherman.
"I thought he was one of the more interesting characters that I've ever known," said longtime friend Dr. Harvey Buchsbaum, a University of Arizona neurology professor who met Nolen during a trip to Guaymas, Sonora, shortly after arriving at the UA in 1968.
Buchsbaum said that for years Nolen would call him to invite him to fly down to San Carlos for fishing trips.
The UA professor said he was amazed Nolen could continue to dive and spearfish despite having legs weakened by polio.
"He never gave in to any incapacity," Buchsbaum said. "He was always game — he probably would have been diving with an oxygen tank and IV if he could have."
"Above all, he was the one of the kindest people I've ever known," he said, noting "he used to hire prisoners when they were discharged, because no one else would."
TUCSON ROOTS
Well-respected in the industry, Nolen earned a degree in entomology from the University of Florida and was a pest-control pioneer. He was credited as the first user of sulfuryl fluoride, a termite fumigant.
True to its roots, the company has focused on "integrated pest management," which uses pest-exclusion strategies and practices to minimize pesticide use, and the company has moved toward less-toxic pesticides such as borates.
Nolen's father, Truly Wheatfield Nolen, started his pest-control business in Florida by offering trapping as an alternatives to rat poison.
The company is still working on better mousetraps and other new pest-control technologies, Senner said.
While he ran the company, Nolen had an open-door policy and often handled complaints himself, Senner said.
"He never hid from people. He always loved to talk to employees and customers and never put other people between the two of them," said Senner, who heads public relations and is secretary of the company.
Truly Nolen of America is headed by Truly David Nolen's son, president and CEO Scott Nolen, while another Truly — son Truly William Nolen — heads commercial operations.
But Truly David Nolen also kept a hand in the company's training program.
Senner said that even recently, when the company had new-employee orientation, Nolen would appear in person or via video link and allow the new hires to ask him questions.
He also was ahead of his time in his progressive treatment of employees, Senner said.
"He fought for equal rights and treatment," she said. "We as a company were acknowledging same-sex marriage and providing benefits to same-sex couples well before others. For a man of his age and generation — you just don't see that today."
The elder Nolen also encouraged volunteerism and spread the company's philanthropy across Tucson, to groups including Big Brothers Big Sisters of Tucson and the Girl Scouts and Boy Scouts, Senner said, noting the company has hosted scouting groups in its "bug room," part of an employee training center Truly Nolen opened at Williams Centre last year.
Mayor Jonathan Rothschild said Nolen leaves a lasting legacy to the place he founded and grew his family business.
"Truly's commitment to Tucson, and his family's commitment to Tucson, has been exceptional," Rothschild said in an email.
The mayor noted that when the family businesses consolidated in 1960, the headquarters remained in Tucson, and the company reaffirmed its commitment to Tucson with the opening of its training center last year.
"There's a lot of affection for Truly Nolen here in Tucson, and the mouse cars have endeared many to the company that bears his name," Rothschild said.
Nolen is survived by his wife of 32 years, Vickie Taylor Nolen, and by his eight children – Truly William Nolen, Steven Scott Nolen, Bonnie Sue Nolen Jauregui, Really Philip Nolen, Michelle Nolen Senner, Sincere Leigh Nolen, Scarlett Sahara Nolen Jallad and True Spyder Luke Nolen. He is also survived by 12 grandchildren and 7 great-grandchildren.
Contact senior reporter David Wichner at dwichner@tucson.com or 573-4181. On Twitter: @dwichner
The business news you need
With a weekly newsletter looking back at local history.