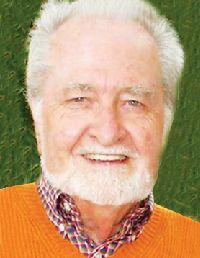 Harry "Kelley" Rollings passed away peacefully on October 24, 2018 in the Tucson home he and his wife Sally have shared for over 70 years. He was 91. Born at The Stork's Nest in downtown Tucson on January 12, 1927, he was the only child of Elizabeth Kelley (Nebraska) and Harry Rollings (South Carolina).
Kelley attended University Heights elementary school and Mansfeld Junior High. He graduated from Tucson High School (1944) where he was Editor of The Cactus Chronicle and graduated from Princeton University (1948) where he majored in history. After college, Kelley served in the U.S. Navy as an Electronic Technician's Mate. He married his high school classmate Sally Bacon on August 8, 1948 at Saint Philip's in the Hills.
Kelley's father owned an automobile dealership in downtown Tucson, whose most colorful customer turned out to be the outlaw John Dillinger. The afternoon before his gang was rounded up in 1934, Dillinger drove his Hudson into the dealership. He asked Kelley's father to help him get his car licensed but it was too late in the day, so they kept the car in the dealership overnight. The next day the machine guns concealed behind the back seat and the hubcaps stuffed with cash made a big impression on Kelley, who was seven years old at the time. As an adult, Kelley worked alongside his father and took over the car dealership upon his father's death. In 1980, the employees purchased Rollings Motor Company.
Kelley and Sally both were active in Tucson's non-profit sector. Kelley was president of the Tucson Festival Society and also of the Tucson Fine Arts Association, which became the Tucson Museum of Art. Kelley tirelessly pursued his interest in history, local architecture, travel, and collecting art. In 1967 he opened America West Primitive & Modern Art Gallery. As an art dealer, he was as at home at the Tucson Gem Show as he was at international auctions in New York. He enjoyed designing jewelry using stones he purchased from around the world.
In 1971 Kelley was the Democratic candidate for Mayor when building the Butterfield Expressway through downtown was a disputed campaign issue. The Expressway would have demolished hundreds of Tucson's earliest homes and businesses. Kelley and Sally joined the community opposing the Expressway and purchased two buildings in its path in order to make a stand against further demolition.
From 1971 until his death, he built a family business with his children in downtown Tucson's Barrio Viejo. The many 19th century adobes he preserved are now listed on the National Register of Historic Places. One of the first buildings he restored is today's Cushing Street Bar & Restaurant, originally a dry goods store on a street named after Lt. Howard B. Cushing who was killed by the Chiricahua Apaches during an 1871 campaign in the Arizona Territory.
Kelley's efforts gained national attention in 1979. Americana Magazine described Rollings as a person who "possesses precisely the quality that the thinkers behind urban renewal lacked: an architect's eye for the possible, the ability to see the beauty that lies hidden in an old city." Honors he received later in his life included the 2005 Arizona Governor's Heritage Award for lifetime achievement for his work in preserving historic adobe buildings. In 2006, he was inducted into the Tucson High Hall of Fame, where his photo can be found in the school's entry. Daughter Betsy and granddaughter Lauren also were THS graduates.
Kelley enjoyed traveling the world with his family, and especially loved Alamos, Sonora, Mexico and New York City. Some of his final destinations included India, Egypt and Cambodia. In the last few years of his life he designed and landscaped lush patios at his home where he could relax with family.
Kelley is survived by his wife of 70 years, Sally. His children all reside in Tucson: Bradley, Donald (Nan), Betsy, and Anne (Sandy) Shiff. He has four loving grandchildren in Arizona and California: Elizabeth Friman (Doug), Jim Rollings (Carrie), Lauren Veta (Alex), and Harry Shiff.
The Rollings family wants to thank a wonderful group of private caregivers and the staff of Casa de la Luz Hospice for the extraordinary care that they provided.
For those who wish to donate in Kelley's memory, please consider The Salvation Army (1002 N. Main Avenue, Tucson, AZ 85705) or the Tucson High Badger Foundation (P.O. Box 5424, Tucson, AZ 85703). At a later date, there will be a gathering of family and friends in Kelley's honor. Arrangements by ANGEL VALLEY FUNERAL HOME.