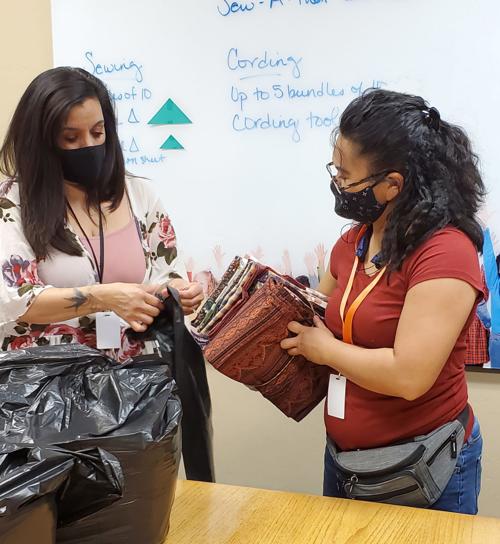 Calling all prospective, beginner and experienced seamstresses: Aviva Children's Services is seeking volunteers willing to stitch for foster kids during the COVID-19 pandemic.
Anyone with a sewing machine — and the will to use it — can join the 22nd Annual Bags for Kids Sew-A-Thon, which is now a virtual event.
"Normally we have more than 100 people who gather at Aviva Children's Services to sew and cord our handmade cloth drawstring bags for children in foster care, but because of the pandemic we had to change that. Instead, our kickoff was Monday, Aug. 3, and will continue through Sept. 29, and our goal is 3,000 bags during that time," said Yvette Hart, outreach manager for Aviva.
During the Sew-A-Thon, bundles of material to create the bags will be checked out to participants, who are requested to return the sewn bags to Aviva Children's Services within a week. The bundles include snacks and candy for the volunteers, along with a raffle ticket upon registration. They will receive additional raffle tickets for weekly prizes each time a completed bundle is returned and a new one is picked up. There is no limit to the number of bundles that volunteers can take.
The event is not just for those who can sew: Volunteers are also needed to insert cords into bags once the stitching is done. Following the same protocol, a bundle consisting of a cording tool, cords and sewn bags can be picked up at Aviva, taken home and returned upon completion of the bags.
Hart emphasized that the event is open to volunteers of all ages and skill levels.
"Many of our participants are over age 70, but this is for everyone. Every year we have grandparents who participate with their grandkids and gentlemen who help as well. If you don't know how to sew, you can cord. It is easy to do, especially with the tool that we provide," said Hart.
Ultimately, the event is about more than providing duffel bags for kids, according to Brenda Craft, a longtime volunteer. Craft is also head of the Aviva Divas, a core group of 25 supporters who sew bags along with quilts, placemats, clothing and other items to raise funds for Aviva.
"When a child comes into the foster care system, or if the caseworker goes into the home to get them, they use one of these bags for the child's clothes so they are don't have to carry them in a plastic bag. We don't want them to think their personal belongings are garbage that isn't worth anything," said Craft.
She credits the the Aviva Divas for working tirelessly year-round to support the children placed in the care of the Department of Child Safety because of abuse, neglect and poverty.
"They really have big hearts. I think they are thankful to do something for these poor children. Their poor little minds — I can't imagine being taken from their homes and all they have gone through," Craft said.
For children who are in crisis, the duffel bags become even more symbolic.
"They can carry their belongings with dignity through placement changes and, most importantly, this is something that is theirs," said Hart.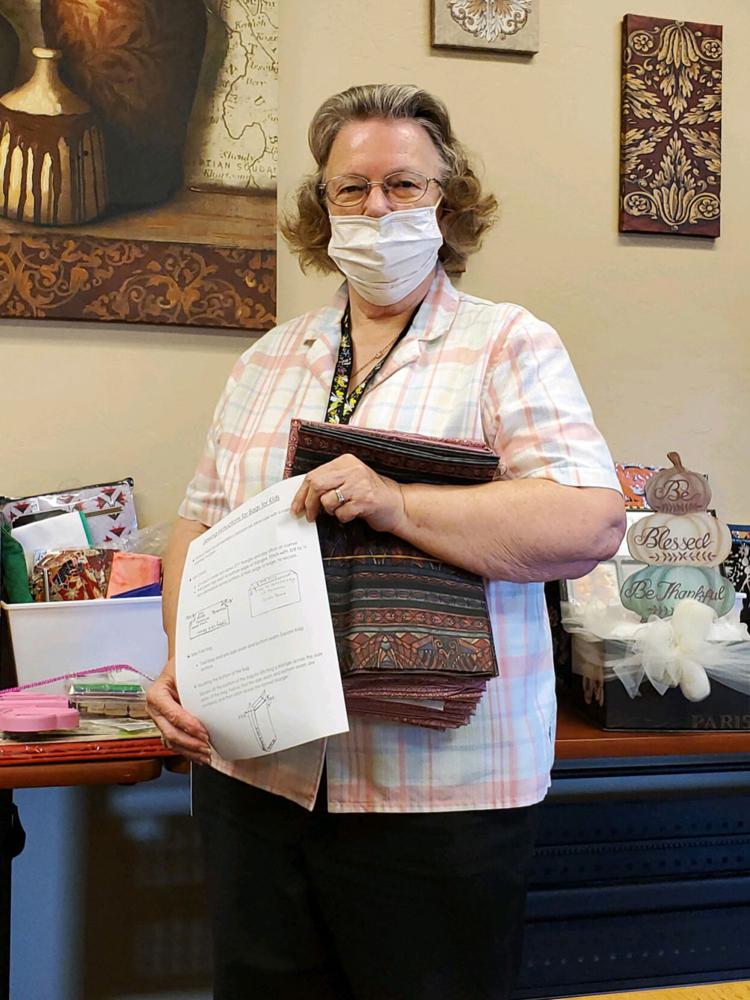 Additionally, duffel bags may contain a teddy bear, homemade quilt and other emergency items for children in transition.
"The Aviva Divas provide these comforting items for a child at a time of chaos, so it is kind of a whole package. The bag is functional, but the thought is that the kids are fearful and may not understand that the DCS worker is there to help them. These help to build trust," said Dina Scalone, chief philanthropy officer for Aviva.
Ultimately, Scalone said that Aviva is dedicated not only to filling the emergency needs of 2,500 to 3,000 children in foster and kinship care annually, but also assisting with long-term behavioral-health services.
"Our merger last year with Easterseals Blake Foundation has allowed us to offer comprehensive behavioral-health services at Aviva. We are able to offer a one-stop location where children can receive mental-health services and medication services so it is less of a burden on the foster families. They can come have their needs identified and receive counseling and other resources all in one location," said Scalone.
Those needs have become even more pronounced during the COVID-19 pandemic, according to Cristina Greenberg, community resource manager for Aviva.
"We have definitely seen more families who need resources and support. When a child is removed from a home, the state wants them to be with family first and they are doing a good job of identifying families that are safe for the children. Often when a kinship family receives a call, they step up, but they don't have the time to prepare to take in a child. They may not be ready to meet immediate needs, and we can help with that," Greenberg said.
Greenberg said that Aviva works with an extensive network of generous businesses — including Cathey's Sewing & Vacuum, Brakemax and many others — and individuals to prepare the families. Donors assist with items ranging from basic clothing, toiletries and school supplies to essential car and home repairs.
"Although we can't fill every request, we have a phenomenal community that steps us to help us, from volunteers like the Aviva Divas to local businesses. It is awesome," Greenberg said.