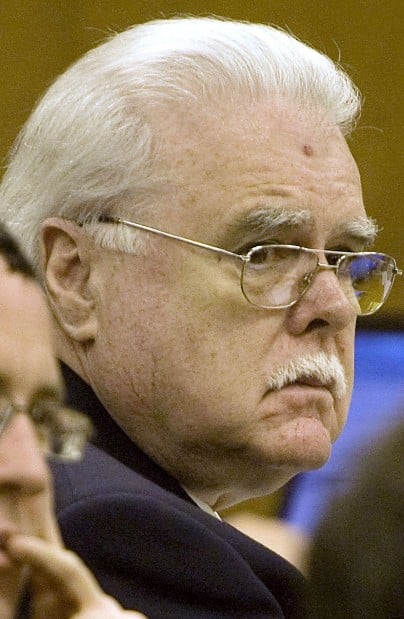 The man convicted of building and detonating the pipe bomb that killed Tucson real estate developer Gary Triano in November 1996 was sentenced to two life terms in prison Monday, without the possibility of parole.
Ronald Young, who turns 68 Friday, was convicted March 31 of conspiracy to commit first-degree murder and first-degree murder.
Young could have received a life sentence with release possible after 25 years, but Pima County Superior Court Judge Christopher Browning said he couldn't comprehend how someone could plot and carry out the murder of a "virtual stranger" for money.
Triano's eldest children, Heather Triano Klindworth and Brian Triano, along with their aunt, Toni Triano Newman, asked Browning for the maximum sentence possible.
The trio spoke of missed milestones and of Triano's optimism, generosity and larger-than-life personality.
Klindworth recalled how her father would give caddies golf clubs and tip waitresses extra if they had fewer customers than normal.
The three also spoke about the crime itself, using words like inhumane, vicious and heartless.
"He didn't know my father," Brian Triano said. "He only knew where to find him and how much (money) he was going to get."
On Nov. 1, 1996, Triano, 52, finished a round of golf at La Paloma Country Club around 5:30 p.m. and got into a borrowed Lincoln Town Car to head home, where more than 100 people waited to surprise him for his birthday. He never made it.
A 17-inch pipe bomb filled with 1 pound of smokeless gunpowder was detonated by remote control, killing him.
Young and Triano's former wife, Pam Phillips, were indicted in Triano's death in October 2008. Young was arrested immediately in California. Phillips was arrested in Austria in December and is awaiting extradition.
Deputy Pima County Attorney William McCollum told jurors that Phillips paid Young from a $2 million life insurance policy Triano had taken out while the couple were still married. Because Triano named Phillips as the owner of the policy, he couldn't cancel it after they divorced.
McCollum suggested Triano's death was the result of greed and the bitter fights he had with Phillips over their two children, Lois and Trevor, visitation privileges and child support.
The prosecutors presented jurors with hundreds of taped conversations, e-mails and other documents kept by Young over the years, as proof of the conspiracy between Young and Phillips.
Walter Palser and Joel Feinman, assistant Pima County public defenders, told jurors that prosecutors didn't prove Young killed Triano; they proved only that Young blackmailed Phillips.
They tried to convince jurors that plenty of others had reason to want Triano dead, including many former business associates.
According to financial documents submitted to the court shortly before he died, Triano made $67,000 a year and claimed $4 million in debt and another $20 million in unliquidated liabilities.
Before that, Triano made millions investing in American Indian bingo halls and slot-machine parlors here and in California, before Congress authorized tribes to open full-blown casinos.