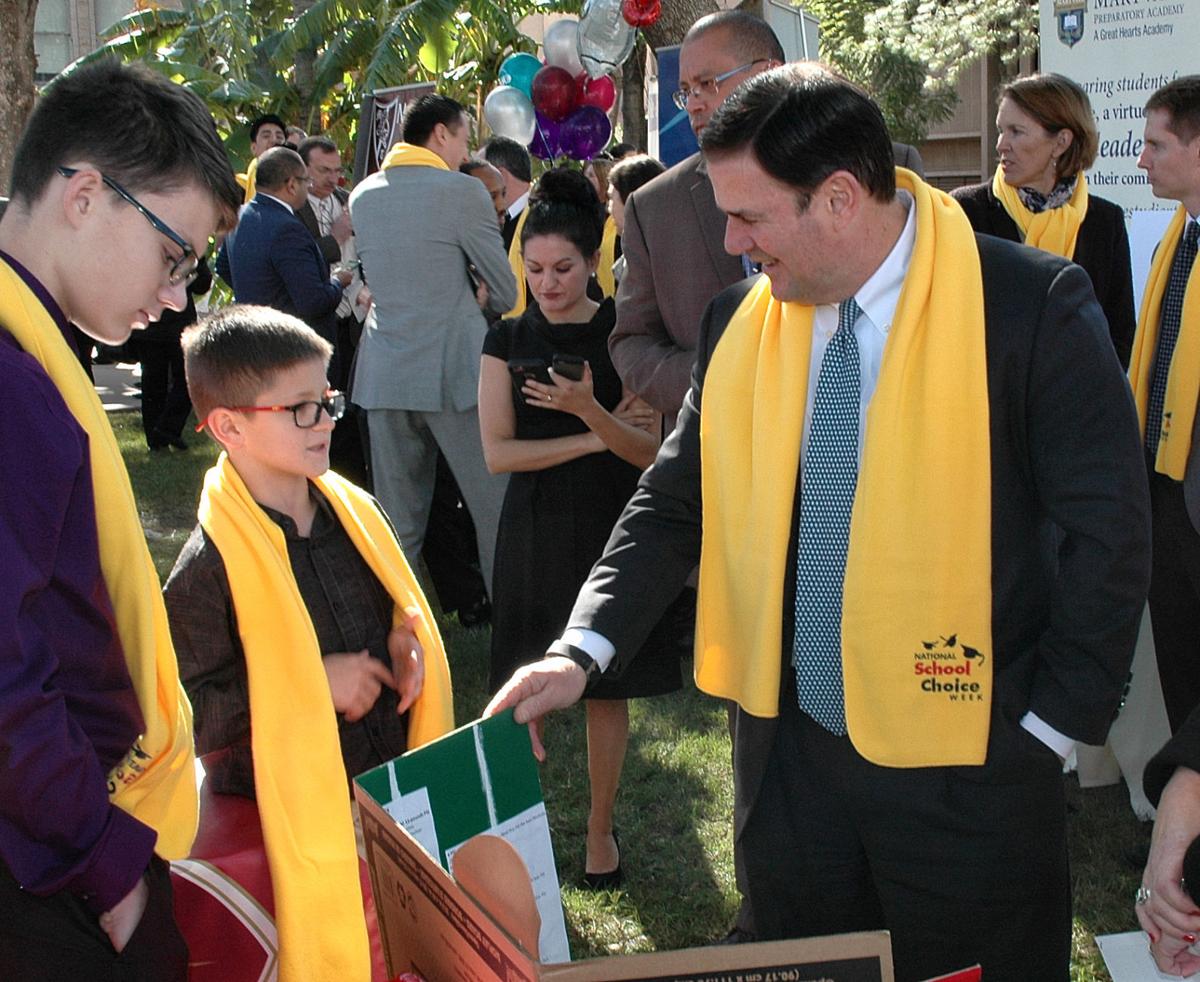 Gov. Doug Ducey touted Arizona's "robust" school-choice system to a gathering Thursday of educators and state lawmakers who are weighing whether to expand the number of options available to students.
Dozens of district, charter and private school representatives gathered with legislators and education officials at the State Capitol in Phoenix for an event celebrating school choice. The gathering was part of more than 20,000 events happening across the country for National School Choice Week.
"It's all about letting families know they have options," said Lisa Graham Keegan, executive director of A for Arizona, a statewide education advocacy organization.
The school choice system allows students to apply to attend any public school, attend charter schools, online schools or be home-schooled. It also allows some students to receive state money to pay for private schools.
The point isn't to put one type of school up against the other, she said. "We are pushing for great schools" whether those schools are district, charter, magnet, online or private.
The event included several Tucson-area schools, including the Arizona College Prep Academy, Kellond Elementary School and Mary Belle McCorkle Academy of Excellence K-8 from the Tucson Unified School District, Presidio Schools and Sonoran Science Academy.
Speaking to the crowd, Gov. Doug Ducey said Arizona has "one of the most robust school choice landscapes in the country."
That includes an extensive system of charter schools. And Arizona is one of only a handful of states where these can be operated on a for-profit basis.
But Arizona also has a system of vouchers — formally called Empowerment Scholarship Accounts — that give parents what amounts to a check of state funds to pay tuition at private schools.
For the moment, that is limited to students with special needs and foster children as well as those who attend schools rated "D" and "F" by the state board of education. But Sen. Debbie Lesko, R-Peoria, is proposing to phase in universal vouchers.
Ducey said he's not bothered by the idea of vouchers. He said it's irrelevant that taxpayer-funded vouchers can be used to send their children to parochial schools where religion can be a part of instruction.
"What I want a parent to be able to do is send a child to the school of their choice," he said. "And when we have opportunities to improve on that, we're going to do that."
Ducey did not dispute that state aid to schools is less now on a per-student basis than it was a decade ago. But he pointed out that last year's approval of Proposition 123 will put about $318 million into K-12 education this year. And Ducey has proposed adding another $114 million this coming year in various programs.
Even with those Prop. 123 dollars, per-student state funding now is $4,528, versus $4,949 a decade ago. And that's before considering the effects of a decade of inflation.
Ducey preferred to focus on what he said is Arizona's student achievement in math and reading increasing faster than any other state.
"We're headed in the right direction here in Arizona," he said.
Students, teachers and principals staffed booths to talk to legislators and other educators about their schools.
Kiona Thompson, a junior at Arizona College Prep Academy in Tucson, which serves about 160 students near Reid Park, said at her school, she feels she's a part of a community.
"They cared about what I thought," she said of her school leaders. She made sure to let others know. She was part of a group of about a dozen students from the school talking to attendees.
Freddy Mendoza, the school's co-founder and teacher, said his school is focused on creating a "whole student." The school incorporates many community-based projects into its education, including partnering with the Saguaro National Park for arts and science projects.
Diane Douglas, the state schools chief, dropped in to visit school booths.
In her speech, she compared school choice to having no limitations in choosing which grocery store to shop at. The government cannot tell people to only shop at grocery stores near where they live, she said.
She also described parental choice in education as a "God-given right."
"It's the individual families that know best," she said.