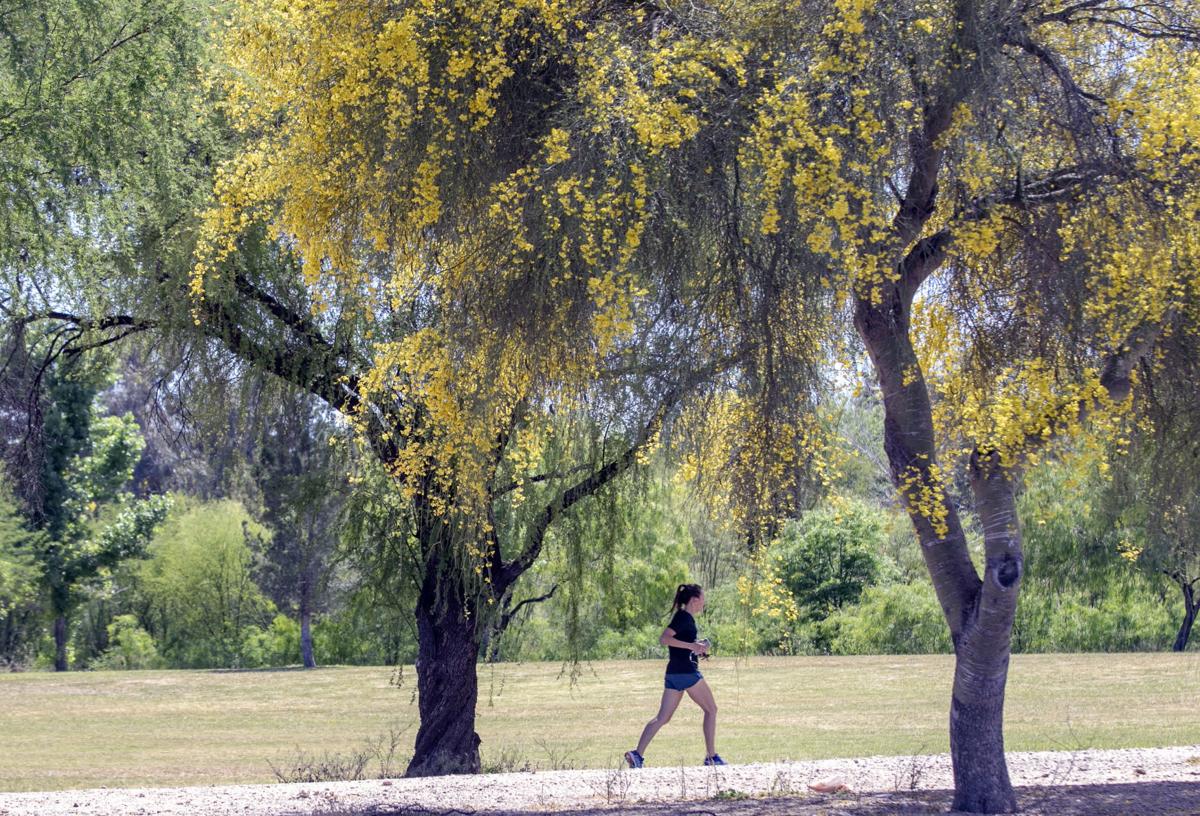 As part of her promise to create an aggressive citywide climate resiliency plan, new Tucson Mayor Regina Romero has set the wheels in motion on one of its most-ambitious components — the planting of a million trees in Tucson over the next decade.
While several specifics of the initiative remain undetermined, including the costs, net water use of additional trees, and locations where the greenery will be planted, Romero told the Arizona Daily Star last week that she hopes to officially launch the effort in time for Earth Day, April 22.
Romero acknowledged those concerns but said she's hoping to offset costs through public-private partnerships with nonprofits and local companies, limiting water use by using captured rainwater, including from the city's upcoming stormwater infrastructure program, and planting trees in areas that need them, including schools.
She said she's looking forward to working with the city's million-trees coordinator — a position that was established this month by City Council vote — when that person is hired to hammer out the specifics.
"It's a big effort — it's huge. Planting trees is not easy as people would think," Romero said.
Support for tree planting initiatives as a way to mitigate the rise in carbon dioxide levels has reached as far as the White House. President Trump recently pledged his support for the 1 Trillion Tree Initiative, a global tree-planting effort aimed at uniting governments and private companies.
Romero has long promised the local goal as part of her campaign for mayor. Her promises came as Tucson was recently ranked as the third-fastest-warming city in the United States, a recent analysis found.
As part of her plan, Romero said she's exploring where to plant, including schools, neighborhood streets, the city's landfill, along the banks of the Santa Cruz River, or in urban bosques. She stressed the importance of the public-private partnerships.
"Climate change is not just the concern of governments, it should be the concern of private companies and being able to find partnerships to create a climate-resilient city," she said.
Requirements for the project, she said, would be trees that are "drought-tolerant and native."
"There's a good swath of different trees that we can choose from that are native Sonoran Desert trees," she said.
In Tucson, officials estimated that the current tree canopy, or percentage of the city that is covered by an aboveground portion of trees, is about 8%, well below the recommended 15% threshold recommended by American Forests. That has contributed to an increasing urban heat island effect, or metropolitan areas that are warmer than surrounding rural areas.
Tanya Quist, director of the University of Arizona's campus arboretum, estimated that Tucson would need about 3 million trees to get to that threshold. But she said that lofty number shouldn't be a deterrent.
"I think planting 1, 2, or 3 million trees is really ambitious, but the fact is we're out of time. We really don't have the luxury of waiting any longer to address this problem," she said, referring to current climate issues.
Quist said planting trees could mitigate the urban heat island effect because trees can provide a reduction in temperature, which in Arizona can be fatal, through shade alone, but also because they store carbon dioxide, the main cause of human-induced climate change.
In addition to environmental positives, she said that studies have shown that trees help cities economically, as they are aesthetically pleasing and attractive to businesses, while they also provide social and community benefits, including encouraging community gatherings and promoting mental health by getting outside.
She acknowledged the project could be costly, but said "concerns should be offset by the guarantee of a positive return on investment."
"What's the value of saving those lives? What's the value of taking that carbon out of the atmosphere? What's the value of promoting community resilience or increasing business? In Tucson and in every instance, the science demonstrates definitively that there is always a positive return on investment," she said.
During a meeting earlier this month, the council voted to establish the million-trees coordinator position, stressing the project's importance despite concerns about costs and water use. The full-time position will be part of Tucson Water — and will be involved with the department's stormwater infrastructure program, which is set to launch in April.
As part of the program, Tucson Water utility customers can expect to see a fee — estimated to be about $1 a month for the average customer starting with the May bill, according to James MacAdam, the utility's superintendent for public information and conservation.
The fee is expected to generate about $3 million annually, he said. The bulk of the money will be used for maintenance and construction of the stormwater infrastructure, which will look like landscaping slightly sunken below street level and located in vegetative areas throughout the city. A portion of the money will be used for the million-trees program.
"The vast majority of the features we build are going to have trees as part of them. The idea is that in those features stormwater will be the primary source of irrigation for those trees," he said. "This is basically a way to start planting trees all around town in a way that doesn't use a significant amount of potable water, or drinking water."
MacAdam said there is no timetable on when the position will be filled but said that the utility met this week and decided that the coordinator would be among five new positions in the department approved by the City Council earlier this year. The role will be folded into a position that would be in charge of landscaping.
He said the city does not have an estimate of how many trees are planted annually, which "speaks to the need for a tree coordinator."
But he stressed the million-trees initiative is "a very cost effective investment in cooling the city, shading the city, beautifying the city, improving air quality and improving our quality of life in a way that we have heard from residents for many years that they really want."
A large portion of tree planting in Tucson is handled by nonprofit groups, including Tucson Clean and Beautiful, which runs the Trees for Tucson urban forestry program.
Katie Gannon, the group's executive director, estimated her group is on pace to plant about 7,500 trees this year, after planting about 5,000 each of the last two years.
She gave a presentation earlier this month at a council ward office about the positive effects on climate resiliency through tree planting. In her presentation, she showed how previous research indicated that tree cover is disproportionately lower in lower-income communities.
Gannon spoke alongside Irene Ogata, a city urban landscape manager, who told the gathering the initiative would be contingent on whether a bulk of the trees are planted on private property.
"On the back of a napkin, 20% (of Tucson land) is public property; that's 200,000 trees the city has to plant in 10 years, 20,000 a year, just on public property. That means 800,000 on non-public property, that's 80,000 a year on private property that has to be planted," Ogata said.
Gannon's concerns were primarily about maintenance; she said all trees require proper maintenance, while young trees, even if they are drought-tolerant, need to be watered early to establish roots.
But she otherwise said she's happy with Romero's "aggressive goal."
"It's very important and I'm very excited that that is her platform because it's one of the simplest, most cost-effective solutions to the urgent challenges were facing," she said. "I think we need a goal and we need an aggressive goal because you know it talks about the urgency of it and the magnitude of the challenge. And I think we can do it."
Contact reporter Justin Sayers at jsayers1@tucson.com or 573-4192. Twitter: @_JustinSayers. Facebook: JustinSSayers.