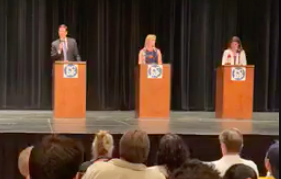 The three Democrats running to be Tucson's next mayor repeatedly clashed in a debate Thursday night over their legislative records and campaign promises being made to voters.
Former state senator Steve Farley and City Councilwoman Regina Romero traded barbs, while developer Randi Dorman went on the offensive less often, instead focusing more on sharing her vision for Tucson.
Independent candidate for Mayor, Ed Ackerley, did not participate in the debate organized by the Pima County Democratic Party at Rincon High School. About 600 people attended.
When given a chance to ask either candidate a question, Dorman pushed Farley to explain a promise he made at an earlier forum that he'd push to include affordable housing with every new tax deal from the city for new development.
Farley stood by his promise and shot back at Dorman, saying the job of mayor is to represent the entire community.
"When you are giving away tax incentives, you better get more out of it than you give," Farley said. "You figure out what makes sense for the taxpayers, that is your job as mayor."
Dorman responded that Farley was lying to the crowd, saying it isn't feasible to demand that developers set aside affordable housing units with every project.
"You just can't say that just for applause from the audience," Dorman told Farley.
Romero found herself defending tax deals the council made in the last decade with developers. She noted they were made at a time when the city was struggling to recover from the Great Recession.
Romero vowed new deals with the city would ask for greater concessions from developers.
"We must ask for more than just the jobs created," Romero said.
Later in the evening, Romero challenged Farley on his role during the state's 'Red for Ed' movement. She said he has taken credit for pushing Gov. Doug Ducey to offer a better deal to educators.
She said rather than Farley's intervention, it was the thousands of teachers, students, and families who demonstrated in Phoenix that forced Ducey to sign a deal for more education funding.
Farley said he worked throughout the night closely with 'Red for Ed' organizers, joking he was sometimes "high on Dr. Pepper."
"They didn't have to knock down the doors, I gave them the key. I gave them the tools they needed," Farley said.
Romero countered that Farley still failed public education.
"It didn't go far enough," Romero said, vowing she is ready to march to Phoenix for more education funding. "We are still in need of a billion dollars worth of infrastructure."
Asked early in the evening about economic and tax strategies to improve city services, Farley discussed tax loopholes noting that there is a tax on three-inch pipes, but not on four-inch pipes - like the ones primarily used by Southwest Gas.
"There are 14 billion dollars in these tax loopholes that are draining not only the state's budget and they are also draining them from our city's budget," Farley said. "If we can get those loopholes repealed - if we can get just a billion dollars of those repealed - we can do everything we need down here in Tucson."
Dorman agreed, telling the audience that the local economy needs to improve so that the city can offer better services to residents.
"We have to increase our sales tax base. We do not have enough money to meet the needs of the people of Tucson," Dorman said.
She quickly added that the $14 billion figure mentioned by Farley wasn't accurate. Dorman said it was smaller than he had told the large audience in the Rincon High School auditorium at a previous forum.
"They are much less," Dorman said.
Arizona Public Media Reporter Chris Conover, serving as the moderator during the Tuesday night debate, challenged Dorman on her answer. He asked her if the city needed to cut some services it already provides.
"It is really not about cutting," Dorman responded. "Economic development and creating more and better-paying jobs is what we desperately need in this community. We have a 24 percent poverty rate in a community with resources like this."
Romero told the audience that Tucson loses tax revenue annually to Maricopa County due to a complicated tax calculation that is based on the percentage of the county that is incorporated. Maricopa County, she noted, is 98 percent incorporated, while Pima County's rate is 63 percent.
"We are leaving millions of dollars in Maricopa County," Romero said.
The three-term councilwoman said the city should aggressively push for unincorporated areas either to incorporate themselves into new towns or to join with the city thru annexation.