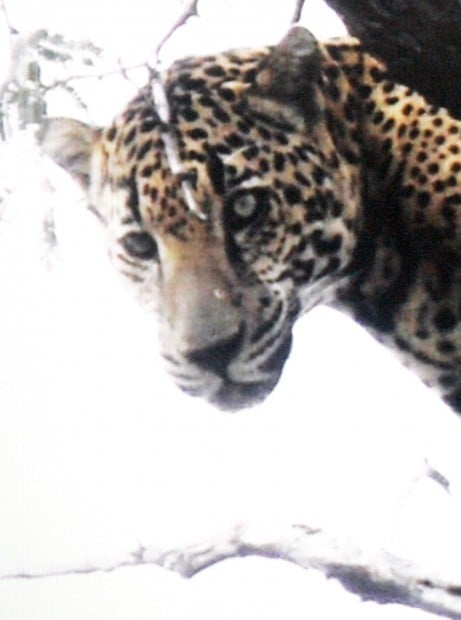 The big jaguar snarled, roared and clawed, puncturing wounds in the hunting dogs that surrounded him.
Hunting guide Donnie Fenn told a sometimes harrowing tale of his encounter Saturday with the adult male jaguar in a remote canyon in Cochise County, south of Interstate 10.
"It's the most amazing thing that's ever happened to me," said Fenn, who leads hunters to mountain lions with his dogs. "To be honest with you - I got to see it in real life, my daughter got to see it, but I hope never to encounter it again.
"I was nervous, scared, everything. It was just the aggressiveness - the power it had, the snarling. It wasn't a snarl like a lion. It was a roar. I've never heard anything like it."
Fenn was thrilled as well as scared. He had never expected to see such a large, endangered cat so early in his life, at age 32, he said. A lifelong hunter and Benson resident, he runs the mountain lion guide service as a sideline while working full time in an excavating business. He described his one-hour encounter with the jaguar as "a dream come true."
He came away respectful of its power, speed and size.
"All my dogs took a pretty good beating. They had puncture wounds. ... I got to see it in real life, and I'm glad, but I hope to never encounter it again," he repeated.
Fenn's encounter was the first confirmed sighting of a wild jaguar in the United States since the 2009 death in Arizona of jaguar Macho B, Arizona Game and Fish Department officials said. State biologists returned to the scene and found claw marks in a tree and collected hair samples for possible DNA testing.
Game officials and Fenn declined to specify where the animal was seen Saturday, for its own protection.
Wearing a black cowboy hat, Fenn told the following story at a news conference Tuesday held at Game and Fish's Tucson office:
He, his 10-year-old daughter and a friend were in a canyon Saturday, as father took daughter out lion hunting. After they rode on mules for 90 minutes and not seeing lion tracks, one of his older hound dogs started bucking and other dogs began "cold trailing," in which a dog bays at the scent of another animal that had passed by much earlier.
"In a matter of a couple of minutes, the dogs blew out of the canyon and were going fast. I jumped back on my mule and headed up the canyon, and by then the dogs were about three-quarters of a mile from us," Fenn said.
"Then, I was about 200 yards from a tree they were barking under, but I couldn't yet see what was there. I pulled my camera out, zoomed in, and I could tell right away it was a jaguar. It was big and spotted."
Leaving his daughter and friend behind to shoot video of the big cat, he went to call Game and Fish to report the sighting and to get advice on what to do. Once he returned, the jaguar was out of the first tree and running. Fenn chased his dogs as they chased the jaguar.
"It was roaring the whole time we were chasing it.
"I've seen a lot of lions treed up and stuff, and I've been in a lot of pretty hairy situations, but I've never experienced something like this. The roaring and growling. It was quite unreal."
As the jaguar clawed his dogs, Fenn, not really sure what to do, tried to pull them away and tie them up. He got all but a couple pups tied and followed the jaguar to a second tree, a mesquite, two miles from the first tree.
He stood 30, then 15 feet from the tree and took 80 to 85 pictures before the jaguar bolted. He and his companions stayed there fewer than 15 minutes - "we didn't want to stay too close, too long.
"I've had countless lions in a tree and in bluffs, and I can remember them all like they were yesterday," Fenn said. "This right here topped it all."
Knowing that only two other men with hounds have treed jaguars in Arizona in recent years, knowing that he was the third, "I still need to wake up. It was a big dream, I guess.
"I've told people for a long time ... I'm out in the field hunting with my dogs two or three days a week ... I kept telling people it was a matter of time, I think I will run into a jaguar. But I thought I would be a lot older than I am."
After telling his story, Fenn and his business partner, Tyler Burkett, showed three pictures of the jaguar on a large screen. One showed him draped around branches of the mesquite. Another showed the jaguar's head, as the animal was in that tree, and a third showed the cat looking downward.
Fenn didn't show his video, and said he didn't plan to immediately release it.
Game and Fish officials asked Fenn for photos, so they can compare its markings with those of other jaguars photographed in Arizona and in northern Sonora. Fenn agreed - if Game and Fish keeps them only for scientific use, department spokesman Mark Hart said.
The department declined those conditions, Hart said.
But because the three photos shown at the news conference were themselves photographed by the media, department officials say they believe they can use them for comparisons.
"We have reasonable images. It wasn't so important for us that we get the photos as it was that the photos got out," Hart said. "Now, everybody's got them."
A ground rule set for reporters at the Game and Fish news conference was that they were not to ask Fenn his views on the Endangered Species Act or whether he believes jaguars should be captured for research purposes.
Donnie Fenn's Chasin' Tail Guide Service promotes itself on its website as "The ultimate dry ground mountain lion hunting experience." It charges people $2,500 for a three-day guided mountain lion hunt and $4,000 for a hunt that lasts " 'till we get one," the website said.
Get local news delivered to your inbox!
Subscribe to our Daily Headlines newsletter.