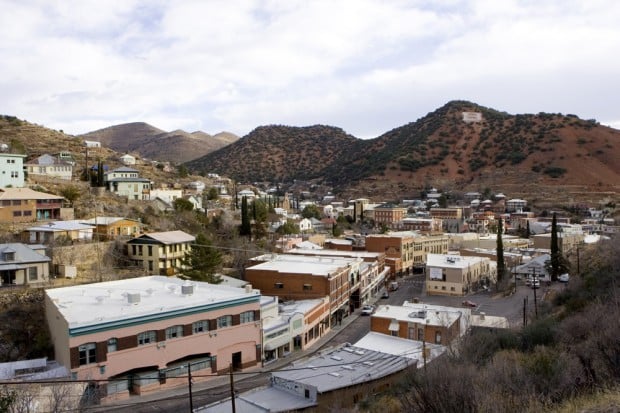 So what's the friendliest place in Arizona for gay couples? If figures from the Census Bureau are to be believed, it's Bisbee.
On a proportional basis, that tiny city in southeast Arizona had more gay couples living together than anywhere else in the state, says an analysis of the annual count by researchers at the Williams Institute at the UCLA School of Law.
The Bisbee ratio was 20.9 for every 1,000 households. That compares with a statewide average of 8.8.
Other communities where the number of gay couples is above the statewide average include Apache Junction, Phoenix, Sedona and Tucson.
"It's kind of a little bit of a liberal spot in a conservative oasis," said Kathy Sowden. She and her partner, Deborah Grier, own and operate Finders Keepers, an antique and jewelry shop on Main Street in Old Bisbee.
"I'm always surprised to see a Republican bumper sticker here," she said.
The couple, who moved to Arizona six years ago from California, also said there's a kind of live-and-let-live attitude in the community. Sowden said part of that is strictly economics.
"It's a lot of people trying to make a living in a small tourist town," she said. "A lot of times the mutual goal kind of erases any cultural differences, especially now with the economy the way it is."
Researcher Gary Gates said the census data is based on reports in which the main person responding on the form identifies another same-sex adult in the household as either a husband or wife or as an "unmarried partner," versus listing them as a roommate or unrelated adult.
Because of that, he said, the study may reflect less what places are attractive to same-sex couples and more of where they feel comfortable to reveal their relationships.
"Same-sex couples are more likely to identify themselves on the census if they live in communities with lower levels of social stigma and higher levels of acceptance and support," he said. Conversely, that means gay couples are more likely to stay closeted - even on the census form - where they are less comfortable.
Still, Gates said, there's something to be said for how gays perceive a city.
"Some communities do develop specific reputations of being welcoming places for LGBT (lesbian, gay, bisexual or transgender) people, so it's likely that they attract some same-sex couples to move there," he said.
Bisbee does, in fact, have a reputation. In a 2007 article, Out.com listed Bisbee's annual Gay Pride event as among the top five in rural communities.
"Once known as 'the Queen of Copper Camps,' Bisbee's queens and kings camp it up during a drag race and bull run in Brewer Gulch, square dancing, a turn-of-the-century ball and other such high-spirited goings on," the site says.
Economics also can play a role.
"It's very inexpensive to live here," Sowden said of Bisbee, saying the money goes further here than it did when she lived in San Diego. That description also would fit some of the other locations that ranked high on the Arizona list, such as Apache Junction.
But Sowden also sees factors in Bisbee more akin to Sedona.
"It's kind of more of a retirement community, but the people who retire here tend to be the hippies of yesterday," she said.
None of the Arizona communities come even close to the ratios of some locales Gates and his research identified as the places where same-sex couples were showing up on the census data.
Topping that list was Provincetown, Mass., with more than 163 gay couples out of every 1,000 couples in the community. That was followed by Wilton Manors in Florida, Palm Springs in California, Rehoboth Beach in Delaware, and Guerneville and West Hollywood in California.
Ratio of same sex couples per 1,000 couples in a community:
Catalina Foothills - 10.1
Source: Analysis of U.S. Census Bureau figures by The Williams Institute, UCLA School of Law. Report covers only communities with at least 50 gay couples.