From the discovery of Pluto to the ongoing mission to bring back samples from an asteroid, Arizona has positioned itself at the center of the universe when it comes to space exploration.
Starting Thursday, the Arizona History Museum in Tucson will launch a new, six-month exhibit dedicated to the state's role in exploring the cosmos.
"Ready to Launch: Arizona's Place in Space" features an Apollo-era spacesuit on loan from NASA and covers everything from pioneering space probes and telescopes to capturing the first image of a black hole.
It will run through Nov. 30 at the museum on Second Street, just west of the University of Arizona campus.
Shannon Fleischman, head museum curator for the Arizona Historical Society, designed the exhibit. She said Houston and Florida are the two places most associated with space exploration, but Arizona's contributions are undeniable — and ongoing.
"Pluto was discovered here. We trained all of the Apollo astronauts. There are just so many things that are overlooked," Fleischman said.
The exhibit fills two rooms — one dedicated to crewed missions, the other to unmanned space exploration.
Items on display include photos of deep space, detailed maps of other worlds, spaceship replicas and artifacts from the University of Arizona's Lunar and Planetary Laboratory, Arizona State University and the historical society's own collection.
Lowell Observatory in Flagstaff provided reproductions of the glass photographic plates that Clyde Tombaugh used to discover the ninth planet on Feb. 18, 1930, and a hand-painted map of the moon that was produced by the observatory ahead of the Apollo missions.
The space suit worn by Apollo 11 astronaut Buzz Aldrin during training came from NASA already mounted in a display case. Fleischman said it had to be shipped upright in a crate weighing more than 500 pounds.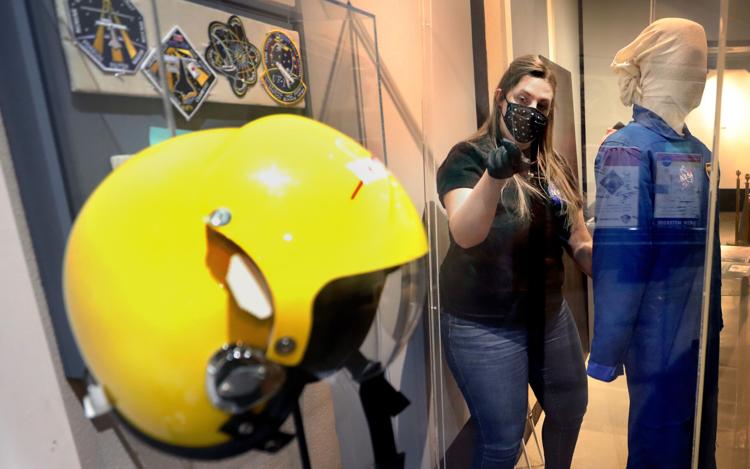 "We didn't know which suit we were going to get until we opened the crate," she said. "We just kind of lucked out that it was Buzz's."
The suit now stands next to a display featuring a special-edition Buzz Aldrin G.I. Joe doll still in its original packaging and a metal toy rocket from the Soviet Union.
Ironically, Fleischman said, those Cold War-era space toys are directly across the room from photos of American and Russian astronauts posing together on the International Space Station. One of those smiling people is Catherine "Cady" Coleman, a former NASA astronaut who now serves as a professor and Global Explorer in Residence at ASU. Pictured alongside her is Mark Kelly.
The astronaut-turned-U.S. senator from Arizona contributed a number of items to the new exhibit, including a training jumpsuit and flight helmet and several logbooks filled with his handwritten notes from his space shuttle missions.
Folded up inside one of the logbooks is a love letter to him from his wife, former Congresswoman Gabrielle Giffords, though no one — not even museum staff — will get to read it, Fleischman said.
When she originally contacted Kelly about the new exhibit, she said she was "hoping to get a mission patch or something. He was extremely generous."
This is the first exhibit Fleischman has designed for the historical society.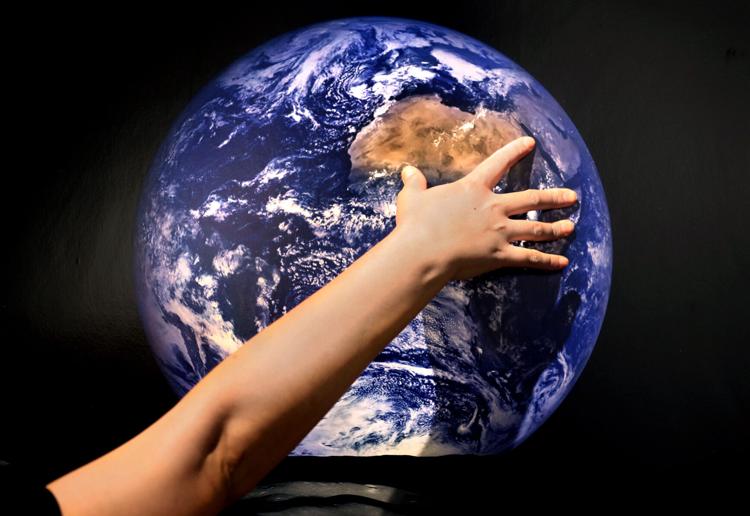 The Prescott native said her interest in space exploration was sparked at a young age during school field trips to Lowell Observatory and Meteor Crater.
Later, she attended the U of A as an undergraduate at the same time that Mars rovers were being tested there, she said.
"Exploring space captivates and inspires us all," Fleischman said. "'Ready to Launch' is a unique and exciting exhibition that encourages visitors to celebrate the triumphs that Arizonans have made toward space research and exploration."