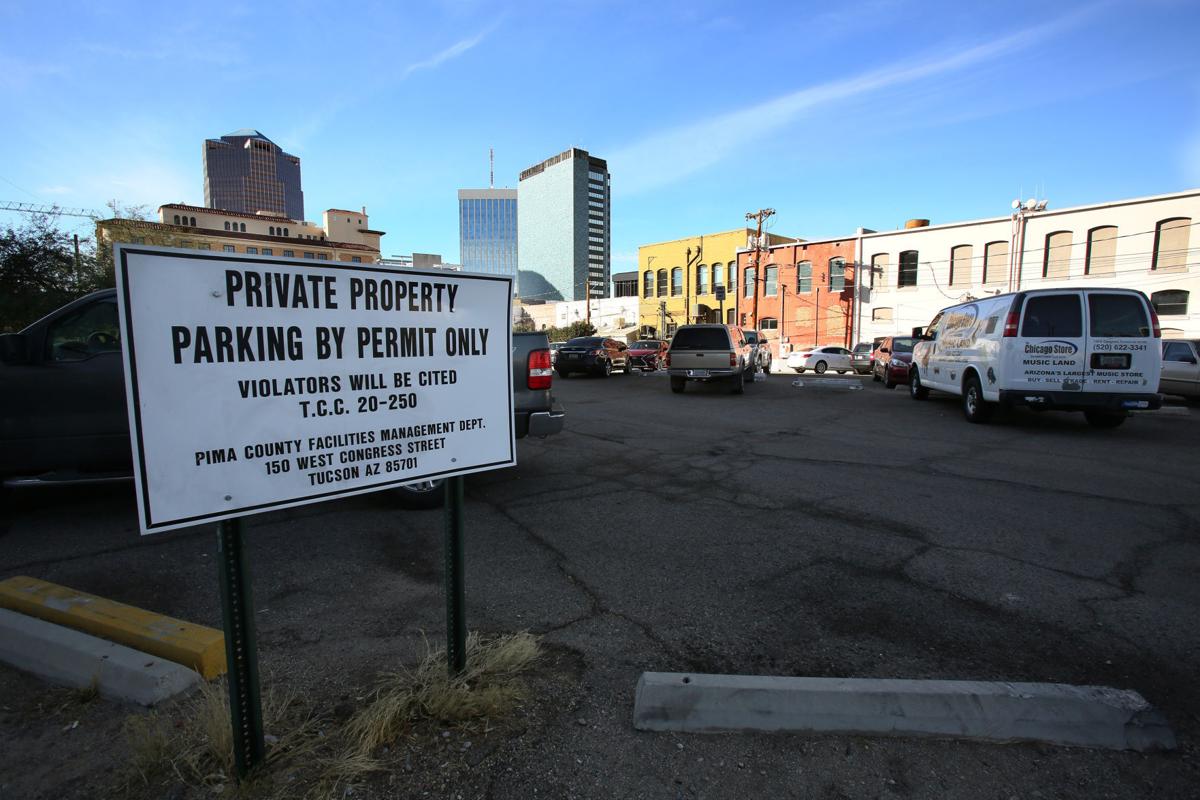 The Rio Nuevo board is expected to green-light a redevelopment deal Tuesday, Jan. 23, that will turn a downtown parking lot into one of the tallest buildings in Tucson.
The taxing district board is expected to vote on opening formal discussions with an out-of-town developer to build a 300-foot tall tower on the county-owned property on East Broadway between Sixth and Scott avenues.
The yet-to-be-revealed project is one of several responses to Rio Nuevo's call for proposals for the site last year in an effort to spur more development in the heart of downtown.
The guidelines set by Rio Nuevo set a minimum for the proposals, calling for an eight-story structure with at least 150,000-square-feet in retail/office space and a 500-space parking garage. It also requires there to be retail shops or restaurants on the ground floor facing Broadway.
Those familiar with the lead proposal said the building would be one of the tallest structures in Tucson.
The height limit for the county-owned property is 300 feet, and only one structure in Tucson is taller — downtown's One South Church, which is 23 stories high and at about 330 feet in height is the tallest building in Tucson. Caterpillar is among the tenants there while the company waits for its new headquarters west of Interstate 10 to be built. Built in 1986, the building was previously known as the UniSource Energy Tower.
Officials are excited about the new development, saying it is one of the largest deals for the taxing district.
"This is going to be a game-changer for downtown," said Edmund Marquez, a member of the Rio Nuevo Board.
The project is still in the earliest of stages, with Rio Nuevo expected to finalize a deal with the developer in the coming weeks
It will also involve the city of Tucson and Pima County, which worked closely with the taxing district on the redevelopment of the property.
"I think it's a positive step," said Tucson City Councilman Steve Kozachik.
"It's a continuation of redevelopment downtown and it takes the property off the county rolls and onto the private sector."
"We are very excited to be part of this project," added John Moffatt, the county's economic development director.
Reporter Gabriela Rico contributed to this story. Contact reporter Joe Ferguson at jferguson@tucson.com or 573-4197. On Twitter: @JoeFerguson
Get local news delivered to your inbox!
Subscribe to our Daily Headlines newsletter.