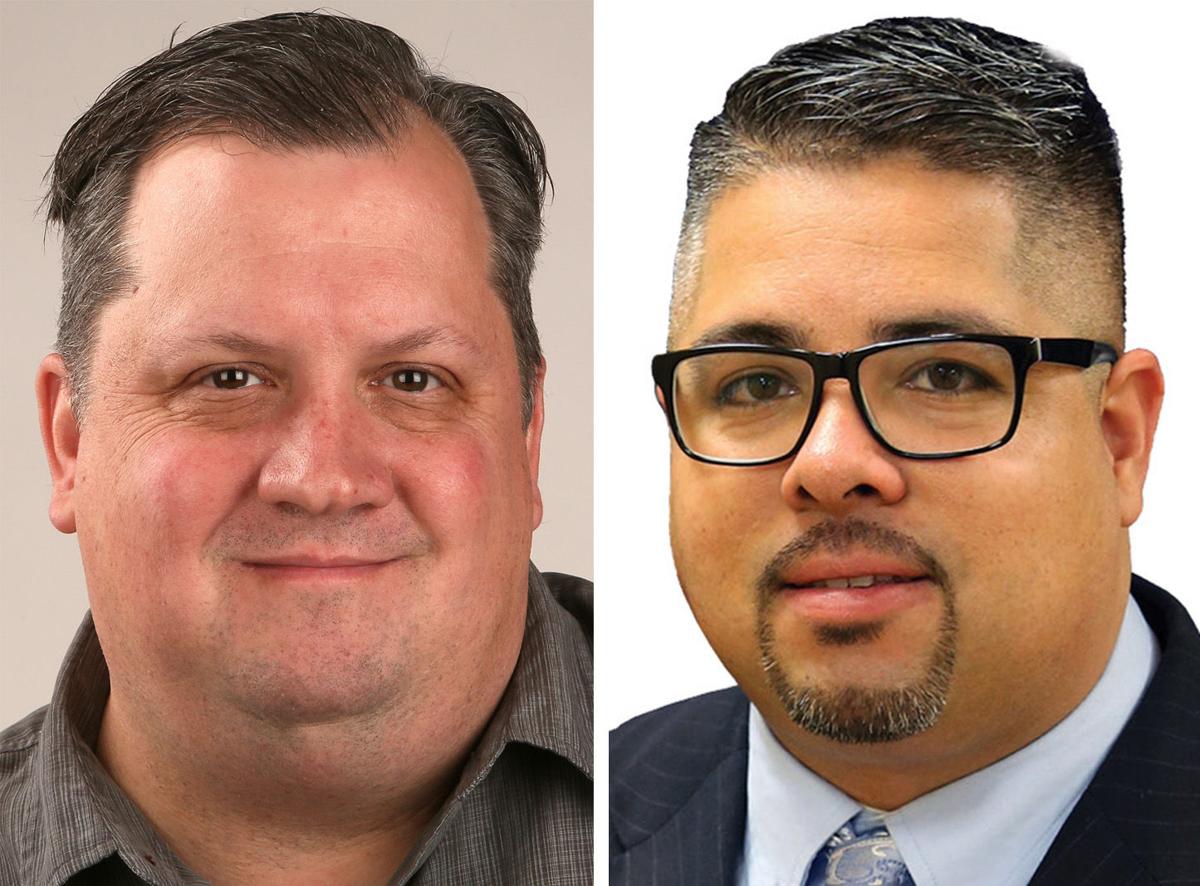 The serving and enforcement of eviction notices is an issue in Pima County constable races, as high unemployment during the COVID-19 pandemic has left landlords grappling with unpaid rent and tenants struggling to pay it.
Constables work as peace officers of the county and its judges to serve civil and criminal papers, including eviction notices. The governor has imposed a moratorium on evictions until Oct. 31 due to the pandemic, but advocates worry a flood of evictions will come after that. In the Aug. 4 Democratic primary, the constable seat for Precinct 9 will be decided, unless a write-in candidate emerges for the November general election; no Republicans are running.
The Democratic race features incumbent Joe Ferguson, 45, and his challenger, George Camacho, 42. The precinct is bounded by Grant Road to the north, Country Club Road to the east, Continental Road to the west and Pima Mine Road to the south.
The position pays a capped salary of $67,000 per year.
Ferguson has been constable since January after being appointed by the county's Board of Supervisors to replace Colette Philip, who retired. Ferguson worked as a reporter at the Arizona Daily Star for nearly seven years before taking the post.
Camacho worked for the constables' office for 18 years, 16 as a deputy constable, before he was placed on paid administrative leave in January while being investigated on five allegations of bullying a female colleague. The county substantiated two of the five claims, and informal discipline and mediation was recommended in a report released March 13.
Camacho remained on leave until April 6, when he announced his candidacy for Precinct 9. He was fired on April 22 by the presiding constable, Kristen Randall. Randall gave him the opportunity to resign, according to his termination letter.
Camacho declined to comment on being fired. However, he has requested an investigation of his termination by the Arizona Attorney General's Office, which the state agency would not confirm or deny due to confidentiality restrictions.
The Star interviewed the two candidates; answers have been edited for length.
Q: What are your qualifications for being a constable, and how do you see the role of constables in our community?
Camacho: I worked in the constables office for the past 18 years, 16 of those years as a deputy constable performing the vast majority of duties an elected constable does. I have a complete and thorough knowledge of all the laws relating to the service of process in the state of Arizona and Pima County. If a constable had a question regarding legal issues, I was the one they called, including constables statewide.
Q. Why do you want this position?
Camacho: I know the issues facing individuals we come into contact with and have lived in the precinct my entire life. I have the ability to effectively communicate and deescalate stressful situations with members of our community and it is my goal to make a difference. ... A constable has a tough job to perform and it takes an individual that understands their community and everyone deserves respect, and that individual is me.
Q. How would you carry out the duties during the COVID-19 pandemic?
Camacho: With the exception of evictions, our job remains the same. However, evictions are a major dilemma. On one hand you have tenants who are affected by COVID-19 and on the other hand you have property owners affected as well. I will follow the law — it's my job — and the Arizona governor's executive order, which for the first time in the history allows constables to delay an eviction if it is COVID-19 related.
Q. Although it's not an official part of the job, some Pima County constables have been taking the initiative to also focus on eviction prevention. What are your ideas on this?
Camacho: I will work with community leaders, government officials and legislators to help combat these issues. Educating landlords and tenants of their rights and resources available is key to combating the evictions during this pandemic. ... Property owners are required to provide the Arizona Residential Landlord Tenant Act or Mobile Home Tenant Act as a part of their lease but there is no penalty for not doing so. We need to enact legislation that provides a severe penalty for not providing a copy of these acts and the tenant must sign that they received a copy.
Q. What are your qualifications for being a constable, and how do you see the role of constables in our community?
Ferguson: I am the current constable for Justice Precinct 9 and have attended over 60 hours of instruction through Arizona Peace Officer Standards and Training since being appointed in January. Beyond training and on-the-job experience in the field, it's my years as a journalist which have given me the tools necessary to move the constables office forward; the ability to listen, to assess a person's situation quickly, connect the dots and then immediately start formulating a tailor-made plan to help them out.
Q. Why do you want to retain this position?
Ferguson: I have been a constable for six months, and already we have seen dramatic changes in the office. I would love to have four more years so I can keep up the momentum and push forward a lot of my ideas for the future. I am one of three constables who opted into the eviction notification pilot, popular with tenants and property managers, and look forward to increasing the resources we can offer families when we contact them. (The pilot involves making sure tenants are aware that an eviction is pending, what the earliest date is that an eviction could happen and ways to work with the landlord to avoid an eviction, if possible).
Q. How are you carrying out the duties during the COVID-19 pandemic?
Ferguson: I find myself communicating more. The governor's executive order and the CARES Act (the federal Coronavirus Aid, Relief, and Economic Security Act), directing us to delay certain evictions have necessitated meaningful conversations with tenants and property managers about the eviction. As an eviction order is no longer a guaranteed eviction enforcement, I take the time to get a sense of what is going on at each home so I can determine if they qualify for a delay.
Q. Although it's not an official part of the job, some Pima County constables have been taking the initiative to also focus on eviction prevention. What are your ideas on this?
Ferguson: I am on a weekly call with representatives from multiple government agencies and nonprofits, and this is something that comes up every week. I am excited that the city of Tucson will be working with the constables office on an eviction prevention grant using CARES Act funding. We will be empowered to help make an initial agreement between the landlord and tenant, help the tenant fill out their intake application, give them a list of documents they'll need and have the phone number of caseworkers specifically assigned to us to help move this process along. ... Throughout the pandemic, I have been making visits to homes to discuss rental assistance options before the hearing date, from a list provided to me from the court. This is a program that could be continued and even built upon.
Get local news delivered to your inbox!
Subscribe to our Daily Headlines newsletter.