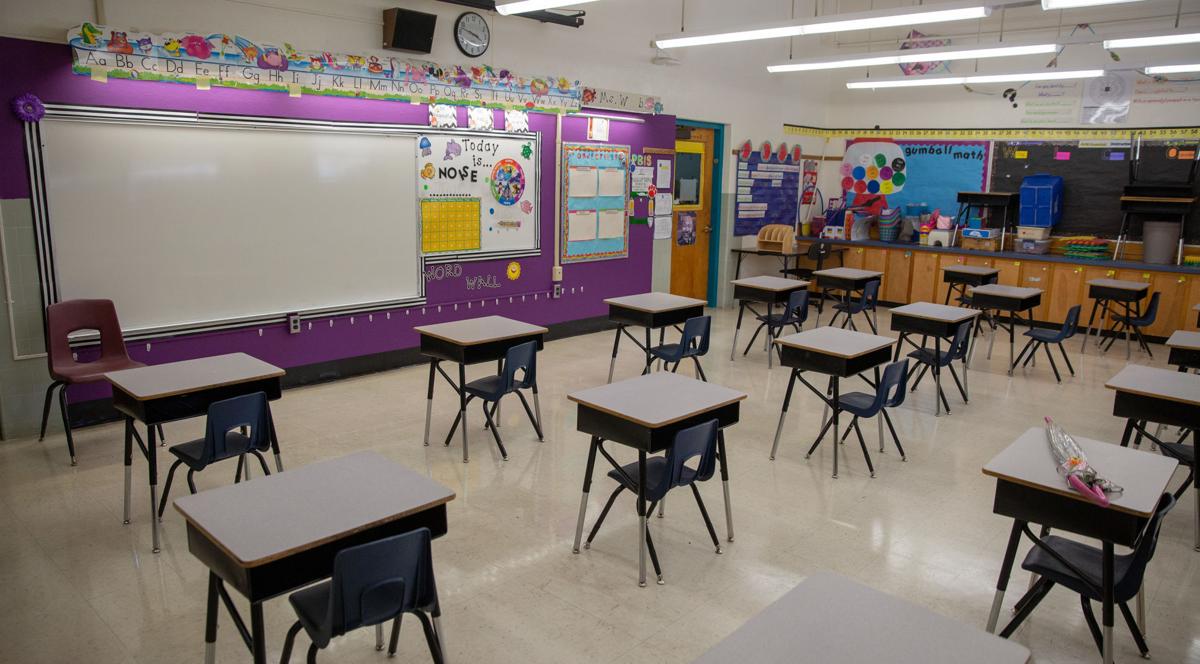 The way state health officials see it, it's now safe for Tucson schools to have children return to campus for a hybrid model of in-person and virtual learning.
As some of Tucson's nine major school districts are planning for what this next phase of reopening will look like, the Pima County Health Department argues that the community is not ready for that.
The latest report from the Arizona Department of Health Services on Thursday shows that Pima County and nine other counties throughout the state are now meeting a three-part test for school reopenings, reflecting that the spread of COVID-19 is now only "moderate" at worst. That includes fewer than 10% of hospital visits being for COVID-like symptoms, fewer than 7% of tests conducted coming back positive in the past two weeks, and either a two-week decline in the number of cases or a case rate of fewer than 100 for every 100,000 residents.
The state, however, also urges school leaders to consult with local health departments as the best source of information on local coronavirus conditions.
Pima County has additional metrics in both hospital and public-health capacity, which officials are urging school leaders to consider before moving to the hybrid phase. And right now, those benchmarks continue to be concerning, said Pima County Chief Medical Officer Dr. Francisco García in a Thursday morning letter to local school leaders.
García said the county is concerned with the mounting number of cases at the University of Arizona.
"These will have a negative impact on the state's metrics which will not become evident to the state for two more weeks," he said in the letter. "We do not believe that it is safe to move into the hybrid phase of instruction in Pima County at this point."
HYBRID LEARNING
Just because some counties are now in the moderate category does not mean that schooling will return to the way it was before they were first shuttered in March.
The final decision of whether to offer a hybrid model — and exactly how — remains firmly in the hands of local school officials.
There are state requirements, however, for schools that do reopen, including masks for students and staff workers, screening for symptoms, physical distancing, enhanced cleaning protocols, better ventilation and closing of communal spaces like lunchrooms.
The Sahuarita Unified School District has set a target date of Sept. 17 to kick off hybrid learning after consulting on final plans with the county Health Department, Superintendent Manuel Valenzuela said in a letter to families.
Valenzuela described the basic plan for hybrid instruction as splitting students into two groups, "A" and "B," alphabetically by last name. Group "A" will attend school on Monday and Tuesday, and group "B" will attend Thursday and Friday. When not on campus, students will engage in remote learning. Wednesdays will be entirely remote.
Valenzuela anticipates starting at the elementary level first before rolling out hybrid learning for middle and high schools about two weeks later.
Tucson's two largest school districts, TUSD and Sunnyside, respectively, serve about 60,000 students combined. Both have yet to set a start date for hybrid learning as they continue to monitor the county Health Department's metrics.
Tucson Unified will discuss the most up-to-date metrics at its Sept. 9 Governing Board meeting. Sunnyside Unified plans to present its hybrid model at an upcoming meeting.
Like TUSD and Sunnyside, Tanque Verde Unified School District and Catalina Foothills are going to follow the recommendations of the county Health Department.
"We will not override the judgment of our county public health officials on the question of when it is safe to reopen for in-person instruction," Catalina Foothills Superintendent Mary Kamerzell said in a letter to families Thursday, adding the district of about 5,500 students will remain 100% remote for now.
When local metrics are met, Tanque Verde, serving about 2,000 children, will move into a hybrid model in late September to early October, said spokeswoman Claire Place. The district would offer in-person instruction to the youngest two or three grades and graduating seniors first, coming to campus two days a week with the others online. The Vail School District, with more than 12,000 students, told parents last week in an email that it is targeting Sept. 21 to begin hybrid instruction. Vail Superintendent John Carruth said in the email that plans are being developed for what that will look like, though students will have the option to continue full-time remote learning.
On the opposite end of town in the Marana Unified School District, the Governing Board has set Oct. 19 as the start date for hybrid instruction, following fall break, Superintendent Dan Streeter told families in a letter last week. Planning is underway as is a survey of families of the district's 12,000-plus students.
The Flowing Wells Unified School District, serving about 5,000 children, is also working on developing a hybrid model of learning but is first surveying families to determine how many would be interested in that option.
Superintendent David Baker did not indicate a potential start date.
Amphitheater schools, serving more than 13,000 students, continues to work closely with the county Health Department on campus openings, said spokeswoman Michelle Valenzuela. The district's current plan includes a provision that staff and families be given two weeks' notice before reopening.
"We will of course honor that decision as we weigh our options," she said. "As always, we will make decisions based on what is best for our students, staff and community."
REINVENTING PUBLIC EDUCATION
Pima along with Maricopa, Cochise, Coconino, Navajo and Pinal counties were greenlighted by the state to offer hybrid instruction Thursday, Sept. 3. Apache and Yavapai reached that status last week.
Two other counties, Greenlee and La Paz, have met the benchmarks recommended to resume full in-person instruction.
Gila, Graham, Mohave, Santa Cruz and Yuma counties still haven't reached the benchmark for positive test results. And Gila and Graham counties also fall short on hitting the mark for the number of cases.
Arizona schools chief Kathy Hoffman said she is glad that most counties are meeting the requirements for hybrid instruction. But she said there's still a long way to go before things get back to close to the way they were before statewide closures went into effect.
"For schools to safely reopen for full in-person instruction we do want to see two weeks of meeting the 5% threshold for positivity rates," she said. "But I think we're headed in the right direction."
That assumes that things ever will get back to the way they were before.
"I think that, not just in Arizona but across the country, we are experiencing a shift in what our education system will look like going into the future," Hoffman said, with some families deciding they're no longer interested in sending their children to school on a full-time basis. She said that, in turn, will have ripple effects on total enrollment and the state funding that goes along with that.
But Hoffman said the pandemic also could create new opportunities to reinvent public education, including the number of instructional hours and how much of that can be conducted online — assuming that all students have access to both computers and high-speed internet.
"FEAR AND CONCERN"
Opening school doors is not just a matter of meeting the benchmarks. It also requires that teachers are comfortable going back into schools, with issues including whether they believe the plans for everything from cleaning procedures to ventilation are adequate.
"They're still nervous," said Joe Thomas, president of the Arizona Education Association. "They don't see the situation as safe for them and their students."
Then there are the views of parents.
On one side there are the same questions about safety. But there also are the countervailing issues of whether they can continue to try to oversee an online education of their children, especially with more adults being called back to work.
Hoffman said that, at least for the time being, there's still "a lot of fear and concern" among families.
She pointed out that schools were told by the state to open their doors last month for on-site support services.
"They expected hundreds, if not thousands, of kids to show up," Hoffman said. "They were shocked at the number of kids that actually arrived. They said it was an indicator that families were not comfortable yet with sending their kids back to the school setting for learning."
TUSD identified about 2,500 at-risk kids to come to campuses, but only 586 showed up when schools opened for limited services on Aug. 17. Likewise, in Sunnyside, where nearly 83% of students qualify for free and reduced lunch — an indicator of poverty — only 107 students in the district's most vulnerable categories are attending for in-person services.
Then there's the issue of notification.
School districts are not required to report coronavirus cases unless there is an outbreak.
An outbreak is defined as two or more cases at a school facility within 14 days that are not epidemiologically related, meaning there is no homebound contact. The cases are either linked from contact at the school or there is no known link. On one hand, Thomas said, it might not make sense to tell everyone who works or attends a school if there is a single outbreak that might be in an entirely different wing of the building.
"But you all come through the same set of doors, you use the same restrooms, you walk the same hallways, you use the same computer lab, you ride similar buses," he said. And Thomas said there is no clear direction on whether districts will notify all staff workers, parents and students.
Thomas conceded that sending out a notice every time a staffer or student tests positive could provoke more fear than is necessary. But he said it's a question of rights.
"As a parent, I do think I need to have the last word about the safety of my child," Thomas said.
Hoffman agreed.
"There's the potential to cause fear," she said. "But you're providing families with information to make informed decisions," she said.
And there may be another reason for transparency.
Thomas said that, what with social media and the rumor mill, word will get out that something is amiss. Being upfront, he said, builds trust.
"Because if you don't do that, you look like you're hiding something," Thomas said.
"Mustang Stampede"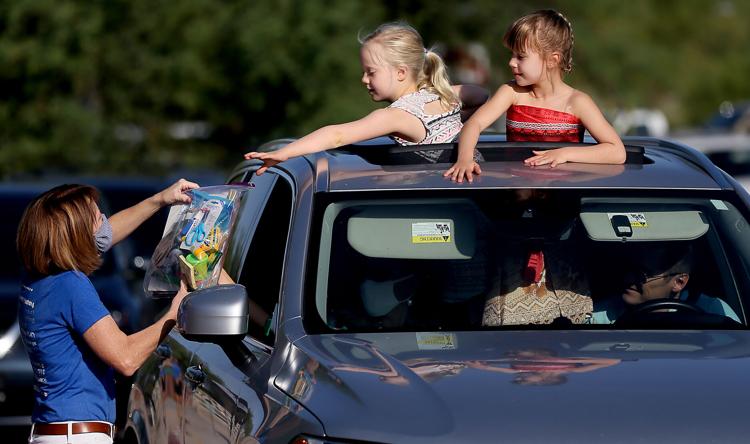 First Day of School, John B. Wright Elementary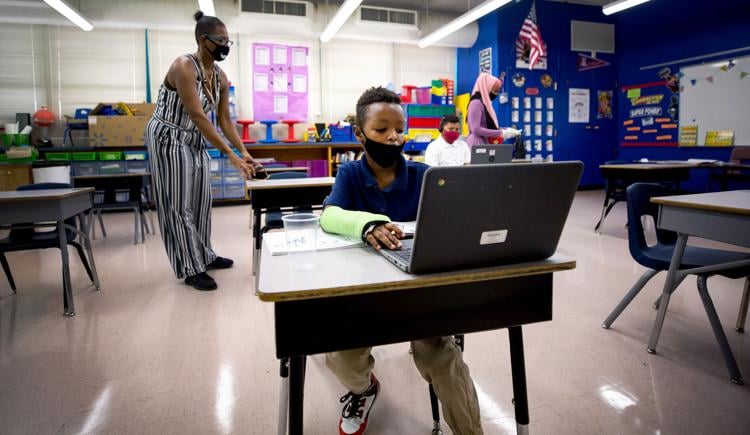 "Mustang Stampede"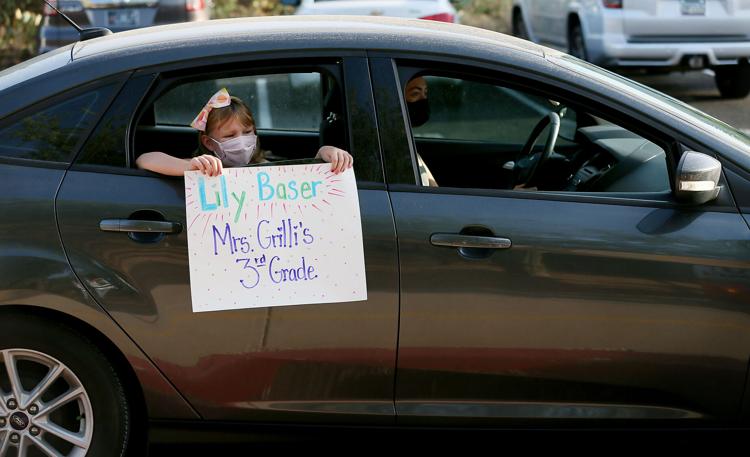 "Mustang Stampede"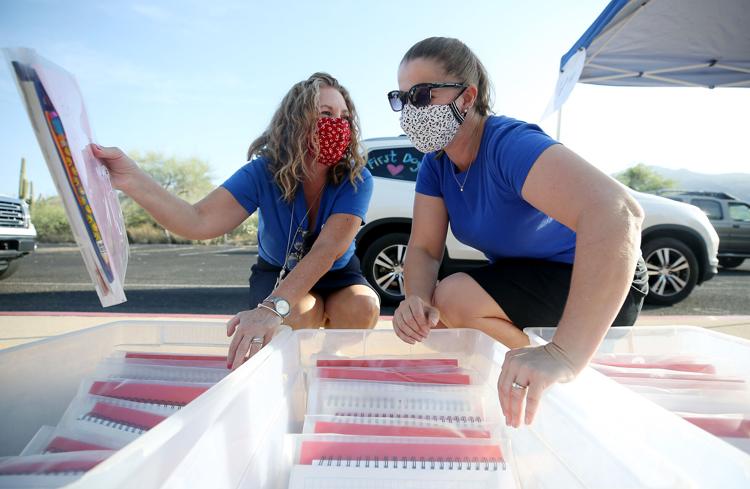 "Mustang Stampede"
"Mustang Stampede"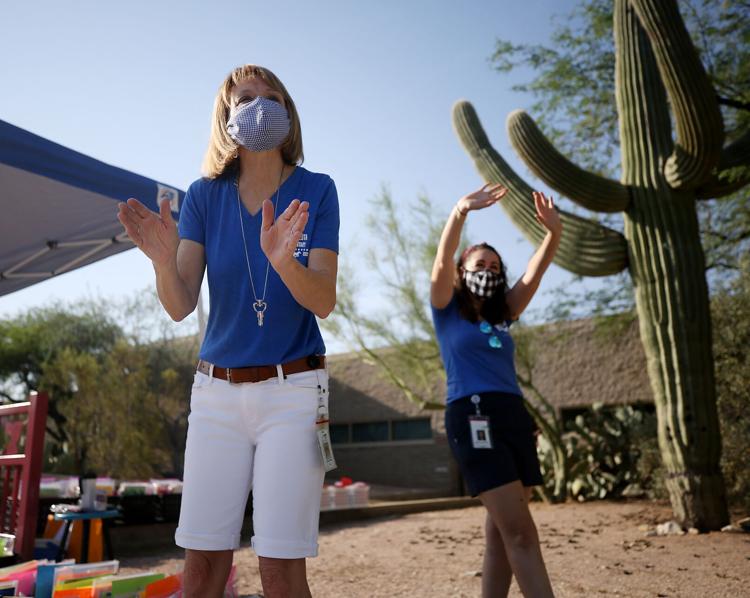 "Mustang Stampede"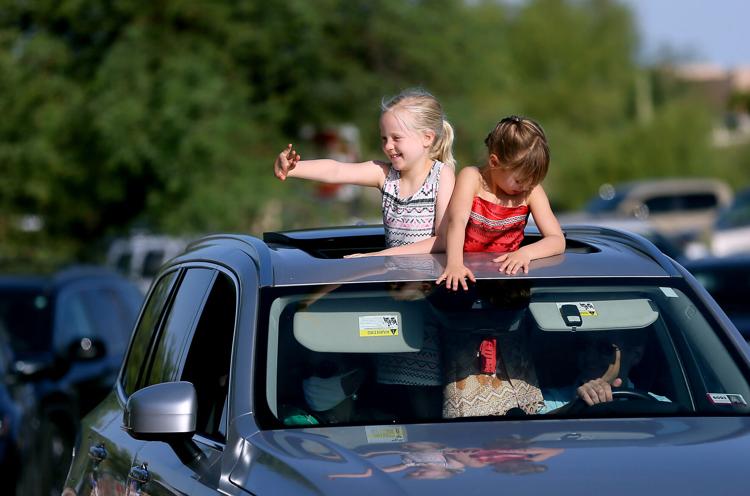 "Mustang Stampede"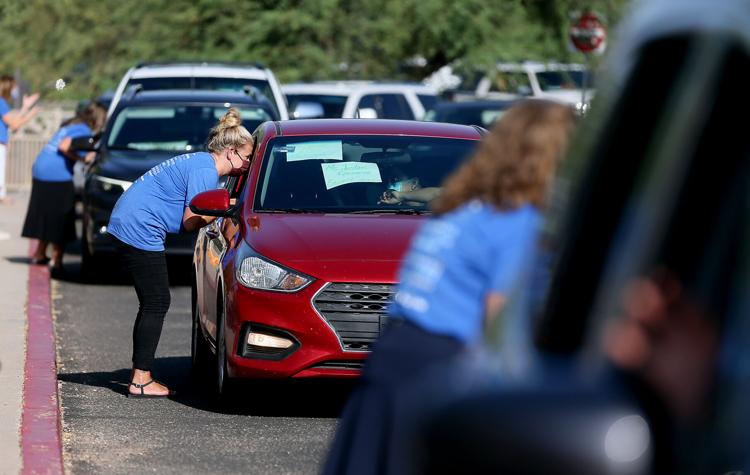 "Mustang Stampede"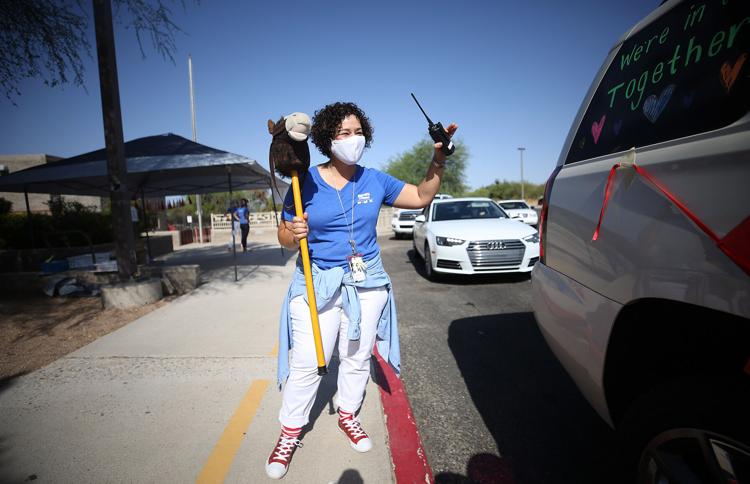 First Day of School, John B. Wright Elementary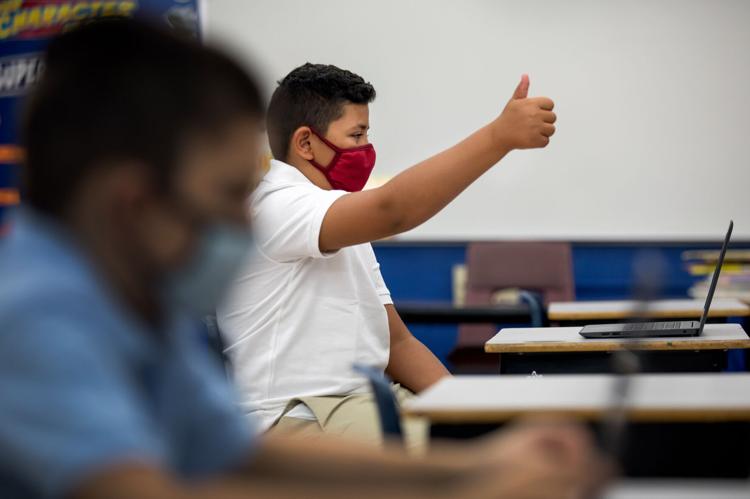 First Day of School, John B. Wright Elementary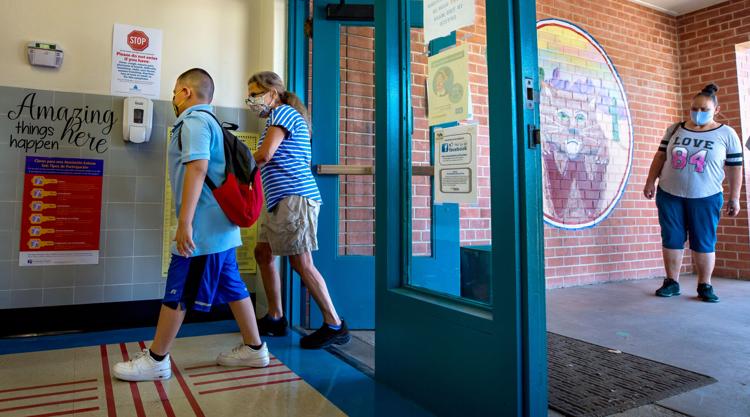 First Day of School, John B. Wright Elementary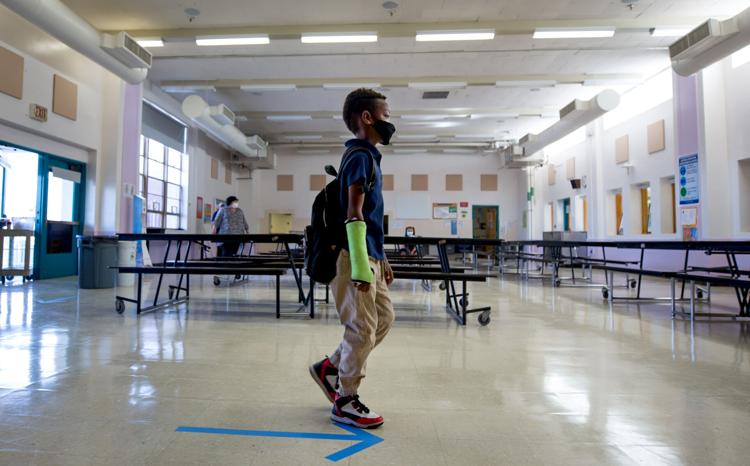 Concerned about COVID-19?
Sign up now to get the most recent coronavirus headlines and other important local and national news sent to your email inbox daily.