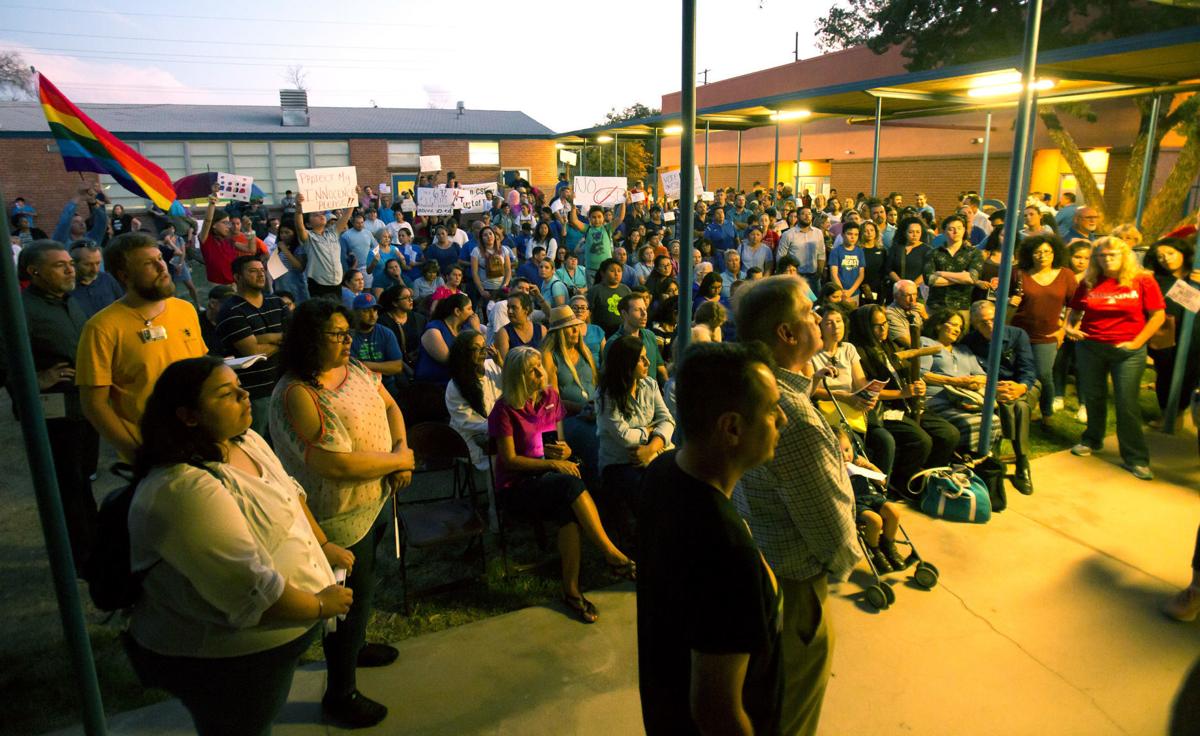 Students in public schools throughout Pima County are not getting specific information about so-called alternative lifestyles if they participate in the sexual education programs their districts provide.
At most, a program will not use language about heterosexual marriages or "straight" sexuality but instead will refer to "healthy, committed relationships" or "partners."
What this means: If Tucson Unified School District passes its new curriculum, it will be the county's most inclusive for students who are, or might be, lesbian, gay, bisexual, transgender or queer.
The potential change has been made possible because Arizona repealed its anti-LGBTQ "No Promo Homo" law in April. That legislation, which was enacted in 1991, made it illegal for schools to "promote a homosexual lifestyle," "portray homosexuality as a positive alternative lifestyle" or "suggest that some methods of sex are safe methods of homosexual sex" when teaching students about HIV and AIDS.
Here's a quick snapshot of what's currently offered:
Marana Unified School District lets interested students and families know about family life education that's offered after-school, on weekends and over the summer. The curriculums, which vary and are offered by different local agencies but not by the district directly, are most often from Arizona Youth Partnership.
Sahuarita Unified, Flowing Wells Unified and the Vail School District use an Arizona Youth Partnership curriculum called "Choosing the Best." The program stresses to students that delaying sex until they are in a committed, healthy relationship is the best way to avoid sexual risks such as unplanned pregnancies or sexually transmitted diseases. The organization adjusted the program's language three years ago so that it was more inclusive, but different sexual orientations or gender identities are not discussed directly.
Amphitheater Public Schools has a maturation/sex education curriculum for grades 4-8, which focuses on basic facts about human reproduction and appropriate self-care. It also includes information about the risks and responsibilities of sexual activity. The approach, which was updated by the governing board in April, focuses on abstinence, but for grades seven and eight, also includes information about birth control. The curriculum does not assume heterosexuality and defines homosexuality. Students who have more LGBTQ questions are advised to seek information from a parent or trusted adult.
Sunnyside Unified School District has a curriculum for grades 8 and 9 which has a strong emphasis on abstinence. It also provides information on prevention, strategies for students' refusal skills and the benefits of delaying sexual activity as well as information on positive relationships and addressing abusive relationships. There is a separate curriculum for pregnant or parenting girls enrolled in the district's Teenage Parent High School program. LGBTQ relationships and lifestyles are not discussed directly, but language does not assume heterosexuality.
Catalina Foothills School District's sex-ed program is an optional curriculum called "Human Growth and Development" for grades 4 to 9 and includes sexuality, human development, relationships, decision-making, abstinence, contraception, and disease preventions. LGBTQ relationships are not taught, but may be discussed during the ninth grade "Sexuality and You" session.
Tanque Verde Unified includes "health education" in its growth and development curriculum, which focuses on anatomy and physiology, nutrition, personal care, exercise and emotional change. School nurses teach the program to students in the fifth and sixth grades. The lessons don't include information about prevention of pregnancy or sexually transmitted disease or anything to do with LGBTQ lifestyles.
RELATED: Photo gallery: TUSD delays vote on Family Life Curriculum 
Photos: TUSD delays vote on Family Life Curriculum
TUSD Family Life Curriculum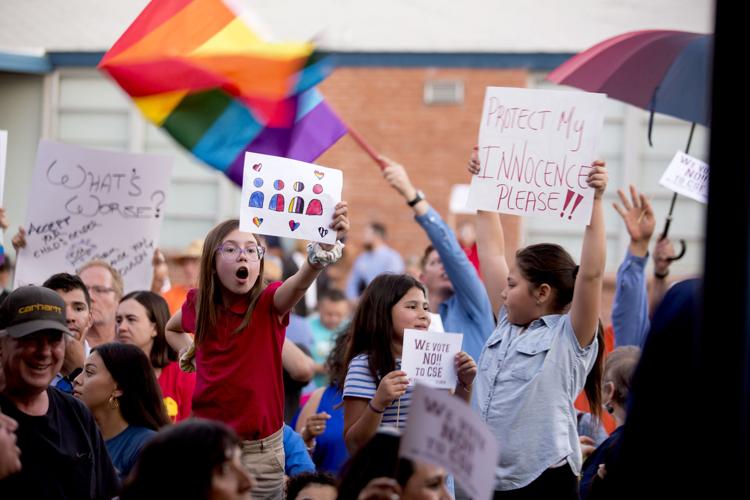 TUSD Family Life Curriculum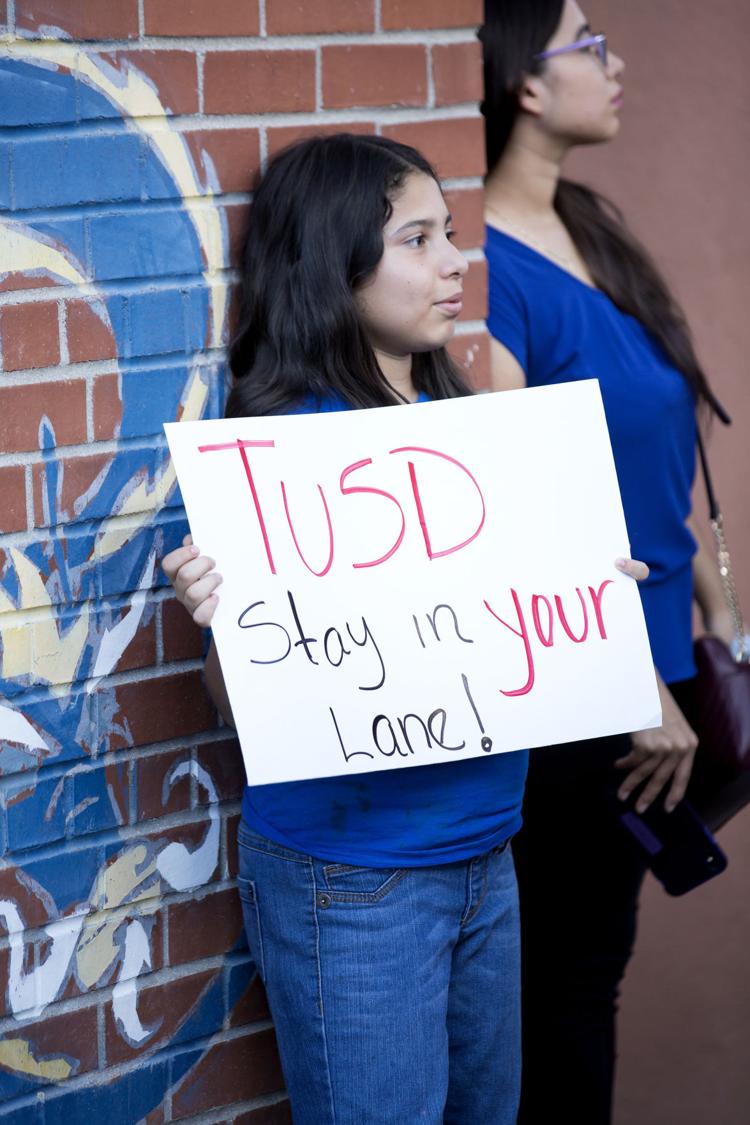 TUSD Family Life Curriculum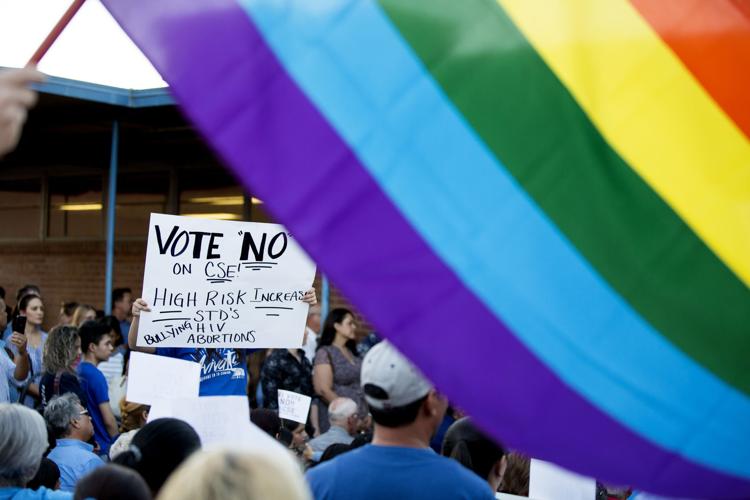 TUSD Family Life Curriculum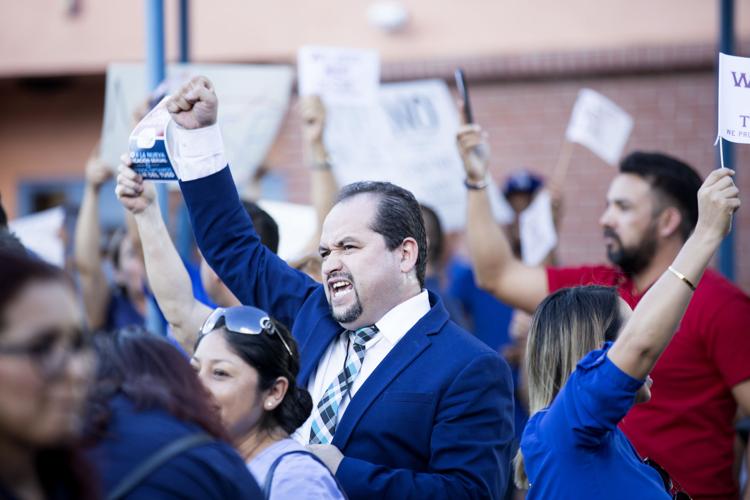 TUSD Family Life Curriculum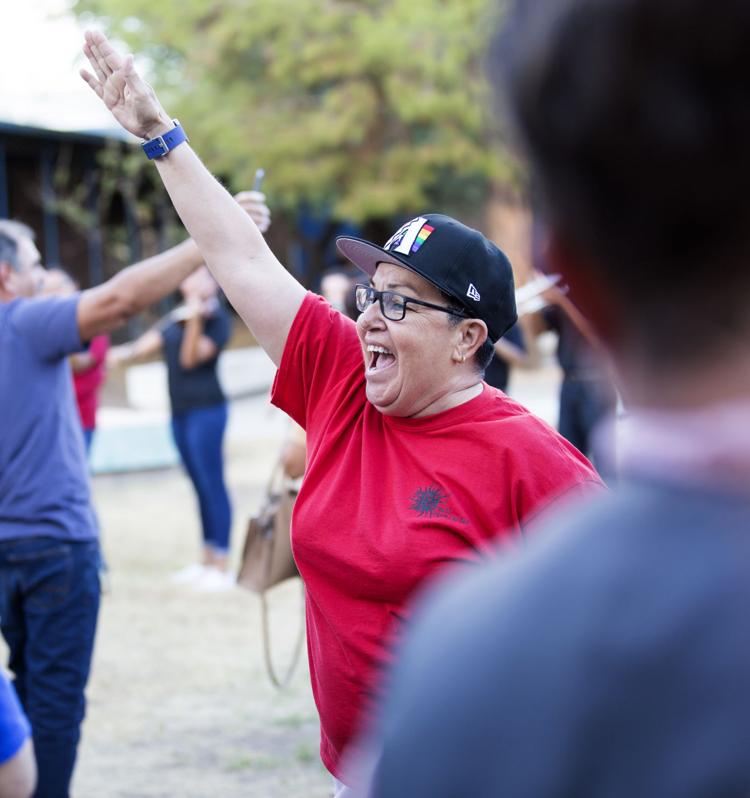 TUSD Family Life Curriculum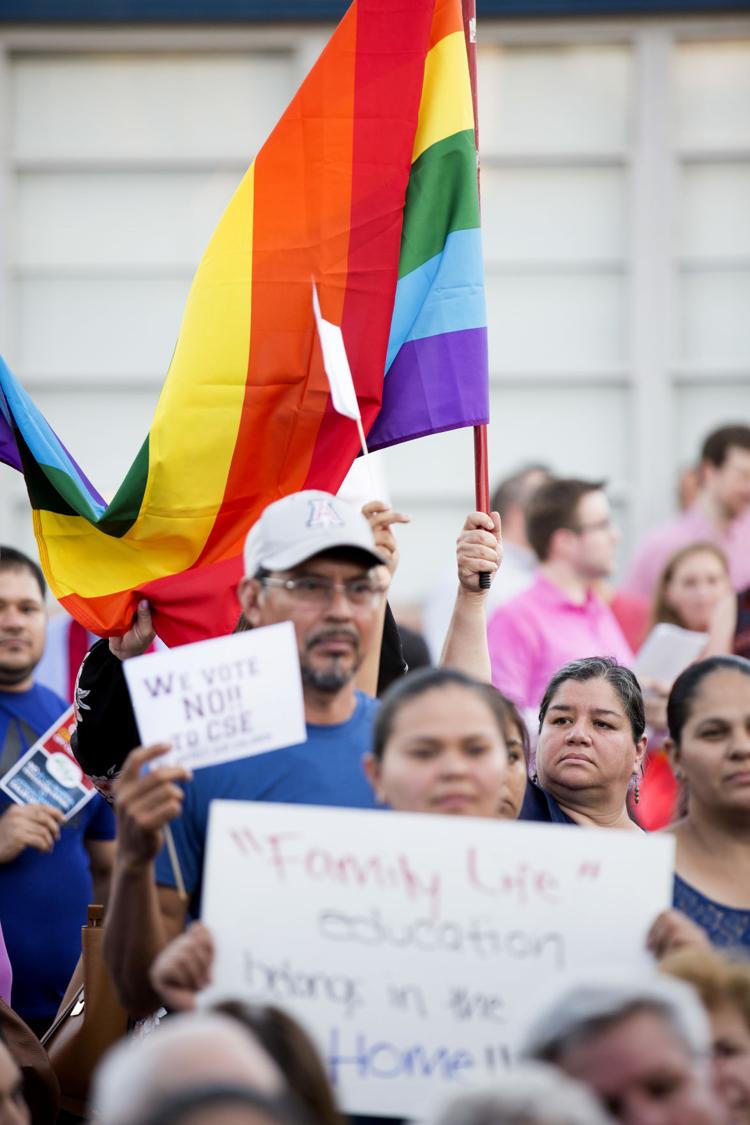 TUSD Family Life Curriculum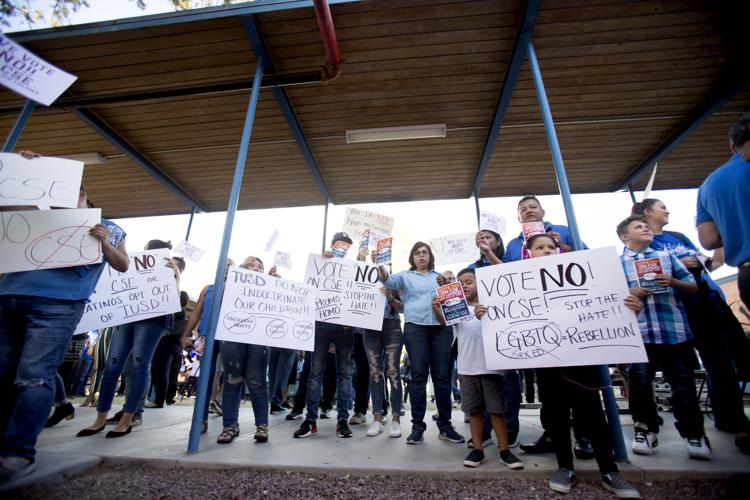 TUSD Family Life Curriculum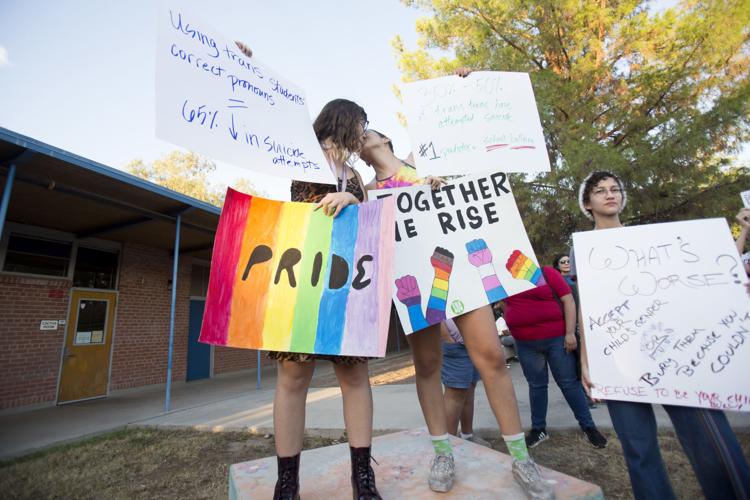 TUSD Family Life Curriculum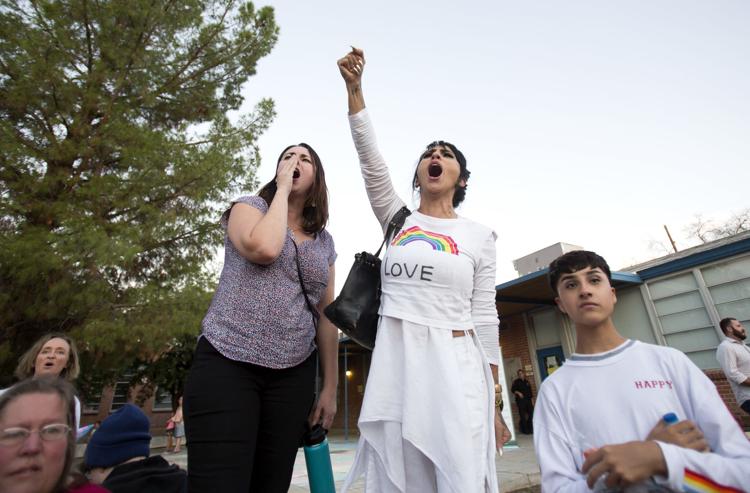 TUSD Family Life Curriculum