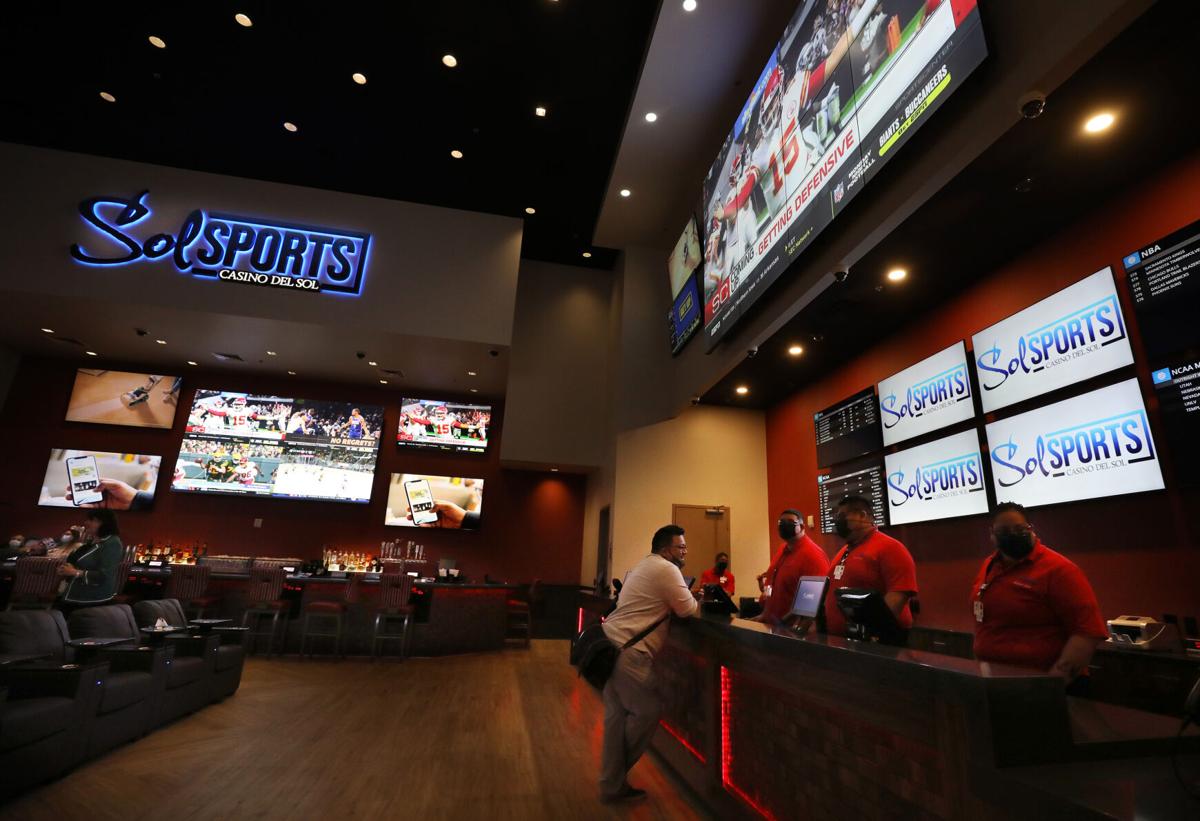 Sports fans now have a place in Tucson where they can order a burger and beer and place a bet — all at once.
Casino del Sol's sportsbook began taking wagers on Wednesday and will formally open to the public on Thursday morning. Gamblers can bet on games at six counters or eight self-service kiosks inside the sportsbook. The 4,000-square-foot venue also features a full bar and food service.
Though sports wagering has been legal in Arizona for more than two months, SolSports — located inside Casino del Sol, 5655 W. Valencia Road — is the first in-person sportsbook in Southern Arizona and one of just a handful in the state. Desert Diamond Casinos, with locations in Tucson and Sahuarita, plans to open its own sportsbooks later this year.
During a ribbon-cutting ceremony Wednesday morning, casino and tribal officials marveled at the 60 big-screen televisions blasting sports highlights. SolSports gets every major cable station, including the Pac-12 Networks. Screens located above the betting counters list live and future odds for football, basketball, hockey and more. (The UA football team is getting 15 points at Washington State on Friday night; the men's basketball team is an 80-to-1 shot to win the NCAA Tournament.)
Rather than partner with an outside brand, Casino del Sol will manage its own sportsbook. Sportsbook director John Collins, hired by Casino del Sol in June, helps set the odds using OpenSports technology from Scientific Games. Kiosks located elsewhere in the casino allow gamblers to bet without having to enter the sportsbook itself.
In a state suddenly flooded with sports gambling apps, SolSports stands out because it's a place you can stand in.
"The in-person sportsbook is much more social, much more interactive," Casino del Sol CEO Kimberly Van Amburg said. "I like the idea of being able to place a bet from your sofa, but nothing replaces … the experience of being a fan with other fans."
Added Collins: "I'll have more fun in this room having a beer with my buddies and watching games with my buddies than I will sitting on couch with a mobile app, by myself."
Officials say the new sportsbook will bring a different kind of gambler into the casino — one who stays long enough to watch an entire game.
Leather chairs, complete with USB ports, are designed for afternoon-long stays. A dozen or so deep booths ring the betting area on one side of the sportsbook. On the other side is a plush bar featuring liquor and eight on-tap beers.
Wood and leather accents give SolSports an upscale but casual vibe. That's by design: Van Amburg and other casino officials toured Las Vegas sportsbooks before the pandemic; she said she felt more comfortable inside sportsbooks that offered more than just rows of seats placed in front of TV screens. The Park MGM was among her favorites.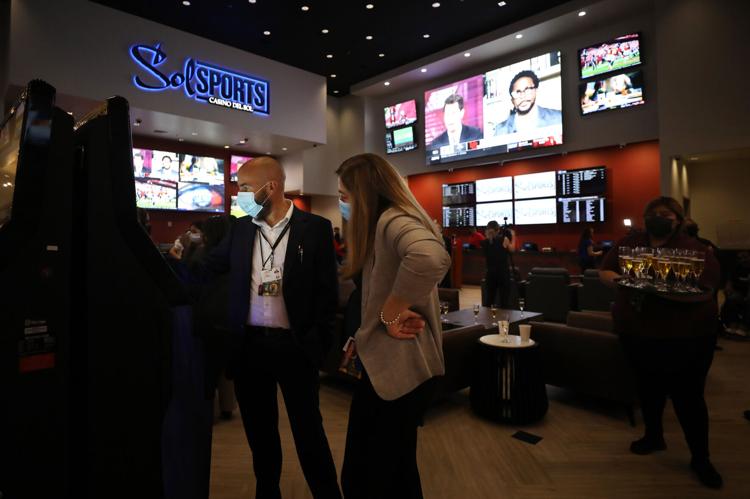 For being so new, Sol Sports is old-school — starting with the fact that, for now, there's no accompanying app. MGM, Caesar's, FanDuel, Bally's, DraftKings, Wynn and SuperBook Sports, among others, all allow sports fans to bet using the swipe of a finger.
Betting in person at SolSports requires a bit more effort but comes, officials say, with a great payoff: Human interaction.
Expect a lot of burgers, beers — and bets — with a full slate of NFL, NBA, NHL and college basketball games scheduled for Thursday night.
"Our message is," Collins said, "come visit the property, bet local and win big."
Contact sports editor Ryan Finley at 573-4312 or rfinley@tucson.com. On Twitter: @ryan_finley