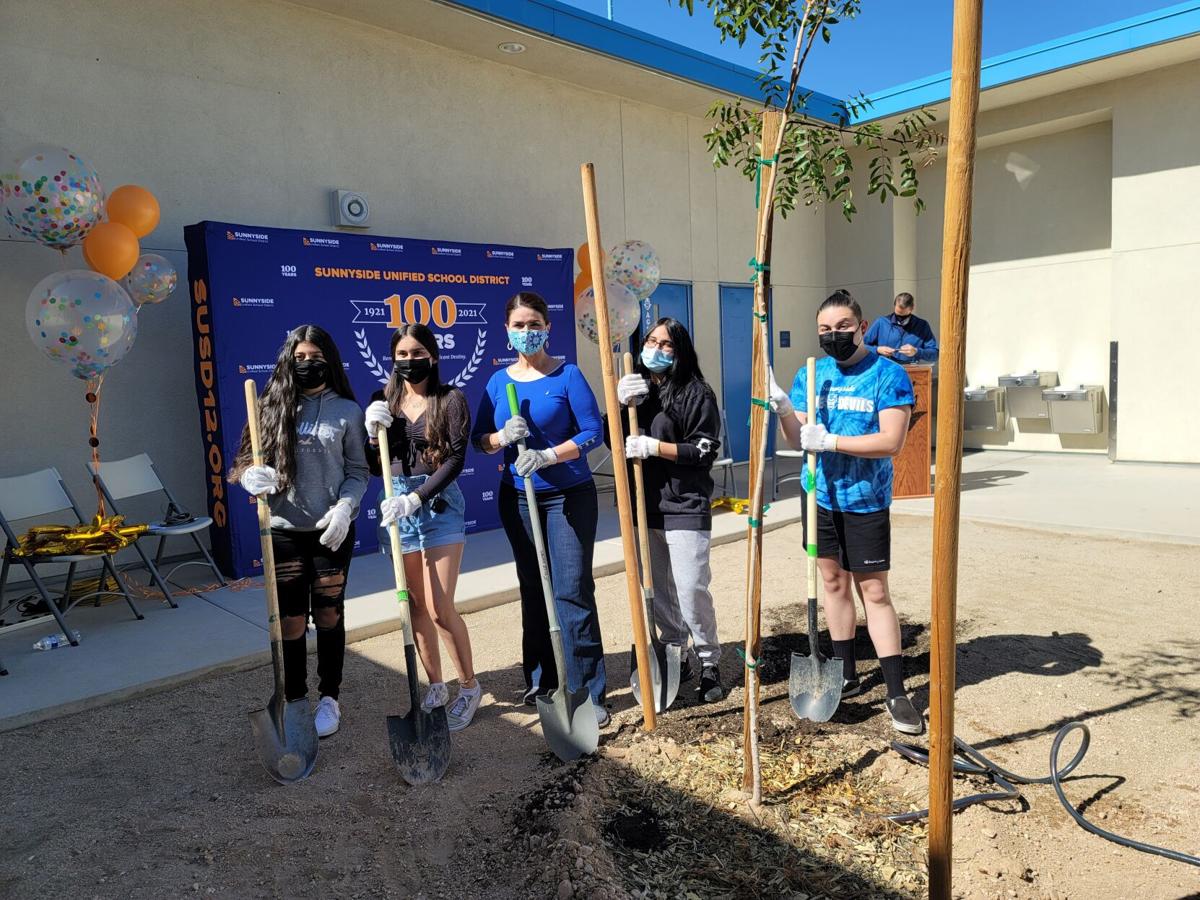 Sunnyside School District is celebrating its 100th anniversary by committing to plant 100 trees throughout the district.
The second-largest school district in Tucson, with about 15,000 students and 21 campuses, kicked off the centennial celebration Thursday with a tree planning event at Sunnyside High School.
The commitment to plant 100 trees closely aligns with Mayor Regina Romero's Tucson Million Trees initiative, which aims to plant 1 million trees by 2030, a news release said.
"I want to congratulate the Sunnyside Unified School District for 100 years of providing a high-quality public education to children growing up on our city's south side and empowering kids from historically under-invested areas with new windows of opportunity," Romero said.
Local nonprofit Tucson Clean & Beautiful is donating 100 trees to Sunnyside in honor of the centennial. Sunnyside High School teacher Melany Coates' Earth Systems class helped select the first 15 native, drought-tolerant trees, which will be planted in strategic locations on the high school campus to provide shade and green spaces. The students have been studying how trees can help mitigate the effects of climate change.
"Planting trees with youth is our highest calling," said Clean & Beautiful Executive Director Katie Gannon. "We are equipping the next generation of environmental leaders with one of the most powerful tools for combating extreme heat, a desert shade tree. What a meaningful way to mark 100 years; we are planting the future. The trees we plant today will benefit the next generation of students for many years to come. It is our gift to the future."
The purpose of the Tucson Million Trees initiative is to increase the city's tree canopy and help mitigate the effects of climate change, as well as promoting equity by creating more green spaces in low-income communities that are most impacted by climate change, extreme heat and environmental degradation, the news release said.
Future projects in honor of Sunnyside's centennial include a revamp of the district's website that will include a sub-site dedicated to the anniversary with all the yearbooks from Desert View and Sunnyside high schools dating back to the beginning of each campus, as well as more history and an interactive timeline.
The district is also considering other beautification projects such as murals, art installations and street banners in commemoration.
"The centennial will celebrate Sunnyside's remarkable legacy, but it is also a time to think about the future," said Sunnyside Superintendent Steve Holmes. "We are at a pivotal moment in public education, and I'm honored to step into the next 100 years alongside this great community. I'm excited to celebrate the history and cultural richness of Sunnyside during this special year for our district."