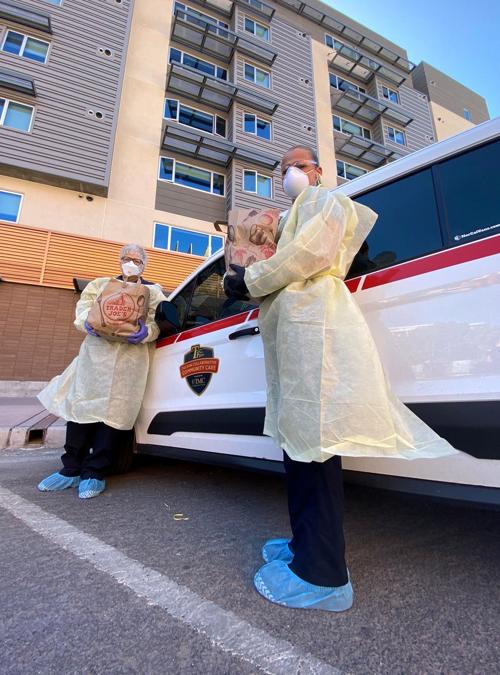 During the pandemic and beyond, an innovative local program is taking collaboration to the next level to make a difference for first responders, health-care workers and the community.
Tucson Collaborative Community Care — known as TC-3 — is a joint effort by the Tucson Fire Department, Tucson Medical Center and a group of community partners dedicated to reducing reliance on the emergency medical system (EMS) and other first responders and preventing nonemergency 911 calls.
"At TC-3, we are navigators. We try to get people connected to case management and service agencies in the community. If you need to connect for one service, that is not daunting, but when you need five or six services, it is overwhelming, especially if you are older or have mental illness. So we become navigators of the social determinants of health: Transportation, housing, food, employment and finances in addition to mental health care and physical health care," said Karen Critchley, a registered nurse and TC-3 program manager.
TC-3 originated in 2016 when Tucson Fire personnel recognized that a significant number of callers were overusing 911. In an attempt to combat the problem, they adopted a holistic approach to addressing client concerns.
"There were people who would sometimes call hundreds of times a year, mostly around social service types of needs. Some of them were folks with complex medical conditions that weren't being managed well. Some were people with behavioral health conditions who couldn't make decisions about their care. And others were homeless or isolated folks who kept falling through the cracks," said Critchley.
Identifying these individuals and the root causes of their behaviors and then connecting them to existing community resources has resulted in a reduction of calls to 911, said Michael Colaianni, spokesman for the Tucson Fire Department.
To assist the clients, TC-3 works with an array of community partners including the Pima Council on Aging; the Primavera Foundation; the Salvation Army; Adult Protective Services; Community Bridges, Inc., which offers treatment for alcohol and narcotics dependency; Southwest Medical Aid; the Pima Animal Care Center; the Community Food Bank of Southern Arizona; and other nonprofits.
Since transportation is a huge barrier for many clients, TC-3 offers urgent medical-related transportation through two dedicated vehicles, including an Americans with Disabilities Act-compliant van.
"Helping these clients get the resources they need improves quality of life for them and for everyone else in the community. It frees up EMS employees' time and other resources that the taxpayers pay for so they can go toward those who really need those resources and supplies," Colaianni said.
"It decreases public and private costs and frees up hospital beds for people who truly need treatment, which is more important now than ever."
Tucson Medical Center began supporting TC-3 with a grant of $122,000 through the TMC Foundation in October 2018.
The program has since expanded to include firefighters, paramedics, nurse navigators and a support staff from Tucson Fire and TMC.
Critchley said TC-3, which operates on an annual budget of $600,000, helped save $1.6 million in EMS and hospital-related charges by preventing more than 500 calls for 129 clients last year.
Fire departments across the nation are looking to emulate the program.
"We were seeing a lot of people come through our emergency room who use it as their primary-care physician," said Julie Wolfe Beadle, director of major gifts for the TMC Foundation.
"When we were approached by the Fire Department about partnering to decrease the number of frequent flyers calling 911, we realized we had the opportunity to decrease the number of nonemergent patients in the emergency department and help these patients by tapping into community resources."
Colaianni emphasized that during the pandemic, the reduction in nonemergency 911 calls will also help to limit possible exposure to COVID-19 for clients, EMS personnel and other workers on the front lines.
Since the statewide shelter-in-place was implemented, TC-3 has offered expanded services to 1,700 clients.
It has provided instructions and explanations about coping with COVID-19; offered help with basic needs such as food, medication and other supplies; and provided wellness checks and delivery of supplies.
During the first few weeks of home isolation, TC-3 assembled and distributed free food boxes for clients courtesy of grants from Walmart, Sam's Club and the Butcher family.
The pandemic "really hit our folks on assisted plans like the Supplemental Nutrition Assistance Program, because the products they would normally get were not available on the shelves due to hoarding," said Critchley.
"If anything was left, it was the expensive items. And they certainly couldn't get face masks, cleaning supplies, toilet paper and other basic supplies, so these grants were a lifeline for many people."
Critchley also credits donors such as CORE Construction for gifts of masks for TC-3 employees and vulnerable clients.
As the pandemic has continued, TC-3 has also established ongoing meal and prescription delivery for clients in need.
Ultimately, TC-3 is about preventive care, said Wolfe Beadle.
"We want to keep people out of the hospital whenever possible through preventive work," she said. "We have saved the community a huge amount on the 911 side, and on the TMC side, our goal is to reduce costs even more."