The number of new COVID-19 cases in Pima County sharply increased recently from one week to the next, bucking a somewhat flat trend in new cases over the previous several weeks.
Total weekly new cases increased by 66% to 875, while the number of diagnostic tests increased by 14% from Oct. 11-17 to Oct. 18-24, according to the Arizona Department of Health Services' chart of COVID-19 cases by date, as of Friday.
Pima County had one of the largest percent increases of any county in Arizona over this time frame.
At the same time, new cases increased statewide by 31% to 7,807, while diagnostic tests increased by 16%.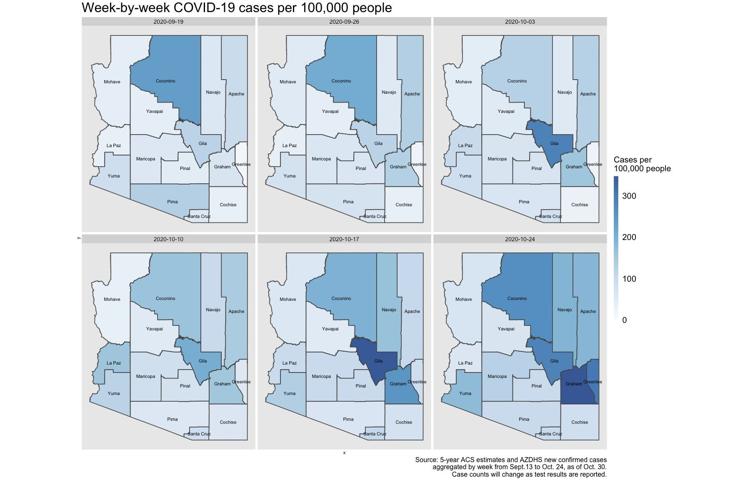 The weekly percentage of diagnostic tests coming back positive also increased from 5% to 6% statewide and 4% to 6% countywide.
Early indications are that the spike in Pima County was not caused by one singular outbreak, although there was an outbreak at a federal prison near the airport, according to Dr. Francisco Garcia, the county's chief medical officer.
Health officials have primarily seen new cases "scattershot" all over the place and not in one single location, he said.
They have found single cases from people who attended large political rallies, including a recent visit by President Trump, Garcia said. "At least at this point, we're not seeing an outbreak related to that."
He added that it's also too early to tell if the rising cases are tied to the reopening of the schools.
What's more likely, he said, is that the outbreak is the result of community spread from other parts of the country or state, like Maricopa County.
"When Maricopa County coughs, Pima County catches a cold, too," he said. "The sheer volume of population that the Phoenix metro has a disproportionate impact on everybody. … That is going to impact us down here. We have to be cognizant of it and trying to come up with new strategies."
Garcia said that hospitalizations are looking "reasonable," with a slight decrease in ICU capacity, with beds staying stable around 30 per day.
"It was interesting because the hospitals were saying four weeks, five weeks ago, that we haven't had a COVID patient in the ICU for a while. Now they're saying the opposite. They're saying we have a couple patients. And some have more than others," he said.
Cases are increasing among all age groups statewide, although they look to be to be more concentrated in those 25 to 64 years old, according to Dr. Joe Gerald, an associate professor with the University of Arizona's Zuckerman College of Public Health.
"Those are just, quote unquote, normal people getting around going to work," he said.
Cases currently aren't increasing as rapidly as they were in May and June, but the virus does have the potential to do it again.
"We need to be thinking about what we could do to slow this thing down," Gerald said. "It's kind of like boiling the frog. The water's getting hotter. We're not screaming yet, but if we don't do something to change, bad times are coming."
Despite the potential major spike, Garcia said he doesn't believe that Gov. Doug Ducey will get to the point where he will again issue a stay-at-home order.
"I realize that is in part because there is not really an easy, good fix to this," he said.
The number of empty hospital beds statewide is also continuing to decline, both in intensive care units and in general wards, Gerald said. "If this continues, and right now it looks like it's going to continue, we will get into trouble."
The challenge is knowing which week will feel really bad, he said. "I don't know exactly, but I think sometime, perhaps as soon as Thanksgiving, certainly by Christmas, we're going to be in trouble in Arizona."
There has been a trend of fewer people adhering to safety measures that reduce viral spread, like wearing masks or physically distancing, Gerald said. He added that things will need to get worse in order for people to change their behaviors or for policymakers to step in.
"People will eventually change their behavior, but not until things are so bad that our hospitals are crying out and our death rates are going up. So it'll be a missed opportunity," he said. "Unfortunately I don't have any good advice. How do you break that cycle where it takes such extreme and dire circumstances to get people to act?"