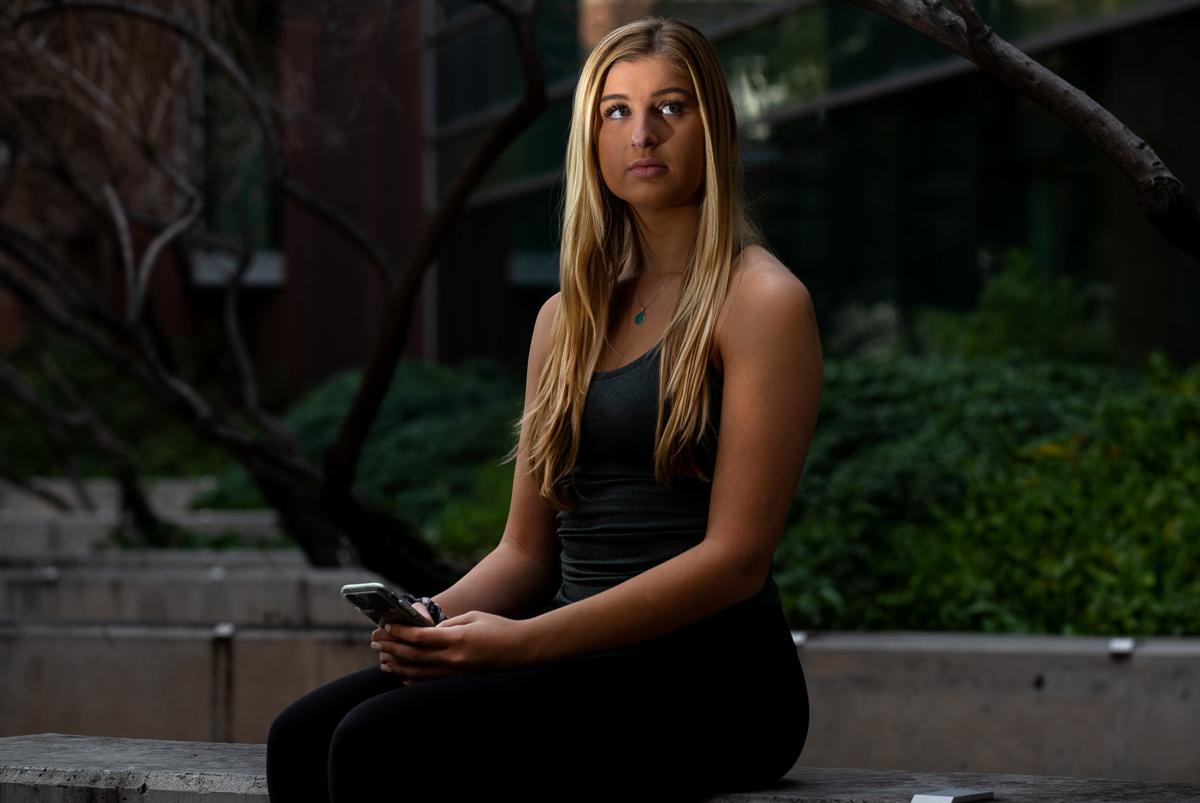 Annie Jared met her boyfriend last April after exchanging numbers at a party. She first invited him to her sorority formal. Then he returned the favor by asking her over for dinner.
Things were progressing steadily for the University of Arizona psychology student until she received an Instagram message two weeks later. The message contained sexually explicit photos of her boyfriend's ex-girlfriend. When Jared showed her boyfriend the photos, he chalked it up to a stalker and apologized for bringing her into it.
They suspected the cyberstalker was his ex-girlfriend.
The problems only escalated from there.
Jared was inundated with harassing messages over the next several months, sometimes up to 30 times a day. They followed her home over the summer to Texas and popped up on her Instagram, Snapchat and other social media accounts. They were also sent to her friends, family and sorority sisters.
While they often referenced the boyfriend's ex-girlfriend, the messages primarily took aim at Jared's appearance. The tall, slender blonde was called fat and ugly and had her face photoshopped on a giraffe. She'd try and block the accounts, only to have new ones pop up a day later.
"When I was at a good point in my life, I was a confident girl," she said. "Now it was just like being beaten down every single day."
She had collected a cache of screenshots containing more than 700 messages from dozens of accounts by the end of August. With the help of her mother, Karen Van Buren, they contacted both police and the UA. The harassment eventually stopped, but the scars remained.
"It may seem trivial, but I'm a 21-year-old girl," Jared said. "Of course I'm going to be insecure. Every time I look in the mirror, I'd say, 'Is my nose really that big?'"
Jared's experience was an extreme case of cyberbullying, said Sheri Bauman, a professor of counseling at UA and author of several books on the topic. Bauman added that as technology continues to develop, cyberbullying tactics have also become more sophisticated.
"Now, among young adults, we're seeing the digital natives. These people have grown up with this," she said. "So, they have a very different relationship with the digital universe than I did. I think the sophistication of some of it is what leads to more harm."
Her research found that 66% of Americans have witnessed online abuse or aggression and 41% have personal experience with such behavior. An additional 18% have experienced severe victimization, which include threats, ongoing harassment and stalking.
"It's not just that people are mean and nasty, but in many cases, it goes far beyond that into threatening behavior," Bauman said. "And we don't have any kind of national legislation whatsoever. We hold free speech to such a high value that we are very reluctant to put any restrictions on it."
Jared found that out the hard way.
She and her mom first went to the police back in May when she was home in Texas for the summer. She reported the harassment to the Montgomery County Sheriff's Office, but officials there told her it occurred out of their jurisdiction and referred her to police in Tucson.
She wasn't set to return to school until after the summer, so Jared and Van Buren took matters into their own hands. They hired a private investigator, who suggested Jared set up a fake fitness blog to try and lure the harasser. On the first day, one web user viewed the page more than 250 times. The user was located within 2 miles of the East Coast home of her boyfriend's ex-girlfriend.
The family attempted to contact the authorities in the town where the ex-girlfriend lived, but Jared said they were told police wouldn't investigate because the messages didn't contain any threats. That police department also referred her to police in Tucson.
When she returned to Tucson in August, Jared went to the UA Police Department, which told her it couldn't help because the crime was committed off campus.
Then she went to Tucson police, where she said an officer instructed her to delete her social media.
"He said, 'Just dump the boyfriend and get off social media,'" Jared said. "I'm like, 'Why should I do that? She's harassing me.'"
She then filed an online report detailing the harassment with the UA Dean of Students Office. She met with an office coordinator a week later, who helped her get in contact with the university police at the school attended by the ex-girlfriend.
Jared interviewed with a detective, who confronted the ex-girlfriend the day after. She admitted to creating the accounts where the harassing messages were coming from. The Star is not naming the woman because she has not been charged with a crime.
She told police she would stop. And she did.
"I had spent all summer trying to find a solution or a means to fix a problem — to make it go away," Van Buren said.
For Bauman, who has studied the impact of bullying for many years, the nature of online interactions have become unkind, uncivil and sometimes threatening.
She said people often assume that bullying stops when people turn 18, but this is not the case, especially in an increasingly digital landscape.
"They really enjoy the feeling of power. It's all about power," Bauman said. "Look, I can make so many people frightened. I can get so many people responding to my sick meme or my post. And they get so many rewards in terms of attention and the feeling of power over someone else or many people."
Bauman said the most consistent finding in her research is that involvement in cyberbullying is associated with higher levels of depression, anxiety, suicidal behaviors and somatic symptoms such as consistent headaches and nausea.
As a young college student, Jared said this was one of the most difficult parts of her experience with cyberbullying. She's started seeing a therapist on campus. She spent her summer sleeping in the same room as her mother because she was afraid.
"I totally lost my mind sometimes," she said. "We're Catholic, like I do believe God has a plan and all that, but why would he put me through all this? I shouldn't have to question my faith."
Now Jared is looking forward. She and her boyfriend have since broken up. She's now focused on her future in her last year of college.
She has plans to become an educational psychologist and hopes to help young adults deal with cyberbullying. She also dealt with bullying as a teenager and was inspired by her high school counselor.
"I just kind of want to help people in the same way that she helped me," she said.
Her mom is more focused on changing legislation.
"The laws have not kept up with social media. That has to be addressed," Van Buren said. "I feel like something has to come from this. Something good has to come from this."
Contact reporter Justin Sayers at jsayers1@tucson.com or 573-4192. Twitter:
@JustinSayers. Facebook: JustinSSayers.