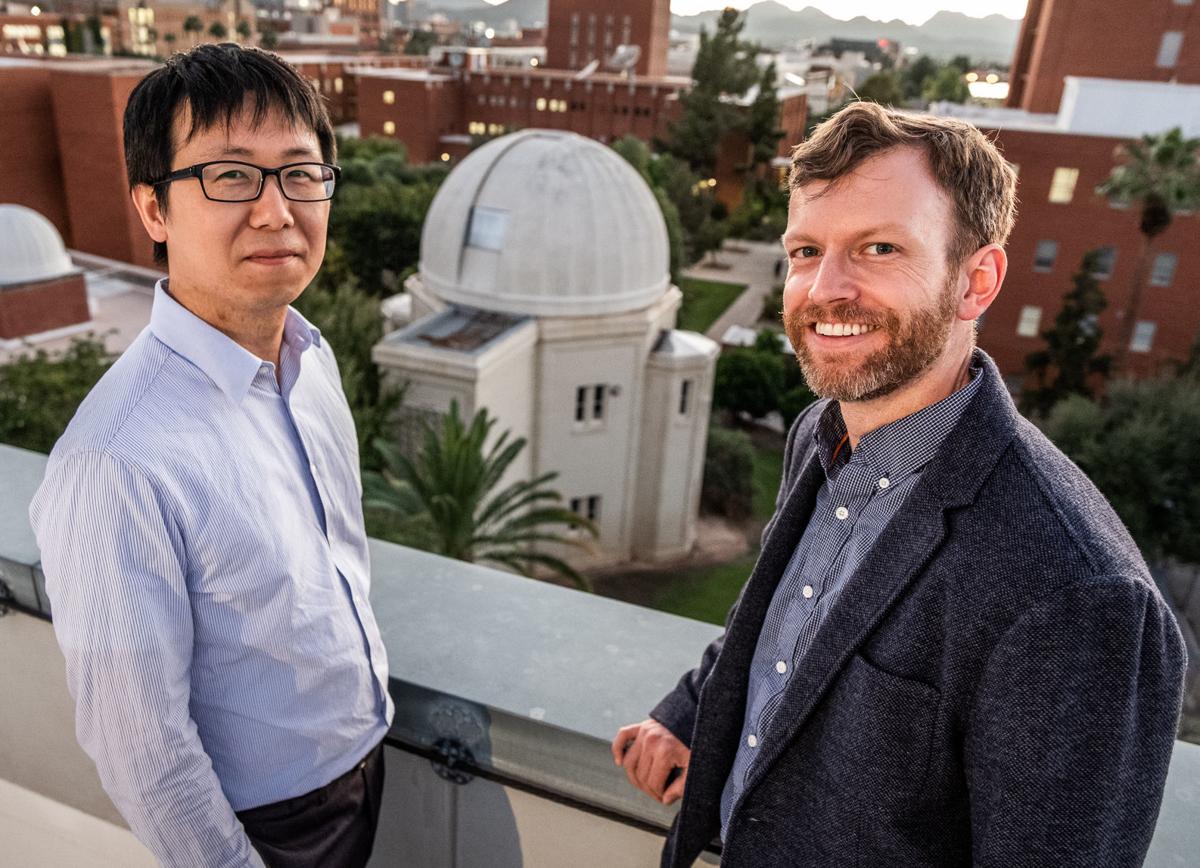 From astronomers to undergraduate students, the UA was well-represented on a global team that released the first image of a black hole and its shadow on Wednesday.
The university said it had 36 people involved in the Event Horizon Telescope project, which used eight radio telescopes around the world to create the colorized image of a black hole 55 million light-years from Earth. More than 200 scientists around the world took part in the project.
The UA's team involved eight research faculty members, eight graduate students, 13 undergraduate students and seven telescope support staff. The UA operates or collaborates in the operation of two of the eight telescopes used in the global array, including one on Mount Graham near Safford, and one in the South Pole.
The feat of capturing a black hole would not have been possible 10 years ago. It was only the joining of the eight telescopes that gave scientists the resolution they needed to image something 55 million light-years away. Taking images of something that far away is like "taking a picture of a doughnut placed on the surface of the moon," said Dimitrios Psaltis, UA astronomy and physics professor and EHT project scientist.
Researchers with the EHT project collected about 5,000 trillion bytes of data stored on 1,000 computer disks, enough to keep a playlist of high-quality music files playing nonstop for 4,700 years, the UA said.
The massive amount of data was flown to supercomputers in Germany and at the Massachusetts Institute of Technology for processing. Teams used the data, collected in 2017, to construct the image of the doughnut-shaped supermassive black hole, which is centered in the M87 galaxy and has a mass 6.5 billion times that of the sun.
Daniel Marrone, associate professor of astronomy at the UA, and graduate student Junhan Kim traveled to Antarctica several times to help integrate the telescope there into the project. The telescopes used atomic clocks, which are extremely precise, to sync observations.
Feryal Ozel, UA astronomy and physics professor, led a team tasked with using the data to measure the size of the black hole's shadow and comparing the predictions of Einstein's theories to EHT observations.
UA astronomer Chi-kwan Chan constructed and maintains the computing cloud infrastructure used by the EHT project. "New technologies such as cloud computing are essential to support international collaborations like this," Chan said. Teams used devices normally built to power video games to help in their supercomputing needs.
The breakthrough image, along with six papers describing the black hole, were published Wednesday in the Astrophysical Journal Letters.
Get local news delivered to your inbox!
Subscribe to our Daily Headlines newsletter.