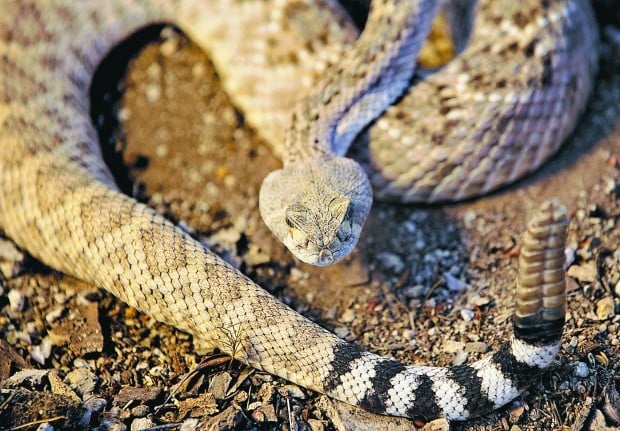 Somehow, at some point, rattlesnakes have gone stealth. When they see something they want to bite — be it a dog paw or human foot — they're striking without rattling.
Experts differ on whether rattlers have gone silent in recent years as a survival adaptation or they've always operated with discretion, but they agree that you shouldn't rely on the telltale rattle to notify you of danger from the venomous snakes.
University of Arizona English lecturer Erec Toso believes rattlesnakes have adapted to become silent among people. He was bitten by a silent rattler while walking barefoot outside his home in August 2003.
"It was very surprising," he said. "I didn't even know what had happened at first. I was walking in the dark and didn't see the snake."
The snake bit him in the foot, forcing two stints in the hospital and he was immobile for three months. Tissue damage lasted three years and aftereffects including weakness and lethargy linger today.
He says snakes often pop up at his east-side home and that three out of every four rattlers he encounters don't rattle.
"I think humans are participating, maybe unconsciously," Toso said. "We tend to kill the ones that rattle, to transfer them to a new territory where they'll probably die and the ones that don't rattle are getting away."
Steve Reaves, owner of Tucson Rattlesnake Removal, said rattlers have stopped rattling in recent years in order to avoid being killed.
"Normally when a rattlesnake announces its presence, people kill it," Reaves said. "The snakes that aren't genetically predisposed to rattling are the ones that are left to breed. They rely on their natural camouflage and stay still so predators won't notice them. Basically what's happening is we're breeding a rattlesnake that doesn't intend to rattle."
Jerry Feldner, sergeant-at-arms in the Arizona Herpetological Society, said he's been working with rattlesnakes for 50 years and noticed the non-rattling behavior six or seven years ago. He said the snakes that live near people tend to keep quiet for self-preservation.
"The rattlesnakes people see are the ones where they walk or hike," Feldner said. "Snakes alongside the trails have learned that rattling gets them in trouble."
Keith Boesen, managing director of the Arizona Poison and Drug Information Center, said there's no evidence that suggests the phenomenon is recent, and Stéphane Poulin, curator of herpetology at the Arizona-Sonora Desert Museum, said the theory that snakes have recently stopped rattling is a myth.
"In the last 25 or 30 years I haven't seen any change overall with rattlesnakes," Poulin said. "Overall, rattlesnakes just don't rattle very often. Most of the time they use their camouflage and try not to be seen." Poulin said the same is true when rattlesnakes are hunting for food.
"Rattling and striking are unconnected," he said. "A snake can rattle all it wants without striking or strike without rattling."
Count Randy Babb, a biologist with the Arizona Game and Fish Department, among those who believe rattlesnakes have never been rattle-first, bite-later creatures.
"Most of the work that has been done indicates rattlesnakes actually seldom rattle," he said. "Their primary defense is not being seen. As long as they feel they're not being seen, they lie quiet and let whatever potential predator there is wander by. Only when the animal has been disturbed or it's quite clear they've been spotted will they go ahead and rattle."
Whatever the reason, people shouldn't rely on their ears to warn them of potential snake attacks. Toso, for one, is convinced.
"It's really about mindfulness," Toso said. "I really think that's the lesson for desert dwellers: Don't do stupid stuff."
• Scientists have found 36 rattlesnake species.
• Rattlesnakes live only in North and South America.
• More rattlesnake species, 13, live in Arizona, than any other state.
• The rattle is made of keratin, which is found in human hair and fingernails.
• You can't tell the age of a rattlesnake by counting the segments of its rattle.
• Rattlesnakes use a heat-sensing organ between the nostril and eye to locate prey and potential predators.
• Rattlesnakes eat small mammals, birds, reptiles, amphibians, and centipedes.
• Less than 1 percent of rattlesnake bites result in human deaths.
• Northwest Pet Clinic reports between three and five cases of pets attacked by rattlesnakes per month.
Sources: AZ Game and Fish Department and Star archives