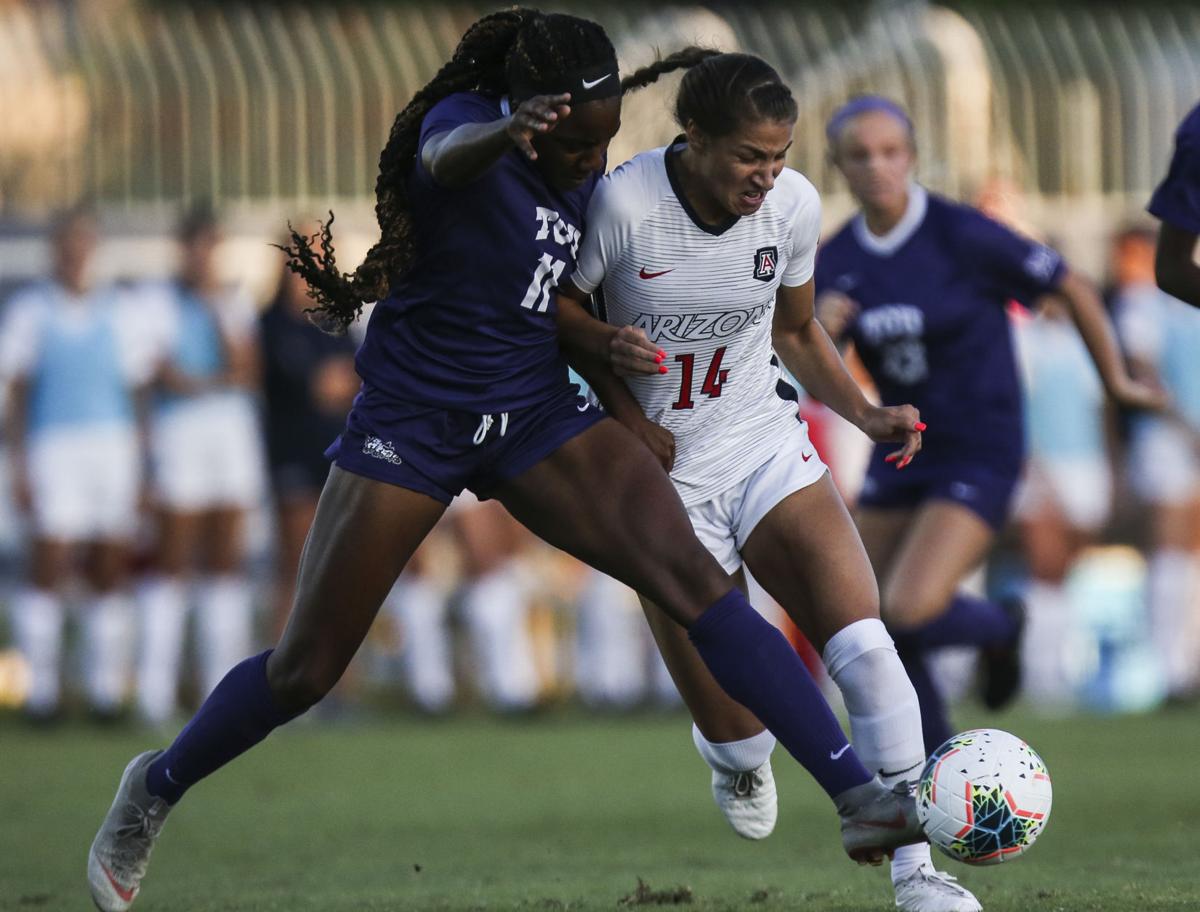 Jill Aguilera never expected her senior year to unfold this way.
If all had gone as planned, right about now the Arizona Wildcats senior would be nearing the end of her Pac-12 season, gearing up for the NCAA Tournament, preparing to graduate in December and looking to be drafted by an NWSL team in January.
But, COVID-19 had other plans.
The fifth-year senior forward hasn't played in a game that counted since last Nov. 22 — unless you count the Feb. 29 match against UTEP in the spring season. That was the last competition before the pandemic shut everything down.
The soccer team was supposed to come back to campus in July — right after the football team. However, with a surge in cases in Tucson, the UA decided to push back their arrival a month.
Once the Wildcats got back to campus, the season — along with all fall sports — was pushed back to January 2021.
And, then right before Labor Day weekend, seven of Aguilera's teammates tested positive for the coronavirus. A few days later, they discovered they were all false positives.
That's a lot for anyone to go through.
But setbacks are nothing new for Aguilera, who tore her ACL in her very first match as a Wildcat. She knows how to quickly change her mindset and be flexible — no matter what is thrown her way. Somehow, she seems to find the silver lining.
For Aguilera, that's taking advantage of the NCAA ruling that all fall sports athletes will be given an extra year of eligibility.
"I definitely think that I'll be a better player a year from now — especially because I'll be basically having two seasons within a year," Aguilera said.
Aguilera is coming off her best season as a Wildcat, as she scored nine goals and had two assists while leading the team in shots (56) and shots on goal (24). During the extended offseason she is working on being more active in the box and her free kicks — having placement with power. And she never stops improving on her strengths of shooting and crossing.
Getting to the season, which is expected to start in February, took an unusual turn, including those false positives.
"It definitely felt like a lot longer than 48 to 72 hours," Aguilera said. "It was a little scary."
Once the initial news hit the UA protocol went into effect, which meant quarantining for 14 days and starting contract tracing.
The team, along with Dr. Stephen Paul, who is UA Athletics director of medical services, thought it was odd as there hadn't been any high-risk activity. All the team did was train outside with masks on while staying six feet apart. The only other thing was picking up food — still while wearing a mask.
Some of her teammates got re-tested on their own just to double-check. It turned out it was just a mistake with the tests. Aguilera was happy her teammates and the staff were healthy.
"We were all relieved," Aguilera said. "We all had figured that something had to have been wrong because we were doing everything right. And that's what Dr. Paul was saying, as well. But, of course, there are people who do everything right and still test positive. We were obviously erring on the side of caution, of course, but luckily for us, nobody ended up testing positive on our entire team staff."
When the quarantining started, the UA administration and coach Tony Amato said the Wildcats could go home – which is exactly what the majority of the team did.
"We were kind of struggling mentally with what was really our responsibility," Aguilera said. "To keep everyone safe, we couldn't really hang out as a team unless it was outside six feet apart with masks. … We were doing everything right, and even more so.
"I think that that was tough for us to deal with, especially because we had come to Tucson thinking that we were going to play. When that bomb was dropped on us, it really discouraged us and made it harder for us to really be motivated to work for all of these months that we had been hoping to be playing."
By the end of September, not everyone on the roster had returned. Some opted to stay home for the rest of the semester. While they are away from campus, they are still getting access to specific strength training and drills that they would do here. Aguilera said the staff is also flexible to those athletes in Tucson. If they want to come for a couple of days here and there, you can – as long as you test negative and follow the protocols.
Amato also switched up the training. With fewer people on the pitch and no contact, he decided to have two segments of training, with a week break in between. Everyone goes home for Thanksgiving and comes back at the beginning of January for what they hope to be preseason practice — about a month before they expect to play.
Aguilera praised Amato and the coaching staff for recognizing that many of them need to spend time with their families and not pressure them to stay. She said they were being seen as whole people, not just athletes.
"I really take my hat off to Tony, (UA assistant) Sandy (Davison), (UA trainer) Adam (Garmon) and (UA assistant AD, Performance Enhancement) Jim (Krumpos) for being so in understanding during this time. I know it's really difficult and you want to get better as a team," Aguilera said. "With all of these limitations that we have and contact being huge, huge, huge, huge for our team, because soccer is like one of the most high contact sports there is. Not being able to do that is really hard for people and for me, as well.
"I like how the coaches are saying, 'Hey, if it's going to be better for you as a person' — because they really do see past our athletic ability, which not a whole lot of people do — 'if it's better for you to be at home, we are not going to hold you back.
"There are no consequences. We are not going to praise the ones for being here. All of this is just if you want to get better, we are here for you. And if you still want to get better, but that means you being at home, then that's fine. There's nothing wrong with that.' And I think that's so important, especially … now."