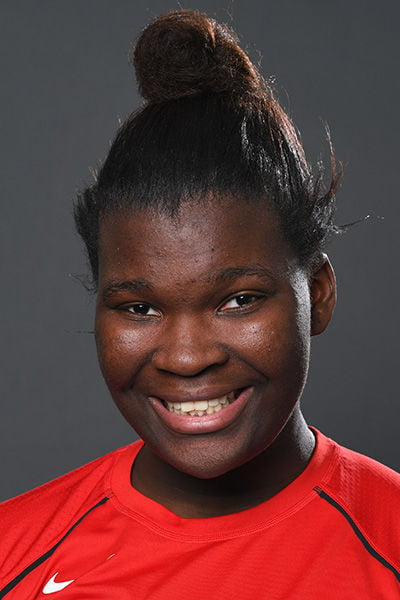 Aaronette Vonleh keeps moving, and it's hard to catch her.
Vonleh, a five-star prospect who committed to Arizona's Class of 2021 on July 12, has one focus: to keep improving.
That's what she's been doing since Arizona coach Adia Barnes was the first to offer her a scholarship in her freshman year of high school, and what she continues to do with a packed summer schedule that includes tournaments across the country.
Over the last month, Vonleh has played games in Indiana and Iowa. She'll spend this weekend playing in a tournament in Minneapolis before heading back to Iowa, and then to Boise and Las Vegas.
Vonleh called her early offer from Arizona "eye-opening."
"Not many people get offers that early," she said. "It really made me start taking it more serious than I was, just working to get more offers."
It worked as the offers rolled in from Cal, Colorado and others. Vonleh chose instead to become a part of the 2021 UA class that includes guards Madi Conner (Phoenix) and Anna Gret Asi (Estonia). The Wildcats could land another player before the signing period in November.
ESPN listed the 6-foot-3-inch Vonleh as the nation's No. 4 post prospect and the No. 38 prospect overall. As a junior at Portland's West Linn High School, Vonleh averaged 17.1 points, 7.5 rebounds and 1.2 blocks per game while shooting 64%. She is a two-time first-team all-state pick and her league's player of the year.
Vonleh was also invited to USA Basketball U16 team trials a year ago.
She describes herself as a "strong, physical post player who is unselfish — knows when to score and when not to and a player that can create plays for her teammates with screens or rebounding for another attempt."
"I think I bring a little bit something different," she said. "A good work ethic, positive energy and always wanting to work hard and get better. That way I can not only get better individually, but also help the team and my teammates get better."
Vonleh is the fourth five-star prospect to commit to the UA under Barnes, joining current Wildcats Cate Reese and Semaj Smith and incoming freshman Lauren Ware.
Vonleh has watched as Reese, Smith and others helped Arizona climb the national polls. The Wildcats' fast rise was one of the reasons she picked the school.
"I'm seeing what she (Barnes) was able to do from when she first got there — the way she was able to basically turn their program around and get them to where they are today," Vonleh said. "I think you can only keep building off of that. And they haven't even reached their full potential yet. I just hope that when I get there I can contribute, and we can just keep getting better and better. I think it will be fun to be a part of something like that."
Vonleh wasn't allowed to take official campus visits this summer because of the coronavirus pandemic, so she turned to her siblings for advice. Her sister, Sam, played DII basketball at the University of Bridgeport. Her brother Noah, who plays for the NBA's Denver Nuggets, played a year of college ball at Indiana, where he was named Big Ten Freshman of the Year.
Noah remains Aaronette's role model and most influential coach. Both play in the post, and she patterns her game after his. She said she plans to watch Noah play in the NBA's "bubble" to pick up more moves.
Noah visited her in June, they talked and played basketball in the park.
"The drills were focused on driving to the hoop and finishing — different finishes," she said. "We worked on euro steps, opposite foot finishes and up-and-unders and stuff like that. I want to be more versatile and not just be the player on the inside and be able to do other things, too."
With her college decision in the books, "it's definitely like a weight off my shoulders. Especially playing these tournaments now, I'm just playing for myself and to get better," she said.
"I'm excited to play for such a good fan base (at Arizona), to get to know all of them and see their faces and be a part of a program that could go far."
Rim shots
Arizona has added walk-on Lakin Gardner. A 5-11-inch guard, Gardner played at Spokane's Gonzaga Prep, where she averaged 12 points per game. She was honorable mention for the All-Region team.
"I liked her a lot and she came highly, highly recommended from people in the business who I've known and trusted for a long time," Barnes said. "She comes from a wonderful family and is a wonderful kid. She is driven and has a great attitude. She reminded me a lot of (former UA walk on) Lindsey (Malecha). She has that same work ethic, attitude, drive and passion — everything. All the stars aligned and I thought she'd be a perfect fit for our team."
Incoming transfer Bendu Yeaney has received a waiver from the NCAA that will allow her to play two full seasons at Arizona. She played only six games last season at Indiana before sitting out with an Achilles' tendon injury.
The Wildcats are still waiting to hear if Yeaney can play right away, of if she must sit out the 2020-21 season.
"We're so happy," Barnes said. "I was very confident she would get it, but I'm very happy the news came in."
The UA women can begin reporting to campus Aug. 12 — weeks after their originally scheduled return time.