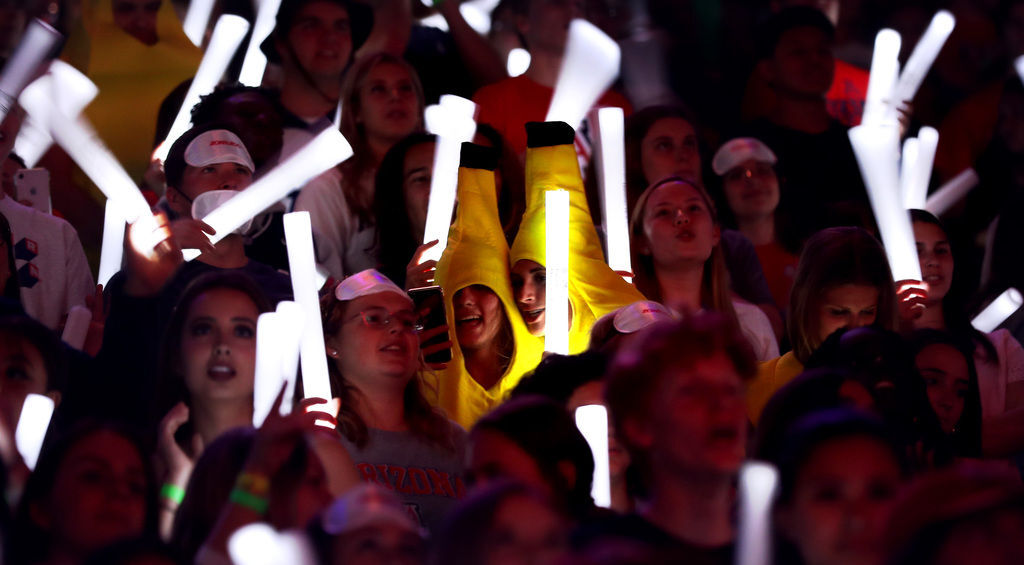 By the time the Arizona Wildcats get to November, no matter what restrictions might be in place, coach Sean Miller says he's certain of one thing.
"We're all going to be given the same conditions," he said.
Except the Wildcats historically take advantage of not playing under the same conditions.
One of Arizona's biggest competitive advantages every season is in the 14,000 or so fans who have made a decades-long habit of cramming into McKale Center, standing, cheering and yelling. Even at road games in cities where UA has a significant alumni presence, there's often a solid four-figure crowd annoying locals with constant "U of A" chants.
But how's all that going to work if the COVID-19 situation stays the same?
Will playing in an indoor environment that's believed to be more conducive to virus spread mean no fans or limited fans? If allowed, will fans have to wear masks? Be discouraged from yelling?
And how many games will there be, anyway?
"I don't" know what will happen, Miller said. "I mean, we give it a lot of thought. We don't really know how it'll start. We don't know what the ending will look like. I do think every couple months things seem to move in a positive direction, but there's so much unknown."
Miller said it's up to his program to make the best of whatever conditions are ahead, but holds out hope because of the leadership around him and the fact that time is on basketball's side.
"I think first of all we're just eagerly anticipating a season, and we have four or five months before we get to that point," Miller said. "You have college football, the NFL, and a lot of other things that will happen before we ever get started.
"When we spoke at our Pac-12 meetings this spring over Zoom, we had a lot of optimism and hope. We have some smart people in our conference — from the doctors to the (school) presidents to the commissioner — that are working with the best people in the world so I think they'll lead us in the right direction."
NCAA mandates and Pac-12 guidelines have paved the way for Miller to start working through offseason obstacles, months before games even begin. The NCAA shut down in-person recruiting through July 31, forcing UA coaches to Zoom and FaceTime their way to six signings after the restrictions began.
Meanwhile, Miller said he and his staff have been working with the players first on their health and safety, and then to make sure their academics and tutoring were transferred adequately online. Lately, the challenge has been staying on top of current players, with a limited eye on their workouts.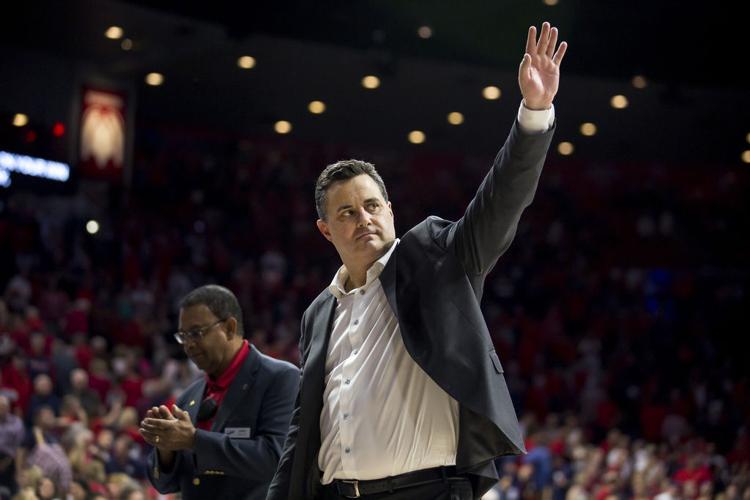 Academics "was our focus and our only focus for a long, long time," Miller said. "We don't watch them do anything as much as they make us aware through what they have. Some of our guys have access to a gym and a weight room, some don't. And if they don't, there's not a lot we can do other than encourage them to make the best of their situation."
Miller said he has tried to stay in touch with players weekly, sometimes in group settings over Zoom, though players who aren't yet enrolled cannot participate in team meetings.
Miller said he's essentially working with two different groups right now: The five returning players (counting redshirts James Akinjo and Jordan Brown), who are under active offseason preparation and the eight newcomers, most of whom have not finished their academic years yet. Guard Terrell Brown is also finishing up his Seattle U undergraduate degree so he can play next season as a grad transfer.
"On a weekly basis, we're trying to touch our players multiple times a week, whether it's through a phone call, academics or strength and conditioning," Miller said.
Last week, the Pac-12 announced that schools can start allowing on-campus workouts as early as June 15, issuing guidelines from its COVID-19 Medical Advisory Committee. Commissioner Larry Scott said the campus will be creating environments that for many athletes will be "much safer" for many athletes than working out in their home areas.
The guidelines include recommendations for testing, contact tracing, monitoring, social distancing, hygiene and food service while each school is expected to develop a health and safety plan consistent with state and local regulations.
UA football players will begin returning June 15, though athletic director Dave Heeke acknowledged "many factors that remain beyond our control." Miller said Tuesday that he doesn't expect his players to return until "sometime in July."
Athletes who return will need seven days of isolation if they're flying, according to the Pac-12, and then will undergo COVID-19 tests and pre-participation evaluation. The Pac-12 requires them to wear face coverings during workouts, something that might be difficult considering basketball's heavy aerobic activity.
At least that's what the current guidelines say.
"In terms of the mask … you know, things change so much that what maybe something was said two months ago or even two weeks ago, with new information, I think there's more flexibility, more answers," Miller said. "So I'm just waiting patiently. We're trying to do the best we can of communicating appropriate messages to our players and their families."
The Wildcats typically work on individual skills or small group drills during the summer, which might make it easier to meet the Pac-12's coronavirus protocols for distancing, while Miller expressed confidence in UA's medical and training staffers.
"I think we'll be well- versed and ready when they do show up," Miller said. "But we're not there yet. I wish I could just have a complete answer. It's just we have a lot of moving parts as you know."
And that's just questions about how the next month works.
Questions about November? Who knows?
"I think we're at the beginning of a long summer," Miller said. "It'll be interesting when we come back together again, late in August or early in the fall, where we all are. But we're preparing for next season and we're excited about the team that we're putting together."
Be the first to know
Get local news delivered to your inbox!