With a major NCAA infractions case still looming over its men's basketball program more than three years after an FBI investigation began unleashing allegations, Arizona fired coach Sean Miller on Wednesday.
Miller, 52, had led the Wildcats since becoming Lute Olson's permanent replacement in 2009.
Arizona athletic director Dave Heeke said the school would meet the buyout terms of "separation without cause," meaning it will pay Miller $1.42million — or 50% of what the school would have paid him through the end of his contract in May 2022.
In a Notice of Allegations delivered last October and released to the public in March, the NCAA charged Arizona with five Level I violations — including multiple allegations of academic misconduct and improper inducements by former members of Miller's staff. Miller was also charged with a Level I violation for head coach responsibility and faced a potential suspension of up to a full season.
On the court, Miller won five Pac-12 championships and took the Wildcats to three NCAA Tournament Elite Eights over his tenure, the last in 2015. The Wildcats also would have likely made the past two NCAA Tournaments, but the 2020 event was canceled, and the school self-imposed a postseason ban this season because of its NCAA infractions case.
Heeke said performance and off-court issues were both considered in making the decision.
"Success is important, both on and off the court, and we're constantly evaluating that," Heeke said. "We have not been as successful on the competitive side as we've wanted, but there are a number of factors that impact that. As we look at those in totality and today as we stand, it's time for a change in that direction, and a change in leadership is the first step."
Heeke said UA President Robert C. Robbins agreed with his decision to make a change. While the full list of NCAA allegations was delivered before the season, and the Wildcats' season ended over a month ago, Heeke said he and Robbins "continued to work through the process" before ultimately making the decision Tuesday night.
"At the conclusion of the season, we had the full body of work," Heeke said. "We knew where we stood and decided at that time."
In a statement, Robbins said it had "become clear that our men's basketball program — and our university — needs to write a new chapter in our history, and that begins with a change of leadership. Arizona basketball means so much to so many and, as stewards of the program, we must always act in the best interests of the university."
Associate head coach Jack Murphy will take over on an interim basis while a search for a permanent replacement gets underway. Early speculation for a possible successor has focused on Gonzaga assistant coach Tommy Lloyd, Arkansas coach Eric Musselman and Pacific coach Damon Stoudamire.
Heeke indicated that neither head coaching experience nor being a past member of the UA program were necessarily prerequisites for the job.
"I think there are outstanding sitting head coaches and at the same time I think there are outstanding assistants who have been parts of programs that are excellent," Heeke said. "It's about looking for the right fit, finding where we really need to go and then developing a plan with those candidates."
Larry Penley, chair of the Arizona Board of Regents, issued a statement supporting Robbins. The regents have held closed "executive sessions" to discuss off-court UA basketball issues for over three years but did not have one on the agenda for its upcoming April 14-16 meeting.
"President Robbins is committed to the excellence, integrity and success of this proud program, which is so vital to the UArizona brand and reputation," Penley said. "President Robbins has met with the board repeatedly and has kept us apprised of his decisions during what has been a challenging period."
Miller's son, Austin, tweeted a list of his father's accomplishments at Arizona, including his 73% winning percentage, and then said, "I wish Athletic Director Robbins luck in finding someone to fill those shoes."
One of Miller's four-year players at Arizona, Dusan Ristic, tweeted Tuesday that "I don't like this." UA freshman Kerr Kriisa, also standout for the Estonian national team, tweeted that Miller was "one of the best coaches I've been coached by" and expressed disappointment via an Instagram post.
"Mistakes have been made!" Kriisa posted. "Thankful for everything that you did! DESERVED BETTER."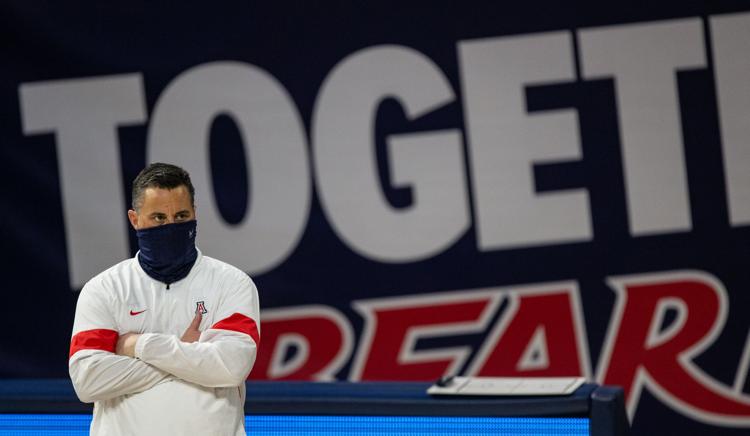 A hot start, then a decline
Miller was 302-109 over 12 seasons at Arizona. His first team missed the NCAA and NIT tournaments with a record of 16-15, but the Wildcats won the 2011 Pac-10 title and reached the NCAA Tournament's Elite Eight that year.
Star forward Derrick Williams left after that season to become the No. 2 pick in the NBA draft, and Arizona finished the next season in the first round of the NIT. But the Wildcats then began a streak of six straight NCAA Tournament appearances in 2012-13 while Miller began recruiting at an elite level. Miller and his staff then led the Wildcats to Pac-12 titles in 2014, 2015 and 2018, plus a first-place tie with Oregon in 2017. He was named the conference's Coach of the Year in 2011, 2014 and 2017.
Replacing seven of their top eight players from the 2019-20 season, the Wildcats went 17-9 this season. They won three of their final four games, including an upset win at USC, but lost in their finale at Oregon to finish in fifth place at 11-9 in the Pac-12.
"In the first two years with us in the Pac-10, we went 24-12. We kind of rebuilt, and we sustained excellence," Miller said after this season's finale. "Right now, 11-9 isn't what anyone wants to sign up for moving forward.
"But I do think it's a great bridge from a lot of things that have happened to a promising future, and we have some very good young players who are able to return that had outstanding seasons."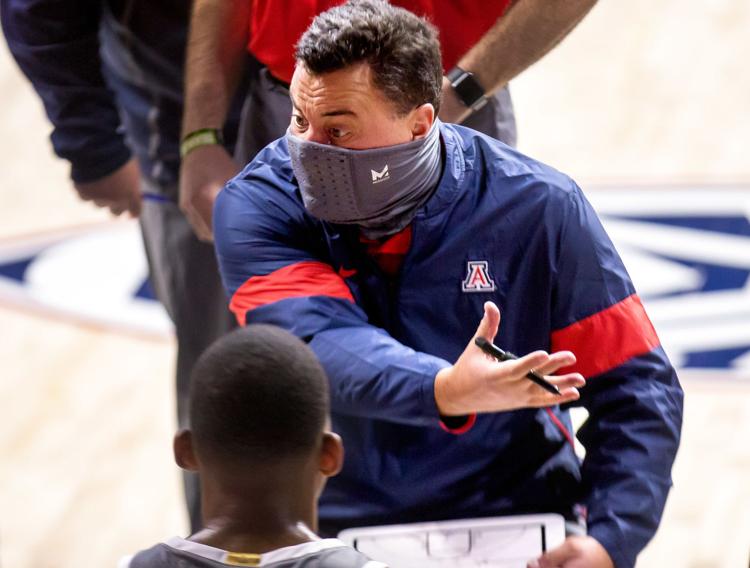 investigations by the FBI, NCAA
Miller successfully recruited high-rated young prospects before the FBI investigation became public, putting together seven straight top-five recruiting classes from 2011 to 2017. He has recruited and coached five NBA lottery picks — Williams, Aaron Gordon, Stanley Johnson, Lauri Markkanen and Deandre Ayton — and four other first-round picks that included Zeke Nnaji and Josh Green in 2019.
Arizona's off-court issues began in September 2017, when then-assistant coach Book Richardson was arrested for taking $20,000 in bribes. The NCAA investigation began in 2019, after the ensuing federal proceedings took place — including a plea agreement in which Richardson admitted to taking the bribes for the purpose of paying UA recruiting targets and later steering them to an agent for representation. Richardson was eventually imprisoned for three months in 2019.
The NCAA's investigation ended in October, when it issued a Notice of Allegations to Arizona, but the process was further drawn out when Arizona requested it move off the NCAA's standard resolutions process to the new Independent Accountability Resolution Process, which is mostly made up of investigators, attorneys and executives not involved in NCAA sports.
Arizona's case was accepted in December. Robbins said on March 8 that he still had not he heard from the IARP, which already had cases from four other schools when Arizona's was accepted.
While the UA may have been waiting for the investigation process to finish, Heeke indicated it could no longer do so.
"We've continued to let the NCAA investigation process play out, and quite frankly it's played out far longer than any of us could have expected," Heeke said Wednesday. "The timing of that process does not preclude my continual evaluations of the program and the very high expectations we have for it.
"Because the program is not meeting those high expectations, I felt it was necessary to make a change in leadership and move in a new direction."
Despite the allegations that surfaced out of the initial federal complaint and subsequent trials, Miller landed what was rated the No. 1 fall recruiting class in November 2019: five-star guards Nico Mannion and Green along with four-star wing Terry Armstrong, four-star forward Nnaji and three-star center Christian Koloko. Although Armstrong later opted to sign professionally in Australia instead of attending college, Nnaji proved better than expected and was named the Pac-12 Freshman of the Year, then became a first-round NBA pick.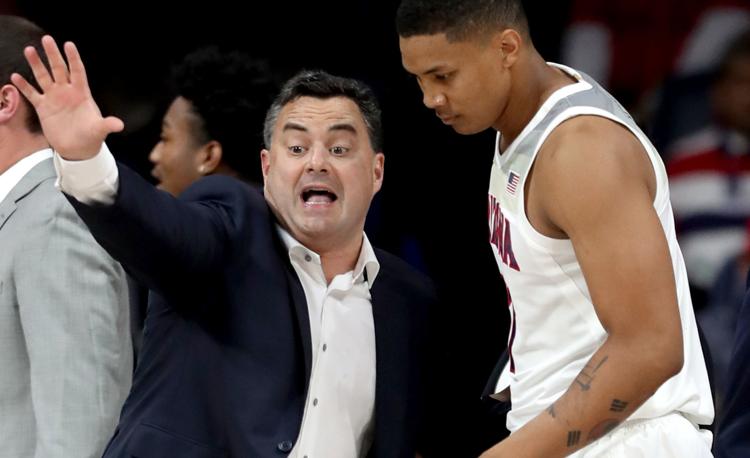 Notice of allegations
The NCAA charged Miller with a Level I violation for the actions of two assistants who allegedly committed other violations.
The other four Level I charges were against Richardson for taking $20,000 in bribes from an agent for the promise of steering Wildcat players to an agent; against former assistant Mark Phelps for trying to cover up a $500 loan he gave a player believed to be Keanu Pinder; and against Richardson and Phelps in a Level I charge related to academic misconduct.
Under that charge, the NCAA's enforcement staff alleged that both Richardson and Phelps arranged or were involved in falsifying academic records for two UA recruits. Finally, the university itself was handed a Level I for lack of institutional control.
ESPN reported in February 2018 that Miller was caught on federal wiretap discussing a $100,000 pay-for-play scheme for former UA star Deandre Ayton with aspiring agent Christian Dawkins, an allegation both Ayton and Miller have denied. The allegation did not surface in the NCAA's Notice of Allegations.
Arizona was also mentioned in both federal trials resulting from the FBI's investigation, in October 2018 and April and May 2019. Miller faced several allegations that surfaced during the second trial, when Dawkins was found guilty of two federal bribery charges.
During that trial, a recording was played in which then-UA assistant coach Book Richardson told Dawkins that Miller "bought" Ayton and was paying him $10,000 a month. Dawkins said on the recording, from a June 2017 conversation, that Miller told him he was "taking care of everything myself" regarding Ayton but offered to turn everything over to Dawkins as he sought to gain Ayton as a professional client.
Asked what Dawkins meant in the recording, government witness Marty Blazer testified that "I understood that to mean (Miller) had been taking care of payments to Deandre Ayton. Sean Miller was taking care of everything for Deandre Ayton and his family."
A March 2020 HBO documentary about the federal investigation and Dawkins' role in it, titled "The Scheme," revealed additional audio obtained from federal evidence. Included was a conversation between Miller and Dawkins in which Dawkins said handlers of five-star recruit Nassir Little, who was believed to be choosing between Miami and Arizona at the time, "definitely wanted to get some (expletive) for themselves."
Miller replied: "Miami doesn't have an advantage over us in that area, do they?"
Arizona self-imposed a postseason ban for the 2020-21 season, indicating the school believes that is the lowest penalty it will ultimately receive. If a standard Level I case holds up, the NCAA's penalty matrix calls for a one- to two-year postseason ban. But the NCAA's Notice of Allegations indicated Arizona's case would fall into a Level I aggravated category, where the range is a two- to five-year postseason ban.
When announcing the self-sanction on Dec. 29, Arizona acknowledged that NCAA's investigation into its men's basketball program found "serious lapses in judgment" by certain former staffers.
"I understand and fully support the university's decision to self-impose a one-year postseason ban on our men's basketball program," Miller said then.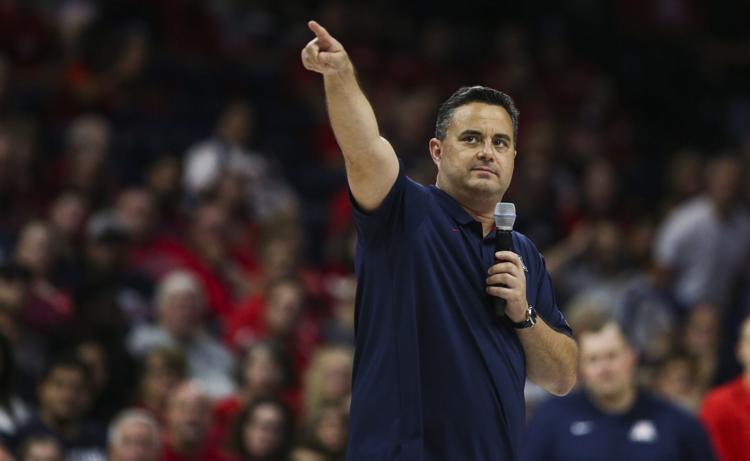 Pro prospects — and a coaching tree
In all, 13 of Miller's UA players were taken in the NBA draft, and several other undrafted players have made appearances in the league.
Undrafted guard T.J. McConnell played four years with the Philadelphia 76ers after being undrafted in 2015 and signed a two-year, $7 million contract with Indiana in July 2019. Allonzo Trier signed a two-year, $6.9 million deal with the New York Knicks in December 2018 despite not being selected in that year's draft.
Several of Miller's assistants have also moved on to head coaching jobs. His brother, Archie, spent two seasons as the UA's associate head coach before taking over Dayton in 2011 and then became Indiana's head coach in 2017. Archie Miller was fired by IU last month.
Another of Miller's original UA assistants, James Whitford, left the Wildcats in 2013 to become Ball State's head coach. Former Washington head coach Lorenzo Romar spent 2017-18 as the UA's associate head coach, then took over Pepperdine's program after that season. Stoudamire worked under Miller from 2013 to 2015 before leaving to be an assistant coach at Memphis and, in 2016, taking over as head coach at Pacific.
Former UA standout Joseph Blair spent between 2013 and 2015 as a graduate assistant under Miller, later becoming the head coach of the G League's Rio Grande Valley Vipers before working as an assistant with the 76ers and Timberwolves.
When Stoudamire left the UA in 2015, Miller hired Phelps, a former head coach at Drake. Without Richardson and Romar in spring 2018, Miller hired Justin Gainey from Santa Clara and Danny Peters from Whitford's Ball State staff to be his two new assistants. In June 2019, Miller replaced Phelps with Murphy, a former UA aide under Olson who had been NAU's head coach. Former UA standout Jason Terry joined the staff in May 2020 after Gainey left to become Marquette's associate head coach.
Tournament hits, misses
Arizona reached the Elite Eight of the NCAA Tournament in 2010-11, then again during Miller's peak seasons of 2013-14 and 2014-15. In 2013-14, the Wildcats spent a school-record eight straight weeks at No. 1 in The Associated Press Top 25 poll and, despite losing standouts Aaron Gordon and Nick Johnson early after that season, went 34-5 in 2014-15.
However, Elite Eight losses to Wisconsin in both 2014 and 2015 left a sour ending to those seasons, and the Wildcats underachieved in the postseason since then: They lost first-round games in 2016 and 2018 while exiting 2017 tournament in the Sweet 16 loss to Xavier, Miller's old team. In 2018-19, they finished their season with a first-round loss to USC in the Pac-12 Tournament and did not qualify for either the NCAA or NIT tournaments; the 2020 NCAA Tournament was canceled.
Before arriving at Arizona, Miller spent eight seasons at Xavier, the last five as the Musketeers' head coach. He was 120-47 (.719) over the five seasons as head coach, winning three Atlantic 10 conference titles while making two NCAA Sweet 16s and an appearance in the 2008 Elite Eight.
A native of Beaver Falls, Pennsylvania, outside Pittsburgh, Miller played for his father at Blackhawk High School and then for hometown Pitt from 1987-92. He then began his coaching career as a graduate assistant in Wisconsin in 1992-93, then made stops at Miami (Ohio) and North Carolina State before moving to Xavier in 2001.
Miller has also spent several offseasons coaching for USA Basketball since 2011. He led the USA to the 2015 U19 World Championships while serving as an assistant coach for the gold-medal-winning USA team in the U18 FIBA Americas Championships.
Contact sports reporter Bruce Pascoe at 573-4146 or bpascoe@tucson.com. On Twitter @brucepascoe