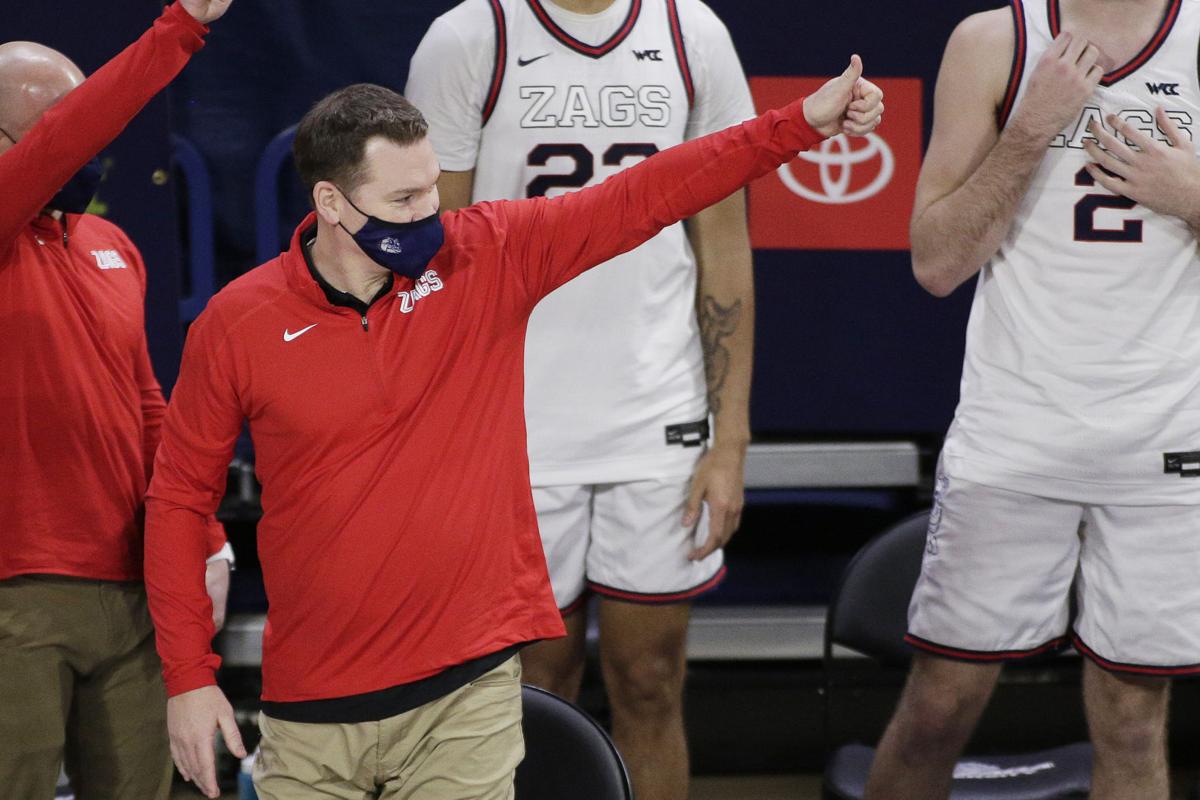 Not since Fred Snowden took over the Wildcats in 1972 has Arizona hired a head coach without head coaching experience.
And, thanks to the coaching trees of Lute Olson and Sean Miller, the Wildcats even have plenty of head coach experience in their Arizona "basketball family."
But the way UA athletic director Dave Heeke explained his hiring strategy Wednesday, neither head coaching experience nor Wildcat experience might be necessary.
---
That gave further rise to the early speculation of Gonzaga assistant Tommy Lloyd, while the names of former Wildcats players and current head coaches Damon Stoudamire (Pacific) and Josh Pastner (Georgia Tech) were among those also quickly popping up.
Heeke said UA would be hiring a search firm to "help us manage the process" and consider a variety of candidates.
"There are outstanding sitting head coaches and at the same time I think there are outstanding assistants who have been parts of programs that are excellent," Heeke said.
Heeke also said "there's certainly some incredibly outstanding individuals in basketball who have had a huge impact on our program and continue to do that throughout the coaching ranks.
"I would assume that they would be very viable candidates for this. This is a high-level job, a high-level program, and the current interest will come from a variety of places. And our goal is to find the right person that's the right fit from Arizona basketball."
Heeke said he is looking for a coach with "integrity, competitiveness and a genuine care for the student-athetes," and told the current players as much during a meeting Wednesday morning that also included coaches and staff members.
"These are difficult times," Heeke said. "It's a challenging time when you have to make a change. This is part of the adversity. But we will move quickly and we will hire an outstanding coach. Our goal is to help them with their experience here in all facets of their college experience and beyond.
"We want them to meet their goals. We want them to compete for championships and we want them to excel at a high level. I told them that we are 100% committed to that and we will go out and find an excellent head coach for this program."
At the same time, Heeke also has to find a coach who is willing to deal with what could be additional NCAA sanctions on top of the postseason ban the school self-imposed this season. Arizona's NCAA infractions case is stuck in the NCAA's Independent Accountability Resolution Process, and there is no known timeline over when it will be resolved. The IARP has yet to finish any of its six cases.
So where can Heeke turn? Early speculation focuses on these names:
Tommy Lloyd, Gonzaga assistant: Like his boss, Mark Few, Lloyd has been difficult to pull out of Spokane. The Washington native has coached at Gonzaga for 20 years, developing a reputation as one of college basketball's best international recruiters. He's turned down several Division I head coaching jobs already and has been designated the Zags' "coach-in-waiting" if Few ever leaves.
Gonzaga AD Mike Roth told the Spokane Spokesman-Review on Wednesday that Lloyd has been seriously considered for many head coaching jobs in "multi-bid leagues" for the past five or six years.
"We're committed to Tommy here and he knows that," Roth told the Spokesman-Review. "We've made that public. If Gonzaga is committed to Tommy, where our program is, where it's been built and Tommy has been such an important part of this, why wouldn't any other school have him on their list, even high on their list."
Damon Stoudamire, Pacific head coach: Nobody may better combine the playing achievements as a Wildcat player and college head coaching experience than Stoudamire, an all-American at UA who went on to become the NBA Rookie of the Year in 1996.
As a coach, Stoudamire's stops included two years under Miller at Arizona before he went to Memphis to become an assistant to Pastner. He took at over Pacific in 2016.
Stoudamire is 71-77 with the Tigers, but had to take the program over when it faced NCAA sanctions and has to compete against Gonzaga and BYU at a school with high admissions standards. Stoudamire was named the WCC coach of the year in 2019-20 when the Tigers went 23-10 and finished fourth behind Gonzaga, BYU and Saint Mary's.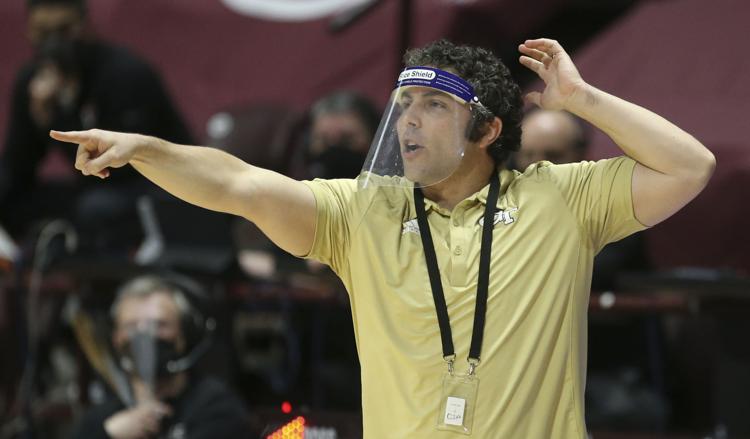 Josh Pastner, Georgia Tech head coach: A walk-on, coach-in-waiting for UA's 1997 national champions, Pastner has the most college coaching experience of any ex-Wildcat. He worked a number of roles under Lute Olson at UA, then coached under John Calipari at Memphis before taking over that program in 2009.
Pastner went 167-73 in nine years at Memphis and has gone 83-76 in five years as head coach at Georgia Tech, leading the Yellow Jackets to the ACC Tournament title and an NCAA Tournament berth this season.
Eric Musselman, Arkansas head coach: Had the Wildcats and Miller parted ways three years ago, Musselman might have been easier to hire. But since then, the former Warriors and Kings head coach has been restoring Arkansas' program, taking the Razorbacks to the Elite Eight this season.
Mark Pope, BYU head coach: Similarly, Pope was a mid-major success in 2019, leading Utah Valley to a 25-win season. BYU then hired him away and Pope signed an extension last fall that carries him through the 2026-27 season. Because BYU is a private school, terms are not known.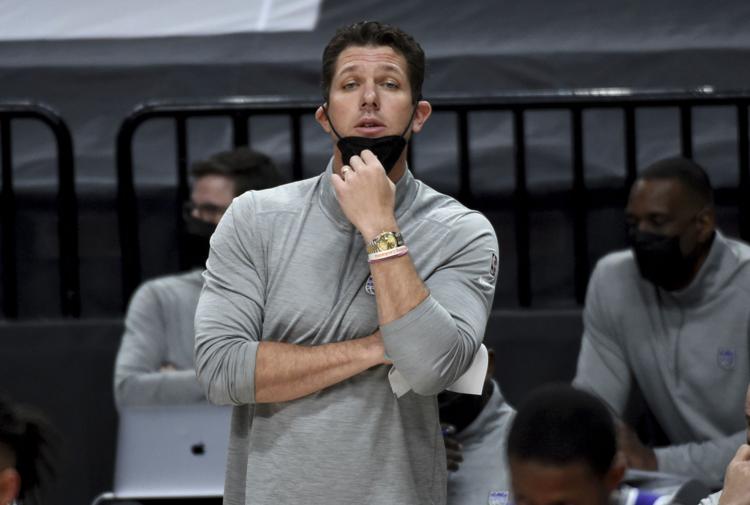 Luke Walton, Sacramento Kings head coach: If Walton ever wanted to bail out on the NBA — and have his father call his ESPN games — he might be interested in returning to the alma mater he helped get to the 2001 Final Four and 2003 Elite Eight. But since taking a job under Pastner at Memphis during the 2011 NBA lockout, Walton has coached exclusively in the pros and has shown no public interest in college coaching.
Jason Terry, UA assistant coach: Terry is a wildly popular former player with Arizona and the Dallas Mavericks who has deep ties to his Seattle hometown, Tucson and Dallas as a result. He also served as an assistant GM for Dallas' G League club and started a girls club-ball program before taking an assistant coaching job at Arizona this season.
Jack Murphy, UA associate head coach: Although he's a native of Las Vegas who grew up a fan of Jerry Tarkanian's Rebels, Murphy's Wildcat blood runs thick. He graduated from UA, served as a manager and in a number of roles under Olson and worked under Pastner at Memphis. He also married the daughter of former UA AD Jim Livengood.
Murphy gained NBA experience as a Denver Nuggets assistant and spent seven seasons as NAU's head coach, going 78-149 before joining UA in 2019. If he's not considered for the head coaching job, Murphy's work ethic and familiarity with the program could make him a candidate to carry over in the same role under a new head coach.
Miles Simon, Los Angeles Lakers assistant coach: The Most Outstanding Player of the 1997 Final Four while leading the Wildcats to the national title, Simon spent two seasons as an assistant under Olson and one with interim head coach Kevin O'Neill before embarking on a career working as a television analyst and trainer for NBA Draft prospects. He moved back into coaching in 2017.
Matt Brase, former Rockets assistant: Olson's grandson played for Arizona, and has since become a head coach for the G League Rio Grande Valley Vipers and a Rockets assistant.
Bret Brielmaier, Long Island Nets head coach: A former role player for the Wildcats, Brielmaier is on a track to become an NBA head coach after working in the San Antonio Spurs organization.
Timeline: Sean Miller's career as the Arizona Wildcats' head coach
April 6, 2009: Sean Miller leaves Xavier to accept job at Arizona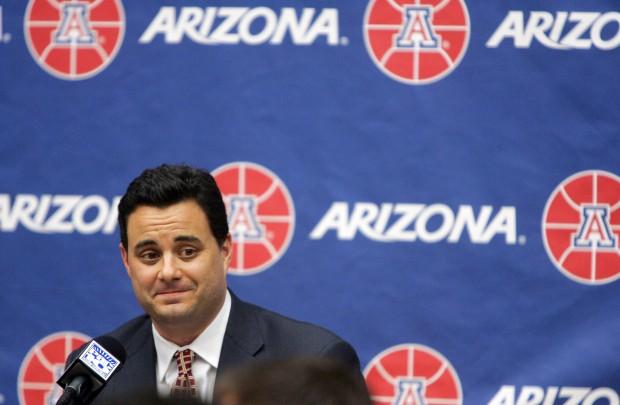 The UA announces that it has hired Miller, the former coach at Xavier, after the two sides met in Albuquerque the day before.
Miller takes over the program after long-time head coach Lute Olson retired after 25 years at the helm.
2009: Miller lands impressive recruiting class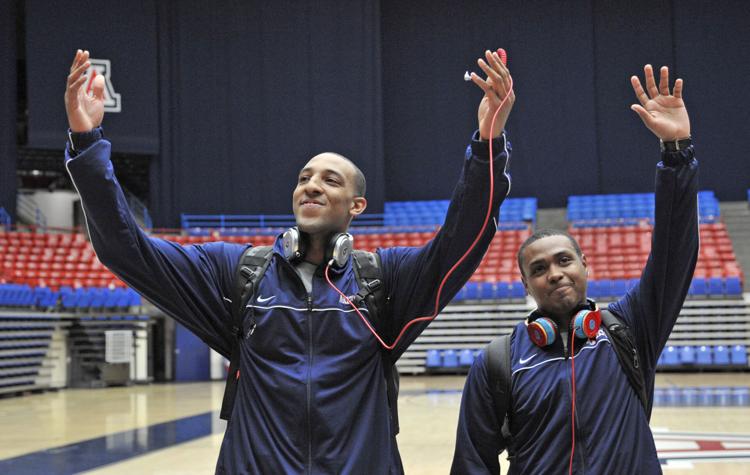 The first batch of recruits Miller hauls into Tucson set the tone for his tenure at the UA. 
Miller's first commit comes from Ukranian big man Kyryl Natyazhko. He was then followed by Kevin Parrom, Solomon Hill and Max Wiepking. The last two recruits of the class were former USC commits, point guard Lamont "Momo" Jones and power forward Derrick Williams. 
Miller's last-minute 2009 class was ranked No. 2 the Pac-12, per 247Sports.com.
Nov. 15, 2009: Miller wins first game at UA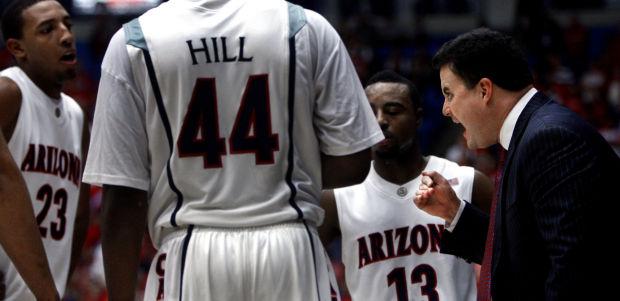 Junior power forward Jamelle Horne records a double-double with 14 points and 11 rebounds, while the backcourt in Kyle Fogg and Nic Wise combines for 25 points as the Wildcats top NAU 87-70 in McKale Center. The win is Miller's first at Arizona. 
March 5, 2011: Miller wins first Pac-12 title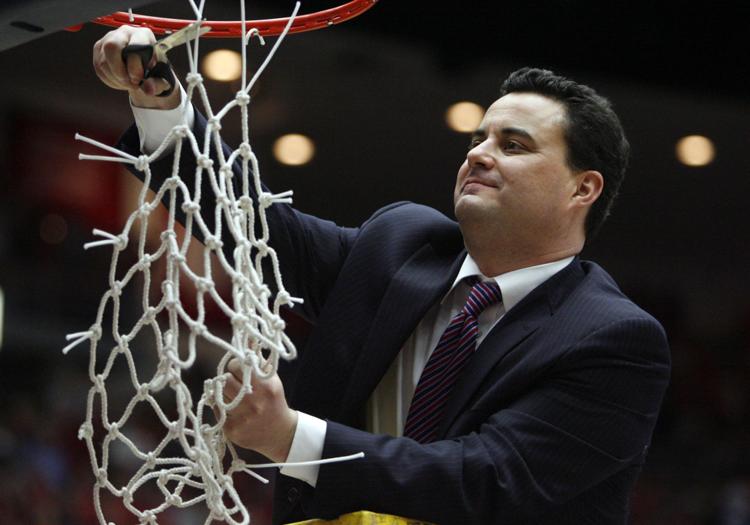 The Wildcats defeat Oregon 90-82 to clinch the Pac-12 regular season title, the first under Miller and the UA's first since 2005. 
2011: Wildcats make Elite Eight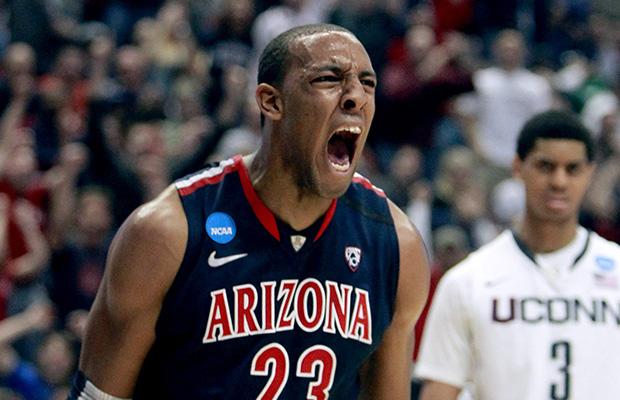 After winning Pac-10 Coach of the Year, Miller leads the Wildcats back to the big dance in 2011 after the Wildcats missed the tournament for the first time in 25 years.
The Cats beat Texas in Round of 32 and take down No. 1 Duke in the Sweet 16. In the Elite Eight, the Wildcats fall short after running into National Player of the Year finalist Kemba Walker and the UConn Huskies. 
2012: Cats miss tourney, play in NIT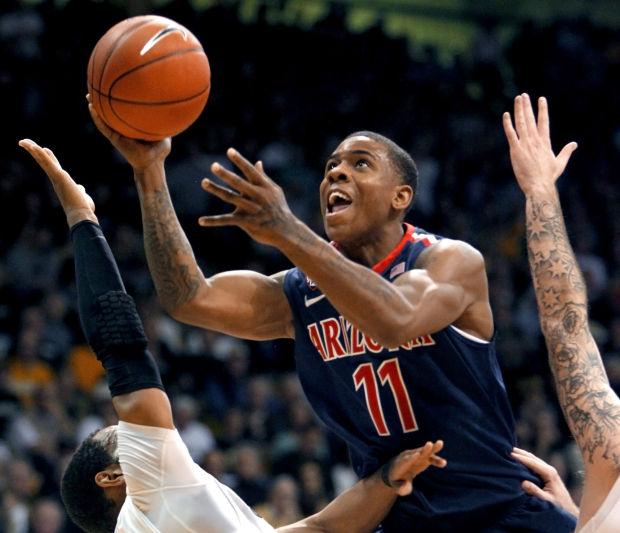 The Wildcats finish third in the Pac-12 and post a 23-12 record, capped off with a 65-54 loss to Bucknell in the first round of the National Invitational Tournament.
March 15, 2013: "He touched the ball"
No. 18 Arizona loses to UCLA 66-64. In the game, UCLA's Jordan Adams strips a driving Mark Lyons, but Lyons maintains possession of the ball in which he tried to pass it to a Wildcat on the perimeter. The official calls Lyons for double-dribble.
Miller tells the official "he touched the ball," saying it's a bad call.
Miller is called for a technical foul and the Wildcats go on to lose in the Pac-12 Tournament. Miller shows his emotions in the postgame press conference.
Nov. 18, 2013: Miller earns 100th win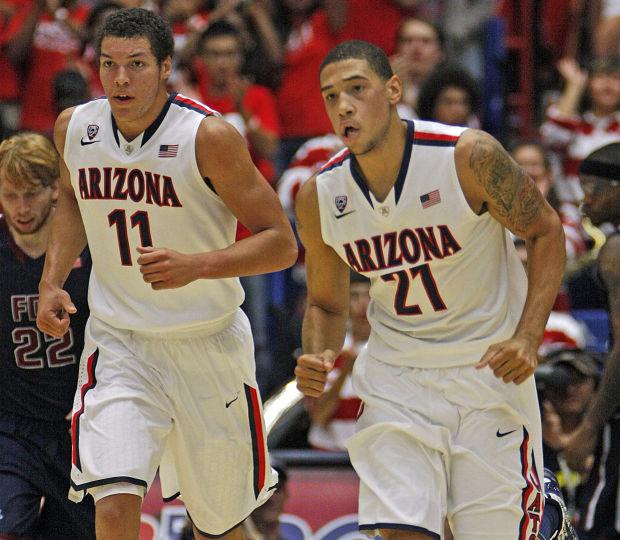 The Wildcats score 100 points and beat Fairleigh Dickinson by 50 points, giving Miller his 100th win as Arizona's head coach. 
"It feels good," Miller says about the career milestone. "Better to celebrate that than not be at that number. Hopefully there's many more this year and beyond." 
March 2, 2014: Arizona wins the Pac-12 regular-season championship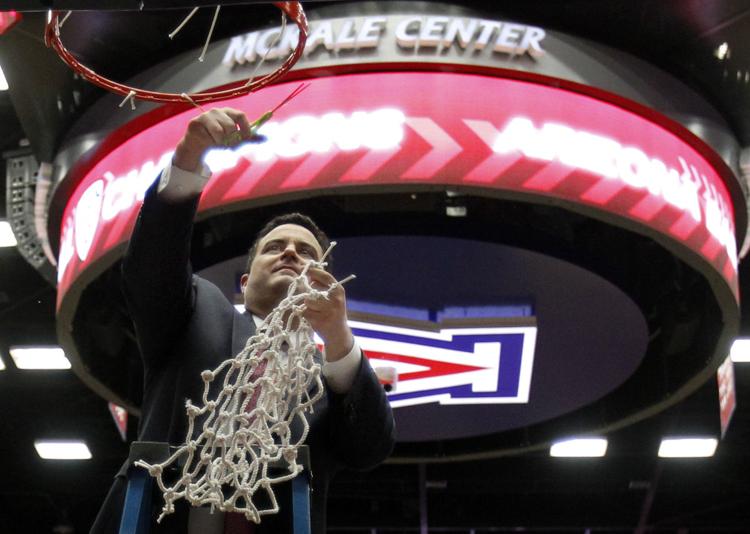 On senior night, the Wildcats beat Stanford 79-66 to win the Pac-12 regular season championship, Miller's second title at Arizona. Miller then wins another conference coach of the year accolade. 
March 29, 2014: Arizona loses to Wisconsin in the Elite Eight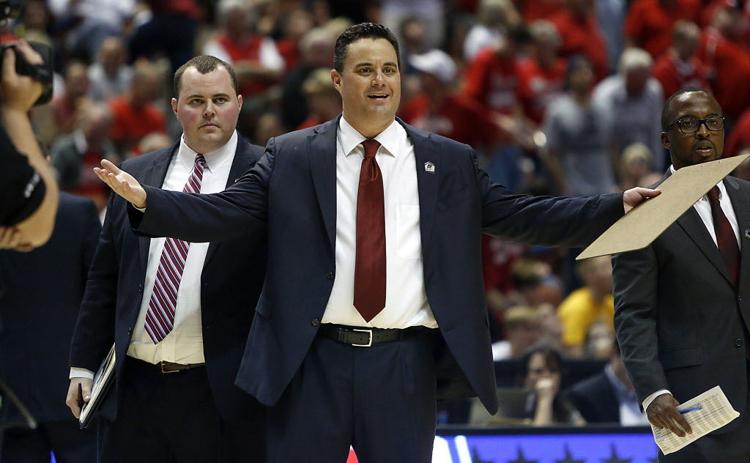 With Brandon Ashley out for the year with a broken foot, Arizona struggles to defend Wisconsin star Frank Kaminsky in the post. Kaminsky scores 28 points and grabs 11 rebounds and the Badgers topple the Cats in overtime. 
Nick Johnson has a chance to win the game on the final possession, but doesn't the get shot off in time and the Cats fall in the Elite Eight.
March 14, 2015: Miller clinches first ever Pac-12 Tournament title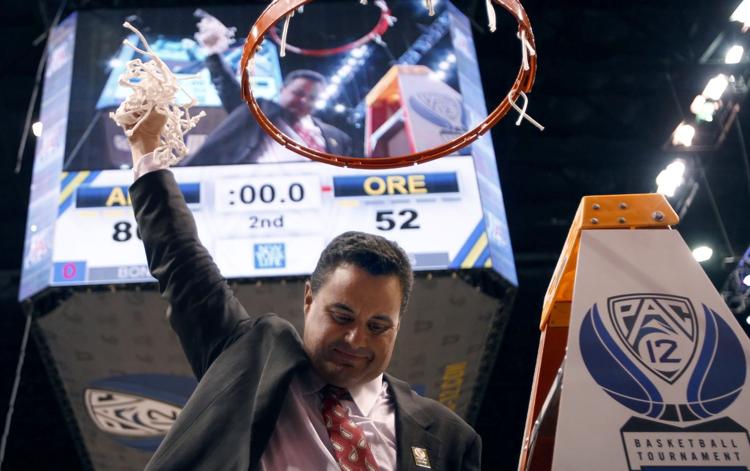 Arizona routs Oregon 80-52 in the Pac-12 title game, giving Miller his first-ever Pac-12 Tournament title.
March 28, 2015: Arizona loses to Wisconsin in the Elite Eight ... again
Arizona gets a rematch with the top-seeded Badgers, and while Frank "The Tank" Kaminsky isn't as a big of a factor on the boards as in 2014, he still manages to score 29 points. Except this time, Sam Dekker was there to back Kaminsky up. 
Dekker drops 27 points on 5 of 6 shooting from 3-point range and for the second straight season, the Badgers are in the Final Four, not Arizona. T.J. McConnell, Stanley Johnson, Rondae Hollis-Jefferson and Brandon Ashley would leave for the NBA Draft afterwards.
March 4, 2017: Arizona beats ASU, shares Pac-12 regular season title with Oregon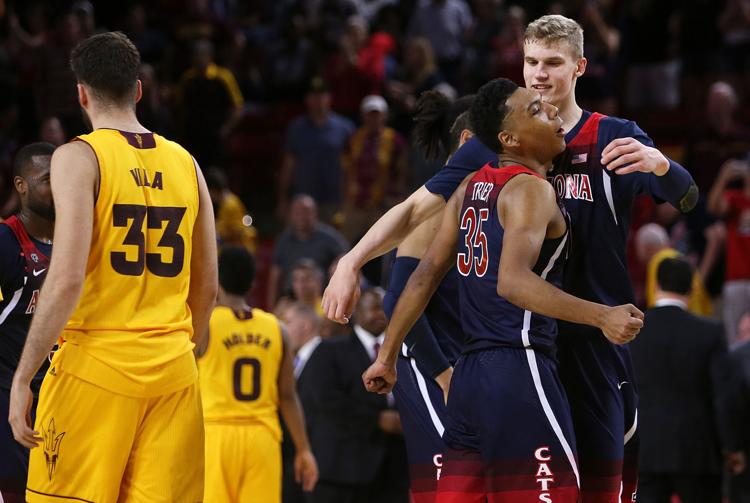 Arizona beats Arizona 73-60 in Tempe and sweeps the Sun Devils for the second straight season, clinching a share of the Pac-12 regular season championship with Oregon. 
March 11, 2017: Cats beat Oregon in showdown of co-champs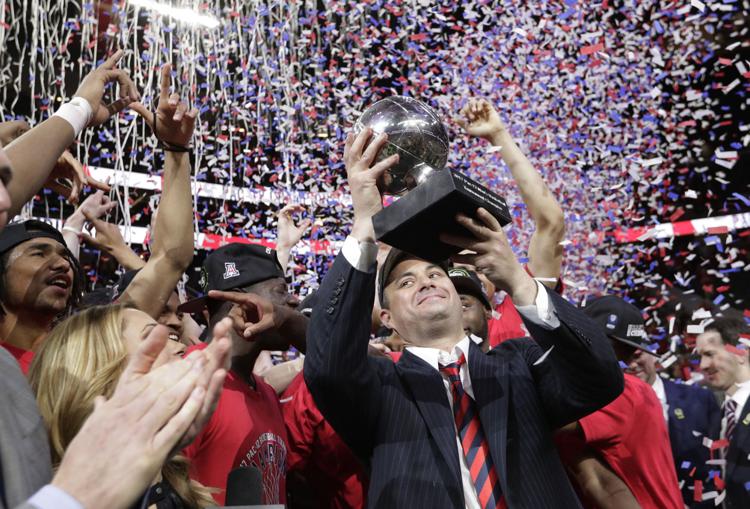 The Wildcats outlast Oregon 83-80 in the Pac-12 Tournament final behind Allonzo Trier's 23-point performance; the junior guard is named the Pac-12 Tournament's Most Valuable Player.
March 23, 2017: Miller falls to former team in NCAA Tournament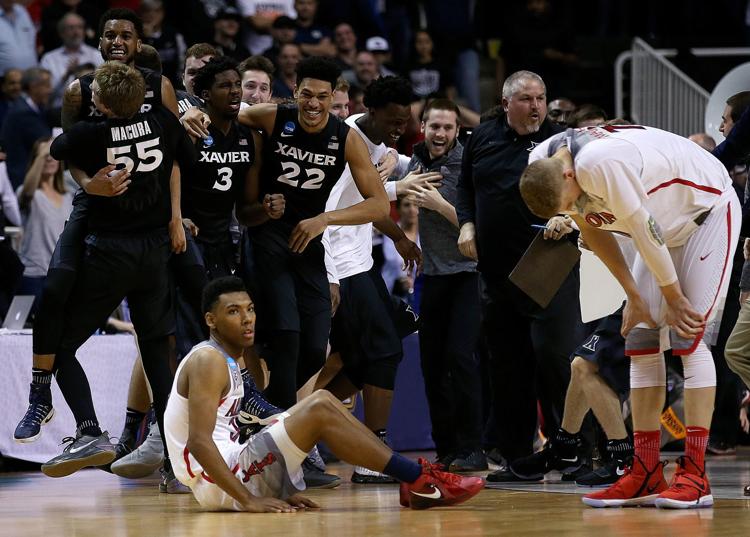 In the Sweet 16, the Wildcats run into his former team, Xavier. Arizona struggles in the second half, and freshman Lauri Markkanen doesn't have a shot attempt in the final 11 minutes, and the Musketeers upset Arizona 73-71. 
Summer 2017: Miller brings in monstrous recruiting class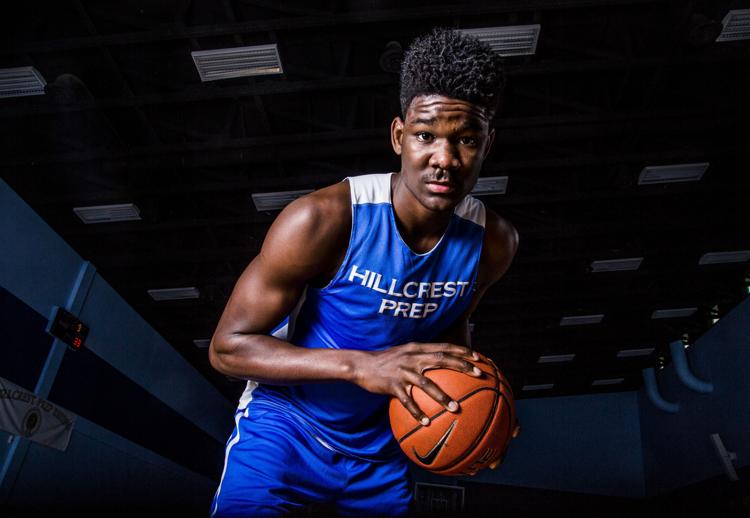 Arizona returns Allonzo Trier, Rawle Alkins, Parker Jackson-Cartwright, Dusan Ristic and Keanu Pinder for the 2018 season, all players that had significant roles on the 2017 Sweet 16 team.
Miller adds to that a recruiting class that inclues Ira Lee, Brandon Randolph, Alex Barcello, reclassified five-star 2018 prospect Emmanuel Akot — and No. 1 overall recruit Deandre Ayton, the 7-foot-1 Bahamian prodigy who played at Phoenix's Hillcrest Prep.
Sept. 27, 2017: Assistant coach arrested following FBI raid
Arizona assistant coach Emanuel "Book" Richardson is arrested by the FBI on allegations of bribery after he allegedly asked for $20,000 from co-defendants Christian Dawkins and Munish Sood, and released after posting a $50,000 bond. Richardson faces up to 60 years in federal prison and $1.5 million in fines if convicted of all charges.
Oct. 3, 2017: Miller releases statement amid FBI investigation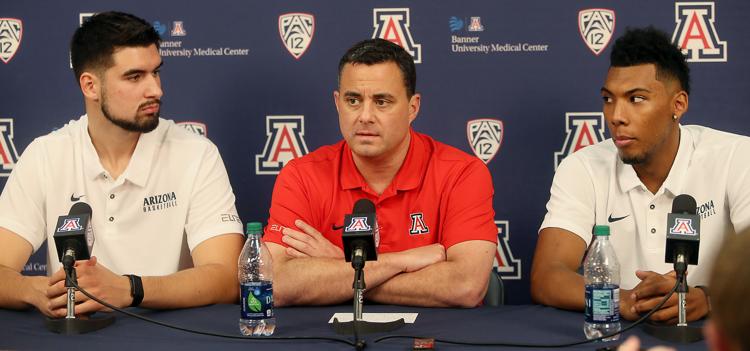 After nearly a week of silence, Miller releases a statement saying he's "devastated" over the allegations against Richardson.
Here's the full statement:
"I was devastated to learn last week of the allegations made against Emanuel Richardson," he said. I have expressed to both Dr. Robbins and our Athletic Director Dave Heeke that I fully support the university's efforts to fully investigate these allegations.
"As the head basketball coach at the University of Arizona, I recognize my responsibility is not only to establish a culture of success on the basketball court and in the classroom, but as important, to promote and reinforce a culture of compliance. To the best of my ability, I have worked to demonstrate this over the past 8 years and will continue to do so as we move forward."
Feb. 23, 2018: ESPN reports FBI wiretapped recordings of Miller discussing payment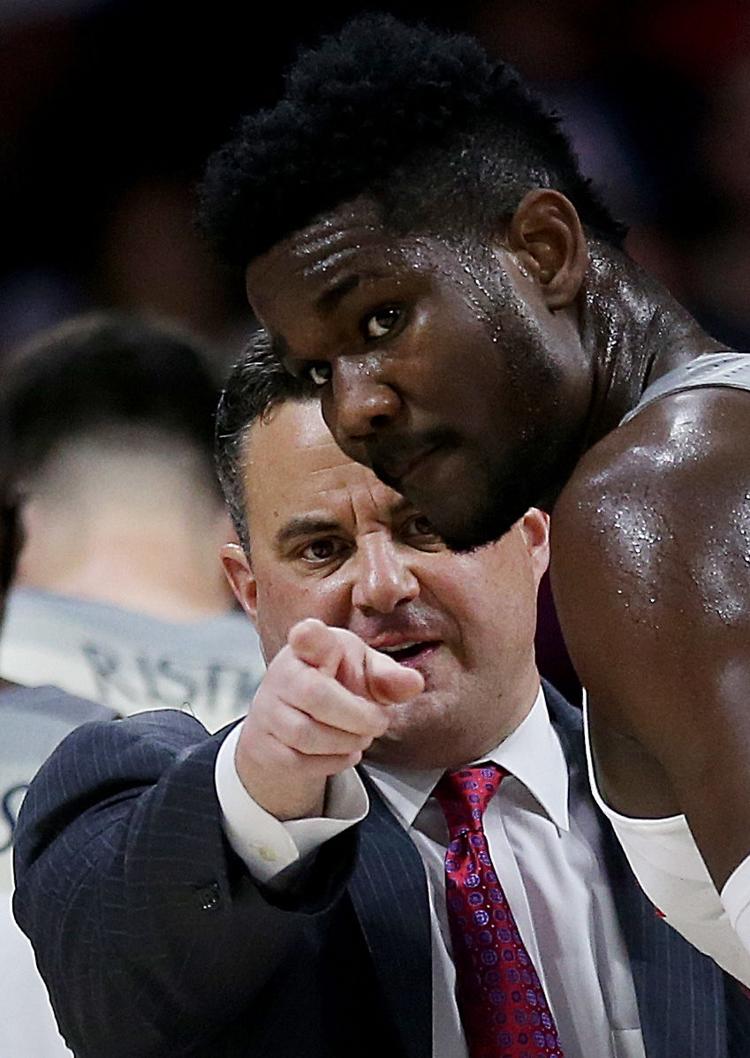 On the eve of Arizona taking on Oregon in Eugene, ESPN's Mark Schlabach reports that the FBI has a wiretapped phone conversation between Miller and ASM Sports agency runner Christian Dawkins in which the two allegedly discuss a $100,000 payment to Ayton.
As a result, Miller doesn't coach the Wildcats in their overtime loss against Oregon.
March 1, 2018: Miller denies ESPN report, says he is returning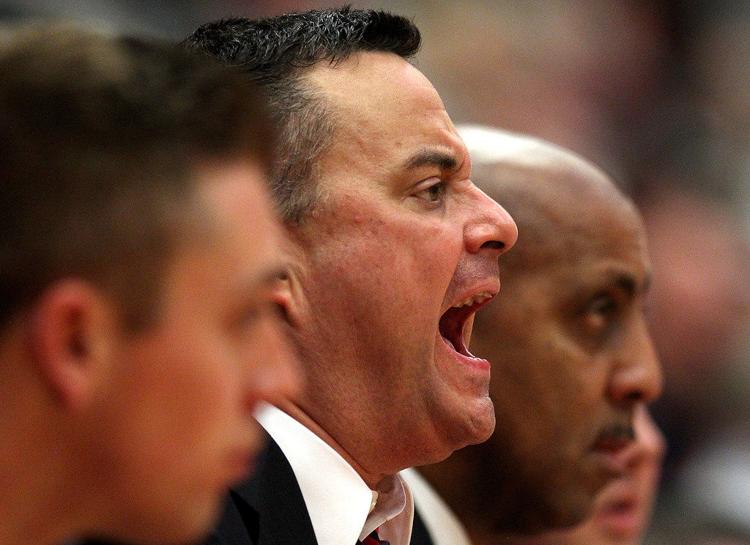 Miller denies the ESPN report and announces that he plans to coach the team to a Pac-12 championship.
"I have never knowingly violated NCAA rules while serving as head coach of this great program," Miller said. "I have never paid a recruit or prospect or their family or representative to come to Arizona. I never have and I never will. I have never arranged or directed payment or any improper benefits to a recruit or prospect or their family or representative and I never will."
UA president Robert Robbins and AD Dave Heeke back Miller, releasing a joint statement saying they have no reason to believe he violated NCAA rules at the time.
Sean Miller on the ESPN story of wiretap recordings of him discussing a $100K payment to land Deandre Ayton: "Any report to the contrary is inaccurate, false and defamatory. I'm outraged by the media statements." pic.twitter.com/tfqCzJZ8FF

— The Wildcaster (@TheWildcaster) March 1, 2018
March 10, 2018: Wildcats roar through Pac-12; Miller wins another title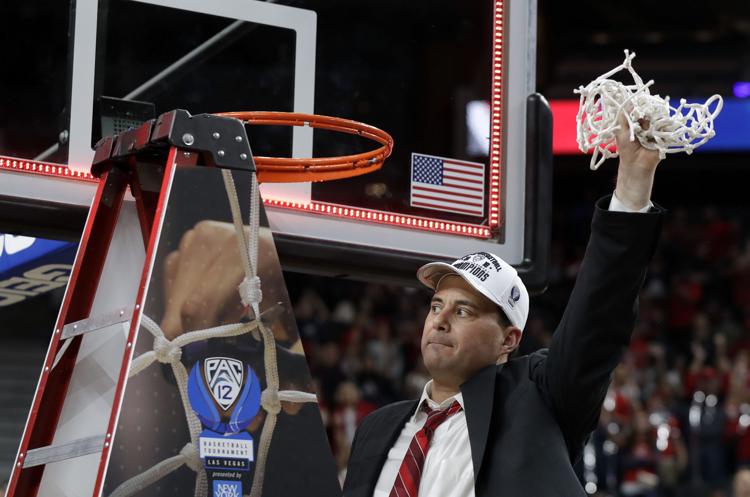 After clinching the Pac-12 regular-season title in Miller's return from the ESPN fallout, Arizona wins three games in as many days in Las Vegas to win its second straight tournament championship and third in four years.
March 15, 2018: No. 13 seed Buffalo knocks out Arizona in first round
Buffalo blasts No. 4 seed Arizona in the first round of the NCAA Tournament in Boise, Idaho. The 21-point loss is the fourth-worst loss the program has suffered in tournament history, and a Miller-coached team is sent home after the first round for a second time in three seasons.
April 6, 2018: AD supports Miller after state regents add $1M penalty clause to contract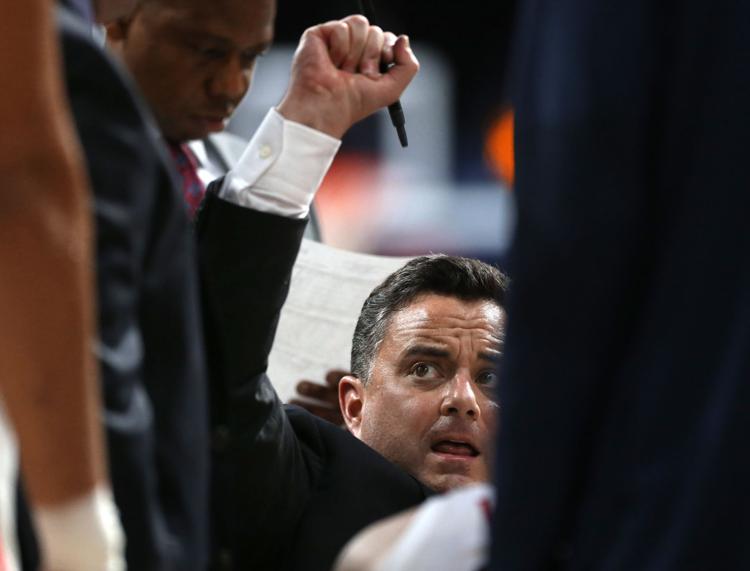 The Arizona Board of Regents approves amendments to Miller's contract that adds a $1 million penalty for wrongdoing and tighter Title IX language.
Miller stands to lose $1 million of his longevity fund shares if he is charged with a crime or found to have committed a Level I (major) NCAA violation.
Sept. 14, 2018: Five-star guard Nico Mannion commits to Arizona
Arizona Gatorade Player of the Year Nico Mannion commits to Arizona in September 2018, becoming the first recruit of the 2019-20 recruiting class. Mannion, a five-star guard out of Pinnacle High School (Phoenix), is the building block of the nation's sixth-ranked recruiting class.
It marks Miller's eighth recruiting class that ranked top 10 nationally. 
The Wildcats also sign five-star guard Josh Green, four-star forward Zeke Nnaji and three-star center Christian Koloko in the class.
Jan. 26, 2019: Wildcats blown out by USC, UCLA as Pac-12 struggles define season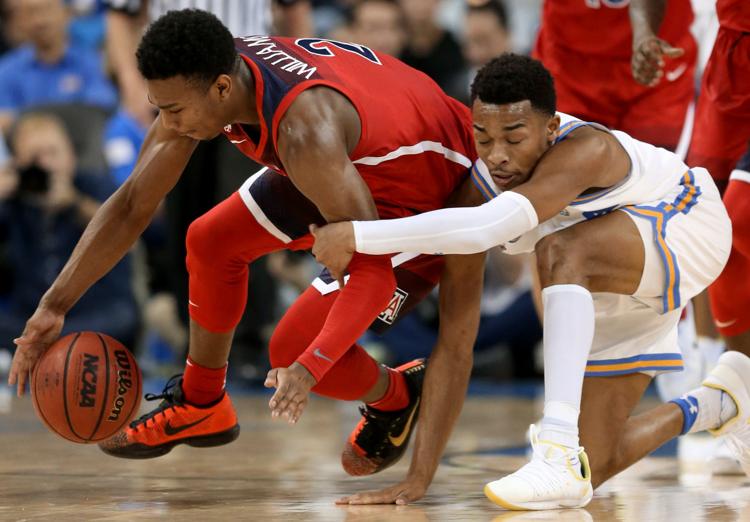 After losing much of the 2018-19 recruiting class to de-commitments, Miller rebuilds Arizona's roster on the fly. The 2018-19 Wildcats are led by Brandon Williams, who recommits to UA after previously backing out of his original verbal commit. 
Arizona starts out the season 14-5 and in the hunt for an NCAA Tournament berth. But the team sputters at the end of January, losing back-to-back games to USC and UCLA.
The Cats then drop four more consecutive games, marking the first time in 35 years the program lost five or more in a row. They finish the season 17-15 and 8-10 in the Pac-12, the first time in Miller's career the team did not go over .500 in conference play.
Feb. 9, 2019: AD affirms his support for Miller after assistant coach Mark Phelps' removal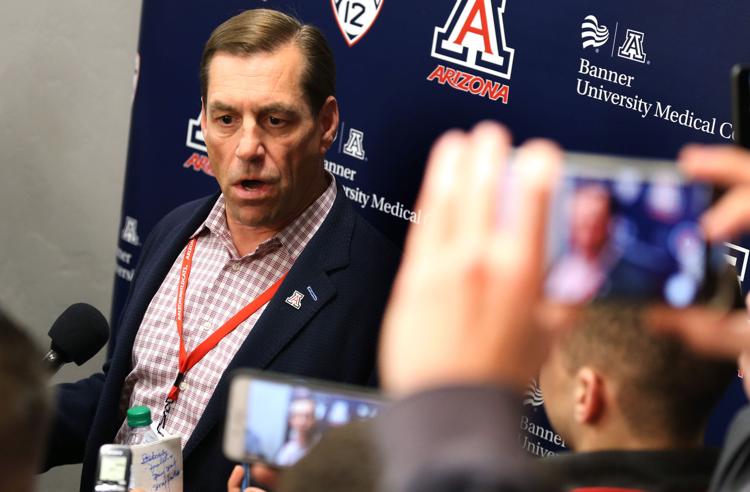 Arizona Wildcats assistant coach Mark Phelps is removed from the bench after ESPN reported that Phelps was involved in an NCAA issue regarding the academic records of former UA commit Shareef O'Neal.
UA athletic director Dave Heeke calls an impromptu press conference during halftime of Arizona's home basketball game against Washington State to affirm he plans to keep Miller as the team's head coach. 
"We're fully supportive of the coaching staff, the leadership of the basketball program," Heeke said. "We're supporting, as I have said before, we support Coach Miller. Those things that have been said to the contrary to that are not true."
Rather than fire him, the UA allows Phelps' contract to run out.
April 19, 2019: Judge rules that Miller does not have to testify in college basketball trial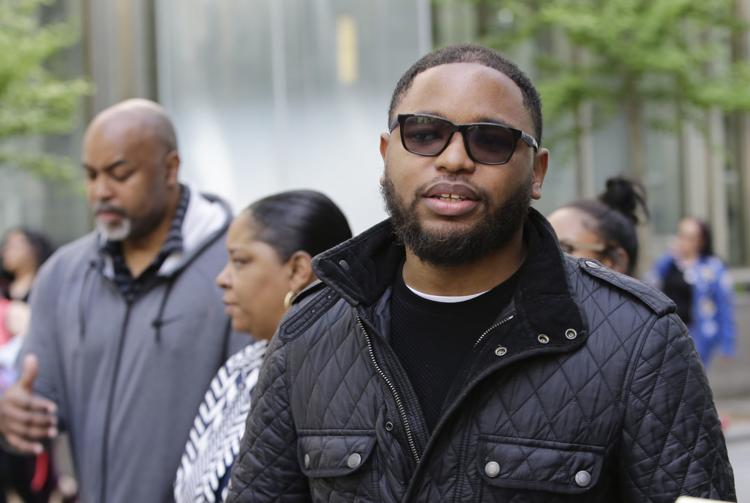 New York judge Edgardo Ramos rules that the Arizona Wildcats' coach and LSU coach Will Wade do not have to testify in the federal trial involving corruption in college basketball, saying their alleged misdeeds are irrelevant to the felony bribery charges facing would-be agent Christian Dawkins and Adidas rep Merl Code. 
May 4, 2019: Arizona confirms NCAA investigation into men's basketball program 'is underway'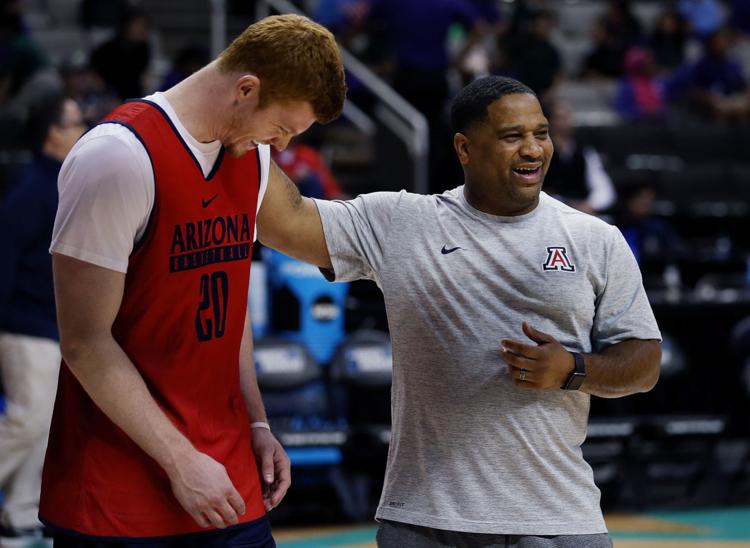 The University of Arizona men's basketball program confirms it is being investigated by the NCAA. UA issues a statement refuting other reports published that might have implied the investigation was new.
Fall 2019: Arizona in top 25 to begin 2019-20 season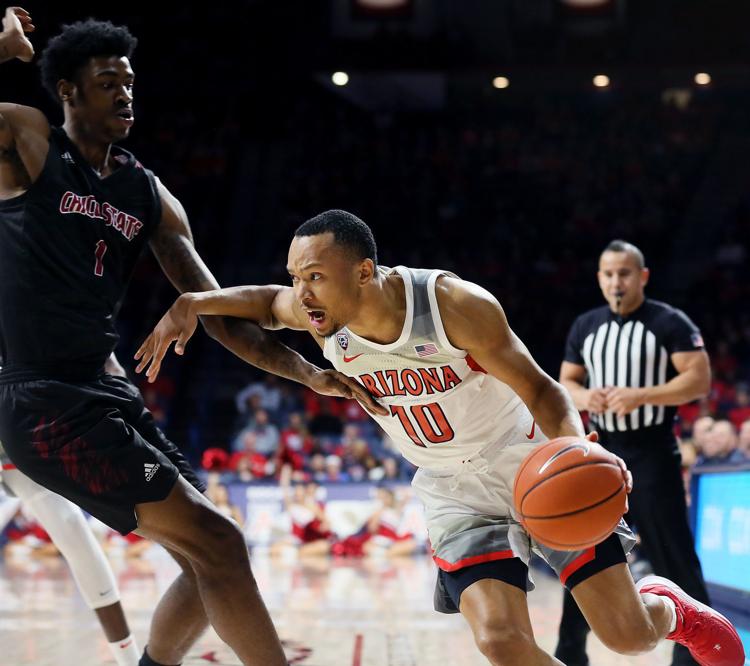 In the AP preseason poll, the Wildcats are ranked 21st in the country, marking the first time since 2018 that the team has been nationally ranked.
UA is also picked to finished fourth in the Pac-12 preseason poll.
A week before the season opener, Kentucky transfer Jemarl Baker is granted immediate eligibility for the 2019-20 season, boosting UA's outlook for the season to go along with a top 10 recruiting class.
Baker, a 6-foot-4-inch guard from Southern California, initially was expected to sit out the season He decided to appeal based on injuries and other issues in Lexington. 
The addition of Baker helps Arizona fill in its depth issues after sophomore guard Brandon Williams was lost for the season due to a knee injury before the start of the year.
Nov. 10, 2019: Freshmen star in blowout win over Ilinois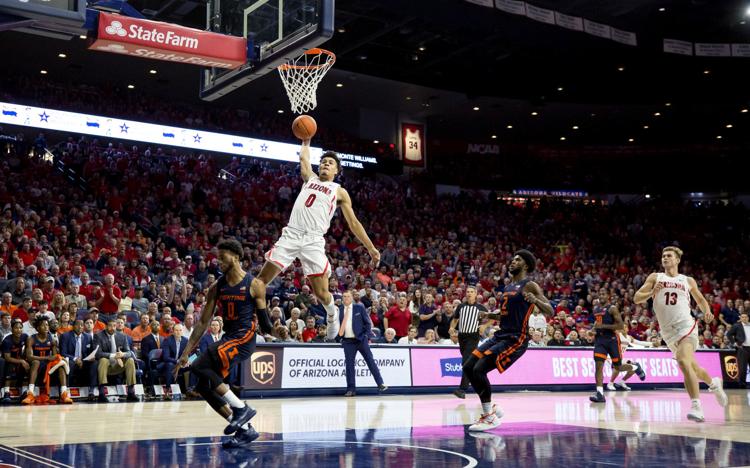 Freshmen Nico Mannion, Josh Green and forward Zeke Nnaji combine for 62 of Arizona's 90 points in a 21-point home win over Illinois. 
Their performance leads Miller to believe it's possibly his best class at Arizona.
"It's certainly one of the best, if not the best," he said.
Dec. 15, 2019: Miller bemoans team's shooting following loss to Gonzaga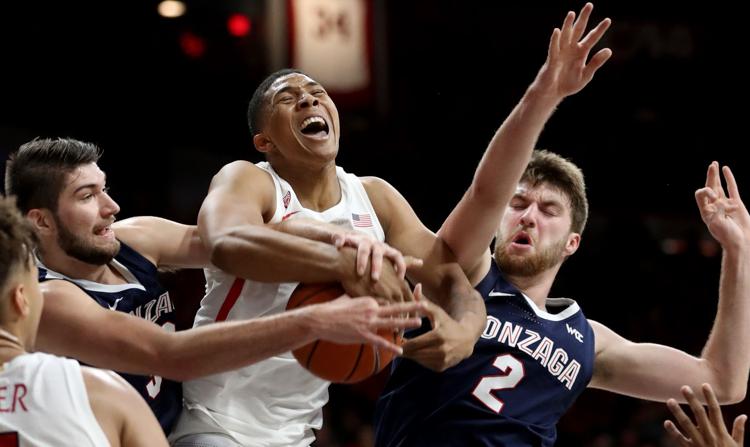 No. 15 Arizona makes just 8 of 30 3-pointers and shoots under 40% as a team in an 84-80 loss to No. 6 Gonzaga in McKale Center.
Miller holds a 17-minute press conference after the game detailing why Arizona was unable to win.
March 12, 2020: NCAA basketball season cut short due to pandemic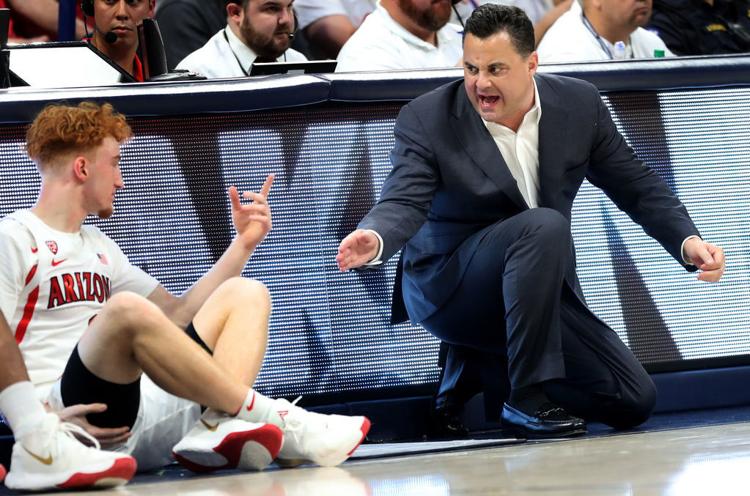 The Wildcats post a 21-11 regular-season mark, peaking in March.
In the first round of Pac-12 tournament on March 11, the Cats beat Washington 77-70 behind Josh Green's 19 points to set up a match with USC in the quarterfinals. 
Miller calls it "one of our season's best performances."
A day later, the Pac-12 and NCAA tournaments are canceled because of the coronavirus pandemic.  12, the coronavirus is declared a pandemic in the United States and both the Pac-12 and NCAA tournaments were canceled, effectively ending Arizona's season.
At the time, UA hovered between a 6 or 7 seed.
Oct. 25, 2020: Arizona, Miller receive NCAA's Notice of Allegations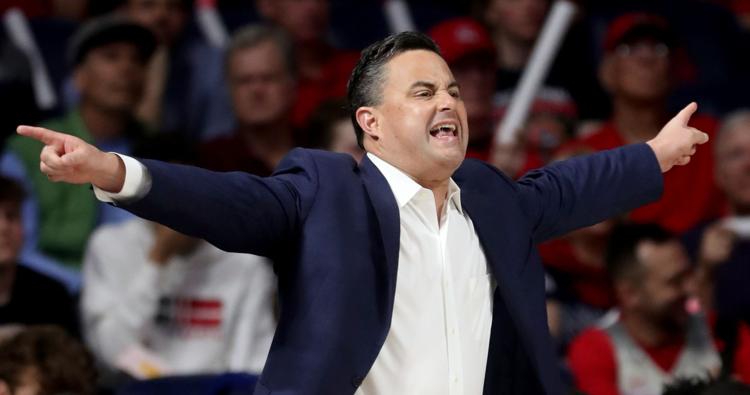 Arizona is charged with nine rules violations in the NCAA's Notice of Allegations, five of which are Level 1 violations.
Miller is charged with a Level 1 violation for a lack of head coach control and failing to monitor two assistant coaches accused of academic misconduct and improper recruiting inducements. The NOA is not released to the public until the following March.
Dec. 29, 2020: Arizona self-imposes postseason ban for 2021 Pac-12, NCAA tournaments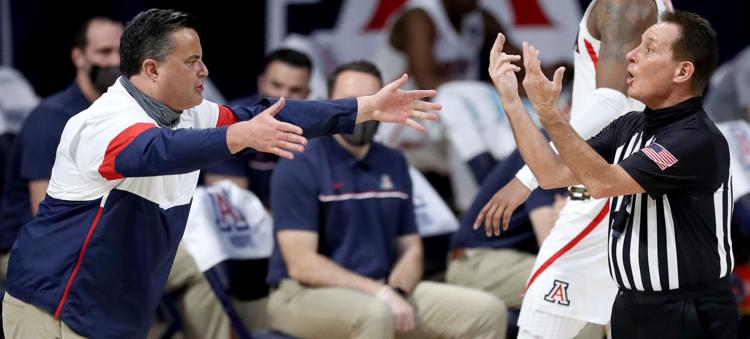 Acknowledging that NCAA investigators found some former Arizona men's basketball staffers displayed "serious lapses in judgment," the school announces  that it has self-imposed a ban on the upcoming postseason
"I understand and fully support the university's decision to self-impose a one-year postseason ban on our men's basketball program," Miller says in a statement. "Our team will remain united and aggressively compete to win a Pac-12 championship."
Feb. 18 2021: Wildcats lose to UCLA for fifth straight time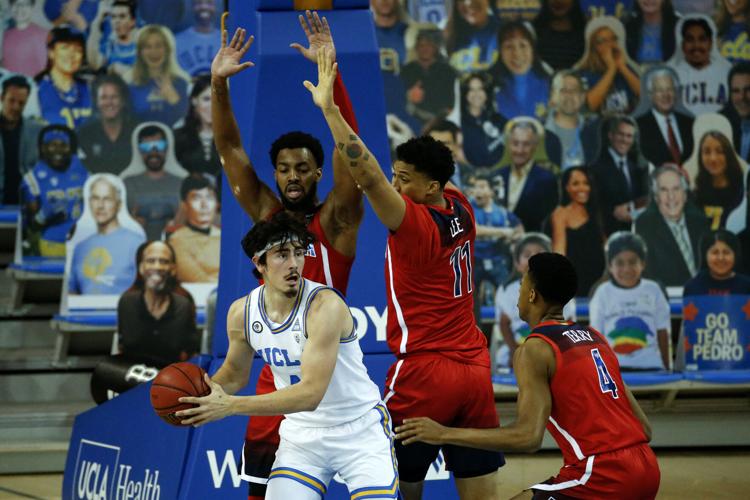 Arizona is outscored 44-29 in the second half by UCLA at Pauley Pavilion as the Wildcats drop their fifth game in a row to the Bruins.
March 1, 2021: Arizona ends 2020-21 season with loss to Ducks
In Arizona's season finale, the Wildcats lose 80-69 on the road to Oregon.
UA finishes the year 17-9 overall and 11-9 in Pac-12 play.
After the game, Miller said he was pleased with the team's overall finish despite not having postseason incentives to play for.
"I'll just share with you what I said to our team after the game: This is the 17th team that I've had as a head coach, and I've never been prouder of a group of guys than I am of this year's team," Miller said.
March 8, 2021: Arizona president Robert C. Robbins says Miller 'is our coach'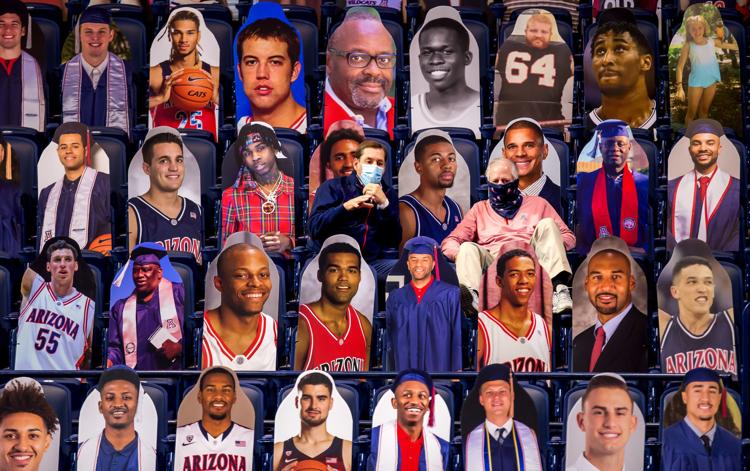 A week after Arizona's season ends, UA president Robert C. Robbins says he expects Miller back for the 2021-2022 season. 
"He's out there recruiting," Robbins says of Miller. "I think signing day is coming up soon. We've got a really good team. They're young, but good. And we're eager to move forward and get the final chapter of this now-almost four-year saga over. But Coach Miller is our coach."
April 7, 2021: Arizona, Miller part ways
The University of Arizona announces it is parting ways with Miller after 12 years. 
President Robbins and athletic director Dave Heeke met with Miller this week and informed him of the decision.
"We feel like it's the appropriate time to make a change," Heeke said. "So that we can restore and begin to rebuild the overall high-caliber status of this world-class basketball program."
Miller ends his coaching career at Arizona with a 302-109 record (.735), three Pac-12 Tournament championships, five conference championships and no Final Four appearances.