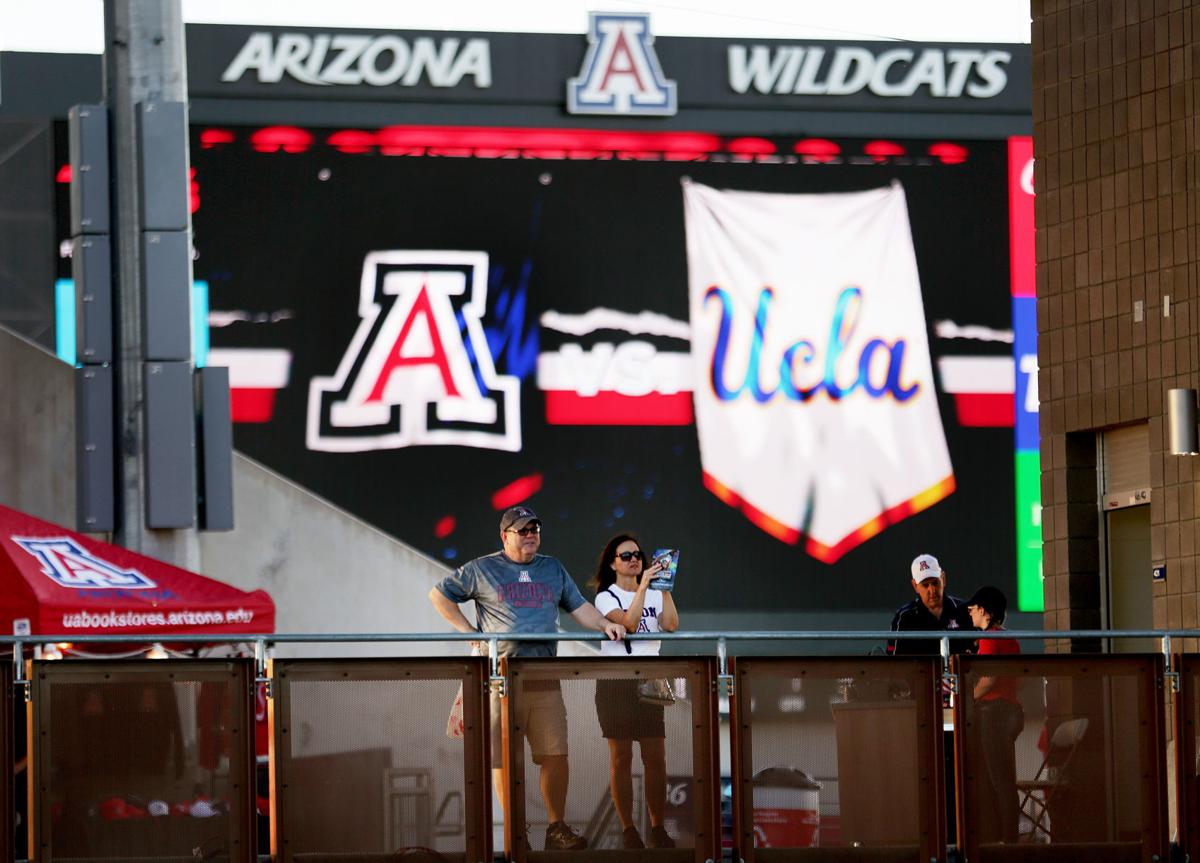 Projecting up to a $65 million revenue shortfall without a football season, Arizona athletic director Dave Heeke says he's considering "mitigation strategies" that include taking out loans, reducing staff and freezing capital projects — but not cutting any sports.
"Everything's on the table right now," Heeke said. "That exercise is in full force."
On a Zoom media conference Friday, Heeke said the department's "ballpark" projections forecast a revenue shortfall between $60 million and $65 million without football, or about two-thirds of his projected $94 million budget. Only some of that could also be offset via a possible spring football season, lower operating costs or favorable negotiations with Pac-12 media rights holders ESPN and Fox.
Already, Heeke said he has postponed capital projects while implementing a 10% budget cut for all sports programs and a 15% cut for administrative costs, in addition to the estimated $3 million to $4 million savings in staff salary reductions implemented last spring.
In prepandemic 2018-19, the most recent year that athletic department figures are available from the U.S. Department of Education, Arizona reported that $43.3 million of its $102.3 million in athletic department revenue came from football. Of that $43.3 million, roughly half comes from media rights, with along with other major sources such as ticket sales (16%) and sponsorships and royalties (10%), based on past UA filings with the NCAA.
While UA's projected shortfall is roughly 50% more than what it reported for all football revenue in 2018-19, Heeke indicated there also would be collateral damage in some other areas.
"To be clear, this is somewhat fluid," Heeke said. "We look at everything that impacts all of our revenue streams through the athletics program. It's tickets, its contributions, direct revenue from the conference, additional sponsorship and marketing arrangements and agreements, our IMG deal — all of those packaged together.
"I just can't throw a dart and get the number exactly, but we are modeling that if we don't have football — if it is canceled completely — that we would see a revenue loss of between $60 million and $65 million."
Heeke said he wasn't sure how much having a spring football season would offset that figure, but it most likely would be significantly less than $60 million, since spring football could have fewer games and less interest from fans and television partners alike.
Navigate president Jeff Nelson, whose firm works with several major conferences on media rights strategies, said spring football revenue would depend largely on what kind of competition colleges would be up against.
"The fall is so perfect for football because people are starting to be indoors a little more and you're really owning Saturdays," Nelson said.
Heeke also indicated generating enough money from spring football would be difficult.
At the same time, UA was already making cuts. Athletic department staffers paralleled the universitywide pay cut and furlough program, with contracted head coaches voluntarily going along with it, saving an estimated $3 million to $4 million.
Heeke said he has also postponed all capital projects, while installing the budget cuts for sports and administrators.
In addition, UA has also implemented a hiring freeze for positions not directly involving athlete development. The UA was allowed, for instance, to hire former basketball star Jason Terry as an assistant coach for $280,000 annually.
"We're being very intentional about the staffing size that we have, along with having a relatively robust furlough and salary reduction program," Heeke said. "Now we're going back to look at larger buckets, areas that we would reduce."
While Heeke said cutting sports is "not on our list at this time," staffing changes or reductions are possible.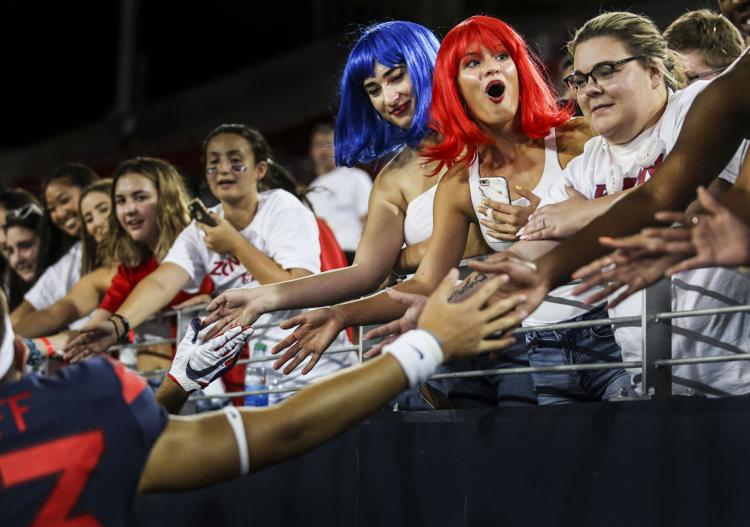 "It's all being evaluated, what type of staffing we would have, and those are very challenging conversations and discussions," Heeke said. "But our bullseye is the student-athletes and the services that are provided. We will continue to train and be ready and move forward.
"We will continue to support them academically, medically, mental-healthwise — all of those wraparound services. We don't want to harm that for as long as we possibly can. And we think we can put strategies together that will allow us to do that."
Without football games being played, UA will save some in expenses. In 2016-17, UA reported $2.31 million in game-day expenses and another $1.04 million in travel related to football, while recruiting ($519,000) is also likely being reduced now since in-person visits have been forbidden during the pandemic.
Still, whatever it does, UA won't be able to offset a $60 million to $65 million loss within the fiscal year even if it cut all nonrevenue sports, or even if it laid off its entire staff, suggesting a loan or massive fundraising may be necessary.
Heeke said UA is continuing to appeal to donors, telling them that their dollars are now pivoted solely to student-athlete services, while Nelson noted that Wisconsin launched a separate fundraising drive after fall sports were canceled.
The website for the "Badger Legacy Campaign" says that "without financial support from our community, the experience we love as Badgers could be at risk" because of a revenue shortfall it estimated in excess of $100 million.
"At the end of the day, it's actually going to be a mixture" to fill the revenue gap, Nelson said. "Most schools are gonna have three levers that they are pulling. One will be fundraising — why would you not try to get as much support as you can without taking on debt?
"The second will be cuts, which will vary considerably by school, and the third will be debt. How much debt can we take on?"
According to the San Jose Mercury News, the Pac-12 arranged a loan program for members schools to borrow up to $83 million each at a 3.75% interest rate. Heeke said Friday that the school has discussed loans with the conference.
"Nothing has been secured or finalized in any way, but we would entertain some sort of bridge funding if and when it's available," Heeke said. "We have to maintain some level of operation and keep our programs moving in a positive direction so that when we do come out of this, we're in a better place to evolve and go forward."
Be the first to know
Get local news delivered to your inbox!