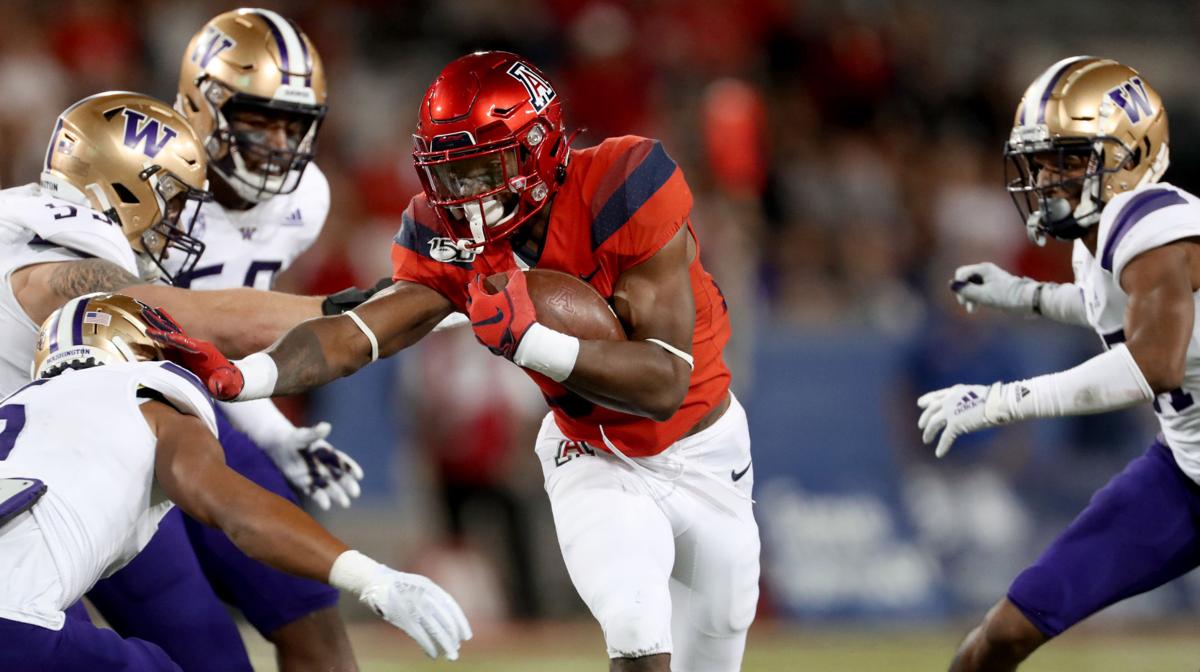 The way Arizona books revenues, not playing football this fall looks even worse for its athletic department.
Of the roughly $27 million Arizona has received in media rights via the Pac-12 over the most recent prepandemic years, 85% of it was assigned to football, or about $23 million.
So, no football games, no $23 million? Or something else?
As it turns out, the gray area is immense. It could be $23 million less … or it could be almost nothing less.
There are many reasons why.
For one thing, the 85% figure is not a measure exactly of what the networks are paying for football games within their package, but the high end of an industry standard for assigning media rights money to football versus men's basketball.
"I think it's a reporting strategy," UA AD Dave Heeke said. "We begin to estimate revenues and build revenues centered around football, and then report that way, so I don't know what all the smaller buckets that add up to that larger bucket. But I don't use that as a hard number, that is, that if football goes away, all of it goes away."
Heeke said on a Zoom interview earlier this month that he didn't know all the details without having the financials in front of him, and a request for a more detailed interview with UA's athletic financial officials was declined because of the current uncertainty.
But Matt Balvanz, senior VP of analytics for Navigate, a Chicago-based sports market research firm, says college media rights revenues are typically assigned from 70% to 85% to football.
Doing at the 85% rate at Arizona in 2016-17 (more recent figures have not been immediately available) meant football recorded over half its $43.7 million in revenue as coming from media rights ($22.5 million) while men's basketball recorded $4 million of its total $12.7 million in revenue from media rights.
While men's basketball recorded more in ticket sales ($7.3 million) and donations ($5.5 million) than football, other revenues and overall interest in any sport has almost no bearing on how media rights money is assigned.
"At the individual level your Kansas, your Kentucky, your Duke, they certainly are skewed toward basketball more than most," Navigate president Jeff Nelson said. "But at the conference level, when the networks are writing billion-dollar checks, it's for football."
Overall in 2016-17, Arizona recorded $26.5 million in media rights revenue, $1.6 million in NCAA distribution (including the NCAA basketball tournament), and another $3.1 million in nonspecified conference distributions for a total Pac-12 distribution of about $31 million.
The Pac-12 said it paid its schools $32.2 million in fiscal 2018-19, a total that results from fees from Fox, ESPN and the Pac-12 Networks, plus bowls and NCAA Tournament shares – all of which trickle down from some form of media rights.
If the Pac-12 can salvage a winter or spring football season in 2021, the conference distribution may not drop that much in 2020-21. The Pac-12's contract with Fox and ESPN is not public record but Balvantz said he didn't think it stipulated any particular TV rating, so if there were fewer viewers in the spring it might not matter.
But most if not all bowl money would disappear with a spring season, and the number of games would have to be comparable to avoid too much of a dropoff.
Balvantz said each football game is worth between $2 million and $5 million to the networks so shortened seasons would reduce the payout "incrementally by those amounts."
But again, there's gray area. Sensing how much each side is willing to give is predictably difficult considering the fluidity and unprecedented nature of college sports during the pandemic.
Executives at the Pac-12 and ESPN both declined to comment for this story last week while efforts to reach former Fox executive Randy Freer and media advisor Chris Bevilacqua, who both worked on the 2011 agreement with the then-Pac-10, were also unsuccessful.
Patrick Crakes, a former Fox Sports executive, told the San Jose Mercury News that he thought the networks would ultimately prorate what they pay schools based on the amount of games but indicated that a hardball strategy on either side could leave damaging long-term wounds.
The Pac-12's deal with Fox and ESPN runs through 2024, with renegotiation possible after that.
"The reality is, they're married to the conference," Crakes told the Mercury News. "What problems do they want to cause with the Pac-12 if they want to renew in 2024?"
Nelson says all the unknowns, including interest in a potential spring season with viewers, have "network guys, like everyone, drinking from a fire hose" before they make decisions.
Arizona may have to hope a lot of those decisions are made with the long-term future in mind, more so than about what everyone will lose in the short term without football this fall.
After all, that $65 million potential shortfall that Heeke projects might shrink considerably if some of that $23 million in football media rights can be salvaged.
"We've had an abundance of conversations with our own (Pac-12 television) network and our network partners about how this impacts them, and how going forward we could develop a model that would be inclusive of them, so that we can continue to drive revenues through the TV packages," Heeke said. "That's very important to not only football but our entire athletic operations."