After then-undefeated Washington completed its pre-game shooting drills Thursday at McKale Center, Huskies senior guard David Crisp jumped and grabbed onto the rim, elevated his legs and swung in an extended show of might.
His teammates gathered beneath him, as if carrying Crisp on their shoulders.
Washington won 67-60 that night, extending its Pac-12 record to 10-0. They celebrated with a swagger befitting some of the true basketball giants to win at McKale Center, like, say, the 1995 national champion UCLA Bruins and the No. 1-ranked 1981 Oregon State Beavers.
Two days later the Huskies lost at Arizona State. Their bid to become the league's first-ever champion to finish 18-0 went poof.
In an attempt to put the 2019 Washington Huskies season in context, I asked one question:
How many Huskies would have started for Arizona's 2014 Elite Eight team, a starting lineup that included Aaron Gordon, Nick Johnson, Kaleb Tarczewski, Rondae Hollis-Jefferson and T.J. McConnell? Or the '15 team, in which Brandon Ashley and Stanley Johnson replaced Gordon and Nick Johnson?
None. Not even close, in my opinion.
How many would've started for the Arizona's 2003 Elite Eight team, in which Andre Iguodala couldn't crack the starting lineup?
After due research, I concluded that none of the current Washington Huskies would've started for any Arizona team from 1988-2003. Not even defensive ace Matisse Thybulle, although he would've been a wonderful sixth man on almost any Lute Olson team. UW wing shooter Jalen Nowell could've been of help to any UA team of that period as well.
Here's some perspective: None of those Arizona teams, 1988-2003, finished lower than No. 15 in the final Associated Press Top 25. Washington is unranked.
I began covering Pac-12 basketball at Oregon State in 1978-79 as the Beavers were on the verge of winning three straight league championships, climbing to No. 1 nationally and taking command of the conference.
For 40 seasons, I have been fortunate to make it my business to closely follow Pac-12 basketball and after several days of research I produced a list of teams I consider better than the 2019 Washington Huskies.
I came up with 87 teams and broke it down like this:
Arizona, 22 better teams.
Stanford, 10 better teams.
Washington, 7 better teams.
Oregon State 4, better teams.
ASU and USC, 3 better teams each.
Utah and WSU, 2 better teams each.
The competition within the league has diminished significantly in the last decade. The 15-man 2007-08 All-Pac-10 team had 14 future NBA players, including six lottery picks. Four players who didn't make the all-star team, the top 15, were drafted — Stanford's Robin Lopez, UCLA's Luc Mbah a Moute, Oregon's Malik Hairston and Cal's Devon Hardin.
What current Pac-12 player could've cracked that 15-player '07-08 group, in which, believe it or not, UCLA sophomore Russell Westbrook only made the third team?
Probably nobody, although Oregon State's Tres Tinkle and WSU's Robert Franks, along with Tybulle and Nowell, would contend with ex-Wildcat Chase Budinger and ex-WSU point guard Derrick Low for third-team spots.
And consider this as Washington finishes the regular season: In the 1990s, there were 51 games matching Top 25 conference teams. In the first decade of the 2000s, that number skyrocketed to 76 conference games pitting Top 25 teams against each other.
This decade there have been just 23 Top 25 vs. Top 25 conference games.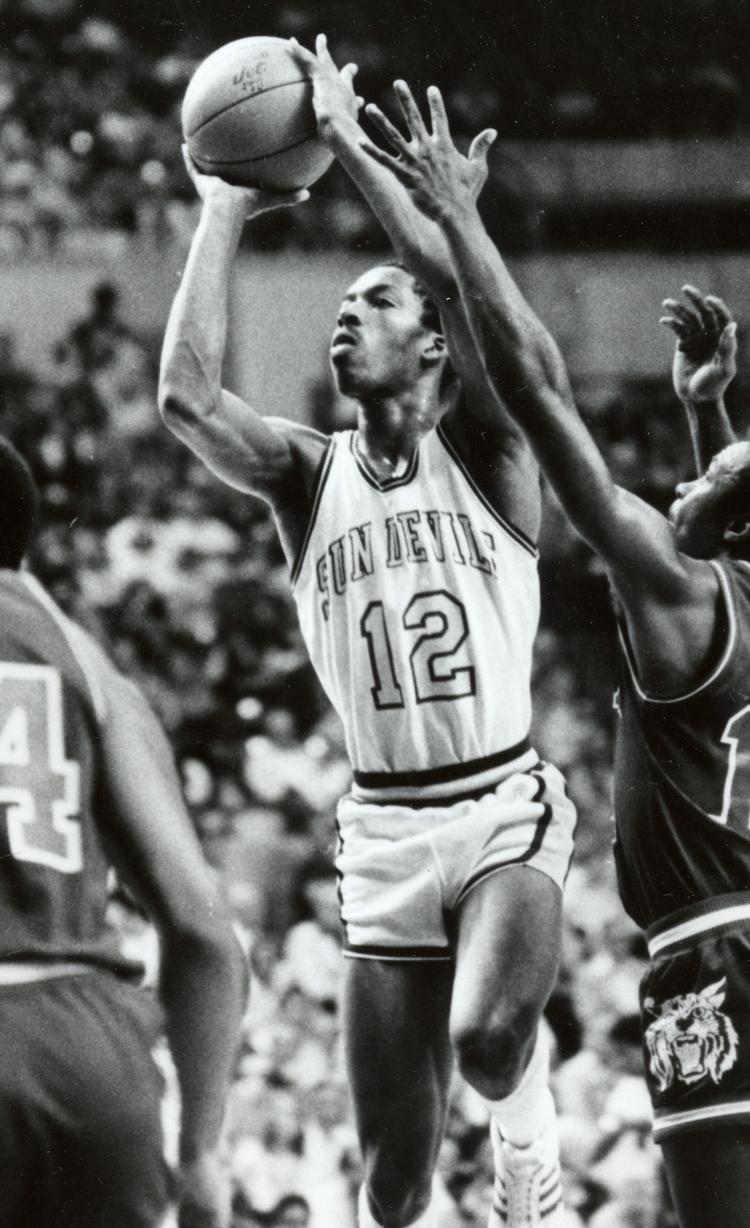 When UCLA and Arizona are down simultaneously the league plunges from national relevance. Nothing mirrors the Pac-12's diminished status in college basketball more than UCLA's life after three-time Final Four coach Ben Howland.
Inconceivably, the Bruins have been ranked in the AP Top 25 just 14 of 86 weeks over the last 10 conference seasons, January through March.
The '19 Huskies, bless their soul, are taking advantage of the worst season at Arizona since 1983-84, and UCLA's almost total implosion.
For the record, here's my list, in order, of the 40 best teams since the Pac-8 expanded to the Pac-10 40 years ago in 1978-79. If you can find a spot in which to squeeze coach Mike Hopkins' Huskies, let me know:
1. UCLA 1994-95. The Bruins won the national championship, 31-2 overall after a 16-2 conference season. They were so good they won the title game minus injured starting point guard Tyus Edney.
2. Arizona, 1987-88. Top season in UA history: 35-3 overall, 17-1 in conference. A bucket of tears was shed after losing to Oklahoma at the Final Four.
3. Arizona, 2000-01. The most talented starting five ever fielded by Lute Olson lost the national championship game to Duke and, according to UA fans, a few bad whistles.
4. Oregon State, 1980-81. The hurt still simmers in Corvallis after the Beavers opened the year 26-0, ranked No. 1, but lost in a shocking NCAA upset loss to Kansas State.
5. Stanford, 2003-04. Mike Montgomery's most-feared team went 30-2 and opened the Pac-10 season 17-0 before a last-game loss in Seattle.
6. Oregon, 2016-17. The Ducks reached the Final Four and went 33-6.
7. Arizona, 1988-89. Sean Elliott's last UA game ended in a last-second loss to powerful UNLV after another 17-1 Pac-10 championship season.
8. UCLA, 1991-92. It could be that the 1-2 punch of Don MacLean and Tracy Murray for the No. 1-seeded Bruins, 28-5, was the league's best ever.
9. Stanford, 2000-01. At 31-3, the top-seeded Cardinal expired in an Elite Eight loss to Maryland.
10. Arizona, 1997-98. The defending national champs, with all starters back, 30-5 overall, expected a pleasure cruise in the Elite Eight, but instead encountered a devastating loss to Utah.
11. UCLA, 2007-08. The best of Howland's three straight Final Four teams finished 35-4.
12. Arizona State, 1980-81. With Byron Scott and Fat Lever in the backcourt, the Sun Devils had a best-ever 16-2 conference record, 24-4 overall.
13. Oregon State, 1979-80. Ralph Miller ruled the league, finishing 26-4 and winning the first of three straight Pac-10 titles at 16-2.
14. Arizona, 1996-97. After an 11-7 conference season, the Wildcats went on a run for the ages to win the NCAA championship, 25-9 overall.
15. Stanford, 1997-98. The only Final Four team in Montgomery's long tenure, 30-5 overall.
16. Arizona, 1993-94. Damon Stoudamire and Khalid Reeves captained the Final Four run and a 29-6 record.
17. UCLA, 2006-07. The Bruins beat Kansas to reach the Final Four and finished 30-6.
18. Arizona, 2004-05. Somehow the Wildcats lost a 15-point lead in the final 4½ minutes in an Elite Eight collapse against Illinois, 30-7 overall, Olson's last great team.
19. Washington, 2004-05. Lorenzo Romar went 29-6 and got a No. 1 seed, but lost in the Sweet 16.
20. Arizona, 2013-14. Nick Johnson had the last possession to beat Wisconsin and reach the Final Four. No good. Arizona finished 33-5.
21. USC, 1991-92. George Raveling's best-ever team, with shooting whiz Harold Miner, was 15-3 in a rugged Pac-10 and a No. 2 seed.
22. Arizona, 2014-15. Another heartbreak a step away from the Final Four, beat by Wisconsin — again. Arizona finished 34-4.
23. Oregon State, 1981-82. A third-straight Pac-10 title, a 25-5 record and a No. 4 final ranking. The Beavers reached the Sweet 16.
24. Stanford, 1998-99. At a time the Pac-10 was at its strongest, the Cardinal went 15-3 and 26-7 overall to get a No. 2 seed.
25. Oregon, 2001-02. The top Ernie Kent team, 26-9 overall and an Elite Eight finisher behind Luke Ridnour and Luke Jackson.
26. UCLA, 2005-06. The first of three straight Final Fours for the 32-7 Bruins.
27. Arizona, 2002-03. After a 17-1 conference season, Arizona missed a last-second shot and fell by three to Kansas in the Elite Eight.
28. UCLA, 1979-80. Itinerant coach Larry Brown stopped off at Pauley Pavilion long enough to get the Bruins to the Final Four with a No. 2 seed.
29. Arizona, 2016-17. The Wildcats' planned trip to the Final Four, 32-5 overall, was scuttled by a stunning Sweet 16 loss to Xavier.
30. Cal, 1992-93. Behind Jason Kidd, the Bears stunned Duke to reach the Sweet 16.
31. Utah, 2015-16. Duke sent the 26-9 Utes, blessed by NBA prospects Delon Wright and Jacob Poeltl, home.
32 Arizona, 2010-11. If only Jamelle Horne's last-second 3-pointer had dropped, the 30-8 Wildcats would've been in the Final Four.
33. Oregon, 2006-07. The Ducks reached the Elite Eight with 29 victories.
34. Arizona, 1992-93. Heartbreak central: After finishing 17-1 in the Pac-10, the Wildcats lost a first-round game to Santa Clara.
35. UCLA, 1996-97. Steve Lavin's first season as head coach produced a 15-3 Pac-10 record and an Elite Eight finish.
36. Washington, 2005-06. Brandon Roy led the 26-7 Huskies to the Sweet 16, which ended with a crushing overtime loss to UConn.
37. Oregon, 2015-16. The first powerhouse coached by Dana Altman, 31-7 overall and an Elite Eight entry.
38. Arizona, 1990-91. With a front line of Brian Williams and Chris Mills, the No. 2-seeded Wildcats won 28 games but lost by four to Seton Hall in the Sweet 16 in Seattle.
39. UCLA, 2016-17. Steve Alford's top Bruins club went 31-5 and reached the Sweet 16 before losing to Kentucky.
40. UCLA, 1978-79. The first Pac-10 champion, UCLA went 25-5 and got a No. 1 seed.
That's my 40-for-40 list. Given the beat-up stature of Arizona and UCLA, it might be a while before it needs revision.