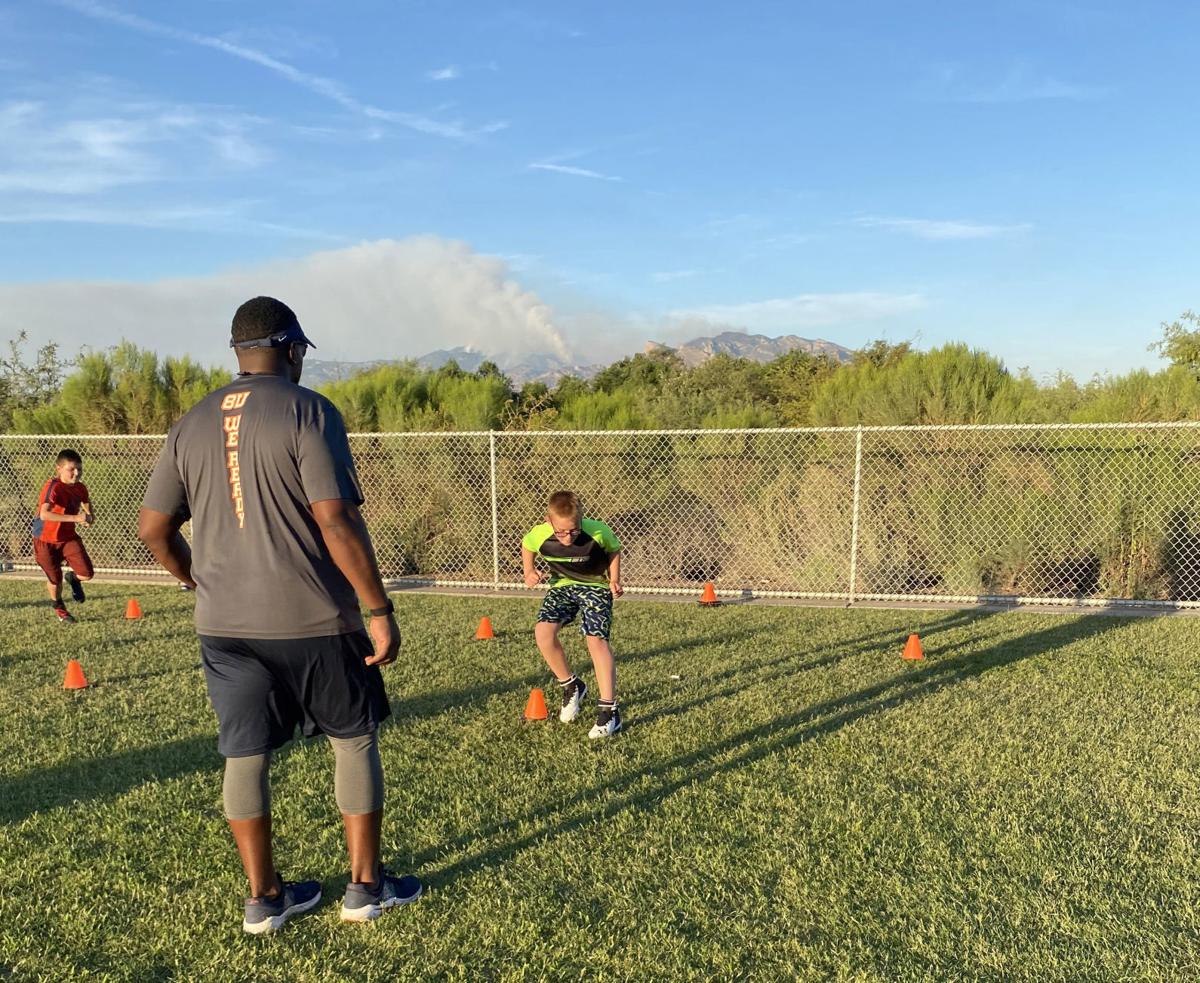 Julius Holt's Tuesday morning started with an 8:30 a.m. business call, which wouldn't be unusual — except for the fact that he's retired.
"I think my wife thinks I'm crazy," Holt said. "I'm working more than when I had a job."
In his role as commissioner of the Tucson Youth Football and Spirit Federation, Holt oversees several thousand Tucson kids, volunteers, staff and coaches. And like countless others trying to lead an organization while navigating the uncertainty surrounding the coronavirus, it's been a long several months for Holt.
Last Friday, tucked away inside a cabin in Payson, Holt finally decided that TYFSF would go ahead with a 2020 season. He said he made the choice "after talking to people who are much smarter than me."
Holt said he consulted colleagues, friends and professional athletes as well as TYFSF parents and members of executive board,before coming to the decision that the league "will have a season until local or state government tells us we can't."
"If high school is going to play, and there's going to be school, we'll have a season," Holt said, adding that TYFSF has put more than a dozen protocols into place. "Only someone with a higher pay grade than mine has the authority to tell them they can't have a season."
Some associations wasted no time scheduling voluntary workout camps shortly after Holt's announcement to parents and team presidents. Practices can start Aug. 10, with season openers slated for Sept. 5.
Holt said he came "real close" to shutting it down.
"I had to think about that and say, 'I'm responsible for almost 3,000 kids, and if I don't have everyone in agreement to do the things we're talking about practicing, it ain't worth it to have a program,'" he said.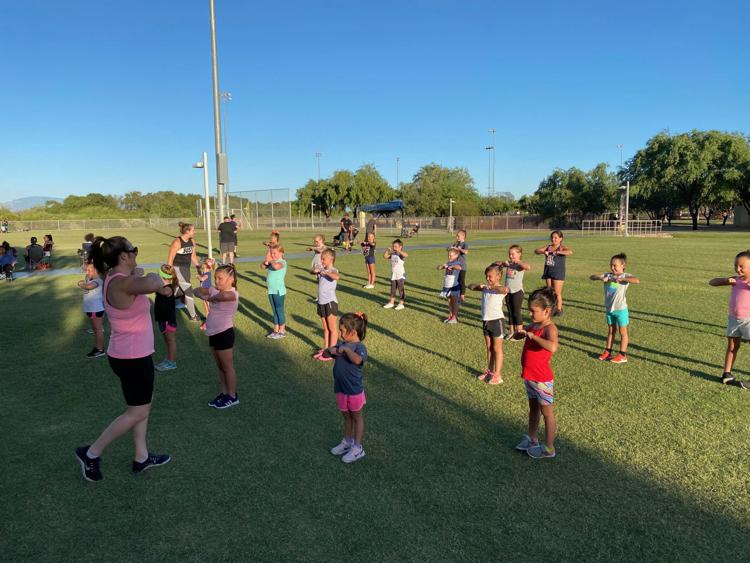 'We're just trying to keep things sterile'
With 13 associations are on board for the 2020 season, including the newly-added Sierra Vista Wolverines, TYFSF still has some logistical issues to figure out. Not all municipalities have reopened their public parks and fields, for instance.
On Tuesday, however, dozens of Marana Broncos football players and cheerleaders took the field at an open Crossroads Park for a speed and conditioning camp.
Broncos president Roland Gutierrez more kids have signed up to play tackle football and flag football and to cheer than in past years.
The increase has nothing to do with the associations that chose not to play, leaving their players to looking to compete elsewhere, he said. The Broncos' increase is largely due to some players re-joining the association after briefly leaving.
"The numbers would have been the same; we just added more because of the team coming back," Gutierrez said. "We're right where we should be; we usually look for the (flag) numbers to double right before the season starts."
Gutierrez coaches the 12U tackle team, which typically is where the leagues see an increase in players as parents decide to let their kids transition over to a more physical kind of football.
Marana's parks are open, meaning "we're one of the lucky groups," Gutierrez said.
With the start of practice and games pushed back three weeks from the original schedule, the Broncos believe they can safely make up for lost time.
They've also instituted a handful of safety precautions, including wellness checks, designated water bottles for each player, minimal use of equipment and increased sanitation of that which is necessary, and sanitization of all shared surfaces at the registration and temperature check stations.
All Broncos will have their hands stamped daily to indicate they passed the wellness checks; their hands will be sanitized prior to stamping.
"We're just trying to keep things sterile," Gutierrez said, adding that hand sanitizer stations are set up for players to use after trips to the sidelines and restroom. "Any pens that parents use, we'll wipe those down with sanitizing wipes."
Gutierrez took over as Broncos president in January, following his wife, Juliette, who headed up the team for several years.
He said the decision to have a 2020 season was based on feedback from parents.
It's been an unusual few months for Southern Arizona kids, all of whom missed the end of their school years because of the pandemic. Gutierrez said his heart stretched a little further for the Broncos' oldest players, those on the 13U and 14U teams.
"This is the last year they can play youth sports," he said.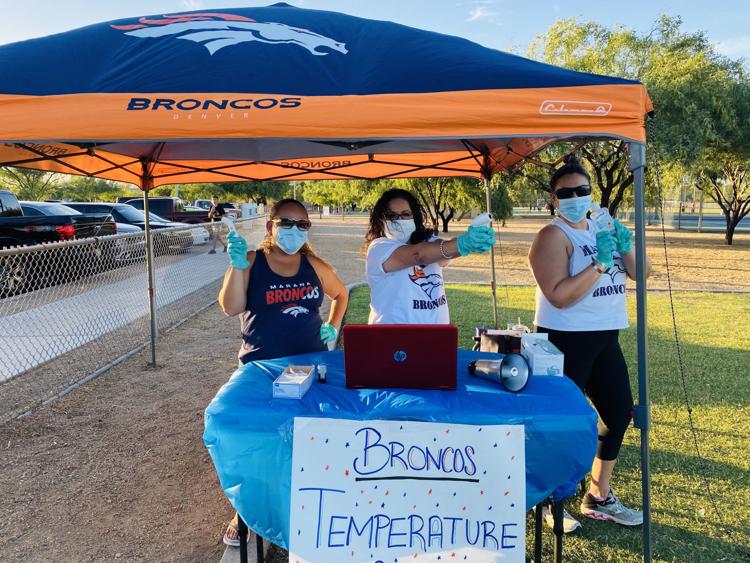 'Too much has to be perfect in order to reduce the risk'
On June 11, two days before Holt made his decision, the Sahuarita 49ers decided not to play. In a Facebook post, the association said saying its board had heard "growing concerns" about the spread of coronavirus. Many families, as a result, had already opted out.
"Therefore, after listening to the input from the community and reviewing the facts around the virus, the inability to adequately guard against and/or prevent the spread of the virus among our Niner players, families, coaches and volunteers has lead us as a Board to suspend play for this season," the post said.
Two days later, the association posted again, saying that many people were "upset, concerned and feel blindsided" by the decision.
The 49ers reiterated their decision to skip the season, saying that Arizona Interscholastic Association guidelines would require a player that tested positive to undergo a 14-day quarantine before returning to the team. The two weeks would account for 25% of the 49ers' season.
In addition, all other TYFSF participants in that player's household would also have to quarantine. That posed another logistical issue: Many families have kids on multiple teams.
"Please understand that everyone on the board has children, nieces and nephews," the post said. "We all want these kids to be able to have their season, but with all the unknowns this is what was decided."
The Tucson Jaguars followed suit, saying that the risk outweighed the reward.
"For college and professional teams, their return to play requires quarantine and testing," Jaguars president Brandon Marshall said Tuesday. "That's something youth sports doesn't allow for."
Marshall said the Jaguars' decision was based on parental input received in a survey by the board. While Marshall says he had no problem adopting safety precautions, but he was concerned about the lack of oversight. There was no way, he believed, to ensure everyone was following the new rules.
"It doesn't matter how well the Jags are prepared if the other associations aren't following protocol," Marshall said. "Too much has to be perfect in order to reduce the risk."
Marshall said that while the season is canceled, his involvement with the kids is not. The Jaguars are making plans to meet players and cheerleaders in small groups, where adults can teach them life lessons without taking an unnecessary risk.
"The economy isn't going to go up or down whether youth sports continues," Marshall said, adding that officials in college and professional sports are making revenue-based decisions because of the United States' current economic situation.
"Our only reason (to play) is to let them have fun and learn things about life. They can do that without this."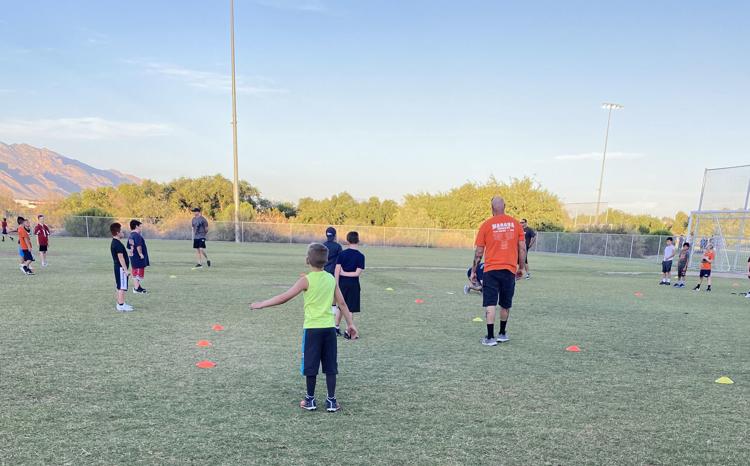 'I had to be one of those people that becomes reactive'
TYFSF won't penalize the Jaguars and 49ers for erring on the side of caution.
"They're still charter members, they don't lose their voting rights and they're eligible to come back and play next season," Holt said.
Prior to Holt's decision to go ahead with the season, another TYFSF association, the Tucson Scorpions, decided to play in Phoenix's American Youth Football league.
Holt called the Scorpions' decision "a little hasty" given that the Gov. Doug Ducey had not yet signed off on the return of youth sports, but said it was a "decision they have to live with."
Holt said he's excited for the remaining 13 associations to get started, saying that they're working on figuring out the season's schedule and other logistical issues.
TYFSF's newest association got perhaps the earliest start in the league. Months ago, Sierra Vista Wolverines president Miguel Rivas coordinated with a Tucson trainer, Bobby Rodriguez of Jet Sports Training, to send players specially tailored online workouts.
In terms of the 14 precautions Holt mentioned, while "some might take a little fun out of it," none of them are difficult or will incur much extra expense for families or associations.
Perhaps the most significant change is the requiring of lip guards instead of standard mouthpieces.
"We're requiring this just so we can shut down the amount of conversation that takes place" Holt said. "They're not expensive and parents have to buy a new mouth guard for the season anyway."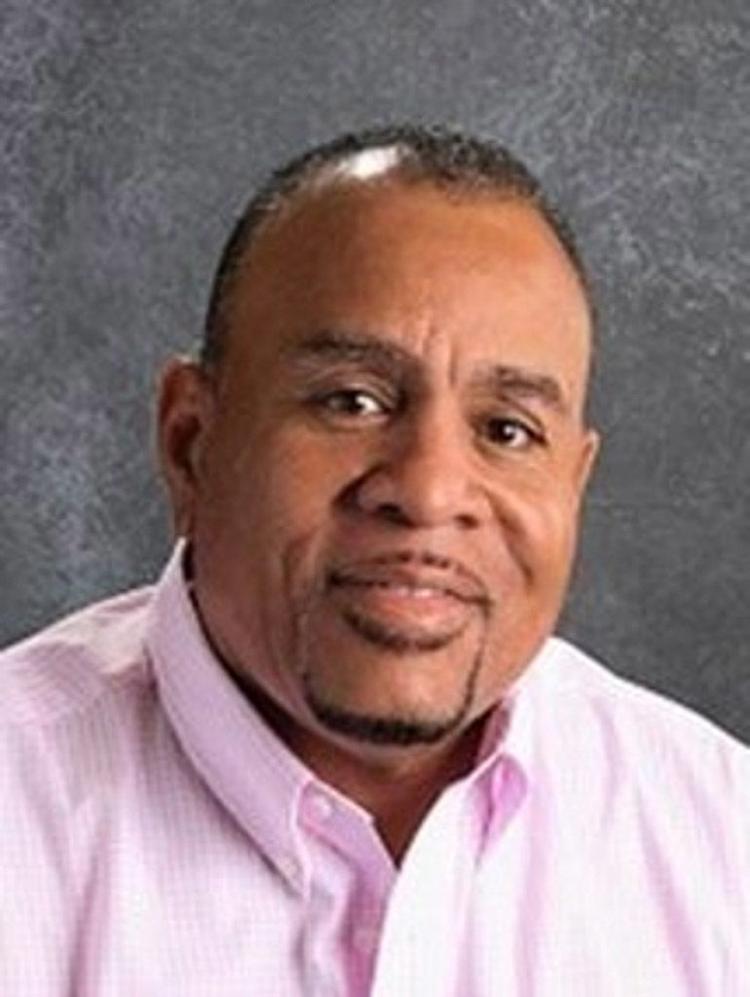 In addition to the precautions, TYFSF players and cheerleaders will have to sign a waiver through the league's insurance company. The federation's insurance policy has been modified this year to account for COVID-19, influenza and MRSA.
Also new this season is TYFSF's affiliation with the Positive Coaching Alliance, which will be put on virtual coaches' clinics and a workshop for parents.
Holt knows there are no guarantees should the pandemic worsen, but said he's willing to try to play the season.
"I took a beating from a few people that weren't understanding my position. But I had to be one of those people that becomes reactive and puts all the cards on the table to figure out the best option for everyone," Holt said. "I'm glad I took my time and I'm glad we're going to attempt to have a season."
Contact reporter Caitlin Schmidt at cschmidt@tucson.com or 573-4191. On Twitter: @caitlincschmidt
Be the first to know
Get local news delivered to your inbox!