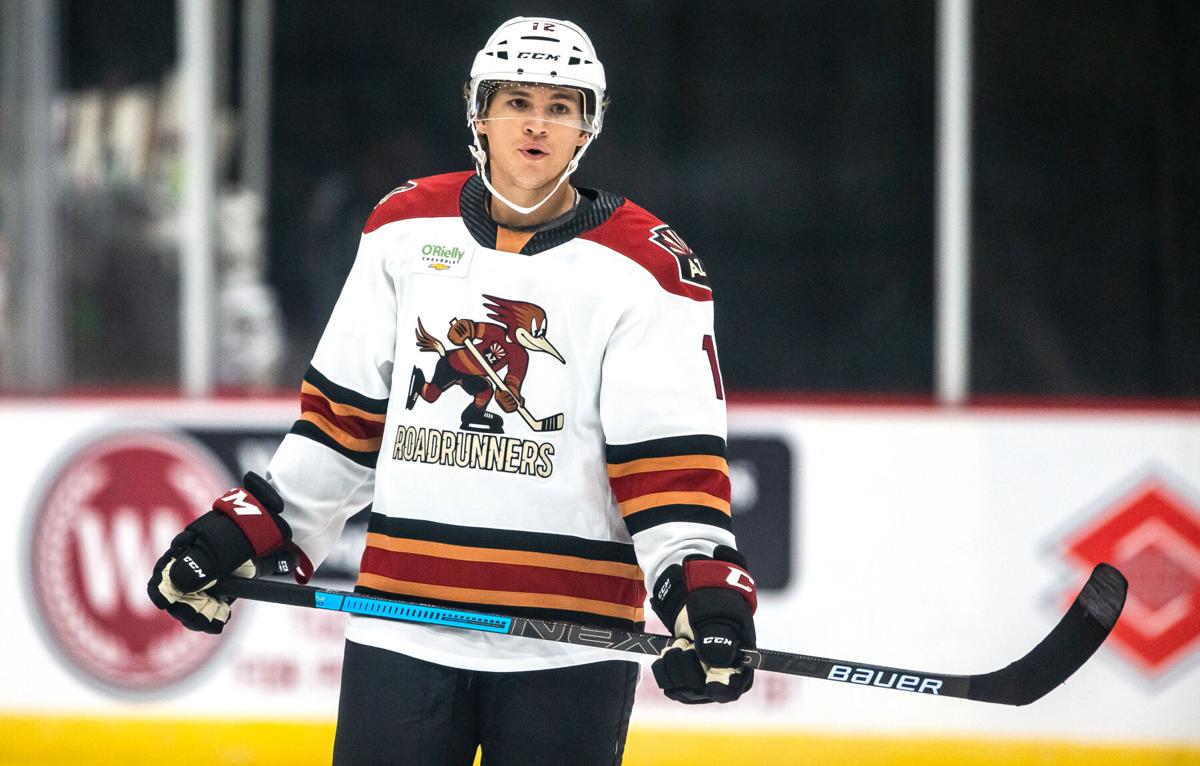 Fans may not yet be able to see the Tucson Roadrunners in person, but they can see watch local American Hockey League team from the comfort of their own couch.
The Roadrunners announced Tuesday that KWBA Channel 8/58 — known as the CW Tucson — will televise six upcoming home games.
The first of those live broadcasts: Saturday's 2 p.m. game against the San Jose Barracuda, with Adrian Denny doing play-by-play.
This is Denny's third season calling all Roadrunners' home and road games on the radio via 1450-AM, the local Fox Sports Radio affiliate. Denny said he has wanted to find a way to get the Roadrunners on local television since he arrived.  The TV call will be a simulcast of Denny's existing play-by-play.
"The biggest thing on TV is telling the story," Denny said of managing a simulcast, as compared to radio-specific call. "Radio is play-by-play. They're relying on you to find out where the puck is. But on TV, they see the puck, so filling in around that with exciting content is huge."
KWBA is available to Cox subscribers on Channels 8 and 1008 (HD); is Channel 8 for Comcast viewers, and Channel 58 for those with DirecTV or Dish Network. Over the air, it's Channel 58.1.
The television announcement coincides with Tucson's first official homestand of the season, beginning Thursday night and continuing Saturday and Sunday. All three games are against the visiting Barracuda (1-2-1-0), the same team the Roadrunners (4-0-0-0) swept in a two-game set to open the season two weekends ago.
Roadrunners officials have reiterated their desire to have at least a smattering of socially-distanced fans at Tucson Arena sooner rather than later.
That won't be the case just yet, but conversations with Pima County officials and representatives of ASM, which manages Tucson Arena, are ongoing.
"Planning remains ongoing and fluid," Roadrunners president Bob Hoffman said in a team-issued release earlier this week, adding that he "optimistic" about the process. "When that day comes, we have multiple measures in place for everyone to have a safe and enjoyable time cheering on the Roadrunners."
Denny, who almost always does the radio call solo, will have a partner in the broadcast booth for the six KWBA-TV games.
Alex Kinkopf, now in his second year as the manager of digital media/content for ArizonaCoyotes.com, will provide color commentary for the final four games. Brett Fera, who covers the Tucson Roadrunners for the Star, will be next to Denny the first two broadcasts.
Kinkopf, who spent three seasons as the Roadrunners' manager of digital operations, said he was "really blown away" by the offer.
"I've never been on TV," he said. "I've always kind of like, not hiding behind a keyboard, but doing that work behind a keyboard and not being too much in the spotlight. But I'm excited to get a little bit uncomfortable."
Kinkopf has followed the paths of current Roadrunners Jan Jenik of Czech Republic and Victor Söderström of Sweden extensively. The forward and defenseman, respectively, are considered two of the Coyotes' top prospects.
"I first watched Jenik in the 2019 rookie tournament in Anaheim, so prior to the start of last season. … He just took over the tournament from the Coyotes' perspective. He stole the show. He was just a huge factor in every game. He did it offensively, defensively, physically," Kinkopf said. "He's always in the play. He shows no fear. He put up some absolutely ridiculous numbers in juniors last season.
"(Söderström) has that cool on the blueline. He's got a little bit of swagger. He can pass the puck," Kinkopf added. "Good shot, good vision, good awareness, good skater. Another player that's a ton of fun to watch."
The six Roadrunners' home games scheduled to air on KWBA-TV:
Saturday, Feb. 20: vs. San Jose, 2 p.m.
Saturday, March 6: vs. Texas, 7 p.m.
Saturday, March 20: vs. San Diego, 5 p.m.
Saturday, April 3: vs. Henderson, 7 p.m.
Saturday, April 10: vs. San Diego, 7 p.m.
Saturday, May 16: vs. Ontario, 2 p.m.