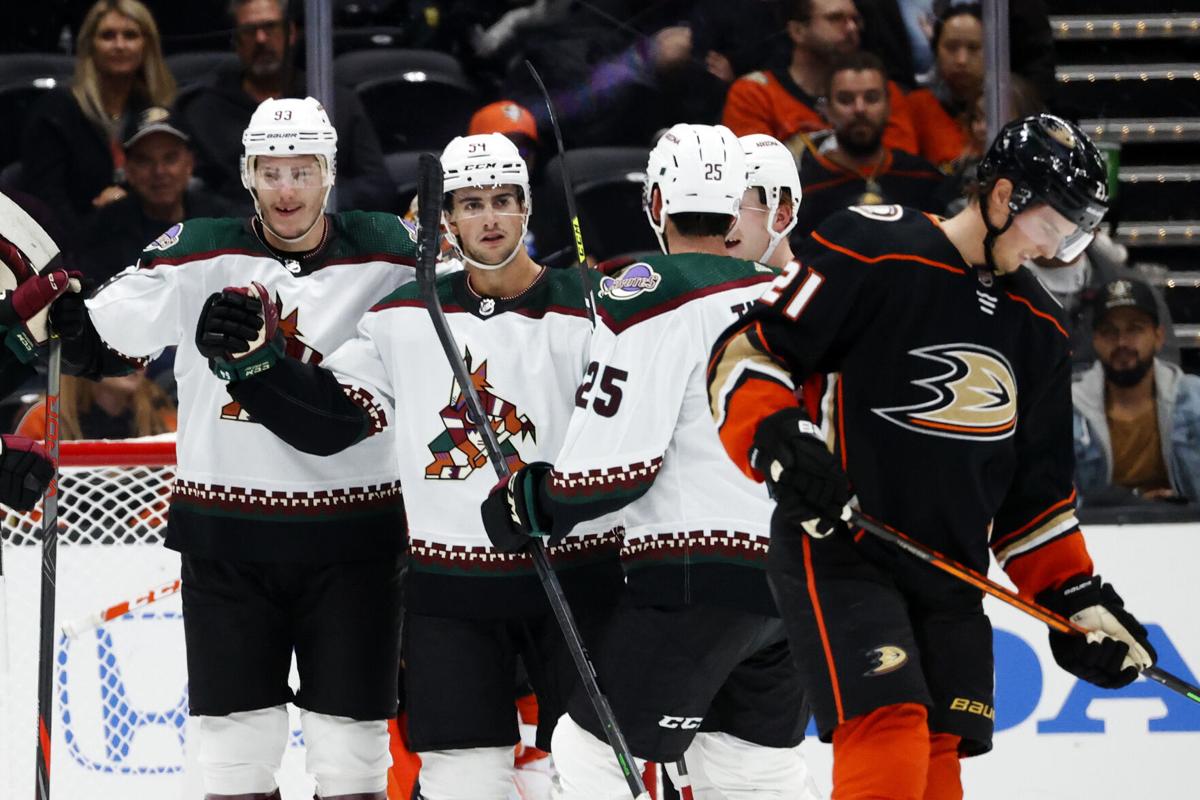 The Tucson Roadrunners' 2021-22 season is only a few weeks old, but the proverbial shuttle between Tucson and Glendale is traveling at full speed.
But not every NHL call-up or AHL reassignment is the same story.
On the same day last week, Roadrunners forward Ben McCartney and defenseman Cam Dineen made their NHL debuts with the Arizona Coyotes.
Their paths couldn't be any more different.
The 23-year-old Dineen dressed 140 times for the Roadrunners over a four-year span. While he missed some games here and there due primarily to minor injuries, he picked up a respectable 12 goals and 39 points while securing Tucson's blueline on a near nightly basis since the start of the 2018-19 campaign.
"We pretty much play all the same systems and stuff like that down in Tucson. So it's a pretty easy transition," Dineen told Phoenix-area media after his first NHL outing, a 3-1 Arizona Coyotes loss to the Anaheim Ducks on Friday.
Dineen said it helped that right to have longtime Tucson teammate Dysin Mayo next to him in an NHL locker room. Mayo earned his first NHL recall just a few weeks earlier, after 258 AHL games over seven seasons — the last six on the Roadrunners' blueline.
"A lot of the guys here, too, helped me out. We have Mayo here who I've been with and played with the last three years as a partner and good friend of mine. So he's kind of showed me the ropes," Dineen said. "He's only been here the last few weeks, but just to have that familiar face is nice."
Dineen's big-league debut contrasts sharply with the rise of McCartney, 20, who scored a hat trick in his first game for Tucson this season late last month. McCartney's first NHL action came just eight games into his AHL career. That included four last season, and four this year, with McCartney carding five goals and five assists in his still-early developmental tenure.
"It was a crazy day that day. Just getting the call is a dream come true," McCartney said.
In their first NHL games, rookies are often sent out for warmups by themselves, with the rest of the team waiting behind them.
Dineen and McCartney took their "solo lap" together that Friday evening.
But even getting into the lineup was unique for the pair. Dineen watched a few games from the press box area before making his Coyotes debut.
McCartney's first time in a Kachina jersey came virtually right away.
"It's been a long time waiting, kind of," Dineen said. "It was good to get to watch some of the games from up top and just see what it's all about and get the rundown … and then have my chance to do it tonight."
As the middling Roadrunners (3-4-1-0) prepare for a two-game home set this weekend in Tucson against the red-hot Ontario Reign (9-0-0-1), Dineen and Mayo are still with the Coyotes.
But McCartney will be back at Tucson Arena for Friday's 7 p.m. game. Also back in Tucson: Defenseman Victor Soderstrom, who spent the first month of the season with the Coyotes.
When asked after that first outing what his greatest takeaway was from his own debut, McCartney said he's "never satisfied. I just want to keep getting better."
Tucson needs a scoring punch
Maybe McCartney will be the magic bullet this weekend for the Roadrunners, who, at 2.25 goals per game, rank 29th in the 31-team AHL. But even if Tucson scores are a greater pace than it has so far this season, it will need a stout defensive effort against the league's top-scoring outfit.
The Reign come to Tucson mere percentage points away from the AHL's best record, averaging 4.2 goals per game while giving up only 2.3. The latter mark is third-best in the AHL.
The Roadrunners have played well at least once this season when faced with stout competition.
On opening night, the Roadrunners and Stockton Heat skated to a scoreless tie through regulation. Tucson then won on the road in overtime, 1-0, with goaltender Ivan Prosvetov recording his first of two shutouts so far this season. Since that night, Stockton has gone 7-0; the Heat sits just a smidge behind Ontario for the Pacific Division lead.
Burke is back
Former Roadrunner scoring champ Brayden Burke is slated to make his first return to Southern Arizona this weekend. Burke was traded in the offseason by the Coyotes' organization alongside Tyler Steenbergen in the deal that brought forward Bokondji Imama and defenseman Cale Hults to the desert. Both Imama and Hults will suit up for the Roadrunners this week.
Burke scored a team-high 21 goals and averaged more than one per game (52 in 51 games) for Tucson two seasons ago, then suffered through a wave of injuries last season.
Burke has played 10 games for Ontario this season; his three goals are tied for third on the team.
Next week, Tucson will run into more former Roadrunners.
Iowa features forward Nate Sucese and defenseman Doyle Somerby, both of whom contributed to the Roadrunners a year ago. Additionally, former Tucson captain Dakota Mermis is a Wild alternate captain.
At the NHL level, recent Roadrunners Michael Bunting, Lane Pederson and Adin Hill have proven themselves everyday players for their respective clubs. Hill has played in more than half the San Jose Sharks' games this year in goal, posting a 2.81 goals-against-average and .904 save percentage, while Pederson has been with San Jose all season, seeing action in 10 games.