You can see the remnants of the old sign underneath the word "Original." It no longer says Seafood Time, but the dark splotches are still there, making the new letters look comically small. 
Something familiar in the words drew me to them, so I walked inside and suddenly found myself in an airy restaurant punctuated with leafy plants and magical animal cartoons. All of the plates were embossed with bright orange iconography and the words Original Cuisine. Each pair of chopsticks was whimsically perched on a single peanut.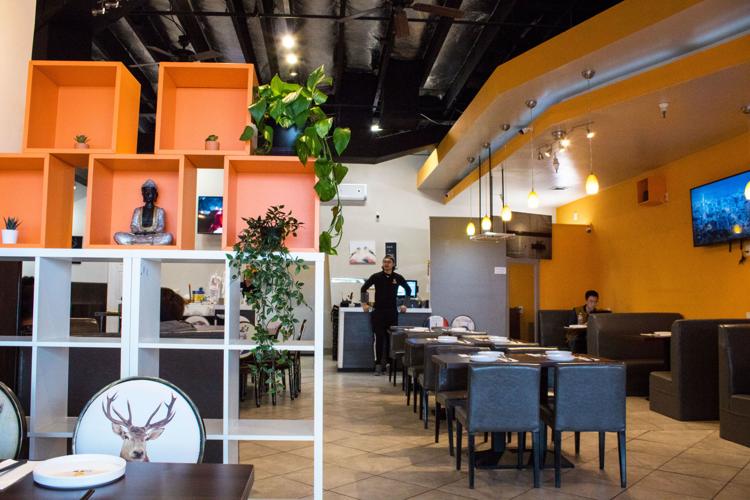 The first location — an old Chinese place in Mesa formerly called Happy Food — also had a humble exterior and a "wowza" interior decorating job, with a staggering menu of Sichuan dishes like spicy pork belly and pan-fried rice balls with preserved vegetables.
Picking bits of perfectly-fried chicken from a bed of dried chile peppers and garlic, I remember thinking, "Man, I wish they had something like this in Tucson."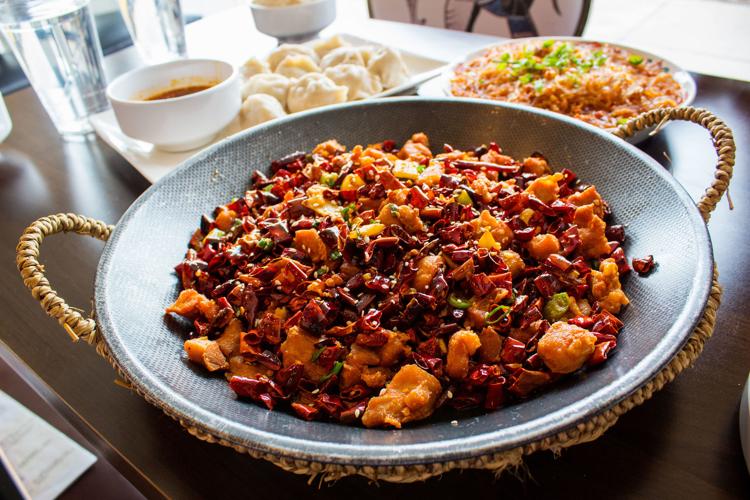 Original Cuisine is owned by Valley residents Jiale Tian and Eddie Lau, who told me over the phone they wanted to open a second location here because Tucson is an "expanding" city with more opportunities and less competition than Mesa. Strangely though, they decided to open their restaurant two doors down from one of Tucson's most popular Sichuan spots, China Szechwan. 
To differentiate themselves, Lau said they're going for an Asian Fusion vibe rather than a purely Sichuan menu. On my two lunch visits I noticed a combination of obscure Sichuan dishes from the Mesa location as well as some interesting hybrids like a spicy ox tongue burger and a shredded pork with garlic sauce pizza.
Additionally, many of the dishes on the menu state they're done "Singapore-style," which is where Tian's parents are from. Lau told me they're experimenting with the unique curry and yogurt flavors of Singapore right now, and they should have popular dishes like chilli crab and laksa curry in the future. (Although the menu didn't strike me as very Singaporean, I did notice the popular dish Hainanese chicken rice during my second visit.)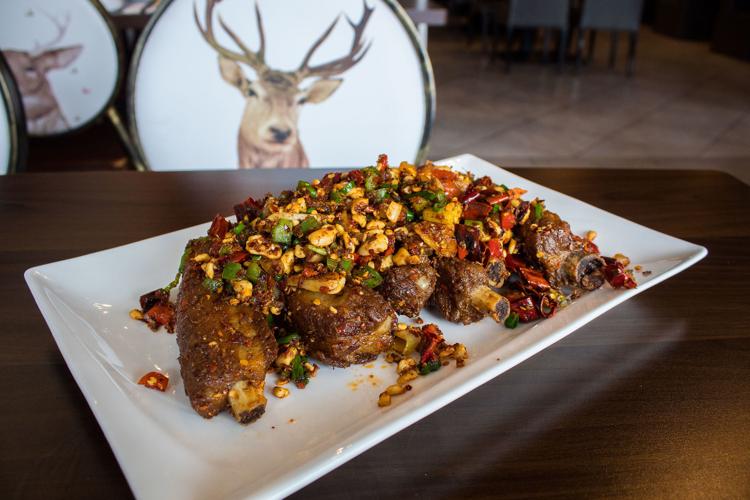 Original Cuisine's food is all about the dry wok, producing perfectly-fried meats that take on the spiciness from the surrounding peppers. You might be tempted to eat toppings in the standout dishes, chicken with peppers and "overlord ribs" — but take it easy ... The dried chiles are mostly for flavoring, and for show.
This is where Original really shines. It makes super addicting fried food, but piles on the spicy and the sour and the cumin flavors that people love about Sichuan cuisine.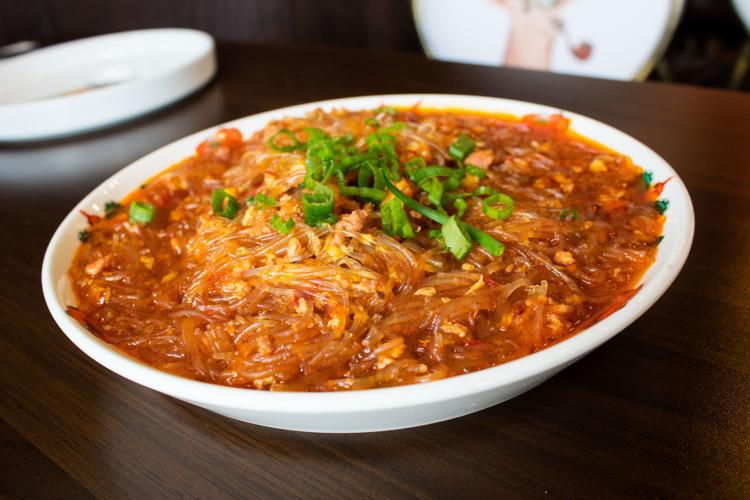 Instead of a dry chile and peanut topping, many dishes come out with a flawless sauce of soft chile oil. Sometimes it's finely blended and spiked with numbing Sichuan peppercorns, like in the "Singapore-style" vermicelli. (Insider's tip! I mistakenly thought this would be rice vermicelli like you get in a bowl of pho, but it's actually made from glass noodles.)
In the Sichuan region, this dish is called Ants Climbing a Tree because of the ground meat and the scallions, which look like leaves. This saucy rendition was packed tightly into a little bowl, almost like a casserole.
But when you pull the noodles up in the air, it all loosens up. You may have had glass noodles before if you've ever ordered japjae at a Korean restaurant, but this spicy interpretation is worth seeking out.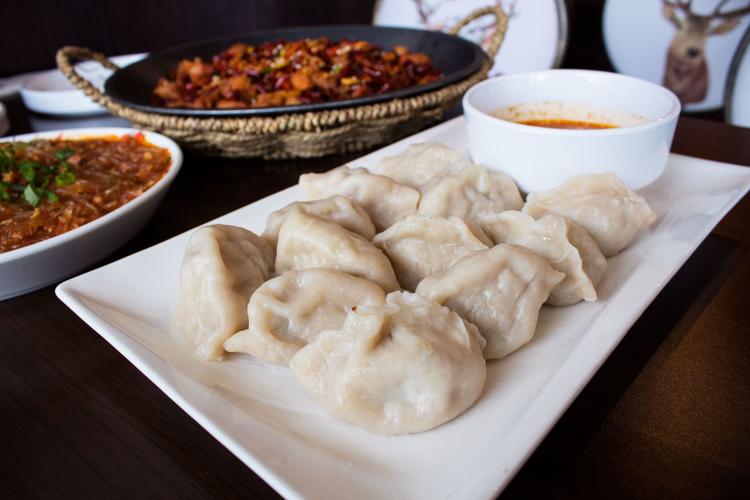 Everything may come out a different shade of red, but the chile sauces each have a unique flavor. The sauce in the housemade dumplings was good enough to put on white rice and call it a meal. But the best sauce in the restaurant has got to be the one they put on top of the pork belly appetizer. (Pictured up top)
At the Mesa location this dish is served on a little hanging rack, and the thin strips of pork belly are draped alongside sliced cucumbers, with the dipping sauce below. But Tucson is serving it for now in a porcelain bowl with bean sprouts, all submerged in a chunky chile sauce.
The bacony meat here gets completely soaked in the oily sauce, taking on its sour chile flavor. Oh man, it looks like hellfire but it tastes like heaven. This got me thinking: They should do it like that up in Mesa!