When students of Miles Exploratory Learning Center went to lunch yesterday, they had special instructions.
They were not to sit with their usual lunch buddies.
Instead, they were each given a piece of colored paper and were told to sit with someone who had the same color of paper.
They were also supposed to chat with that person and write down what similarities and differences they had. That paper was collected at the end of lunch for a drawing. 
"We both like video games," said Jemiah Martinez, a five-year-old kindergarten student. "I go to soccer and you don't."
Jemiah was sitting with his new friend, Geovanni Duarte — also five and in kindergarten. 
"I like strawberry ice cream and she likes chocolate," said Khloe Sanchez, a six-year-old first grader. 
Khloe was talking about her new friend Milianna Tapia, a seven-year-old second grader. 
They found out they both love strawberries and Takis. 
"It's nice to have a new friend," Milianna said. 
The idea was to ensure no one ate alone, as part of a national initiative that encourages students to make friends outside of their usual circle.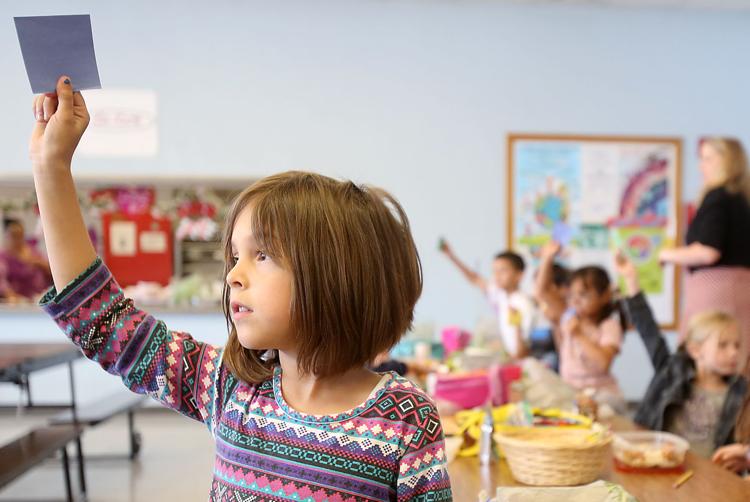 About No One Eats Alone Day
The national initiative was designed to teach kids about social isolation and the negative impact it can have on their health and academic performance.
It was created by the non-profit Beyond Differences, an organization that creates online and campus programs for middle schools, to empower students to end social isolation, which has been identified as a precursor to bullying.
"Social isolation is a preventable public health problem affecting millions of children every day who suffer in silence," says Laura Talmus, co-founder and executive director of Beyond Differences. "We've learned through teachers and families that No One Eats Alone is a powerful step and positive initiative that can change the culture in schools to be a more welcoming place for all."
Schools from across the nation participated in the day, where children were encouraged to sit with students they normally wouldn't. 
In Tucson, two schools participated, Miles Exploratory Learning Center and Gallegos Intermediate 4-8 Fine Arts Magnet.
The event was kicked off with an assembly presented by Cenpatico Integrated Care, which partnered with Beyond Differences to bring the program to Tucson, where students learned about ways they can include their fellow classmates in their daily activities. 
This is the first year schools in Tucson have participated in the program, said Maribel Barrios, director of marketing for Cenpatico. 
"We have two schools we were able to partner with," Barrios said. "Given the great response that we received and so many schools interested and wanting to take it to their students, we're looking to grow this and really have it expand into schools across the state hopefully for next year."
Beyond Differences mainly focuses on middle school children because after talking to more than 10,000 students they discovered it's the age where it all begins, Barrios said.
"Social isolation starts manifesting itself more and it has been a precursor to bullying as they move into high school," Barrios added. 
At Miles, a K-8 school on Broadway Boulevard, the whole week was about not doing things alone, said Christina Furtado, health assistant. The school hopes to continue with more assemblies and having the student council do skits from No One Eats Alone, as well as having a No One Eats Alone Day once a month.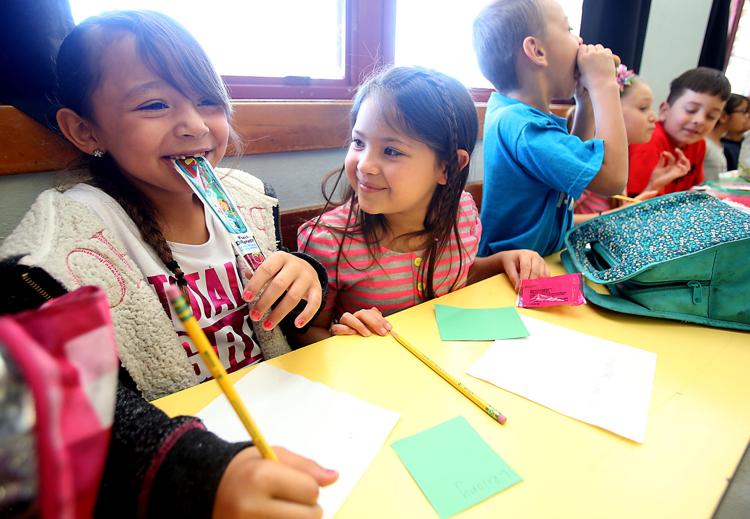 How the kids responded
As students filed into the cafeteria, they excitedly chatted and giggled as they found new friends to sit next to. 
Cassie Leary, 10, a community representative for the student body, helped organize the event.
The fifth grade student feels it's important that nobody feels like they have to eat alone.
"People who are isolated can end up hurting themselves or worse," Cassie said. "Everybody wants a good friend. No one wants to be alone."
Sophia Galaz, 13, and Roman Ballesteros, 12, both seventh grade students, had been in classes together, but had never actually talked to each other unless they were involved in a group project.
They sat together trying to figure out what they had in common.
The main commonality: their favorite color is blue. 
They said that now they've had the chance to get to know each other better, they'll be saying hi more often, and will feel more comfortable doing so. 
Sy'rai Price, a 13-year-old eight grade student and student body president said that nobody should be left alone and should "be able to make friends and be included."
Sy'rai was sitting with her new friend, Sierra Rendon, a 14-year-old eighth grader. The girls had never really talked before that day. 
They discovered they have the same taste in music, much to Sy'rai's surprise.
"I figured you'd like country," she laughed. 
Teachers at Gallegos noticed immediately how the message from Beyond Differences had impacted students, said Amy Warmbrand, the school's principal.
For example, one student was sitting alone and another student went up to him and asked if he wanted to sit with his group. Another student didn't know what group to be part of in class, so the other students stepped up to include him, Warmbrand said.
Her own seven-year-old, who attends Miles, was playing with the No One Eats Alone stress ball he got from his school assembly last week. When she asked him about it, he said he was going to use it to help him talk to kids that are alone at school.
"He said I think I'm gonna use the stress ball if I see another kid is alone because I might be anxious to go talk to them, so I'm gonna squeeze it when I talk to him so I won't feel anxious and the kid won't feel alone," Warmbrand said.
What schools hope to get out of it
Gallegos will continue to spread the message by having school counselors go to each classroom to talk about social isolation and being aware of students who are alone all the time, Warmbrand said. 
"It's an important message that when we broaden our friends horizon, people aren't by themselves during social situations," Warmbrand said.
Miles hopes students will continue to reach out to those they might not know, even if it's just to say hello in the hallway. 
To encourage that, Patty Ross, the school's principal says the school will continue to have the kids fill out cards with who they said hi to or smiled at that day to win prizes.
"I don't think that we can always see isolation or sense when people feel like they don't belong," Ross said. She felt the timing of No One Eats Alone Day was perfect because she had recently noticed some students who looked like they weren't hanging out with anyone. 
"Inclusion goes beyond the classroom. It's about emotional well-being," Ross said. "If they feel they belong and fit, it's better for learning."
Ross says she will also encourage teachers at the school to reach out to people they normally wouldn't. 
"We're all gonna try to step out," Ross said. "It's good for adults to remember."
---
Schools and families interested in learning more can find info here.