Your plants might be even happier about the arrival of the monsoon than you are. 
"All of the things that most of the country plants in the spring can be planted now or planted again," said Chad Borseth, the organization's retail manager. 
Borseth also manages the Facebook group Tucson Backyard Gardening which has more than 27,000 members. He knows what he's talking about. 
We chatted with Borseth and a few other gardening and plant experts about how to cultivate your own oasis with all of this free water falling from the sky. 
Here are their tips + three plant sales to help you master monsoon gardening. 
Rain water is the best water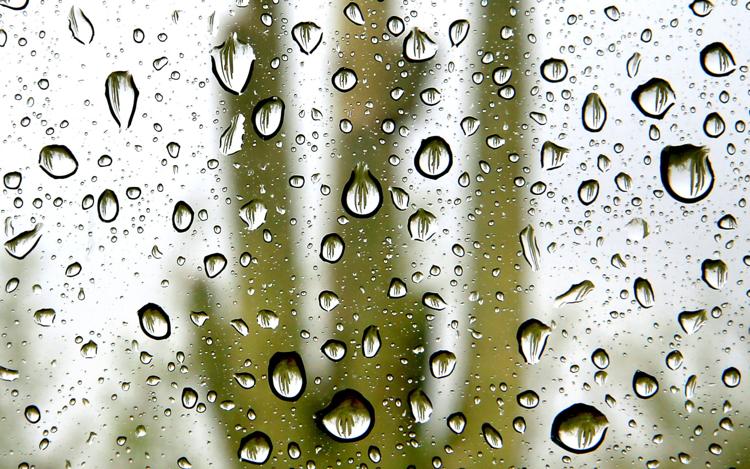 Borseth said that plants actually prefer rain water to hose water. 
"Municipal water has a small amount of chlorine in it but rainwater has nitrogen from the electric activity in the atmosphere, so it's actually feeding your plants," he says. 
To make the most of the rain, plant in sunken basin gardens instead of pots, and collect as much rain water as you can, even if you just use buckets. 
Jo Falls, the director of education at Tohono Chul, adds that monsoon season is also the time of year to watch how water flows off your roof and in your yard. 
"If you're interested in water harvesting, look for the drip line from your roof," Falls says. "Where can I put a rain barrel? Or if I have water coming off the driveway or sidewalk, can I contour the land to help that run into a basin or to the foot of a tree or into a veggie garden?" 
If you get a lot of rain during this monsoon season, it's also worth adjusting any scheduled irrigation, says Marlyce Payette, a Pima County Master Gardener for the University of Arizona Cooperative Extension. Just make sure you keep watering to supplement less rainy days. 
(You can call or email the Cooperative Extension, and they'll mail you a watering schedule that tells you how frequently and deeply different plants need to be watered. Call 626-5161 or email pcmgplantclinic@gmail.com to ask for it). 
Also, when you're planting or maintaining your garden, use mulch to help your plants maintain as much moisture as possible, Falls and Borseth say. 
Meet the Three Sisters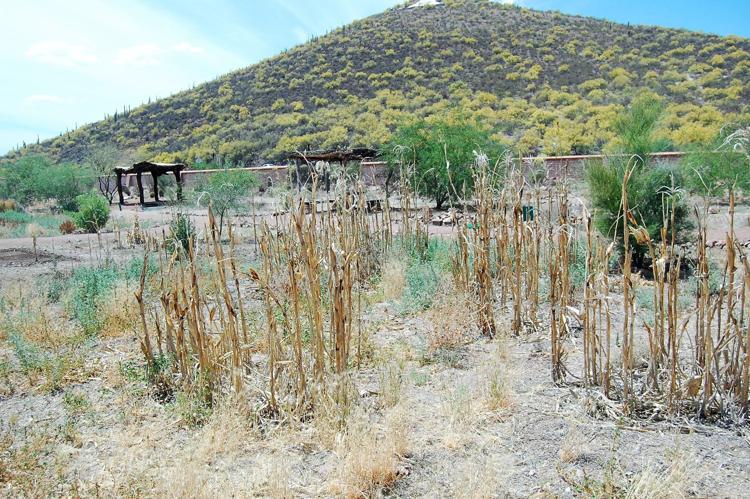 If you haven't met the Three Sisters yet, now's the time. The Three Sisters — or corn, beans and squash — should be planted in early July. 
"People have to get busy if they want to plant things for the monsoon," Payette says. 
She adds that if you want to plant all three, pick a place "where beans can vine and crawl up the corn and the squash can get shade below it from the beans and corn."
Borseth recommends picking native seeds that are already adapted to the region such as Pima 60-Day Corn, which matures quickly, or tepary beans. 
"Those are traditionally planted with monsoon rains," he says. 
Bonus: By planting squash now, you're doing a bit of holiday prep work. 
Both Borseth and Payette point out that now is a good time to plant pumpkins if you want homegrown jack-o-lanterns in October or butternut squash if you're planning for holiday pies. We like how they think. 
We ❤️ Veggies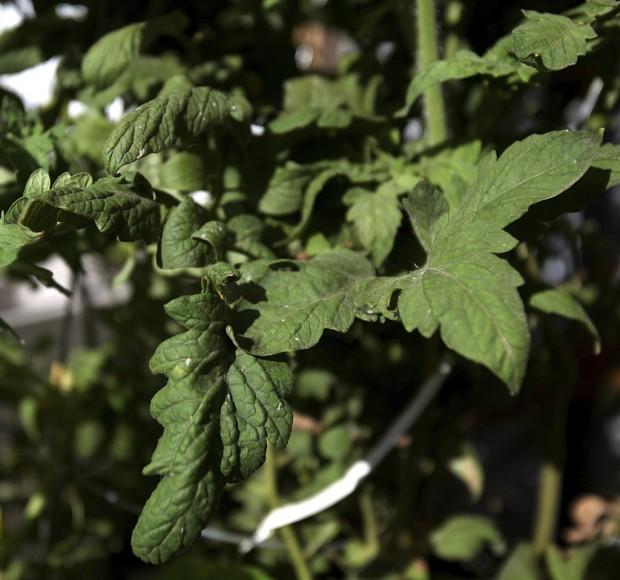 Give your vegetable garden some TLC right now — or start one. 
"Some people start tomatoes or peppers in early January and February and get a little production in the spring, but when it gets above 90 degrees, they tend to stop producing or slow down," Borseth says. "So the monsoon is the second opportunity to get those plants in the ground or if they're already in the ground, they'll start to come back. Those will produce into early fall."  
If you're planning on growing peppers or tomatoes for the first time, Borseth suggests planting transplants instead of seeds. Amaranth will also thrive right now. 
Now's also a good time to plant melons and cultivate an herb garden.
Just don't plant leafy greens or root vegetables. You'll want to wait until the fall to establish that part of your garden.
Go native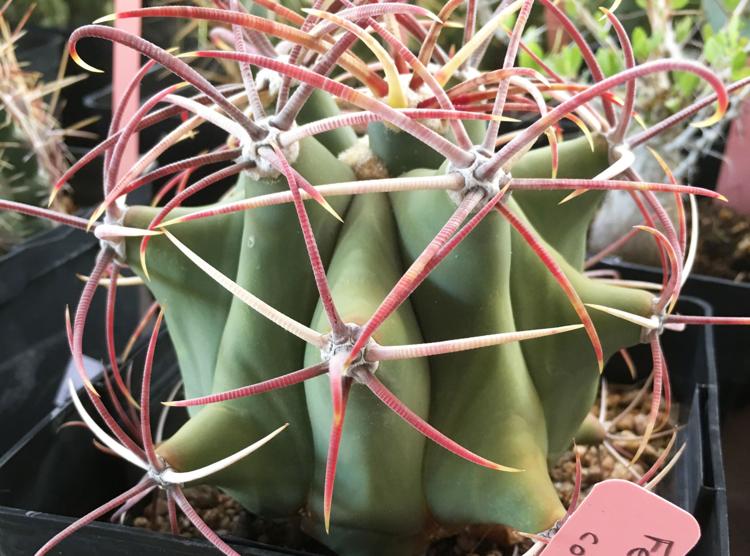 Cacti. Aloes. Agave. All manner of native shrubs. Some trees. Get them in the ground!
"They'll get the benefit of added water and cooler temperatures," Falls says. 
Just make sure you don't over-water them.
"They have to be paid attention to, depending on how much water the monsoon is giving them," Payette says, adding that soil should have a chance to dry out a bit between each watering, but that you can't totally count on irregular monsoons to do all of your watering. Just pay attention. 
The way the wind blows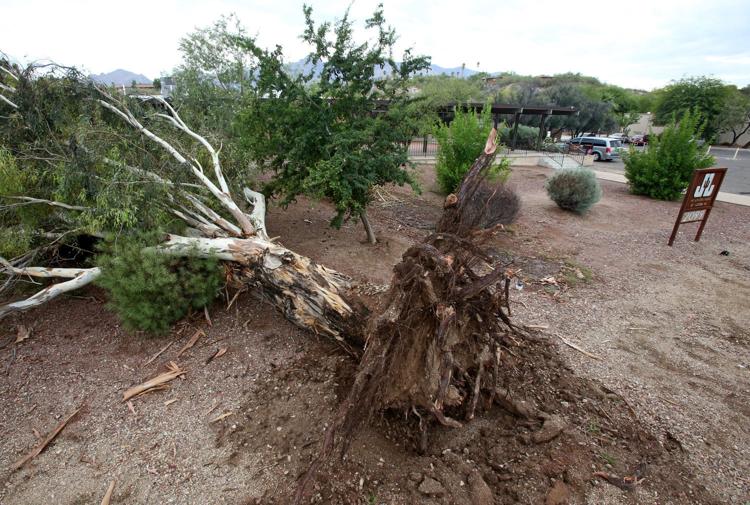 For all its watery ways, the monsoon is also downright windy. Often destructively so. 
Falls suggests taking your potted plants off of decorative pillars and stands. Keep them on the ground so the wind doesn't knock them over. 
Young trees should be staked, and all trees should be watered deeply throughout the year. 
"Trees not watered properly won't have a wide-spreading root ball, and those tend to blow over because they act like a big umbrella," Falls says. 
Borseth adds that watering deeply and infrequently is the key to stable trees. 
"That's why we see apartment complexes with so many overturned trees," he says. "Their water schedules are too frequent and not deep enough." 
A mature tree needs to be watered at least three feet in depth, Payette says. 
Make sure to secure any shade cloths you might have, "but as far as plants go, they're usually going to hang in there," Broseth says. 
---
Plant sales
Native Seeds/SEARCH 
What: The Annual Monsoon Plant Sale will feature wildflowers, fruits and veggies, herbs and heritage fruit trees from Mission Garden. 
When: Friday, July 13 and Saturday, July 14, 9 a.m. to 5 p.m. and Sunday, July 15, 9 a.m. to 2 p.m. Members can get in at 8 a.m. 
More info: Check out the Facebook event here. 
Desert Survivors 
What: A monsoon plant sale. Everything is 10 percent off and 20 percent off for members. 
When: Saturday, July 21, 8 a.m. to 5 p.m. 
A monsoon plant sale with 10 percent off for non-members and 20 percent off for members. 
Tohono Chul
What: Expect lots of succulents, cacti and other speciality plants at this Monsoon Madness Plant Sale. 
When: Friday, July 27, 3-7 p.m. and Saturday, July 28, 8 a.m. to 1 p.m.