You won't need sunscreen to enjoy Arizona's newest water park. 
That's because Great Wolf Lodge Arizona's 85,000 square foot water park is all inside. No slathering sunscreen on antsy children for you. *does happy dance*
The resort and water park opened in Scottsdale last week. And yeah, we know it's a drive to the Phoenix area. But it also looks seriously cool.
The water park — heated to a balmy 84 degrees all year — includes body and tube slides, plus raft rides and a multi-level play structure for kids. The resort also has a ropes course, mini bowling, arcade, mini golf course and live-action adventure game, according to a news release.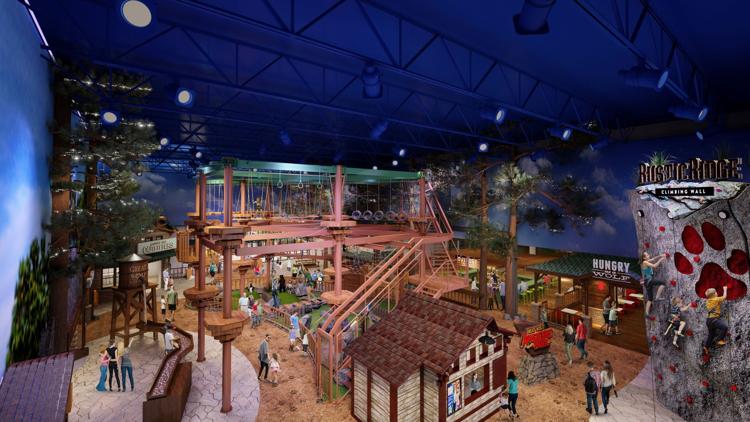 Here's a preview of some of the water works you'll encounter: 
• Talking Stick Treehouse: This multi-level play structure has bridges, an enormous tipping bucket and slides for both toddlers and bigger kids. 
• Wolf Tail: This is one of those slides where the trap door underneath you opens and you plummet 20 feet. Good luck. 
• Diamondback Drop: A family raft ride that sends you careening into a funnel. 
• Alberta Falls: Buddy up for this two-person slide ride. 
• River Canyon Run: A raft ride with no steep drops.
• Big Foot Pass: Hop across floating logs and lily pads and expect to fall in.
There's also a wave pool, a toddler area, lazy river and a big pool outside with a grown-ups only area, if you just need to get away from all the kids for a minute. 
Great Wolf Lodge opened its first resort in Wisconsin in 1997 and now has resorts all over the country. Before opening the Arizona lodge at 7333 N. Pima Road in Scottsdale, the closet resort was in Anaheim, California. 
The Arizona resort has 350 guest rooms, some of them cabin and outdoors themed, and is located near Salt River Fields at Talking Stick. This is also nearish to OdySea Aquarium. 
On property, families can check out multiple restaurants, ranging from Ben and Jerry's to Barnwood, a full-service restaurant. Also, one of the poolside eateries has something called the Tipping Bucket sundae. Brace yourselves. This is a sugar rush of ice cream, brownies, cookies, candy, chocolate sauce and whipped cream. Definitely share. 
Rates for a one-night stay typically begin at $179.99 and include access to the water park starting at 1 p.m. when you check in and until close on the day you check out, according to the news release.