It turns out there's nothing like a global pandemic to take your creativity to the next level. 
And we have to say, we are impressed. 
In the last month, local businesses have closed their physical doors only to reconvene virtually with genius ideas. 
We always knew Tucson was a town of innovators.
 "The whole model that we teach as part of our startup methodology is focused on being able to pivot really quickly and constantly be in touch with your customers and trying to reach their needs," says Dre Thompson, the executive vice president of the local nonprofit Startup Tucson. "So this has been a great test for us as now it's time to practice what we preach." 
Thompson says the Startup Tucson has been working to help local businesses adapt. For creative entrepreneurs, Startup Tucson organized last week's Live from Startup Studios series to showcase and fundraise for Tucson musicians. Now, Startup Tucson is working with Vantage West and Brink Media to create a virtual market for local businesses. 
As part of Startup Tucson's coaching and education services, Thompson says she is constantly talking with small business owners about how to identify existing strengths and skills and then monetize them — even if that looks different from business as usual. She gives the example of a weddings and event company that is now pivoting to offer consultations and vision boards for brides. For many businesses, this has been the push needed to create an online presence and stop saving it for "someday," she says. 
"Everyone is trying to be creative to the max," she says. "This is really hard for these companies, because everything they're used to doing has been taken away from them. But (we're saying to them) your expertise and knowledge and skills are still there and no one can take that away from you. How can we look at putting that on a platform?"
Obviously, there are businesses all over Tucson launching creative ways to continue connecting with customers. The following are just five examples. 
Note: All of of these businesses are adapting as things change. Check with each individual business for updated information. 
Creative Juice Art Bar
Since Chellie Krajnak, the owner of the paint-and-sip studio Creative Juice, stopped offering physical classes about two weeks ago, much has changed. 
She has been teaching her guided paint classes via Facebook Live for free, selling kits for curbside pickup and offering supply lists so that people can paint from home. 
"We've always been about community ever since we opened," Krajnak says. "That was one of our goals: To be accessible and bring art to everyone. So, in light of the times, we just changed our model." 
Change has been necessary for Krajnak as she had adapted to the ever-tightening government recommendations for social distancing during coronavirus — first limiting classes to no more than 10 very spread out people, then transitioning to online classes and curbside pickup for kits. Now, she's looking into delivery for kits and a subscription model for her classes that would offer free content on Facebook just one or two times a month and then charge painters to join a private group where she will teach classes more frequently. 
"If you're home and just need a de-stressor or to get out of your head for a bit or the kids need to do something, painting is a great way to forget about things for a little bit and get creative and make a masterpiece and memory," she says. Creative Juice is also doing online Zoom paint parties for kids' birthdays. 
Krajnak says this is her first time doing online classes and she is continuing to reinvent what that looks like. 
"My first thought was how am I going to survive this?" she says. "And then I thought, 'I'm going to go out with a bang and give everyone art and hope for the best." 
To paint with Creative Juice or learn more, go here. 
Mostly Books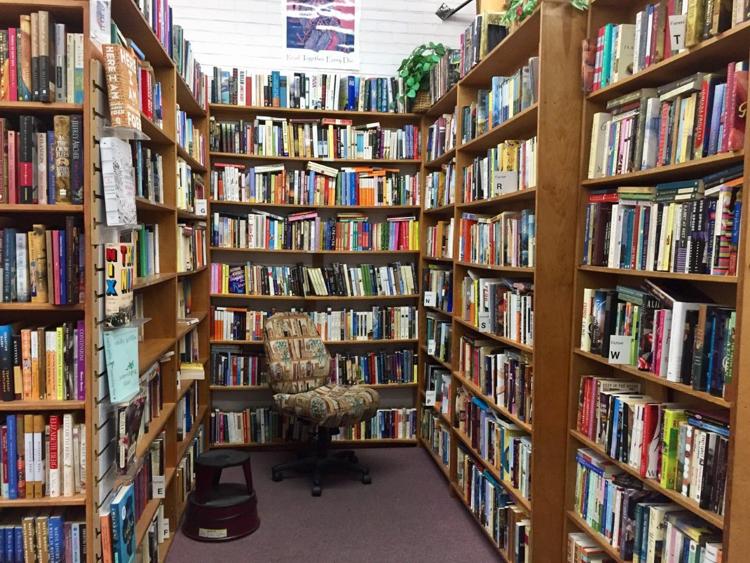 Sisters Bobbe Arnett and Tricia Clapp opened Mostly Books in 1988. 
That means they know what people like to read. 
Clapp says the book store staff began brainstorming about a possible coronavirus closure after seeing responses from book stores around the country. 
When they did close the shop on March 18, they continued to get books to Tucsonans via online orders, delivery and curbside pickup. 
"Right now, a lot of customers are saying it's good for their mental health to get books and puzzles," Clapp says. 
It can also be a lot of fun. 
The store also began offering a Quarantine Book Lover's Surprise. You purchase these pre-packed bags of books based on generic descriptions scrawled on the bag, such as "spies," and "YA fantasy." There's also an option to have store staff pick some surprise titles for you based on genres you love, how many books you're looking for and how much you want to spend. 
Clapp says she recently worked on one book package for someone in search of cozy mysteries featuring book people such as book store owners, librarians and rare book dealers. 
"That's been our favorite thing to do, to shop for people," Clapp says. The shop is also doing live book chats on Facebook on Friday evenings. 
Clapp adds that although customers have been wonderful, the store is going to need additional support in the days to come.
The shop has set up a donation page, which you can go to here. Or learn more about Mostly Books by going here. 
Why I Love Where I Live 
For weeks, Kristin Tovar prepared for her shop full of all things Tucson to move from one shipping container in the MSA Annex to a larger one. The grand opening party was planned for March 21. 
But as COVID-19 spread across the country and social distancing recommendations grew stricter, the grand opening she envisioned for Why I Love Where I Live's larger space became yet another in a string of canceled events. 
At least, that's how it seemed at first. 
"As things were arriving at my house (for the grand opening), it was one reminder after another that this wasn't going to happen," Tovar says. "I was trying to think of other ways to show people the space." 
She landed on a 3D tour through the shop. 
Within a week, Tovar adjusted the plan, set the shop up for 3D imaging and rebuilt the website to be better suited for e-commerce. 
On March 21, Why I Love Where I Live had a grand opening after all, launching a 3D virtual tour of the new shop, complete with a welcome video, interactive elements, a micro art gallery and surprise giveaways throughout. Tovar also went on Instagram Live for two hours to talk with customers and answer questions. 
"I heard from people saying, 'Thanks for doing that. I felt connected to the community even though it was in this totally different way,'" she says about the grand opening. "I had people reach out to say how fun it was to be part of something like that." 
Why I Love Where I Live's new space allows the shop to expand its inventory, including more books, toys, games and kids items. Plus, an entire wall full of stickers. 
Until the shop is able to open physically again, Tovar is offering free shipping. She's also trying to support and help other businesses at the MSA Annex. 
"I think it's a tricky balance," she says. "How do you acknowledge the situation, but also provide a sense of stability and normalcy? I think in our community, that's what we're trying to foster. How can you tend to the areas of brokenness right now and still look for beauty?"
To learn more or shop from Why I Love Where I Live, go here. 
Pivot Produce
Pivot Produce owner Erik Stanford acknowledges that it's a pretty convenient time to have a business named Pivot. 
Because that's exactly what he has done. 
Usually Pivot Produce purchases food from regional farms and then distributes it wholesale to restaurants, schools, hospitals and other large institutions. 
"It's always been this wholesale model, and the only direct-to-consumer that we did was at a small farmers market once a week with whatever was left over," Stanford says. 
But then on a Monday in March as Stanford was talking to the restaurants he works with, he learned they all had horrible weekends during what is supposed to be one of Tucson's busiest seasons. 
"As the day continued on, all of my restaurant orders had been completely canceled," he said. 
Watching what had happened in other communities, Stanford had already been planning his next move. He was ready to pivot. 
By Wednesday, he announced on Instagram the launch of Pivot Produce's farm-to-doorstep delivery service. Instead of relying on restaurant orders, Pivot Produce would deliver boxes of produce to consumers each week. Within 24 hours, 250 people signed up. Stanford had expected 80. He had to close the website's sign-up page. Currently, Pivot Produce is serving about 275 people.
It's a pretty good deal. Not only do customers get locally-grown produce, but they also have the opportunity to purchase add-ons. 
"You're able to then purchase a dozen local eggs from a producer we have always worked with, and we have tortillas from a local tortilla maker and bread from Anello and chocolate from Monsoon Chocolate and coffee from Exo coffee," he says. "So you're able to, albeit with artisan products, you're able to fill in a grocery order to a certain extent ... and it's also supporting a local business that is probably going through some of the worst times it has had in years." 
As part of his desire to help the community, Stanford included free and half-priced produce boxes for people struggling to access food right now. 
Pivot Produce is not currently accepting any new customers — Stanford says their walk-in cooler is maxed out and for social distancing purposes, he needs to limit the number of people in the warehouse. He's also currently relying on volunteers to distribute the grocery boxes — all of it, from farm to delivery guided by strict food safety rules. 
"This kind of wealth that I have access to with this network of growers, I thought, how could I best implement that wealth to both continue my business and survive this change but also serve the needs that were happening in my community," he says. 
To learn more about Pivot Produce or donate to its cause, go here. 
The Loft Cinema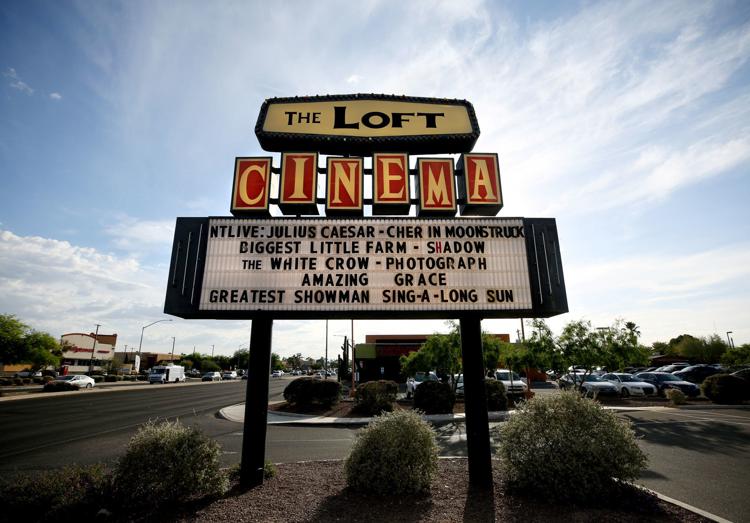 When The Loft Cinema closed on March 15, everything the independent movie theater knew turned upside down, says program director Jeff Yanc.
 "That day we closed, it was really unclear what we were going to do, and there was a little bit of a panicky feeling and a little bit of a distressed feeling," Yanc says. 
But then, some of the film distributors that work with the Loft began making offers. Many of the films the theater had planned to show in the coming months were suddenly available to them to rent out to their customers digitally. Fifty percent of the income would go to the distributor, and the Loft would keep the other half. 
"Philosophically, it was a hard corner to turn," he says, laughing. "Streaming has always been, not an enemy, but a strange bedfellow. There has always been a lot of contention in the industry ... but what was cool and helpful and great about this program is now these films are theatrical exclusives. They're not available on other streaming platforms, so you can only get them through these independent art houses around the country." 
This creative turn means that now you can rent from your home the movies originally scheduled to play on the Loft's screens. And by doing so, you help the Loft generate revenue. 
New films become available each Friday — and without the limitations of physical screen space, the Loft is able show more films than usual. 
They're also organizing livestreaming parties, and Yanc says the theater is considering other, interactive options. 
"We do a lot of sing-a-longs and things here, but how can we even come close to replicating that online?" he says. 
Still, they're experimenting. 
"We're able to experiment because we don't have a lot of options," Yanc says. "Anything is possible right now, because you have that freedom to try things."