RSSPhoto Blog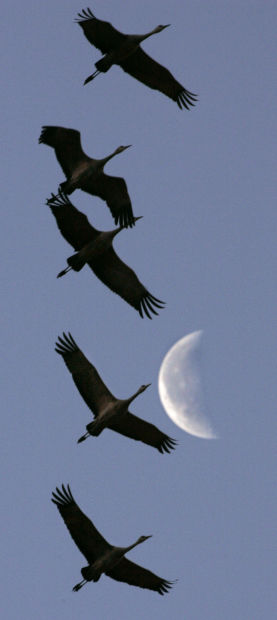 The Southeastern Arizona Bird Observatory (SABO) and the Arizona Game and Fish Department are offering a wildlife workshop near Elfrida on sandhill crances on Jan. 31 and Feb. 1.
The workshop will be held at theWhite Water Draw Wildlife Area--near the town of Elfrida. Each year thousands of these spectacular birds winter in the Sulphur Springs Valley between Willcox and the Mexican border.
According to a press release, participants will venture on birding hikes and drives to see wintering raptors and other migratory birds, view flights of sandhill cranes entering and leaving the wildlife area, and attend brief educational programs about the natural history and management of these fascinating birds. Cost is $30 for adults, $15 for children ages 10-17 (must be accompanied by an adult). Pre-registration is required, and space is limited.
Sandhill cranes are the most abundant crane species in the New World and one of the few survivors of an ancient lineage of birds who trace their origins back more than10 million years. Their prehistoric origins are apparent from their massive (up to 7-foot) wingspan, primitive looks, and haunting calls.
Event details are as follows:
WHAT: Sandhill Crane Wildlife Viewing Workshop.
WHEN: Saturday, Jan. 31, 8:30 a.m. to 5 p.m.; Sunday, Feb. 1, 6:30 a.m. to noon.
WHERE: Whitewater Draw Wildlife Area near the town of Elfrida.
COST: $30 per adult, $15 per child ages 10-17 when accompanied by an adult. Registration and payment are required in advance. The registration fee is refundable only if the workshop is cancelled. Meals are not included. Limit of 30 people.
TO REGISTER: Visit http://sabo.org/activities/calendar/#!event/2015/1/31/sandhill-crane-workshop.
FOR MORE INFORMATION: Contact SABO at (520) 432-1388.
About this blog
Thanks for visiting the Arizona Daily Star's photography blog. Our dedicated staff of five staff photographers have deep roots in Tucson and range in experience from two years to more than 30 years in photojournalism.
Email photo editor Rick Wiley at rwiley@tucson.com