Your guide to this year's All Souls Procession in Tucson
Tucson's All Souls Procession has a new route this year. Here's everything you need to know, including where to eat, park and where to get your face painted. 
Kathleen Allen/Arizona Daily Star
All Souls Procession
The All Souls Procession will wend through new grounds this year, but the intent has not changed one bit:
It is still a homegrown, sacred event where Tucsonans gather to grieve, honor and celebrate those who have passed.
The procession is uniquely Tucson and has become a sort of annual gathering that attracts people from around the country. Participants often wear costumes, paint their faces, and carry pictures of those they have loved and lost. The grand finale is an explosion of music and dance that continues the sense of reverence with which the procession started.
Run entirely by volunteers and funded by grants and donations from individuals and small local businesses, the 27-year-old All Souls Procession has become a massive event: About 25 participated in the first one in 1990; as many as 170,000 walked or watched last year's event.
Here are some tips to help along the way.
New route
The route is about two miles long and begins At North Grande Avenue and West Speedway, heads south on Grande to West St. Mary's Road, then south on Bonita to the finale site at West Congress Street and Bonita.
Details: 6 p.m. Sunday, Nov. 5
The All Souls Procession, starting near North Grande Avenue and East Speedway. Participants start to gather about 4 p.m. and the procession begins at 6 p.m. Free. 
Information: allsoulsprocession.org. 
Parking
There is limited parking in the area where the procession begins. Your best bet might be to park downtown and take the bus to the beginning and the streetcar back downtown after the finale. Sun Tran will increase bus service on Route 22 — which you can catch at the Ronstadt Center — and will drop you off near the beginning of the procession route. "We'll try to run a 5-minute frequency throughout the event," says Steve Bethel, general manager of Sun Link.
After the finale, the streetcar will, as it has for the past three years, increase service from the finale site to points downtown and east to the university. "We'll get all the folks out of there," says Bethel. "That has been somewhere around 10 p.m. in the past."
SunGo pass holders pay $1.50 for the bus or the streetcar; if you don't have a pass, get a $4 24-hour pass at one of the streetcar stops and that'll allow you on both the bus or the streetcar. To avoid congestion at the ticket kiosks, purchase your passes in advance.
Downtown is a glut of parking spaces. Here are a few of the city garages that will be open and will charge a $3 flat rate (because of construction, the Pennington St. Garage, 110 E. Pennington, will not be open).
City/State Garage, 48 W. Congress St.
Plaza Centro, 345 E. Congress
Depot Plaza, 45 N. Fifth Ave
Main Library, 101 N. Stone (entrance off of Alameda St.)
La Entrada (Water), 310 W. Alameda
Find more parking information here. 
Hungry?
You'll have plenty of choices in the area, though most are downtown. A few suggestions:
Penca, 50 E. Broadway, 203-7681. The taco plates are specialties here. Warm, made-there corn tortillas serve as a blanket for a variety of fillings. It's cozy, lacks pretension, and the prices are doable (you can't beat two tacos for $5). Open until 9 p.m. on Sundays.
Diablo Burger, 312 E Congress St., 882-2007. We firmly believe that hamburgers are the most sublime meal — if they are done right. At Diablo, the burgers are pricey, but they are done right. The meat is free of growth hormones and antibiotics, is charbroiled so that it has the crusty outside but the requested temp inside, and is served on an English muffin — a nice touch as good hamburgers are often taken over by bready buns. There's a wide variety of toppings, though with meat this good, we like to go for the Monk ($12) — with just lettuce, tomato and pickle. Belgian fries are always a side to the burgers. Open until 9 p.m. on Sundays.
Johnny Gibson's Downtown Market, 11 S. Sixth Ave., 393-8544. If you are off of meat, consider the Veggie Club here ($9). Nutty arugula, garlicky basil pesto and hummus, smooth herb cream cheese, crunchy cucumbers, silky avocados and a snappy onion slice are piled on a 12 grain bread. Open until midnight on Sundays.
El Minuto, 354 S. Main Ave., 882-4145. You might think anyone can make a cheese crisp. And you'd be right. But few make them as crispy and cheesy as El Minuto ($9.95). Throw on some chorizo ($1.05 more), and you'll have the energy you'll need for the procession. Open until 9 p.m. Sundays.
St. Mary's Mexican Food, 1030 W. St. Mary's Road, 884-1629. It closes at 4 on Sundays, so you can grab a bite before walking over to the procession's beginning (where participants will start gathering around 4 p.m.). We love just about everything there (the delicate tortillas are among the best in town), but almost always go for the carne seca burro ($4.80) because it is one of those treats that lives long in the taste memory.
Face painting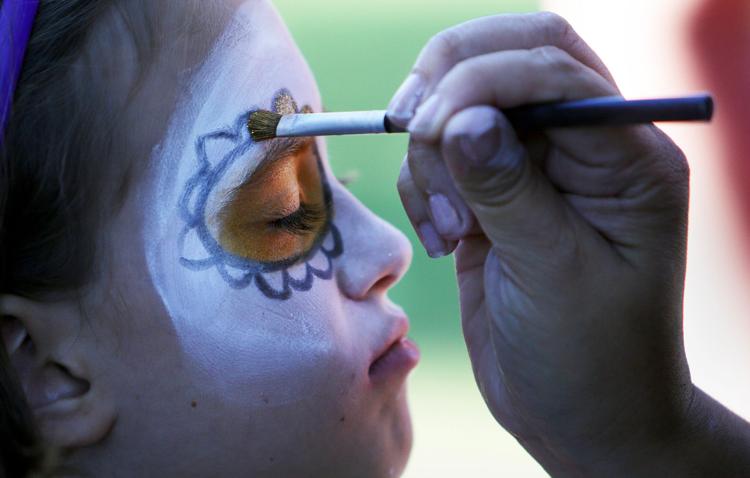 If you don't want to attend the procession bare-faced, or aren't adept at painting on the classic skull face, there's help. You'll find plenty of places to get painted in the area of the event. Among them:
Hotel Congress, 311 E. Congress St., 622-8848. As it has in the past, HoCo is offering free face painting the day of the procession. It starts at noon. An added bonus: the hotel will provide free shuttle service to the start of the procession.
Lisa Riggs, Borderlands Brewing Co., 119 E. Toole Ave., 261-8773. Riggs will once again gather some artistic friends and set up paints at Borderlands. She has a suggested $10 gratuity — otherwise, no charge. She'll be there starting at 1 p.m.
GlitterGirlAZ, Mariscos Chihuahua, 1009 N. Grande Ave. Gina Castillo and about 10 other face painters will be transforming folks starting at 10 a.m. You can make reservations, but walk-ins are welcome, too. Prices start at $25 and a portion of the proceeds will be donated back to the All Souls Procession. GlitterGirlAZ will also be at the Nov. 4 Procession of the Little Angels in Armory Park, 222 S. Fifth Ave. The face painting, which will be done from 3-6 p.m., will be free for that event. Reservations: 982-4967.
The folks at Face Flip Face Painting will be in a tent at North Grande Avenue and West Delaware Street from 3 p.m. until the start of the procession. It's $15 a face. Walk-ins are OK, but you can message them at their Facebook page if you want to make a reservation.
Procession of Little Angels
3-7 p.m. Saturday, Nov. 4 
The annual Procession of Little Angels will be at Armory Park, 222 S. Fifth Ave. Geared toward children but open to all, participants can paint wings, make paper flowers, create an altar, get their faces painted and listen to stories. Free.