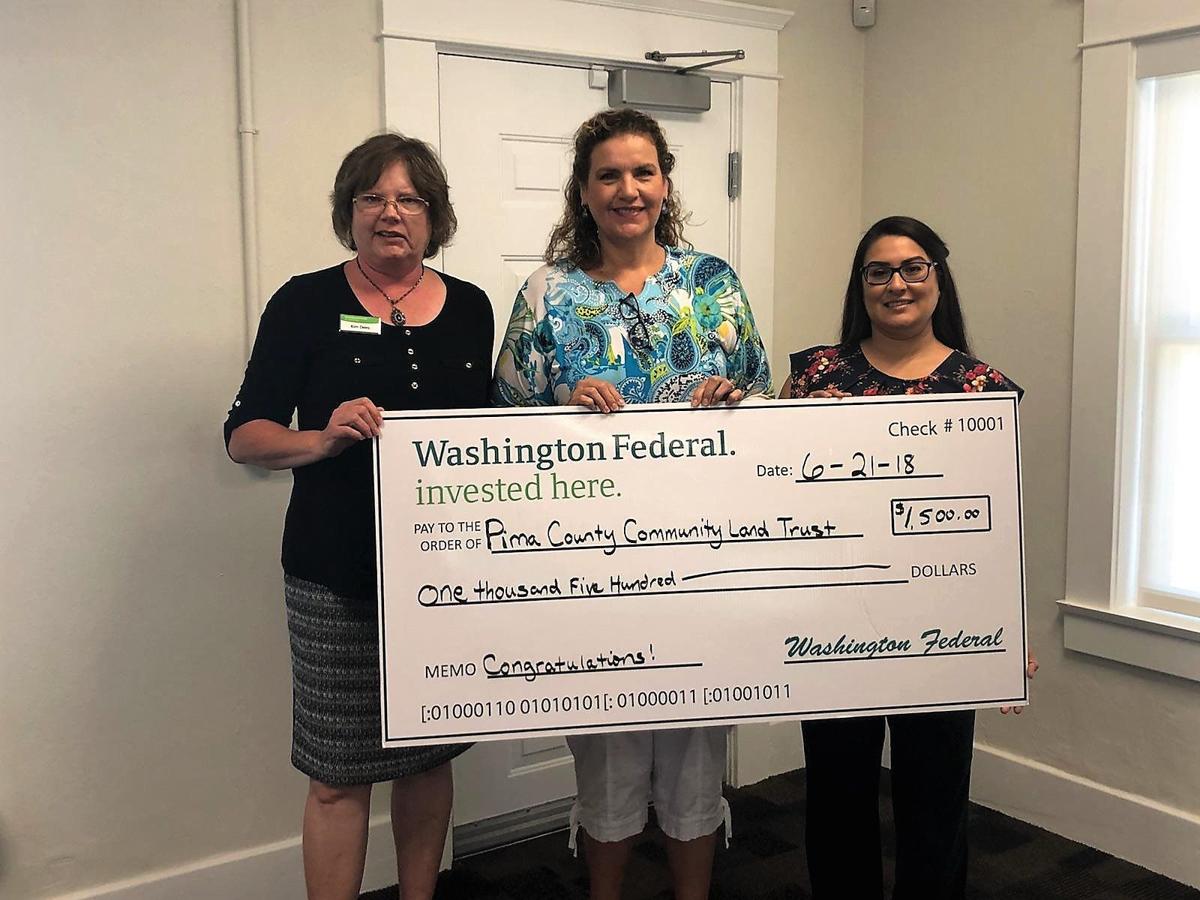 Washington Federal, a longtime partner of the Pima County Community Land Trust, donated $1,500 to the organization through its Washington Federal Foundation corporate giving program.
The donation is meant to help preserve a permanent supply of affordable housing for both current families and future generations, the bank said.
Since partnering with the land trust in 2011, Washington Federal has donated more than $7,000 to the organization.
Washington Federal, which operates 31 branches statewide, including eight in Pima County, also works with PCCLT to offer financing that is both affordable and safe to the program's moderate and low-income homebuyers.
During the first five years of the partnership, Washington Federal funded 56 mortgage loans totaling more than $4.3 million, said Kim Dees, senior vice president and Southern Arizona division manager at Washington Federal.
Grants awarded
by LGBT&S Alliance
The Lesbian, Gay, Bisexual, Transgender & Straight Alliance Fund, which supports innovative programs and initiatives that benefit the LGBT&S community in Southern Arizona, announced grants totaling $63,000 to 16 regional nonprofit agencies.
Since its inception, the fund has awarded 182 grants to more than 64 different organizations totaling $809,597.
Grants in the latest round of funding ranged from $1,600 to $5,000, for organizations serving needs from LGBTQ community building and collaborations, transgender issues, youth and elder issues, and general operating support.
This year's grants were awarded to: Camp Born This Way, Bicycle Inter-community Art and Salvage (BICAS), Casa Libre en la Solana, Foundation for Creative Broadcasting-KXCI, IAMME Project, Mariposas Sin Fronteras, Our Family Services, Pima Council on Aging, Southern Arizona AIDS Foundation, Southern Arizona Gender Alliance, Southern Arizona Senior Pride, Spoken Futures, Tucson Jewish Community Center and the University of Arizona Museum of Art.
Submit items about charitable donations by local businesses or nonprofits to business@tucson.com; please use Giving Back in the email subject line and include photos in JPEG format. Sign up for a weekly update of business headlines at Tucson.com/business