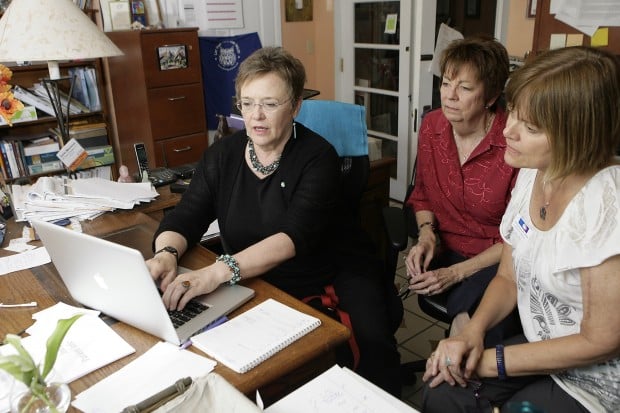 In her 44 years of nursing, Karen Mercereau has seen more than one patient die a premature death.
She cites medical errors, missed diagnoses, and inaccurate medical charts as the cause. What those patients needed was a knowledgeable voice, she says.
"It doesn't matter if the record is electronic or paper - no one has time to read beyond the major points," says Mercereau. "Ask any nurse. We all know the system is broken. Doctors rarely have the opportunity to talk to one another."
Mercereau is executive director and founder of a national Tucson-based business called RN Patient Advocates that helps patients navigate the fragmented and often bewildering medical system.
RN Patient Advocates recently expanded by hiring four local registered nurses and has plans to hire two more later this year.
It has also forged a partnership with the University of Arizona's College of Nursing, which says the field of RN patient advocacy fills a gap in the health-care system.
Mercereau also conducts annual patient advocacy training for select nurses nationwide. Her sixth training will be this fall.
While there are an increasing number of patient advocates both locally and nationwide, Mercereau's business is different because of its relationship to an academic institution, and also because it hires only registered nurses.
Her aim, she says, is to create a "health-care safety net" by thoroughly reviewing medical histories, ensuring full communication between all of a patient's doctors, and ensuring correct diagnoses.
Her nurse advocates also refer patients to specialists and meet them at the emergency room if needed.
Older people and women, particularly middle-aged women, are most in need of advocacy because they are the ones most often tossed aside by the medical system, Mercereau says.
The business also looks at the "whole person" and includes nutritional analysis and a consideration of emotional needs, says Joan Shaver, dean of the UA College of Nursing.
"The program often attracts RNs disenchanted with parts of our disjointed health-care system and who can see the value and want to make a difference using this novel approach," Shaver wrote in an email. "As soon as I met Karen I was impressed by her passion, creativity in seeing what could be, entrepreneurial spirit, and dedication to improving the health care of people."
"It's more than a business," Mercereau says. "It's a calling. We are on a mission."
Her service is also an exclusive one, for people who can afford to pay $100 per hour.
But Mercereau is working on outcome studies of her patients, which she plans to present to insurers.
She also says that paying a few hundred or a few thousand dollars for the service out-of-pocket typically results in huge long-term medical savings.
"There are a lot of people we'd like to help, but right now people need to pay for us" since insurance doesn't, said Pam Schemper, a registered nurse Mercereau is training.
Mercereau has a foundation, Health Education and Advocacy Leaders (HEAL, Inc.), that accepts donations to help people unable to pay. She also conducts community wellness sessions on topics like supplement and vitamin safety.
Tucson business owner Judy Clinco, who is dealing with chronic health problems, turned to Mercereau because she wasn't getting well. Among other things, she was concerned about not gaining weight. Her doctors prescribed appetite stimulants and told her to drink a nutritional supplement. But she wanted to find out more, including the cause.
RN Patient Advocates reviewed her medical records going back to 1980, secured her an appointment with a gastrointestinal specialist at the Mayo Clinic, and lined up diagnostic testing through her insurance. The tests found she had abnormally high levels of lead and cadmium in her system.
Mercereau also found an error in Clinco's medical records - they said her gallbladder has been removed. It hasn't. And one doctor had written that Clinco appeared to have an underlying lung infection, but Clinco said no doctor ever told her such a thing.
"My commitment is to live with optimum health and wellness, and that's what Karen does," Clinco said. "I wanted to know the reason, rather than just having my symptoms treated."
Clinco also welcomed the medical research papers Mercereau gave to her.
"It was the best money I ever spent. This is your life. If you don't have your health it doesn't matter how much money you have," Clinco said. "It is certainly making me feel I am going in the right direction."
Schemper said she was drawn to RN Patient Advocates because of her experience working in hospice care. She saw too many patients whose care had been mismanaged, who had not received the correct treatment for opportunistic infections, and who had accepted a doctor's prognosis of certain death without seeking other opinions or treatments.
"A lot of elderly people who are immuno-compromised end up dying perhaps prematurely," she said. "I want to help people figure it out. People are confused."
Indeed, Mercereau points to a recent client who had stage four Hodgkin's lymphoma. Doctors had told her to go home and make the most of her last days. That was three years ago, Mercereau says.
RN Patient Advocates referred the woman to a "functional medicine doctor" - a physician who addresses the underlying causes of disease by looking at the interactions among genetic, environmental, and lifestyle factors that can influence long-term health and complex, chronic disease. The company also referred the woman to a naturopathic oncologist.
As it turned out, the woman grew up near the Love Canal and had extremely high levels of mercury and lead in her system. The woman is still in the process of reversing those levels, and is managing her illness, Mercereau says.
Says Shaver, the College of Nursing dean, "Specialty practice in medicine necessitates that people see multiple professionals, many physicians, and the means and motivation for excellent communication between them remains inadequate.
"Information drops through the cracks."
"Ask any nurse. We all know the system is broken. Doctors rarely have the opportunity to talk to one another."
Karen Mercereau, executive director and founder of RN Patient Advocates