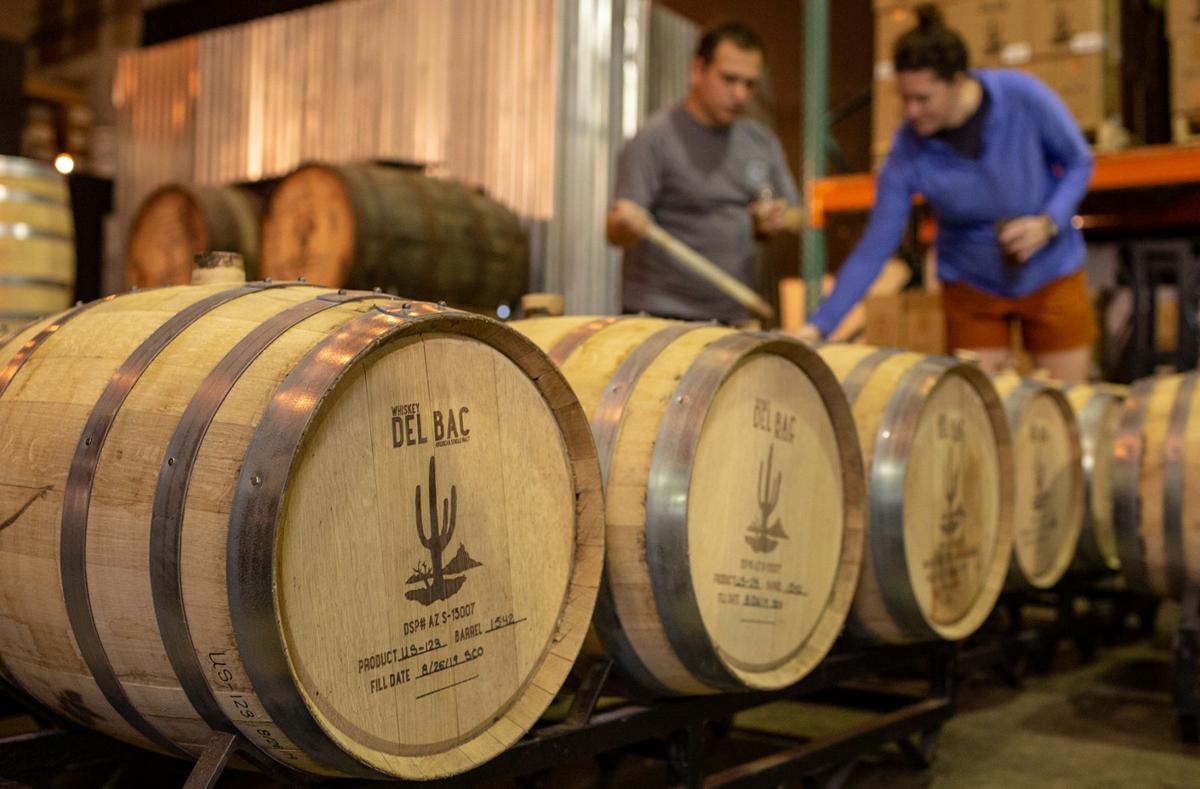 Craft brewing, you've got company.
Craft distilling is fast graduating from a passing fad to bona fide boom in Tucson.
In the next handful of months, two new craft distilleries will begin making regionally distinctive vodkas, gins and whiskeys, joining Tucson's three other active distilleries.
Statewide there are 48 distilleries registered with the Alcohol and Tobacco Tax and Trade Bureau, the federal agency responsible for licensing distilleries. Of those, the Arizona Craft Distillers Guild, which represents craft distilleries in the state, says 25 are actually open and operating.
And Tucson represents a fifth of those.
When you add in the distilleries putting out craft spirits in Southern Arizona's wine country — Flying Leap Vineyards & Distillery and Elgin Winery and Distillery — Southern Arizona is a dominant player in the state's craft distilling industry.
"Nationally there has been huge growth in the craft distilling industry," says Stephen Paul, who opened Tucson's first craft distillery, Whiskey Del Bac, in 2011. "There are thousands of craft distilleries across the country now. When I started this … little did I know there were a whole bunch of people doing the same thing across the country."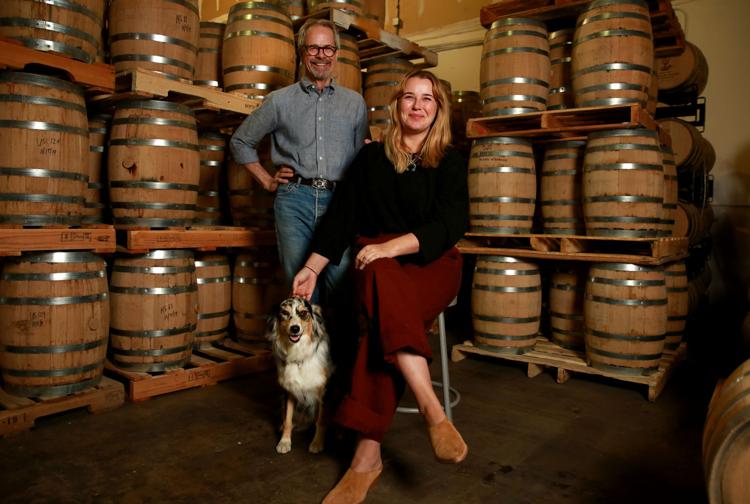 Paul, who opened the distillery with his daughter Amanda, said the recent surge in distilling is coming from craft breweries, including FireTruck Brewing — formerly Sentinel Peak Brewing — which will launch its distillery at its flagship brewpub on East Grant Road in the next month or so.
"One advantage that a brewery has is you have to make a beer before you can make a whiskey," explained Paul, who spent 35 years making custom furniture in Tucson before launching Whiskey Del Bac. "If you are a brewery, it makes total sense to put in a still because you are doing half the job already."
That's also true for wineries that have added distilleries, including Flying Leap and Elgin Winery, both in Elgin.
The new kids on the block, kind of
FireTruck Brewing will come online around the same time as Spherex Distilleries, a spinoff venture from HighWire Lounge owners Nicholas Eogman and John Hardin.
"We were basically a bar so this is a venture into the next level," Eogman said.
The pair, who opened HighWire five years ago, plan to start out with a sipping vodka and Kentucky-style sipping bourbon. But their primary mission is to create the vodka for their spherified shots — think the little tapioca balls in boba tea, but made with 70 proof vodka.
Before COVID-19 forced bars to close, HighWire was going through 10 to 15 cases a week of the spherified shots using someone else's vodka. When the state OK'd bars to sell their cocktails to go, HighWire was still selling three to four cases a week.
They also saw a steady demand for their barrel-aged cocktails — mixed drinks including their Manhattan, old fashioned and house-favorite rusty nail that are put in a barrel for as long as six to eight months to age — that allowed the bar to stay afloat during the months that they were closed due to the pandemic. Hardin said they have a system that allows them to age their cocktails in as little as 72 hours.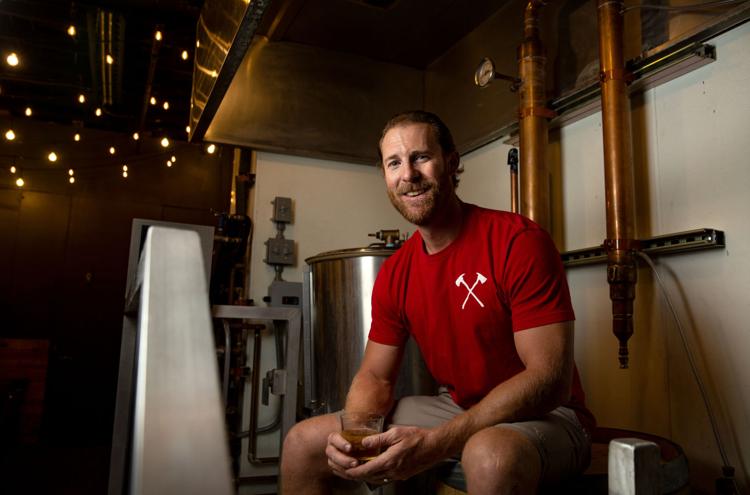 FireTruck Brewing, which has two brewpubs and brews its beers at Voltran Brewing Co. — a joint venture with Borderlands Brewing — and is opening two more locations in the next six months, is converting its microbrewing operation at East Grant Road into a distillery. They plan to start distilling gin and vodka to start before moving into whiskeys and rums once they get the hang of distilling, said Taylor Carter, one of three firefighters who launched FireTruck Brewing seven years ago.
"It's something that's completely new to us and we're going to try our hand at," said Carter's partner, Matt Gordon. "It's going to be fun little venture to figure out."
A COVID-19 spinoff
Carter and Gorden said the idea to open a distillery was born out of the COVID-19 pandemic.
Early on, when hand sanitizer was in short supply and distilleries around the country — including Tucson's Thunder Canyon, Whiskey Del Bac, Town Under Black and the Elgin Distillery — were using their stills to make sanitizer instead of spirits, the FireTruck Brewing team considered jumping in to help.
"We came up with a brilliant idea: Hey we have everything we need to make alcohol. We just have to distill it," Carter said.
The partners set about collecting scrap metal, buying copper and fashioning together a still based on ideas gleaned from Google.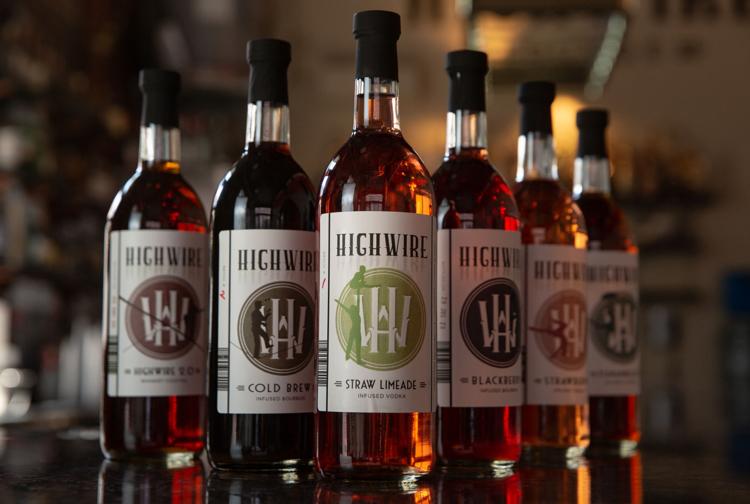 "We are (soldering) all these big pipes together and going over all these plans and it kind of hit me that, hey, we're building a moonshine still here and we didn't have a license for that," Carter said.
And getting a license was going to take weeks, possibly months given the backlog in government agencies due to the pandemic.
"We had to put the brakes on making hand sanitizer," Gordon said, but the partners decided that since they already had constructed a big piece of the still they might as well continue with plans for a full-blown distillery.
Six weeks ago, they applied for a license for the Grant Road location, and after clearing up some conditions including giving up the microbrewery license they had for that location, they are nearly finished with the process and hope to begin distilling in the coming weeks.
FireTruck Brewing plans to release its inaugural batches by year's end. Vodka, an apple cider, rum and whiskey are in the works.
An ode to cultures
Town Under Black in September relaunched its whiskey distilling after spending the spring and summer making hand sanitizer that it donated to Native American reservations in Northern Arizona, including the Navajo and Hopi tribes.
The distillery — launched in 2017 by anthropologist Beck Caroli and her fiancée, former Pima County public defender Vladimir Novokshchenov — is the only distillery in the state to employ heritage brewing techniques that borrow from traditions that date back to the late 1800s and early 1900s that Caroli witnessed firsthand from her field work in Mexico, Kenya and Madagascar.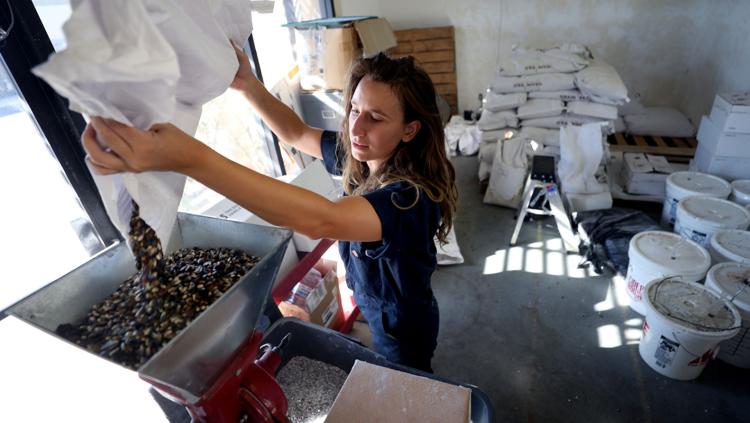 "I saw firsthand these really cool ways that people have traditionally been making alcohol and how different it was from the modern industrial paradigm in the U.S.," she said.
The couple rolled out their signature cacao-infused Six Sky whiskey in June 2019, sourcing the blue corn from the Ute Mountain Utes and the Yavapai Apaches and the cacao husks from Tucson candy maker Monsoon Chocolate. The so-called heirloom grains are grown by tribal farmers and closely resemble the grains used in early American distilling, Caroli said.
The Town Under Black distilling process also follows heritage traditions, including an open fermentation process that lends the whiskey more flavor and complexity.
Six Sky is available at RumRunner, Plaza Liquors and Westbound Bottle Shop. They also serve it at Batch downtown and a couple local bars and restaurants.
Whiskey Del Bac's Paul could be the only one in the state and one of only a few in the country devoted to making American single-malt whiskey. His also has the distinction of being one of the few that uses mesquite wood — a nod to his love of the Sonoran desert.
"Really this project, much like Arroyo Design ( the craft furniture business he operated for 30 years), both companies kind of came out of a profound love of the Sonoran Desert and a long relationship with mesquite wood," Paul said. "Just the notion that we could make … a truly Southwestern single-malt whiskey from the Sonoran Desert, that is what grabbed me. I was really excited about that idea."
Whiskey Del Bac is available in 19 states and throughout Arizona, where Paul says he sees potential for massive growth.
"We have a lot of room to grow in Arizona," he said. "We can sell 10,000 cases in Arizona easy. We have barely scratched the surface in Phoenix, for example."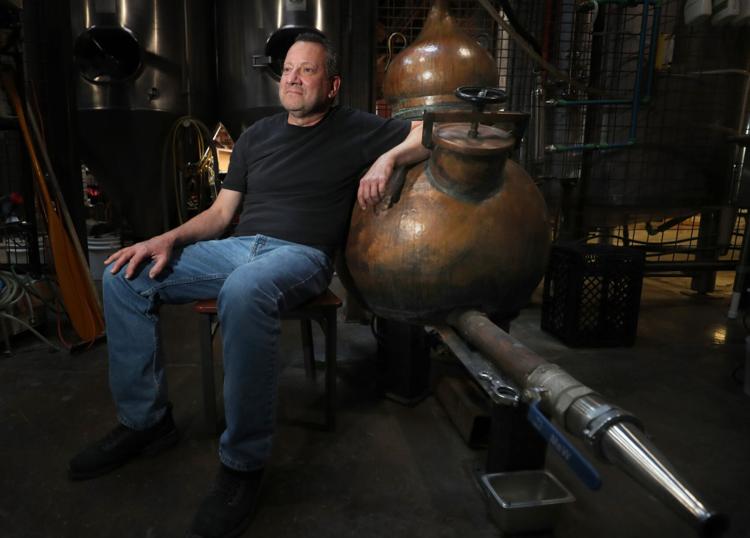 Still in the game
Thunder Canyon founder Steve Tracy was an early trailblazer in Tucson's now burgeoning craft beer industry, opening his flagship at the Foothills Mall in 1997. He closed it in 2017 as most of the retail outlets in the mall fled to the Tucson Premium Outlets off Interstate 10 and Twin Peaks Road.
In 2015, after the state relaxed its regulations to allow breweries to distill liquor, he started distilling small-batch rums in a 50-gallon still that yields around 30 bottles a batch. He barrel-ages some of his rums for six months or longer, but most are ready straight from the still.
During the COVID-19 shutdown, Tracy teamed up with the folks at Dragoon Brewing Company to distill some of Dragoon's unsold IPA into a single-malt whiskey.
"That will be a really interesting IPA single-malt whiskey," Tracy said, adding that he plans to age it six months or longer.
In addition to rum, Tracy recently started distilling vodka.
If you're itching to get out of town, check out Elgin Winery & Distillery, 471 Elgin Road in Elgin. Elgin Winery started with wine, moved into craft beer then segued into spirits, where it has earned some pretty impressive accolades including its award-winning Arizona Craft Beverage signature Regalo de Vida rum. Elgin's gin, bourbon and rum finished in the global top 10 of the San Francisco World Spirits Competition. Learn more at elginwines.com.
{p style="color: #000000; font-family: tahoma, arial, helvetica, sans-serif; font-size: 12px;"}{span style="font-family: Verdana, Arial, Helvetica, sans-serif; line-height: 16px;"}Contact reporter Cathalena E. Burch at cburch@tucson.com. On Twitter @Starburch{/span}