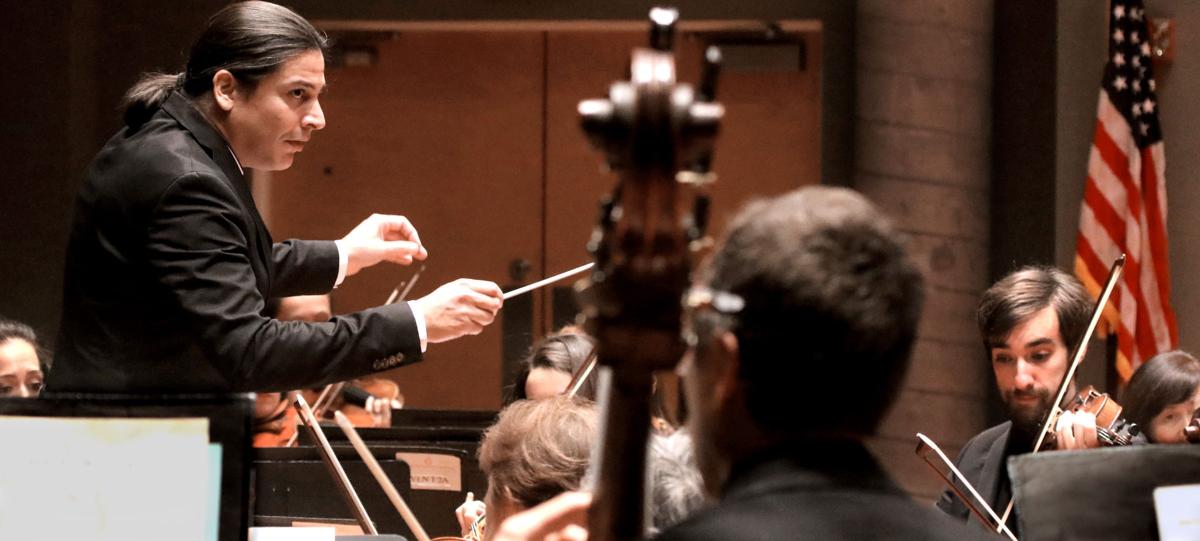 Tucson Symphony Orchestra is postponing its 2020-21 season, opting instead to present digital performances by small ensembles, rebroadcasting concerts from past seasons and hosting online discussions with musicians and Music Director José Luis Gomez.
Also in the works: Continuing and expanding the orchestra's educational programs including its breakthrough Young Composers Project online in response to the coronavirus pandemic.
Dates and programming details are still being worked out, Gomez said Thursday, July 30.
"What we want to do is we recognize that this is not just about putting a video of a solo or trio quintet or larger on a computer screen. That's why we want to take a little time and not rush this process either," Gomez said. "This is about creating a new model. This will be a sustained model moving forward."
"We are literally creating a new concert space moving forward and that can't be just a reactionary course," added TSO CEO and President Stephen Haines.
The orchestra is the latest Tucson arts organization to announce changes to its season in response to the COVID-19 crisis.
Arizona Opera announced plans last week to host outdoor recitals and a movie version of its commissioned opera "The Copper Queen" instead of the season of five staged operas it had planned.
Arizona Theatre Company officials in early July said they would present a few plays online instead of the season they had planned for their home stage at the Temple of Music and Art downtown.
Tucson Symphony Orchestra has been dark since March, when Gov. Doug Ducey issued a stay-home order. The orchestra, whose season was set to run through mid-April, was forced to cancel 37 events including its final orchestra performances and the annual young artist concerts that included new works written by members of the Young Composers Project.
The orchestra turned to donors and also received more than $512,000 in federal paycheck protection program funds to pay its 80 core musicians through August.
The musicians are in the final year of a three-year union contract with the orchestra, Haines said.
In addition to performances, Gomez said the orchestra plans to continue and expand its educational offerings including the Young Composers Project, which teaches youths 8 to 18 years old how to compose classical music.
The groundbreaking 27-year-old project — which until recent years was the only one of its kind — will move online for the 2020-21 school year, Gomez said.
Gomez said the move to digital content is "reinvigorating" the orchestra and its mission.
"Music has kept all of us sane during this time," he said. "We shouldn't forget about the power of music. Whether it's digital or live, music inspires."
The shift to the virtual world not only provides the opportunity to give fans of the orchestra something different, but also to attract new audiences.
"I actually am optimistic," Haines added. "I think this is an exciting opportunity for us. "We are not going to walk away from this. We need to ensure that we are putting music in people's hands when we talk about accessibility and accessibility to the arts, this is going to redefine what that is."
Contact reporter Cathalena E. Burch at cburch@tucson.com or 573-4642. On Twitter @Starburch
Concerned about COVID-19?
Sign up now to get the most recent coronavirus headlines and other important local and national news sent to your email inbox daily.