There's bowling lanes and video games in the sprawling Park Place anchor that used to sell everything from sun dresses to truck tires.
On the other side of the mall at 5870 E. Broadway, live theater has taken over the 12,500-square-foot retail footprint where they sold designer T-shirts and jeans. Folks sip wine in another former retail space near Dillards as they search for their inner DaVinci.
Over the past several years, as big box anchors and smaller retail operators have fled shopping malls or have gone out of business, mall developers are increasingly turning to the business of arts and entertainment to fill the vacancies and drive traffic to the retail side of their operations.
"Park Place and Tucson Mall … are always looking for ways to enhance the retail experience, and this includes adding entertainment venues such as Round 1, Arts Express and Century Theatres at Park Place, and Arizona Rose Theatre, Mystery Escape Room and Catalyst at Tucson Mall," Park Place General Manager Brighid Dawson said in a prepared statement.
In the past couple of years, both malls, owned by Chicago-based Brookfield Properties Retail Group, have filled the vacant spaces left by retail giants with everything from Legacy Tattoo and Mystery Escape Room at Tucson Mall to Stone Karaoke Box booths and Arte Belle social painting at Park Place.
"I think the malls are really trying to get creative," said Nancy McClure, a retail specialist and executive with CBRE Tucson.
It's a trend that is happening nationally and one that the Japanese gaming giant Round 1 Bowling & Amusement has honed in on as it makes inroads into North America.
Last fall, Round 1 moved into 44,000 square feet of the former 104,000-square-foot Sears store at Park Place, filling the space spread over two floors with more than 500 games and bowling lanes. It is Round 1's only location in Arizona and was the 35th it opened in the U.S., where it will open No. 45 in Vancouver, Washington, later this year, said Tucson manager Kasey Schwamb.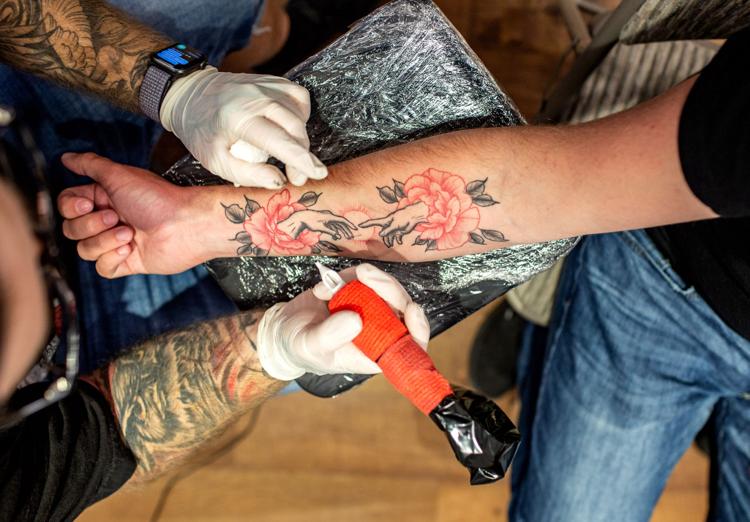 Round 1 made its push into the U.S. a few years ago, locating all of its American operations in abandoned mall footprints, Schwamb said.
Brookfield Properties has yet to announce plans for the rest of the Sears space or the 153,511-square-foot vacancy created when Macy's closed during the summer as part of the retail giant's plans to shutter numerous stores nationwide.
WHEN OPPORTUNITY KNOCKS
For years, Arizona Rose Theatre had bounced around from community stage to community stage, holding performances at the Temple of Music & Art's cabaret theater and Zuzi near the University of Arizona.
"At the time, we, like many theaters that don't have a home, we moved around from performance space to performance space," said Brandon Howell.
But then came a time back in 2016 when they couldn't find a venue for an upcoming show. And since they were familiar with the ebbs and flows of mall life through their annual Santa's Workshop toy drive at Foothills Mall, the Howells approached Tucson Mall about putting on their show there. The mall counter-offered with a longer-term lease for a 3,800-square-foot space near Macy's that can seat 70.
"Surprisingly we started finding success pretty quickly" after the move, Howell said. "Since we opened, we have consistently been able to make ends meet."
Lisa Sturz had similar success when she opened her Red Herring Puppets in Tucson Mall, tucked into what was the temporary offices for Southern Arizona Arts & Cultural Alliance as they built out their Catalyst space.
"At least half my audience is people who walked by and saw the posters on the window and then signed our mail list," said Sturz, who started her puppet theater and workshop in Los Angeles in 1988 before moving it to Asheville, North Carolina, and then Tucson last fall. "Having a mall location has been advantageous that way."
Karen Wiese, executive director of Arts Express, said mall walkers made up a portion of the audience for their recent production of the musical "Sweeney Todd."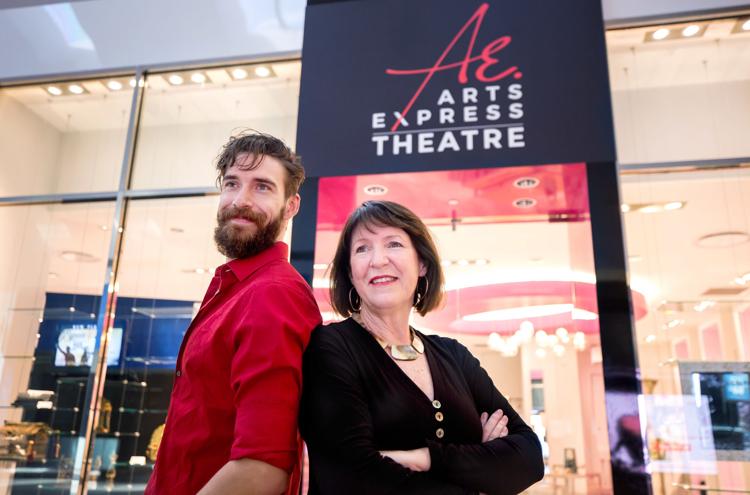 The nonprofit arts performance and education entity moved into Park Place in early October and transformed the 12,500-square-foot retail space into a socially distanced theater with tables creating a 6-foot barrier between seats and a makeshift stage encircled by drapes. With COVID-19 pandemic restrictions, they can seat between 100 and 120 for their upcoming holiday performance of "A Christmas Carol & Dickens Festival" Dec. 4-13.
Having its own theater was on Arts Express' wish list when the Park Place opportunity came up.
"Once we walked in and saw the space and particularly saw the ceiling — it's a beautiful artistic ceiling — we knew it was right," Wiese said.
ALONG CAME COVID-19
Arts Express opened in the throes of the COVID-19 pandemic's second wave.
For many arts organization, the coronavirus threw them a big wrench. They had to shutter their studios and stages. Some transitioned online, but most were forced to wait it out.
Arizona Rose was forced to cancel performances including its mainstage production of "Into the Woods," which should have been a big audience draw, and the youth production of "Beauty and the Beast," which was transitioned to an online production. Howell said the December performance of the comedy "All in the Timing" will stream only on Dec. 5 and 6.
Nearly eight months later, things are slowly coming back. Southern Arizona Arts & Cultural Alliance's Catalyst space, which opened last December and was just finding its rhythm when it was forced to close in March, recently began allowing artists back in its studios. Last month, it hosted Southern Arizona Symphony Orchestra's first in-person concert featuring its string section. The musicians all wore masks as did the socially distanced audience of 50.
As the orchestra performed that Sunday afternoon, mall shoppers strolling by stopped and watched the performance through the floor-to-ceiling windows.
"If you just take COVID out of it, I think on the whole, it is a great way for the malls to fill some space and provide some compelling reasons why people should visit the malls," said CBRE's McClure. "I think everybody is hopeful that we will get through this in some sort of quick manner. I think in the long run, people want to be around other people and experience things that bring them joy."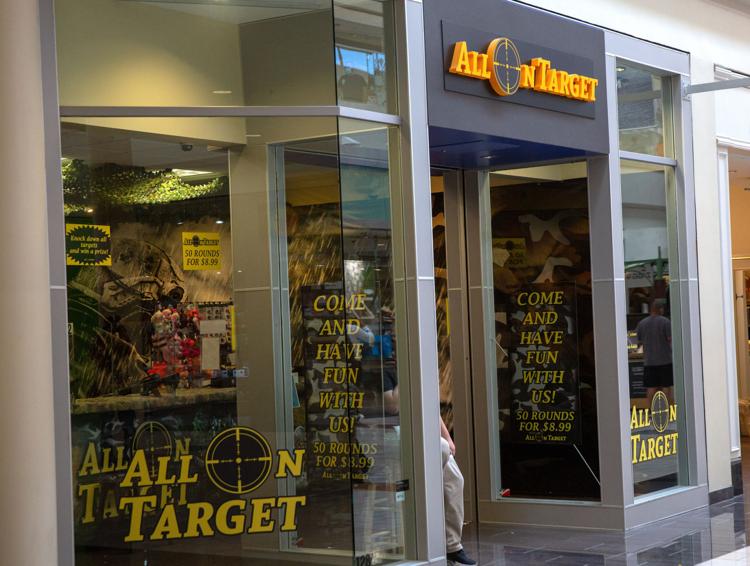 BUT WAIT, THERE'S MORE
, an indoor airsoft shooting range, moved into the Park Place and Tucson Mall in 2019, about a year after the company opened its first location. Since then, it has opened 19 locations in malls in Arizona, Colorado, California, Florida and Texas.
Air Force veteran Jen Christiansen took a leap of faith when she signed a lease for a space at Park Place for her 9-year-old mobile paint party business
. And until COVID-19 hit, business was better than she had expected, with 90% of her customers coming from shoppers who discovered her studio by chance.
"I never really thought, 'The mall?' It never crossed my mind that I could do that," she said. "Mall rent is fine because it basically pays for itself. And now everything is turning toward entertainment, and with COVID-19, people are looking for entertainment, safe entertainment."
Christiansen limits her painting party sizes and requires participants to wear masks whenever they are walking around. She also sanitizes everything from paint brushes and easels to surfaces.
at Tucson Mall, an offshoot of the original Legacy Tattoo on West Grant Road, has a staff of tattoo artists and piercers, offering everything from simple body art to body piercings.
Owner/artist Josh Hagan said he and his partner, Derek Dooley, decided to open a second location in summer 2019 because they were fast outgrowing their original shop.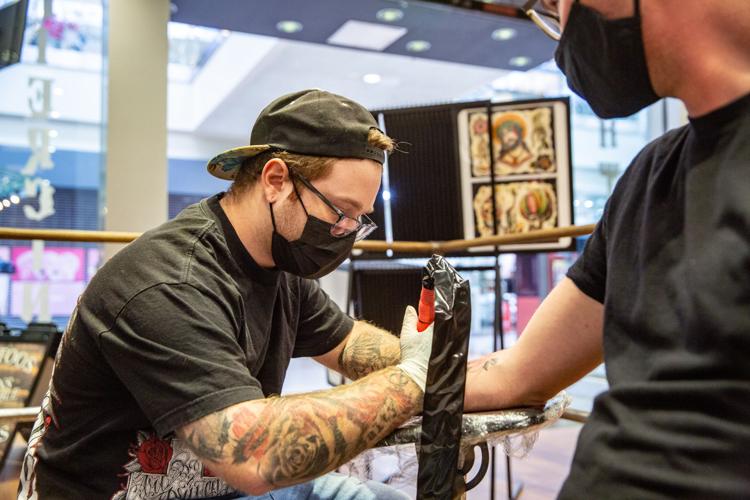 "We wanted to have a busier walk-in location, but we didn't want to be on Fourth Avenue," he said.
"I think at least 10 times a day we hear people walk by and say, 'Oh wow, there's a tattoo shop here,' " he said. "They would never have expected it. I think it catches a lot of people off guard."
So you think you can sing? Slip into the Stone Karaoke Box near the food court at Park Place, select a tune and let 'er rip. You can record your performance . The booths are similar to the old photo booths that used to dot malls nationwide.